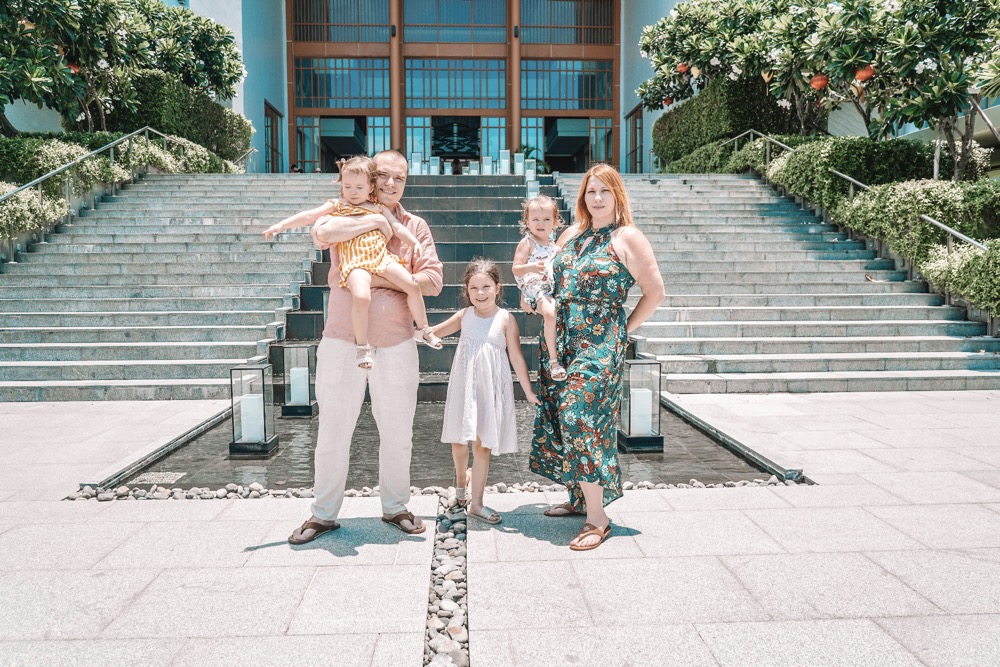 Vietnam is the perfect destination for families looking to immerse themselves in a culturally rich country with cities like Hanoi and Hoi An, while also taking time to unwind at its beautiful beaches. One of our favourite stops on our month-long adventure in Vietnam was at Angsana Lang Co, a 5-star luxury resort we discovered in Central Vietnam that specifically caters to families. It offers guests the ability to simply relax along its long sandy beach or venture out to discover one of the close by UNESCO World Heritage Sites – Hoi An Ancient Town famous for its traditional lanterns, The Imperial Citadel of Hue, and My Son Sanctuary.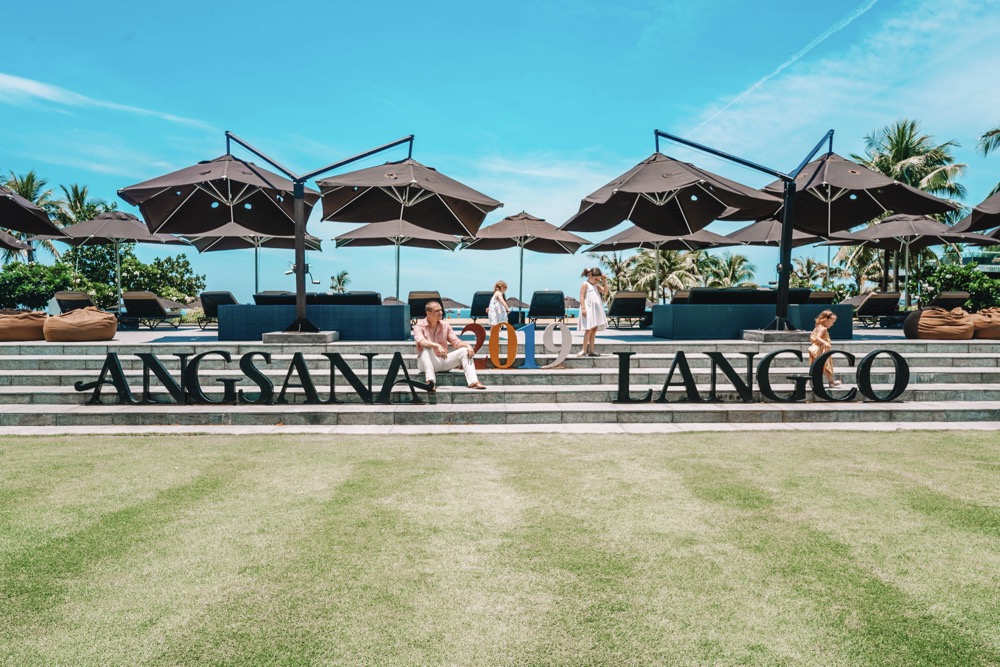 During the three days we were warmly hosted by Angsana Lang Co, we took the time to unwind from our busy summer schedule and just experience the resort while spending some quality time as a family. I truly don't think there could have a been a better place to do this.
Angsana Lang Co Accommodations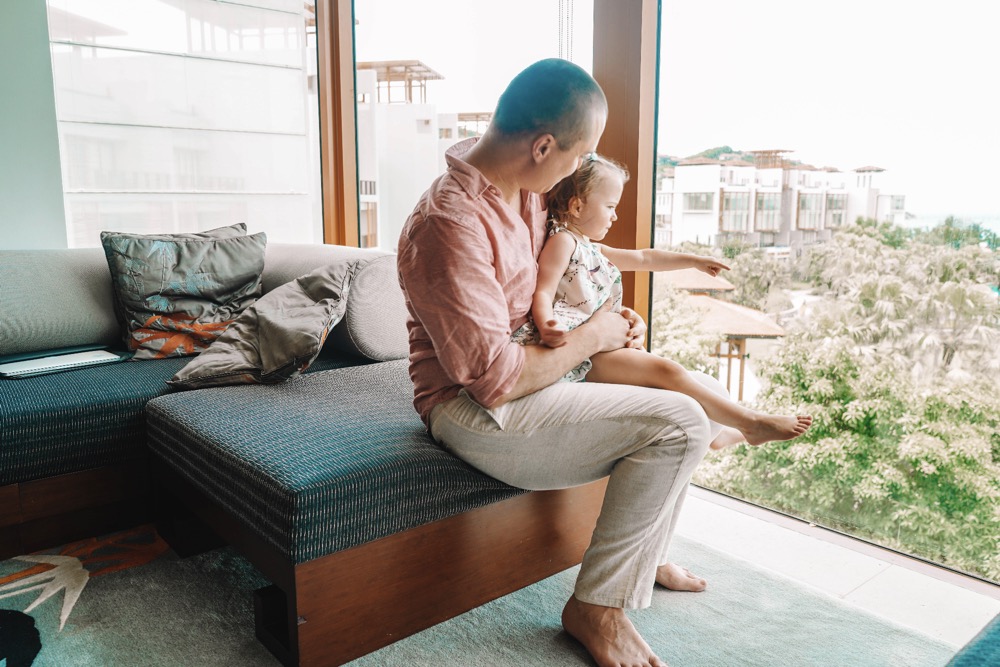 The resort offers 11 different categories of accommodations, with many of them being suites with their own private pool.  We stayed at one of the Skypool Sea View Two Bedroom Lofts.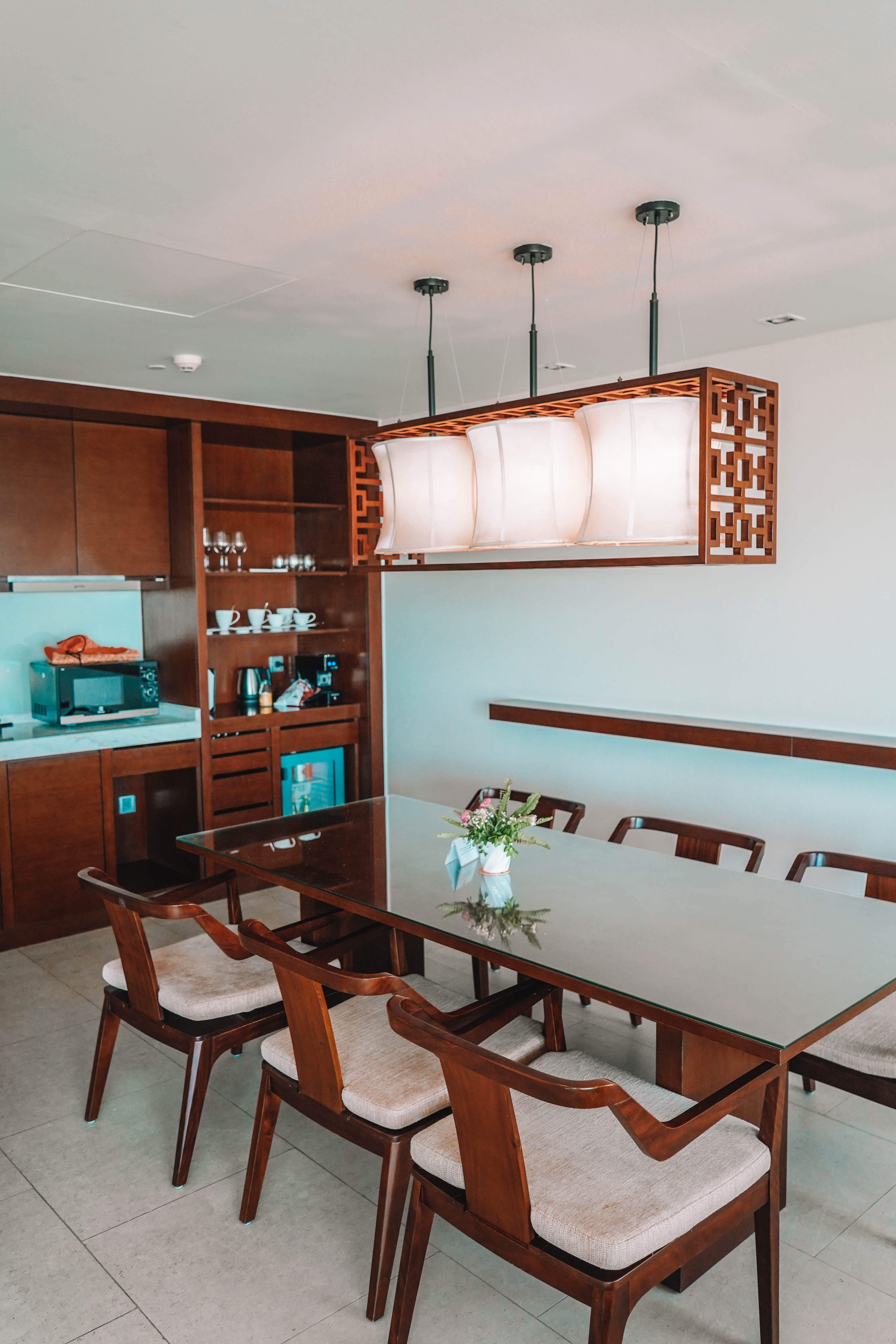 As a family of five, the spacious 179-metre double-storey loft offered the ultimate comfort with separate living and dining areas, a master bedroom with a king-sized bed and a second bedroom with twin beds. Each bedroom also had its own bathroom with bathtubs and rain showers.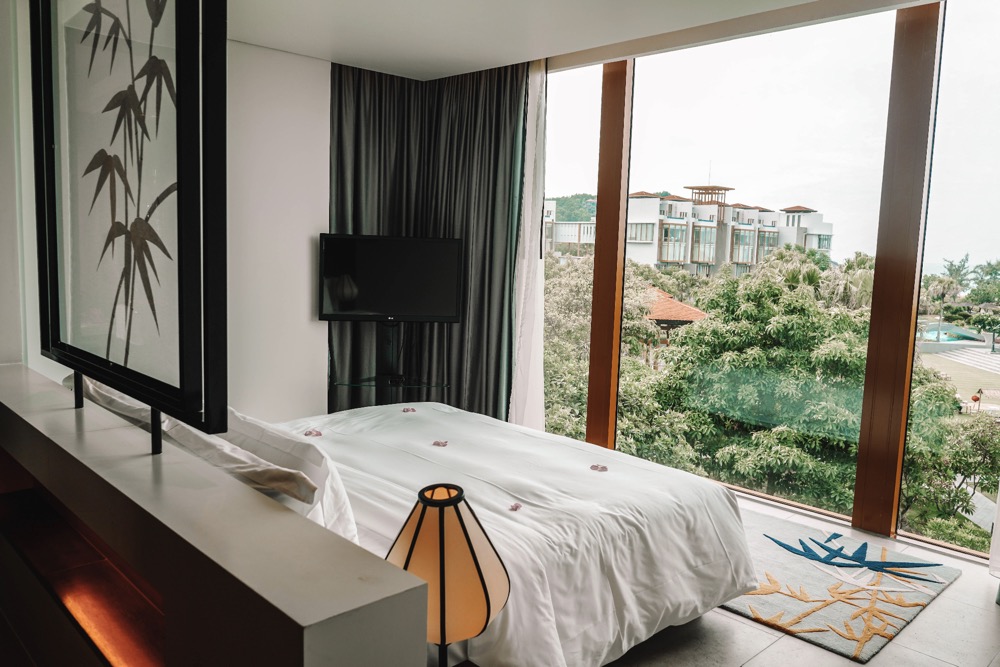 We enjoyed that the loft gave all five of us time have our own personal space, which isn't something we come by often when we're on the road. It was just one more way we were able to unwind!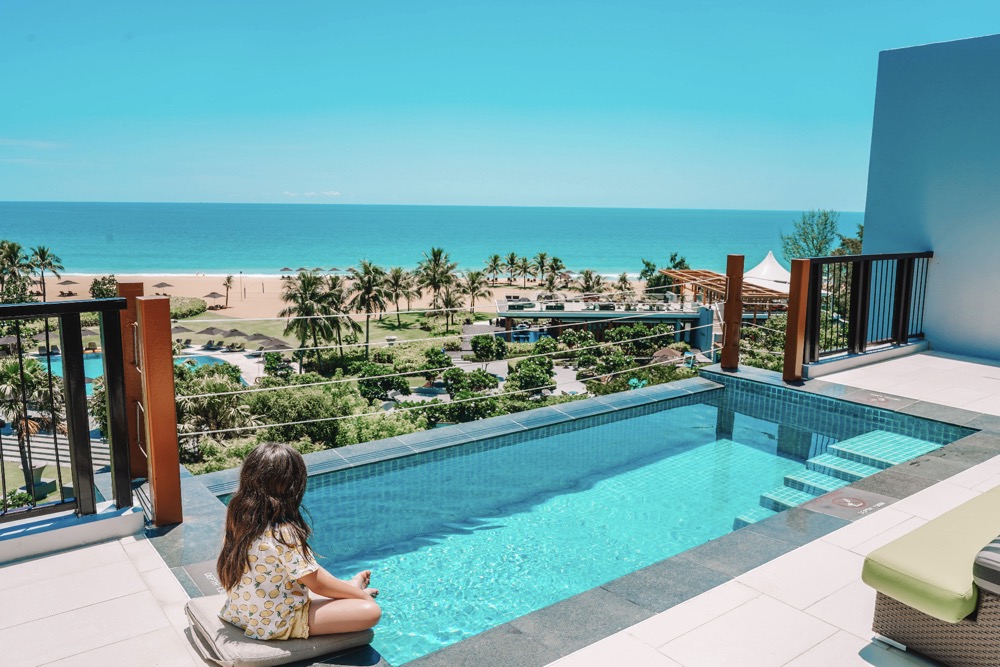 As if the loft was amazing enough, it also had a private infinity pool located on the top floor. It came complete with and outdoor pavilion, lounge chairs, an outdoor shower and bathroom. Could life get any better? It was like our own private oasis overlooking the entire resort. We splashed around and were able  play together alone as a family.
Angsana Lang Co Facilities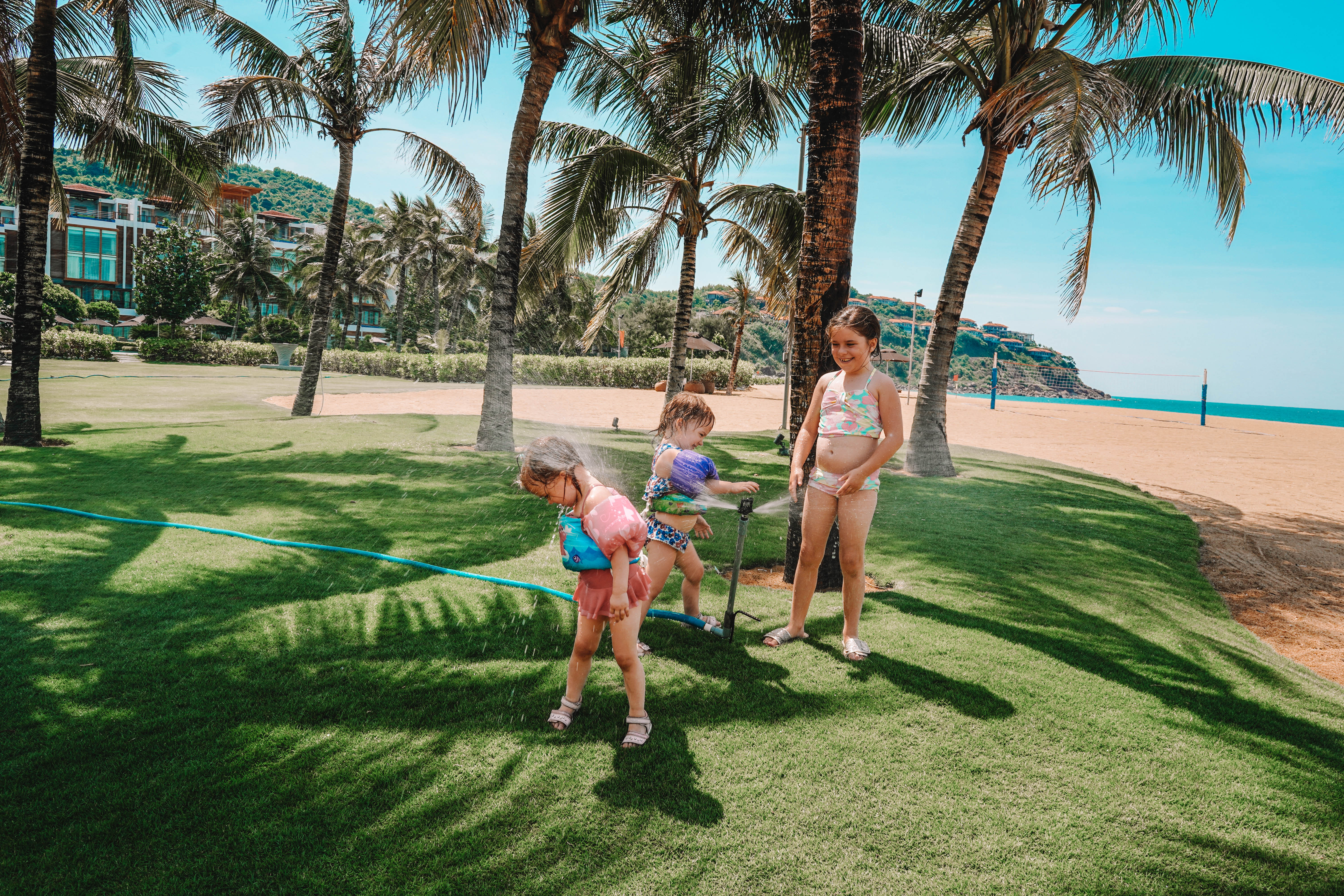 Being a five-star hotel, it has every facility you can imagine.  During the day, you can be busy or lazy as you want. For the more active folks, you can play a game of tennis or take to the tee at the 18-hole champion golf course designed by Sir Nick Faldo. Or head on over to the Laguana watersport centre where you can rent Jet skis' speedboats, paddleboards, kayaks and more.  Last but not least, the resort offers a state-of-the-art gymnasium.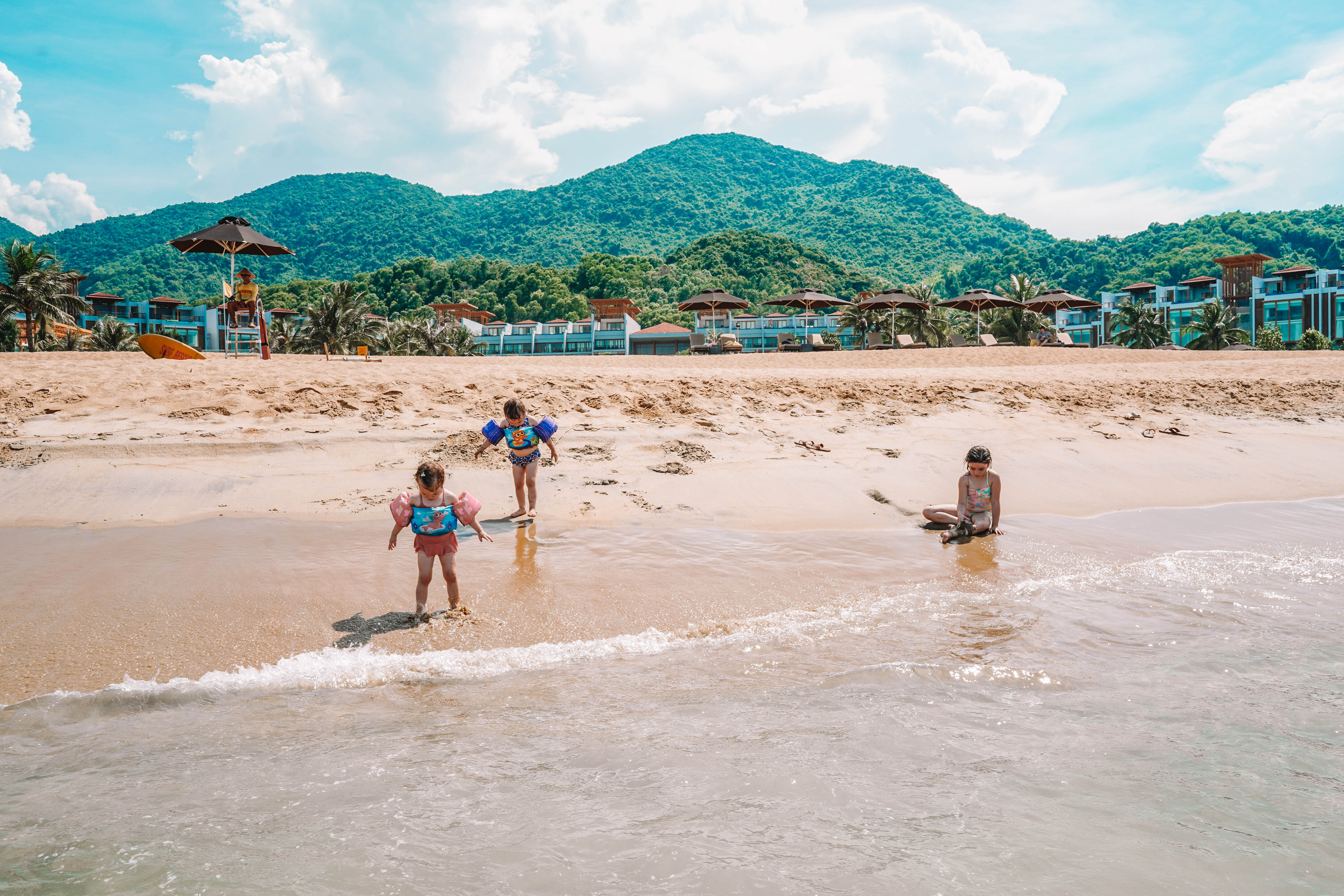 Looking for a relaxing time like we were? Head over to the beach club the resort front Canh Duong Beach where you can unwind under one of the shaded areas complete with cushioned loungers.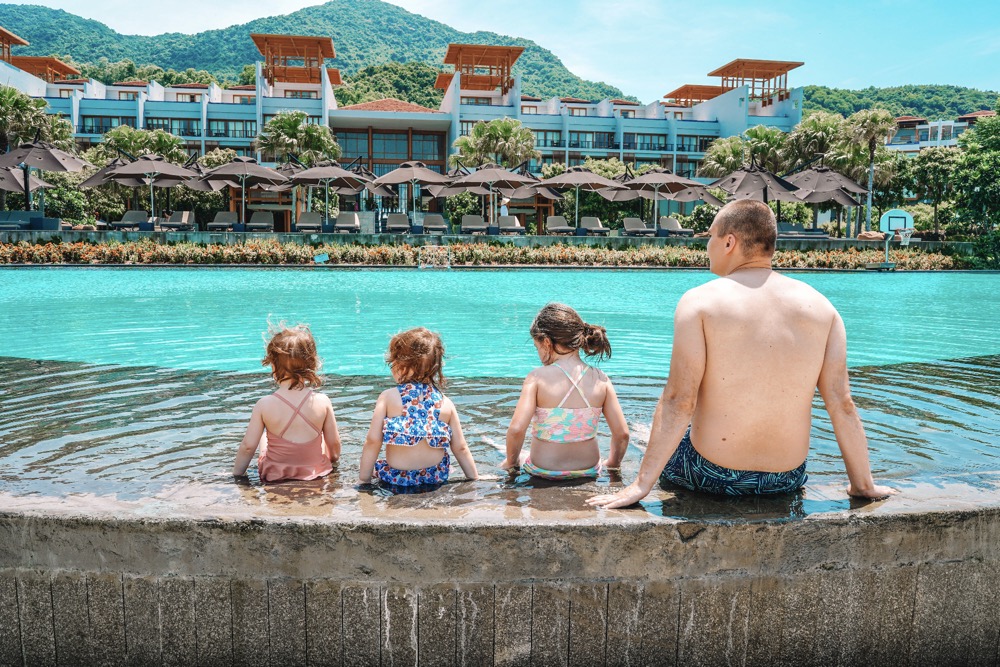 If you're kids enjoy the pool more than the beach then they will fall in love at the resorts pool. It's pretty hard to miss winding more than 300 metres around the entire resort. Just to get to one end to the other took us over 20 minutes. Don't forget to pick up a tube so the pool can act as a lazy river. For the adults, is the pool bar, which offers up some delicious drinks while kids play close by.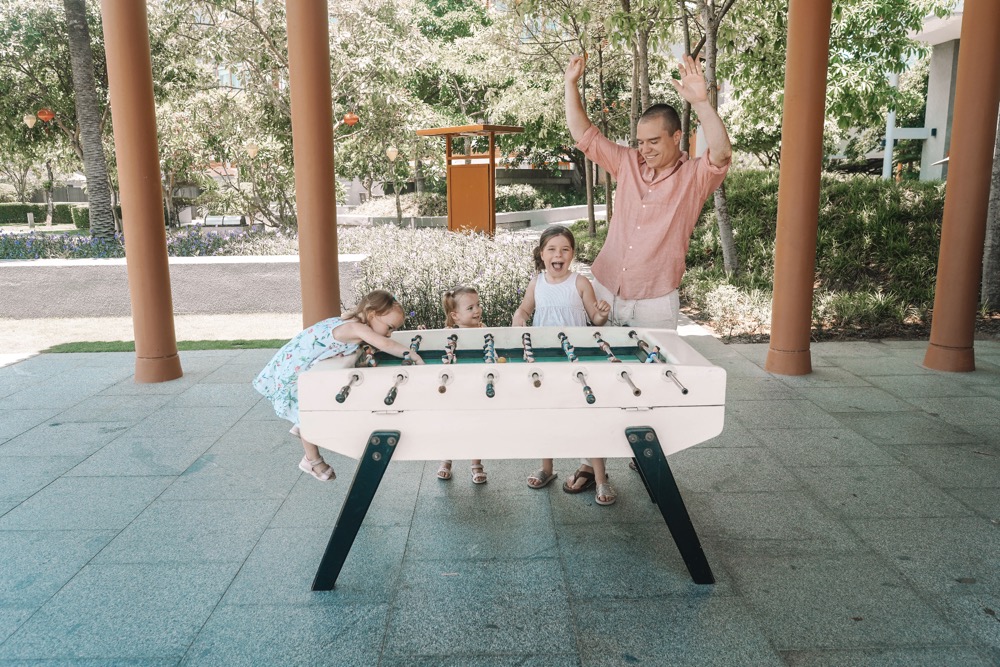 There is other actitvies around the resort to do as a family too. We enjoyed the fussball table, that also had a ping pong table close by. Also don't forget to take a free tour of the lagoon in the resorts private boat. The ride is about 20 minutes long and very picturesque.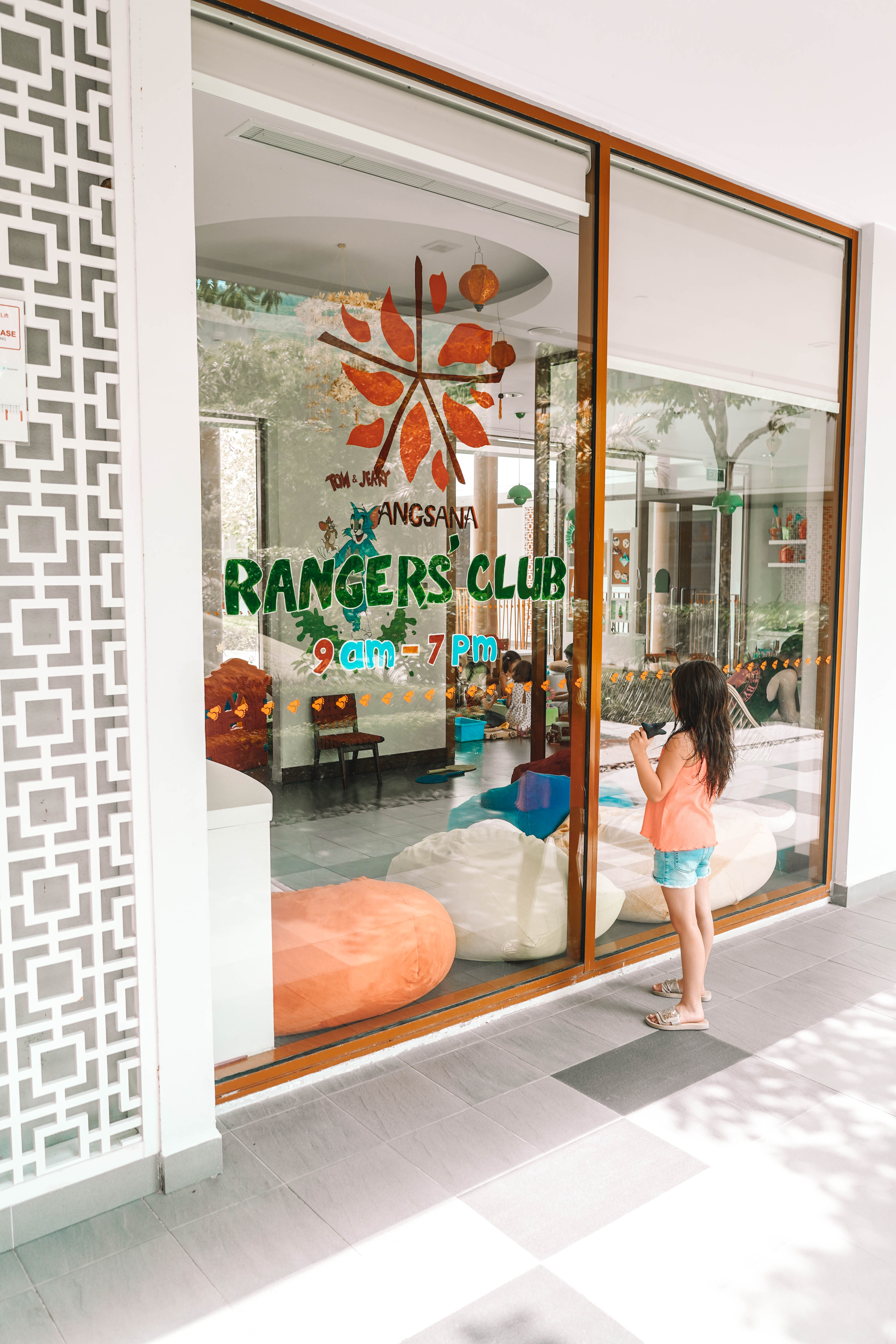 For the kids, is the Angsana Kid's Club, that offers and indoor play area complete with a ball pit and outside playground with a baby pool. My eldest daughter enjoyed organized craft activities and the twins loved visiting the resorts organic farm. Just to note, children under four are required to have a family member present or hired babysitter when at the club.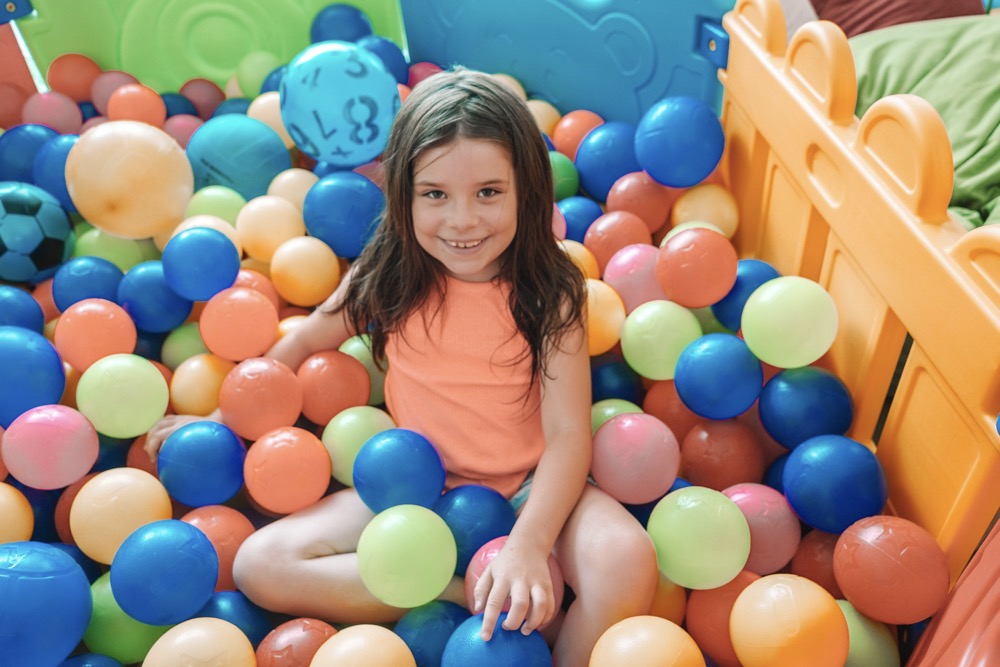 Other Kids Club activities include
Little Chef: An exciting cooking making experience for children.
T-Shirt painting
Card Making
Paper Quilling
Lantern Making
Angry Bird making
Flower Making
Photo Frame Making
Face Painting
Rock Painting
Dining
Angsana Langco also offers a variety of dining options for families – from casual to fine dining. There are four restaurants within the resort, and guests also have access to four more restaurants at their sister property, the luxury Banyan Tree resort.
Market Place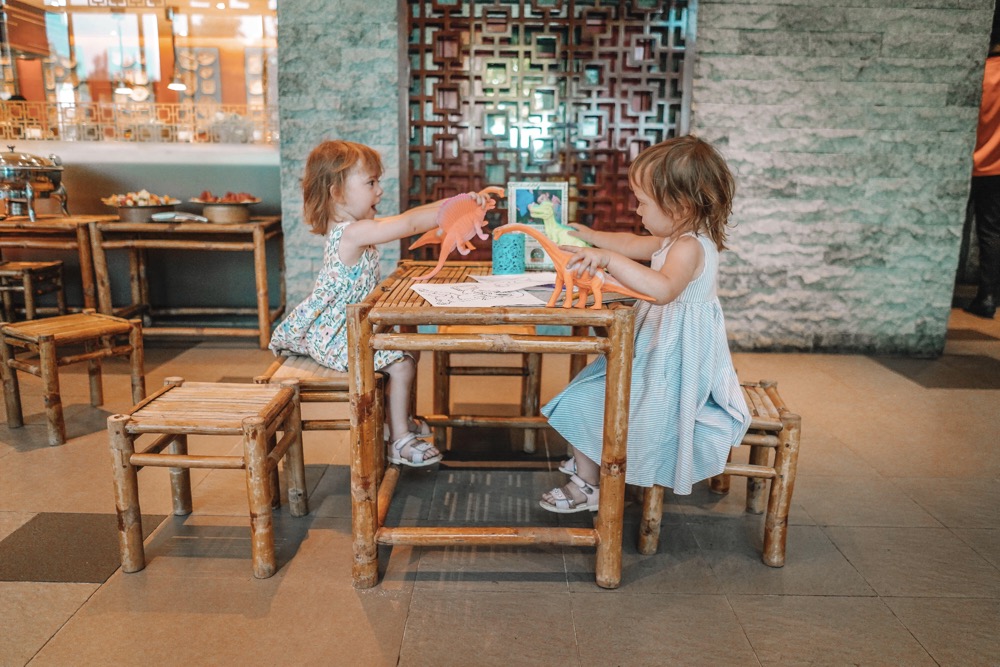 Market Place offers a divine breakfast buffet in the morning. The buffet is extensive and feature western and indo-china region cuisine.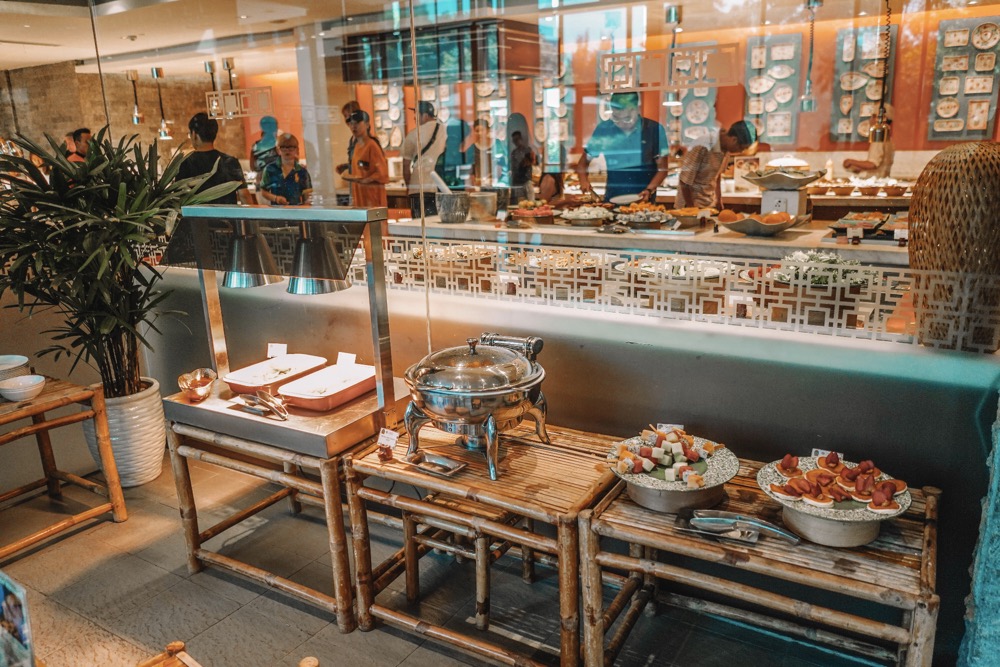 The resort goes out of the way to make young children feel welcome with their own mini buffet area complete with toys and tables. So, my children were always in a rush to get to breakfast each morning.
Moomba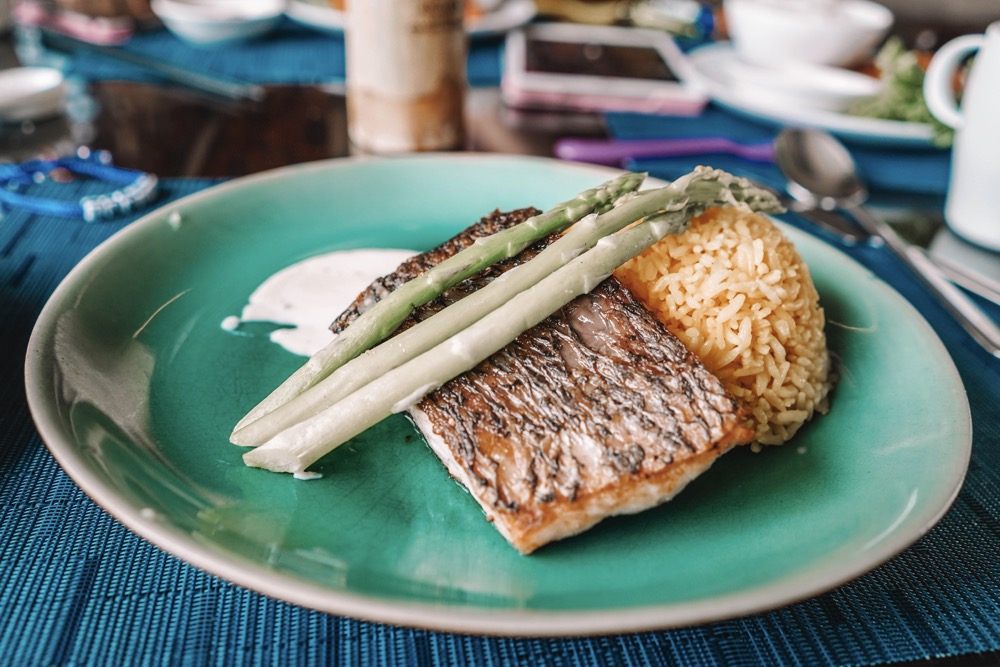 Moomba, which is located between the pool and the seafront offers authentic Central Vietnamese and Southeast Asian seafood.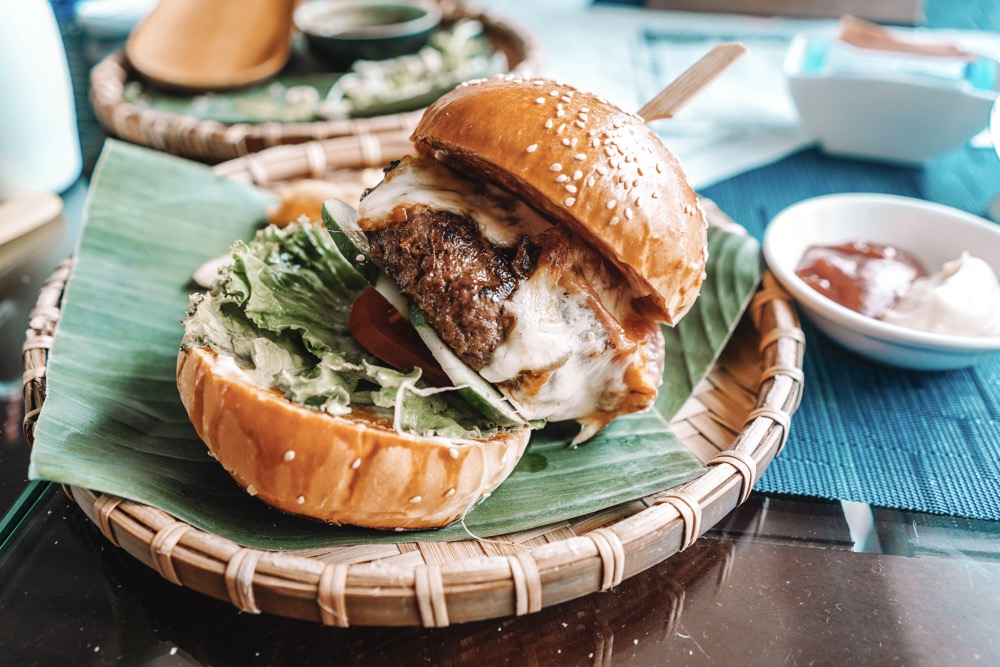 It also has western food like one of the most amazing burgers we have ever tasted. Be sure to get it!
Upper Deck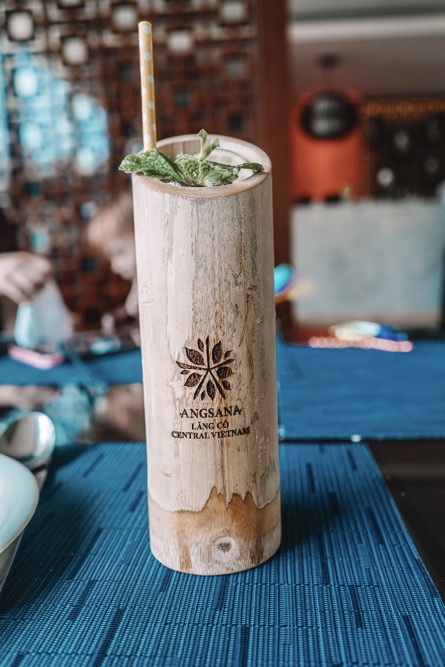 Located above Moomba restaurant, the rooftop terrace bar features impressive panoramic views of the sea and Truong Son mountain range. It's the perfect place to enjoy a drink before dinner or enjoy relaxed conversation with friends and family after a beautiful day.
Rice Bowl / Bar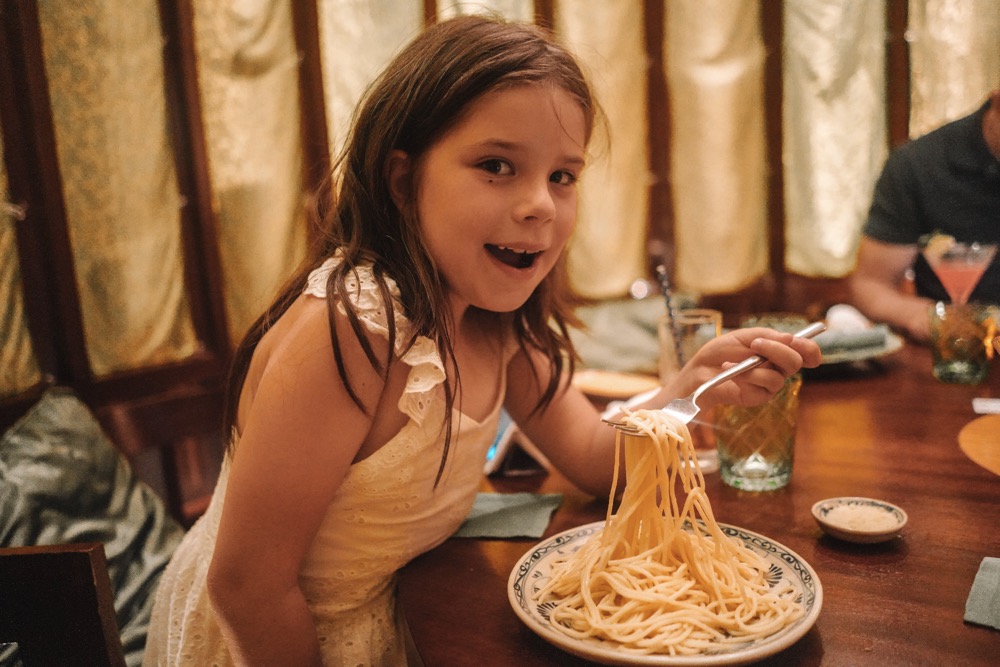 Set in a more upscale environment, but still kid-friendly, Rice Bowl offers cornerstone food for most Asian cuisine, including Vietnamese food.  Our dinner at Rice Bowl was our favorite. Daniel and I enjoyed Berry Martini's and a bottle of wine.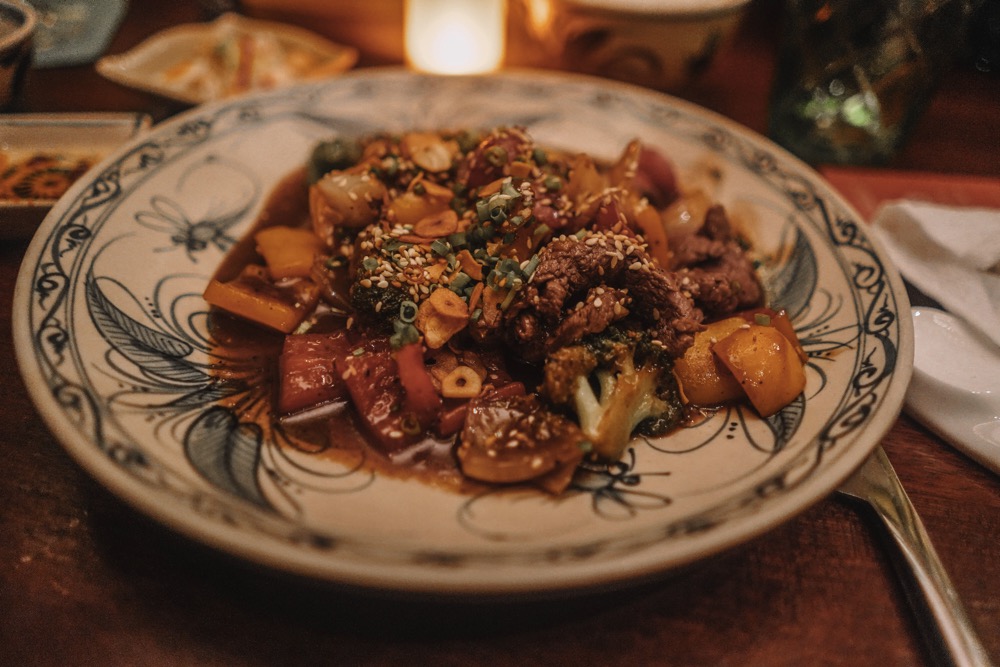 Our favorite of the many dishes we tried were the Laska soups, which were as good as any we had in Singapore. Ava's favorite dish was the fried bananas. She actually made us go back a second time just so she could have them again.
Special dining events
During our time at the resort, they also had two special dining nights on the resort lawn. We attended the Street Food night, where popular Vietnamese specialities are prepared and served to you at one of the outdoor seating spots on the lawn. It was really nice to eat under the stars and the kids had a lot of fun running around and then heading to the kids club table to do some coloring while we finished up our meal.
Spa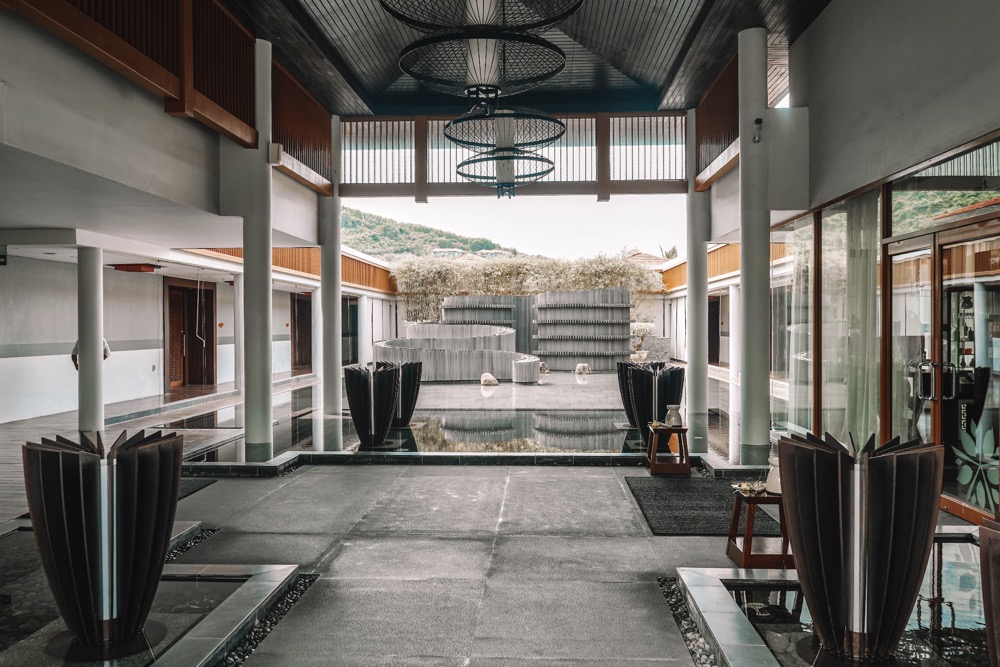 The award-winning Angsana Lang Co spa is the perfect indulgence for parents looking to have an hour or two to relax and reconnect. It features two exclusive Rainmist rooms for Angsana Spa's signature hydrotherapies. Body treatments are freshly concocted to give you the best of all indigenous ingredients.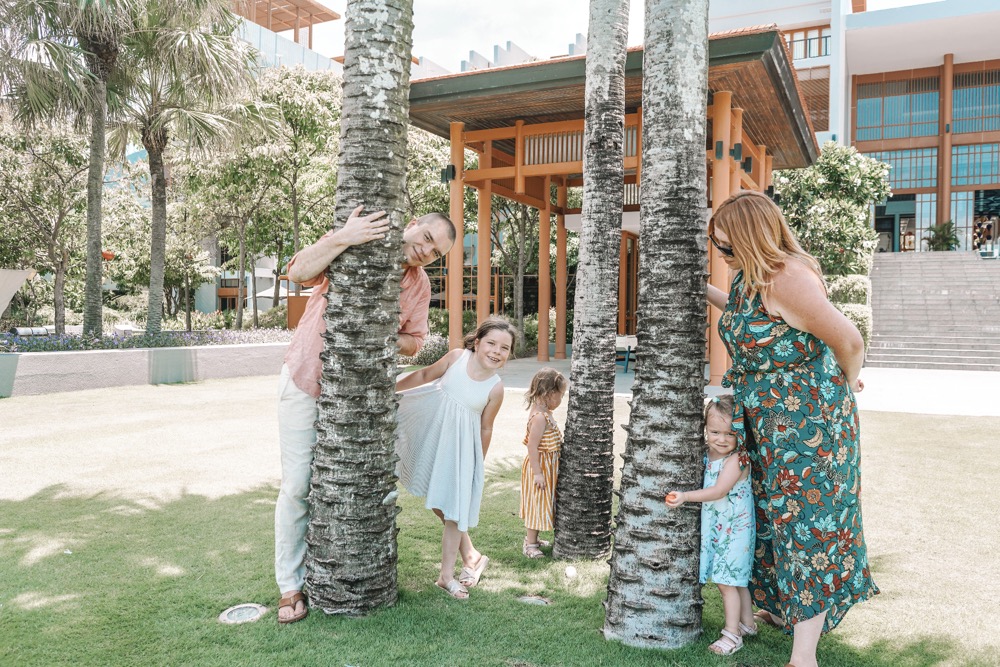 All five of us left the resort feeling relaxed, but very sad to leave the paradise that Angsana Lang Co is. Hopefully, our travels will have us find them again in the future!
To learn more about Angsana Lang Co visit their offical websitea nd check out their social media accounts – Instagram, Facebook, and Twitter for amazing pictures of the property.
Connect with The Go To Family on  Instagram, Youtube, Twitter, and Pinterest!
Disclaimer:  Angsana Lang Co graciously hosted our stay in order to facilitate this review. Although, the opinions within this post are my own.