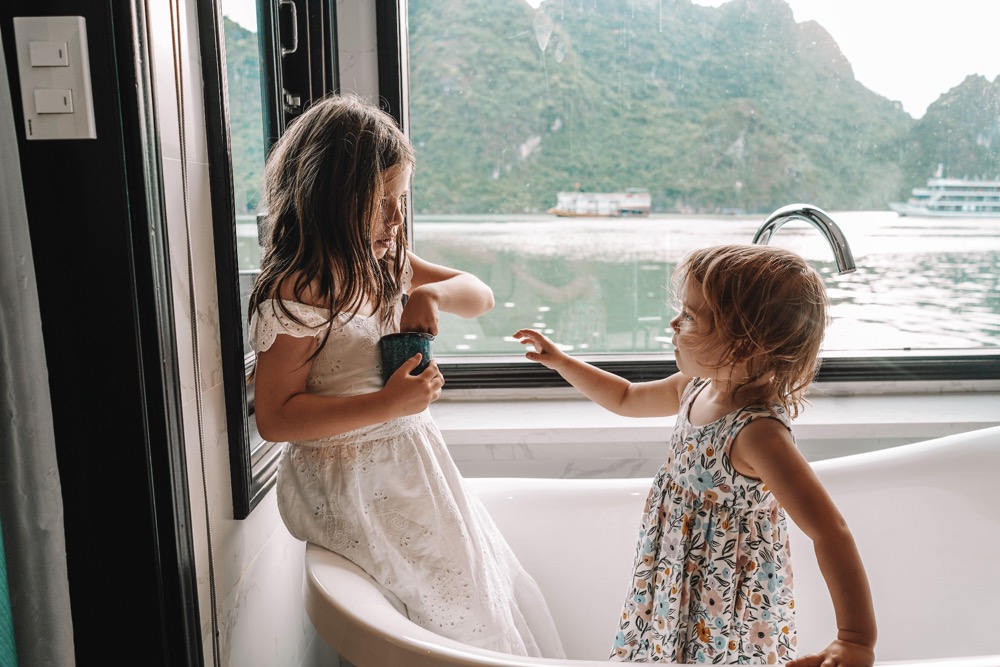 One of the must-visit places for most travelers when visiting Vietnam is Halong Bay. Located in northeast Vietnam, the UNESCO World Heritage site is known for its emerald waters and thousands of towering limestone islands topped by rainforests. It's also popular for kayaking, rock climbing, and caves. The easiest way and most popular way to see Halong Bay is to take a cruise on a junk boat for one or two nights. It allows you to fully immerse yourself in the area as you sail through the water with the karst towers popping out from every which way.
See Halong Bay by taking a cruise
Seeing that cruising is the most ideal way to witness Halong Bay there are literally hundreds of companies that provide 1-2 days cruises with combined excursions.  It can be overwhelming to separate one company from another and to know what type of junk boat is right for you and your family.  You can sail anything from a bare-bones to a luxury junk boat liner.
Genesis Cruises – Luxury Sailing in Halong Bay
One cruise company that stood out to me after doing some research was Genesis Cruises. Established in 2017, Genesis has gained popularity by offering a high-quality service experience with a perfect combination of culture, history, and landscapes. They offer modern facilities and cater to those looking for a more luxurious setting while sailing Halong Bay.
Genesis Regal Cruise – A New Luxury Boat
Due to their success, they added another line to the brand, the Genesis Regal Cruise that just recently sail for the first time. It is the highest level of  boats the company offers and is the 'ultimate' luxury experience. All 20 rooms have private balconies, sea view full-frame windows, beds sea-heading view and full HD tv.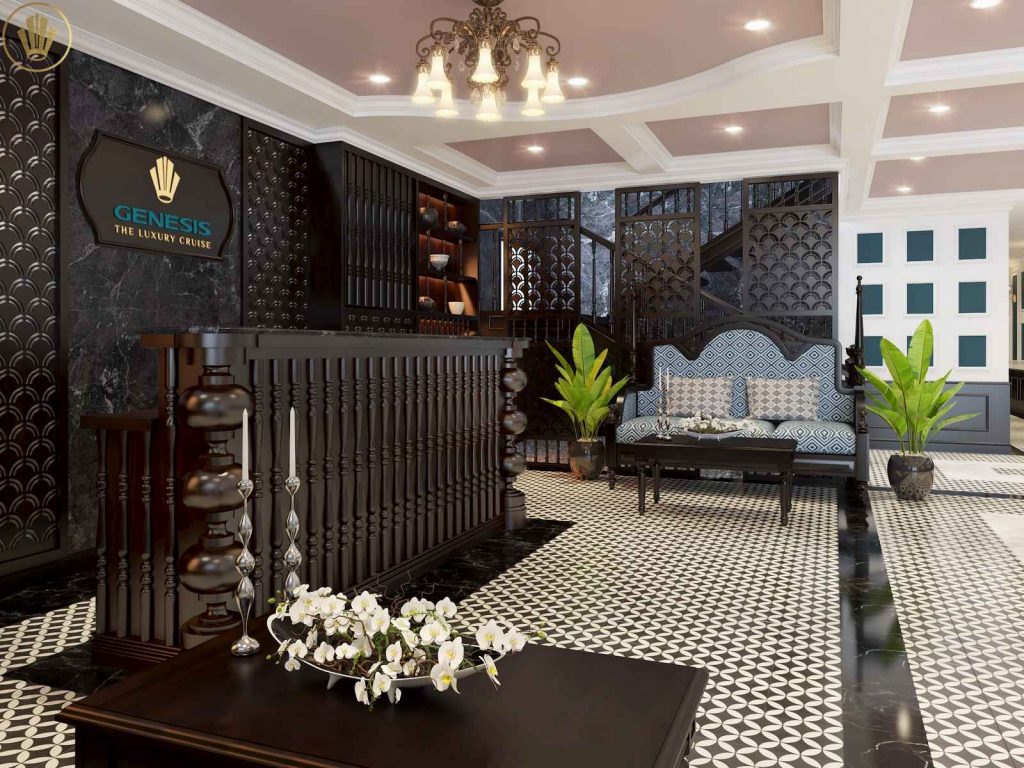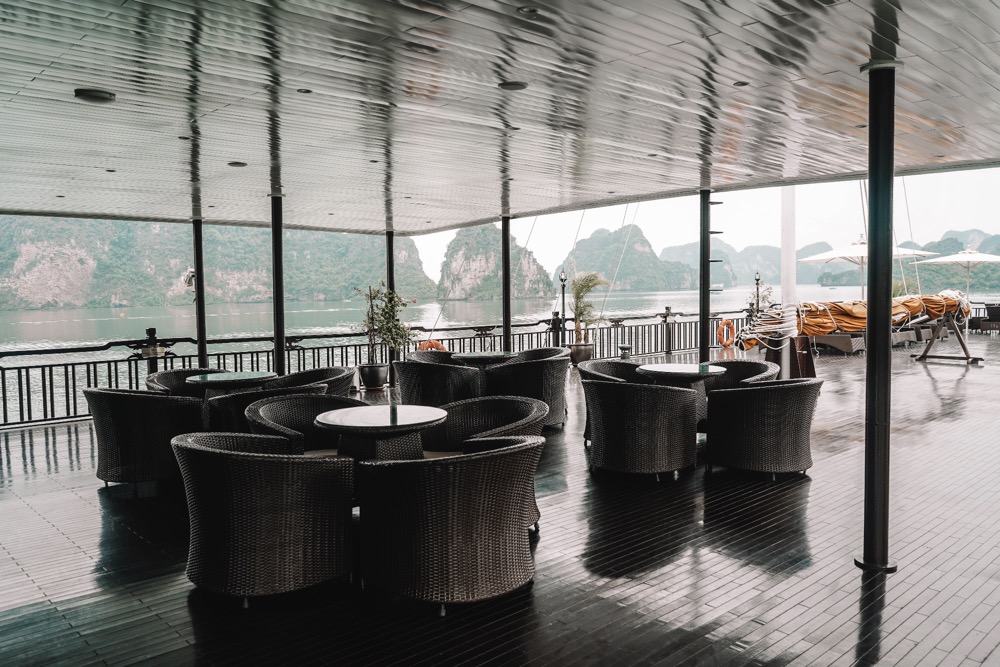 The inside of the boat is crafted with traditional brick and natural wood, Bat Trang Ceramic, Minh Long porcelain, and Ha Dong Silk to give it a sophisticated look. Inside spaces are also decorated with paintings about ancient Kings and Queens of Vietnam, paintings of traditional crafts so visitors can learn about the cultural and historical history of Vietnam.
Our Experience Aboard Genesis Regal Cruise
Day 1
Genesis Cruises warmly welcomed us to set sail with Genesis Regal cruises just after its first sailing.  Booking was simple enough on their website and they contacted us shortly before our departure from Hanoi to arrange a pickup time in their private van. We were happy to learn that Genesis Regal Cruises offers its visitors the simplest transport by taking the newly built express highway that many of the other companies are yet to provide. Your trip time is literally cut in half!
Arrival
Upon arrival, we were welcomed to their office area where you're greeted by the Genesis staff. This is where you wait to take a port operated boat to the junk boat. After about a 10-15 boat ride, we arrived at Genesis Regal Cruise and quickly board the boat while being welcomed by staff in the main reception area.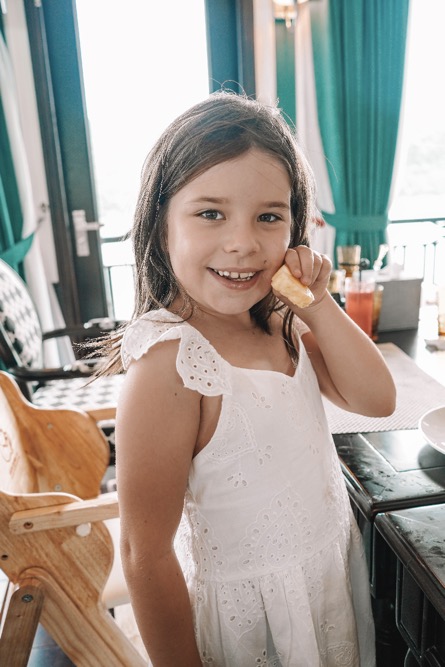 We were quickly whisked upstairs to the main dining area and we were shown our assigned private table for the cruise.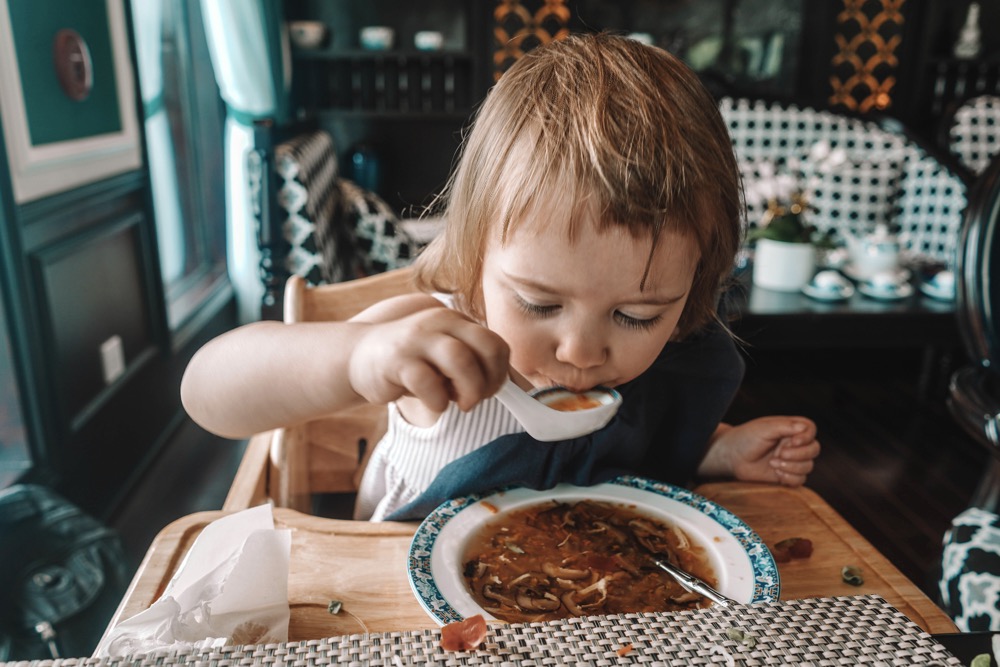 Lunch
The cruise director gave a brief welcome and itinerary briefing before we feasted on a set menu lunch with delicious local seafood. It is probably the most picturesque lunch one can have as the Regal Cruise slowly glides between the numerous small islands and the sea-green color of the bay.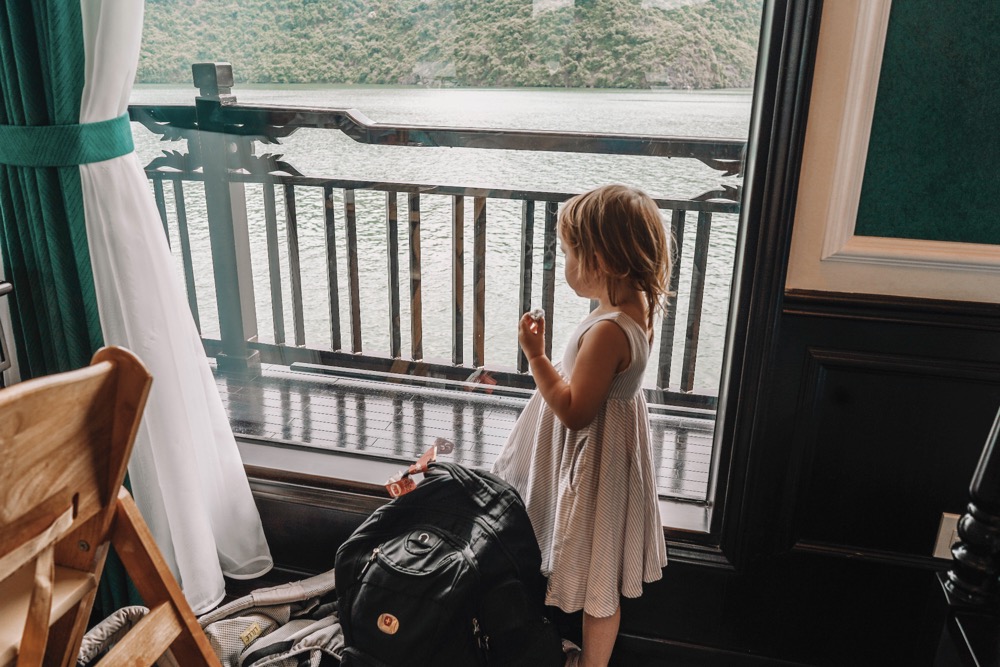 Explore Halong Bay – Activity
After lunch, we received our room key and had a short time to unwind. We were given three options we could stay on the boat or do one of the two activities offered to explore the bay –  kayaking or bamboo boats that are rowed by the local people. Having three children, we obviously chose the bamboo boats over kayaking! The whole experience was lovely and I recommend taking part in the activity. However, I do feel that if relaxation is key for you and your family that staying on the boat is very nice too because each stateroom has its own private balcony where you can enjoy equally beautiful views of the bay.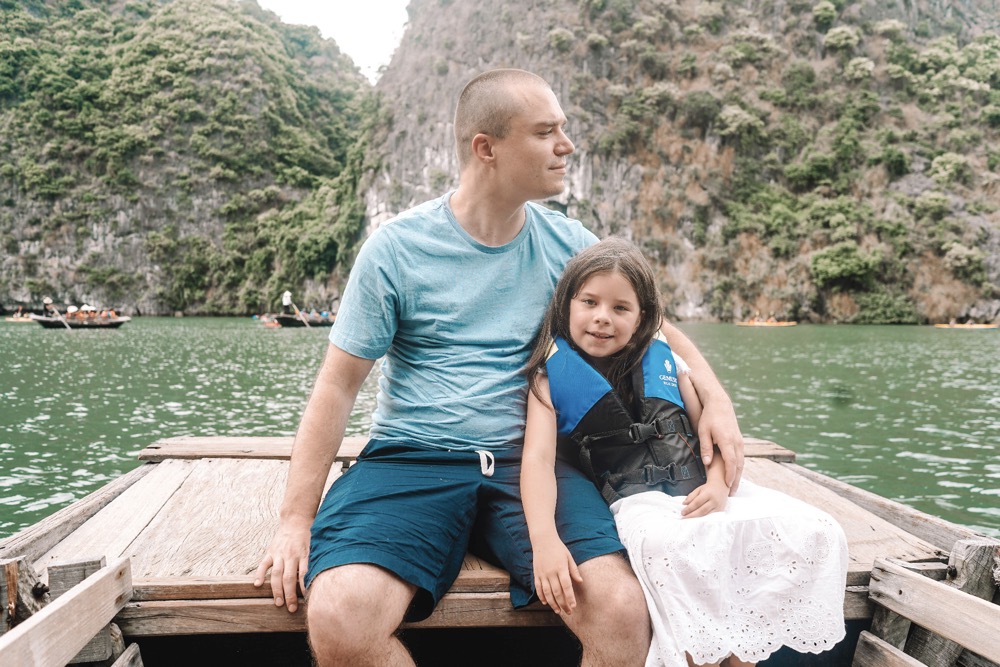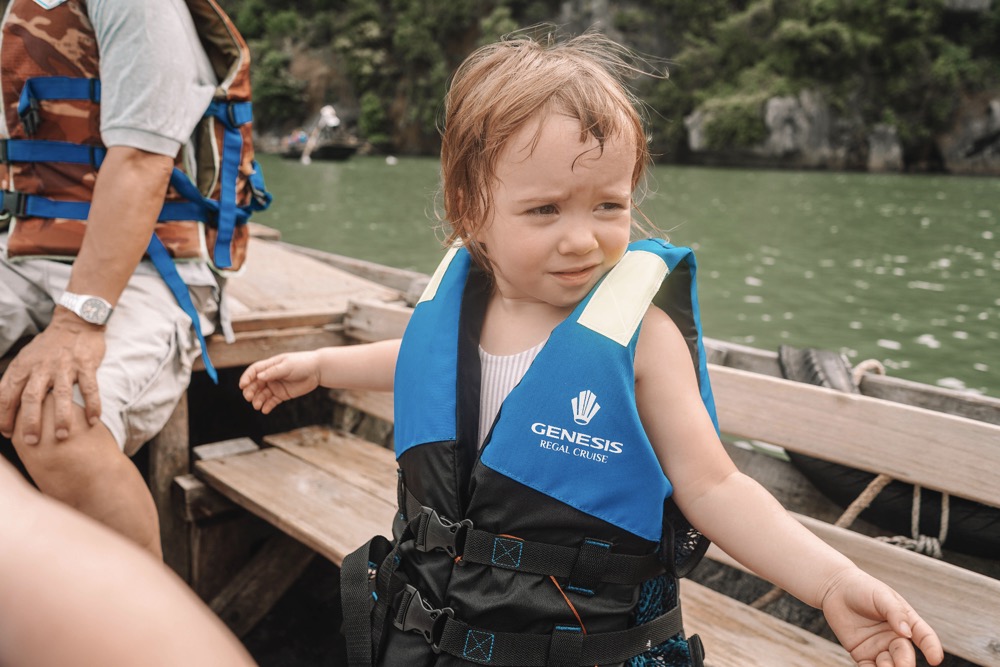 After the excursion, we decided to go back to our room and to relax before dinner.
During this time, Regal cruise offers guests the opportunity to swim in the middle of the bay and shortly after you can go to the top of the deck to take part in the cooking of a Vietnamese dish.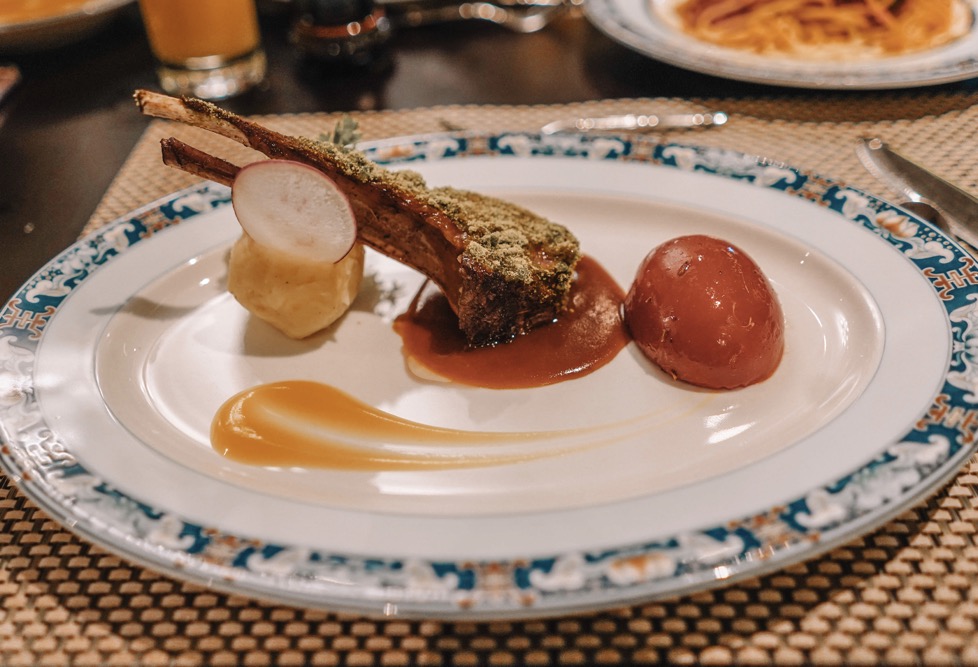 At 6:30 pm, dinner starts in the main dining room. The Regal cruise offered a multi-course fusion style experience.  We enjoyed all the dishes, but our absolute favorite was the lamb chops! They were some of the best we have ever tasted.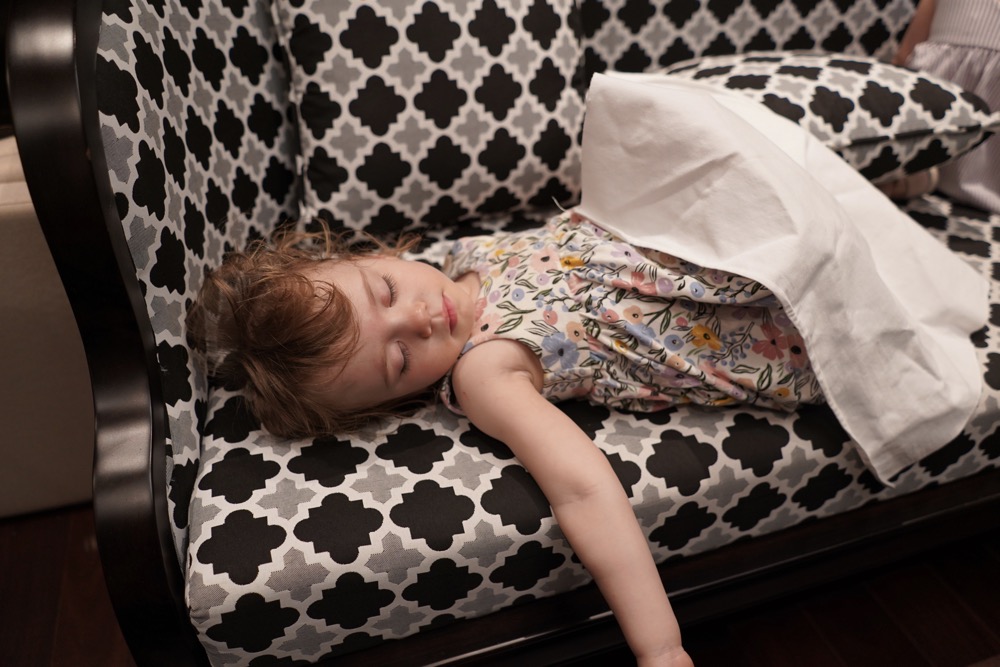 After dinner, we were all very tired. Ella and Rose actually fell asleep on the couch near our dinner seats, so it was definitely time for bed for us! The ship offered late-night squid fishing for guest who still had the energy for some more fun.
Day 2
The next morning breakfast start and 7:30 am, but we chose to skip it and sleep in! If you're an early riser, you can take part in Tai Chi on the sundeck at 6:30 am. A little later, you must pack up and leave your bags outside the stateroom so the staff can prepare for next guests to arrive. This was simple enough for us because we didn't bring much with only being on the boat for 24 hours.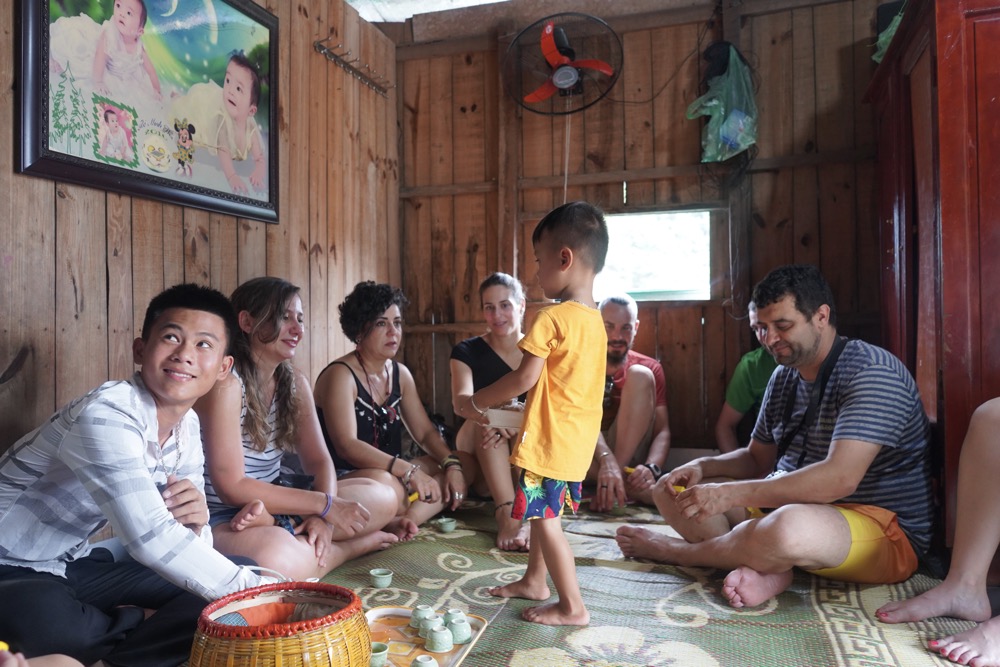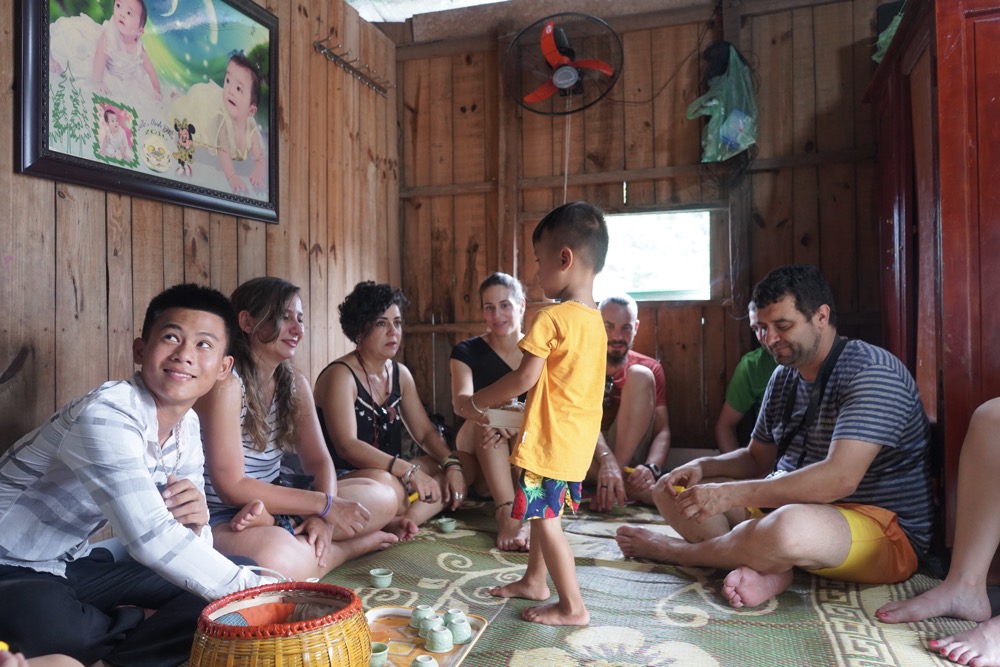 The last activity of the cruise is visiting a floating house on the bay where the family welcomes you with traditional sweets and tea. The family who has welcomed the likes of Anthony Bourdain are very nice and eager to show their way of life. Their little boy was very cute! Our girls enjoyed seeing the fish they farmed.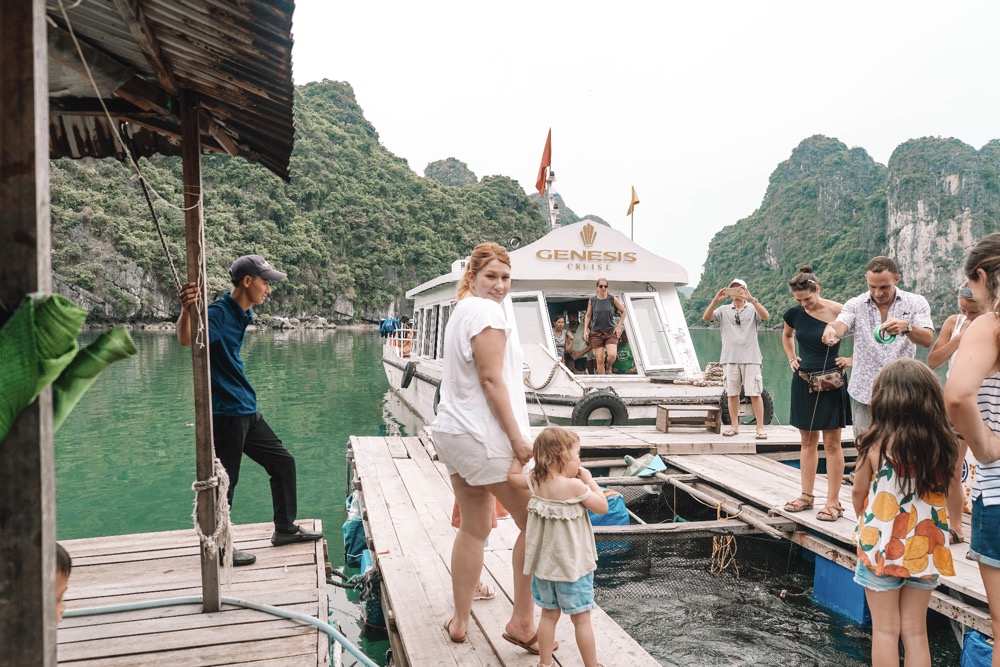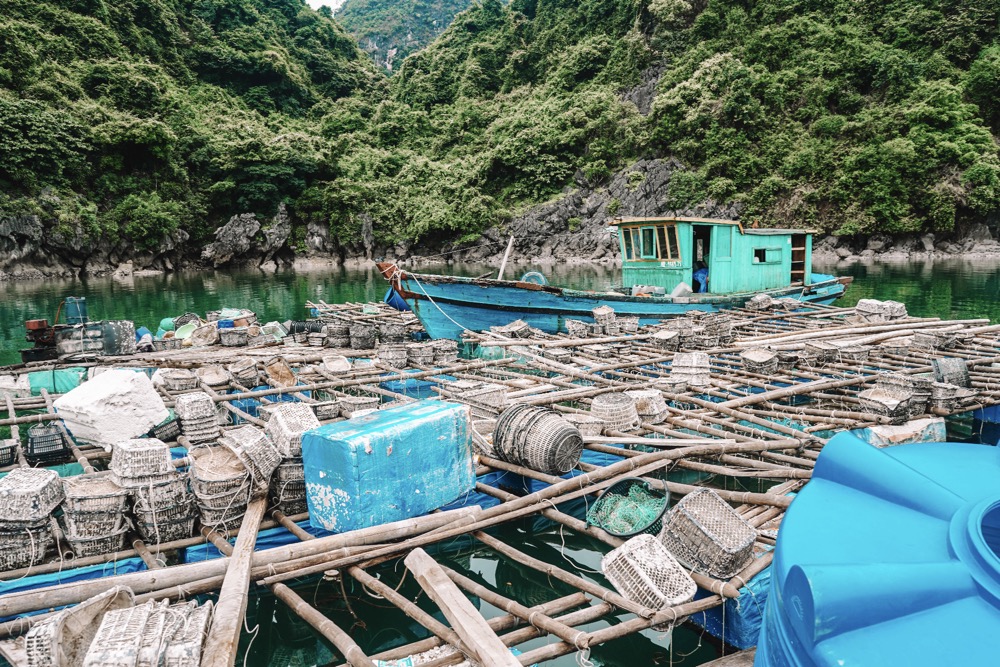 After the floating house, you're brought back to the Regal Cruise where you enjoy brunch – the last meal of the cruise.  You then take the port boat back to the port and from there you're taken back to Hanoi in a Genesis Cruises van.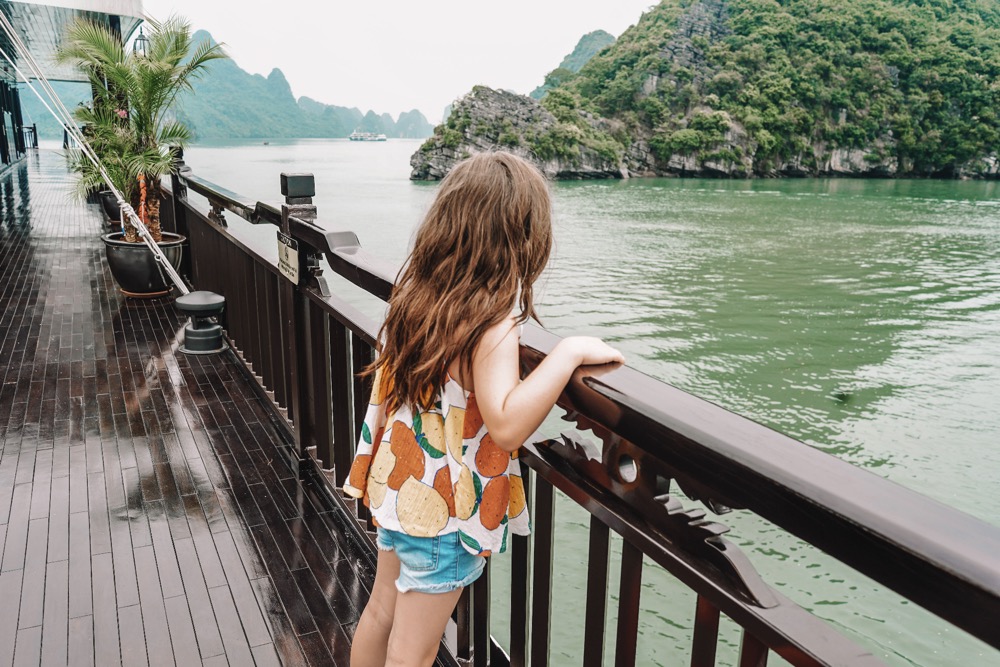 Our family loved the experience and Halong Bay is a must-visit if you're in Northern Vietnam. My only reccomadation is if you're a family I would recommend taking the 2-night cruise instead of one. I felt like we would have been able to relax more, which is more needed when you have young children. The one night cruise was slightly hectic for us.
Find out More
To learn more about Genesis Regal Cruise visit their website. Be sure to check out their Instagram feed to see more pictures of the boat and Halong Bay.
Connect with The Go To Family on  Instagram, Youtube, Twitter, and Pinterest!
Disclaimer:  Genesis Cruises graciously gave us a reduced rate to sail aboard the Genesis Regal Cruise in order to facilitate this review. Although, the opinions within this post are my own.