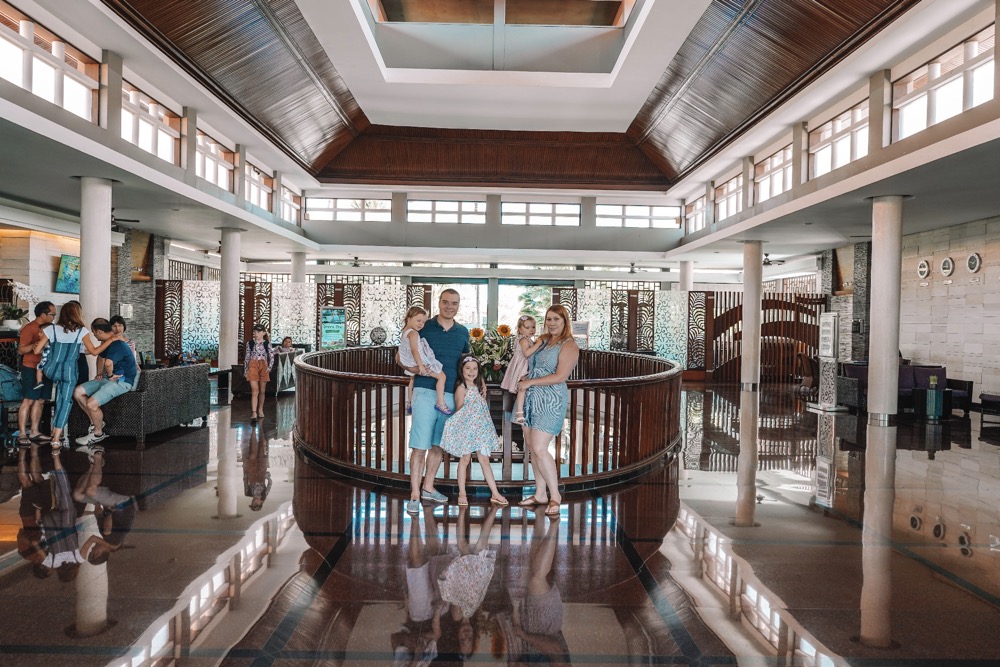 Bali has become a popular travel destination for families in recent years. The Indonesian island's slogan, "Wonderful Bali" perfectly sums up the destination in two words. Bali truly is the perfect destination for a family holiday. Not only can you relax at a resort with the kids, but you can also take in the culture by visiting one of its many religious temples or take a road trip to see the islands iconic rice paddies and volcanic mountains.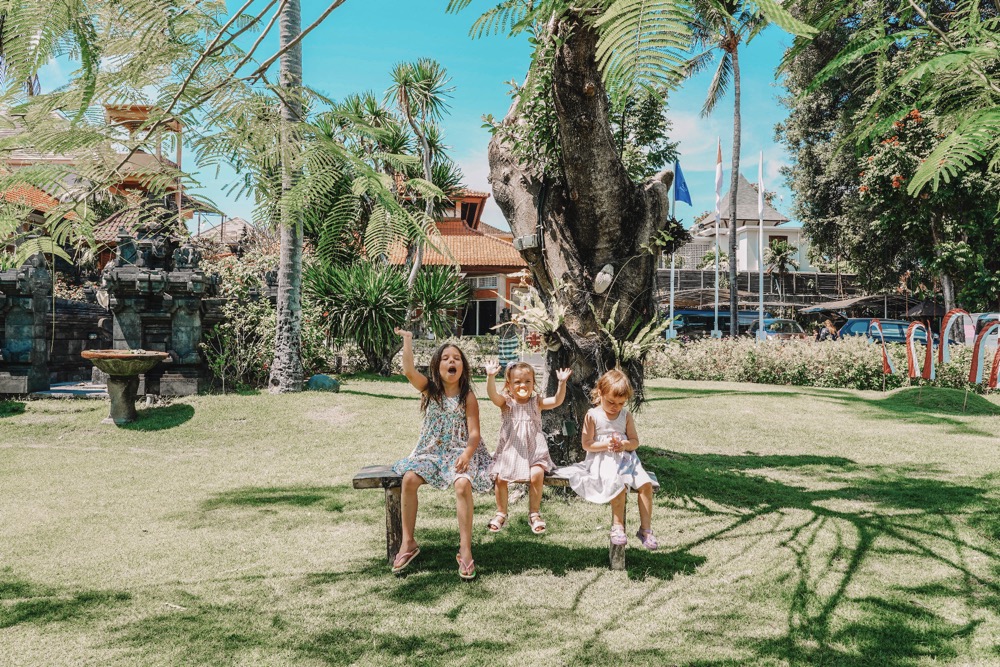 We travel the whole summer, so we always plan some down time for us and the kids during our travels to regroup and rejuvenate. When we landed in Bali, we decided one of the first things we would do is head to a resort where we could just relax and enjoy some fun family time. The Bali Dynasty Resort in South Kuta fit the bill perfectly. Not only is the resort stunningly beautiful, but it caters specifically to families visiting Bali.
Accommodations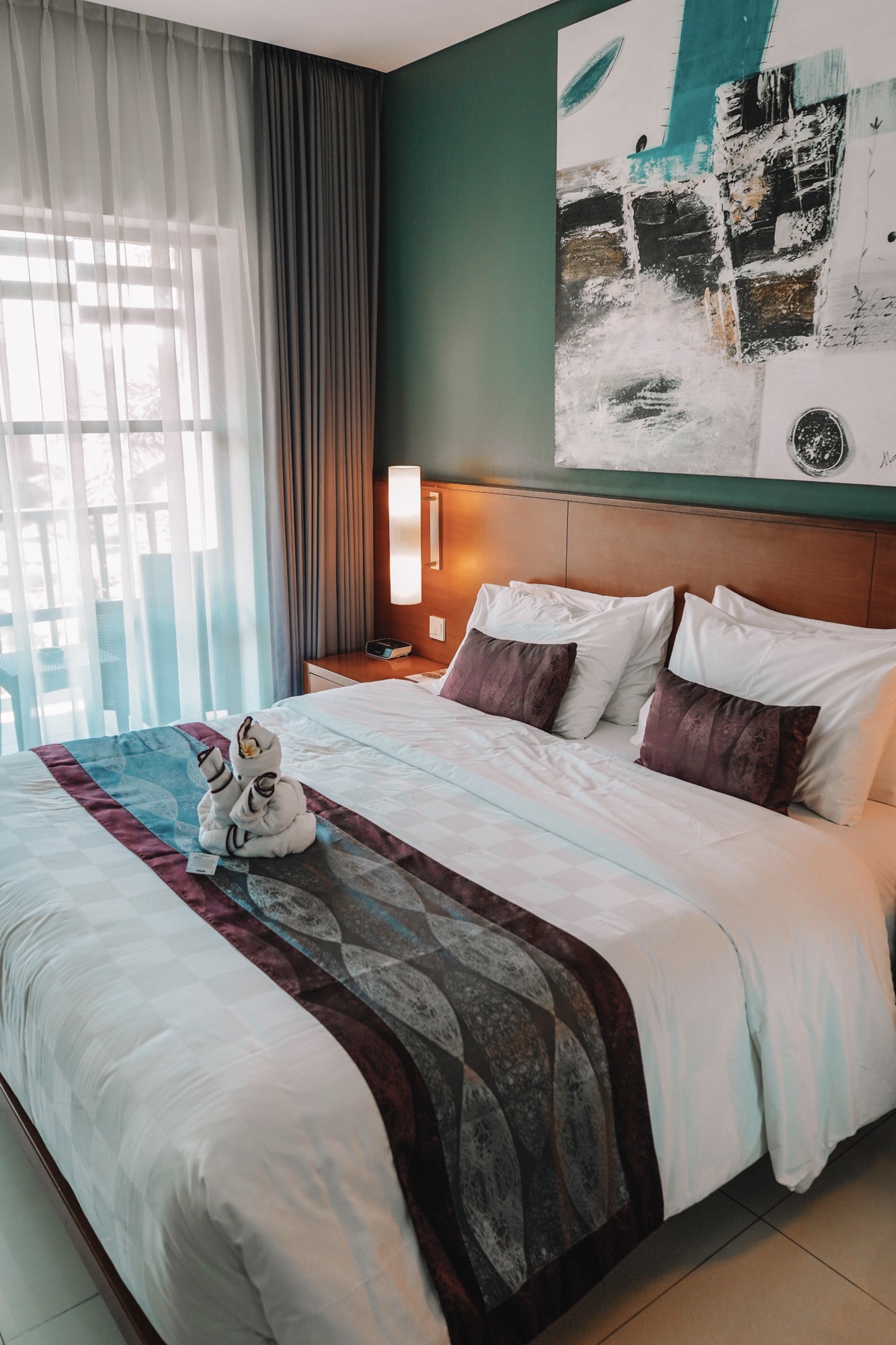 The Bali Dynasty Resort has a variety of different accommodations depending on the size of your family. We're a family of five and the family studio was the perfect room for us. It offered a king bed on one side of the room and on the other, a Bunk Bed with a trundle bed that can be pushed out.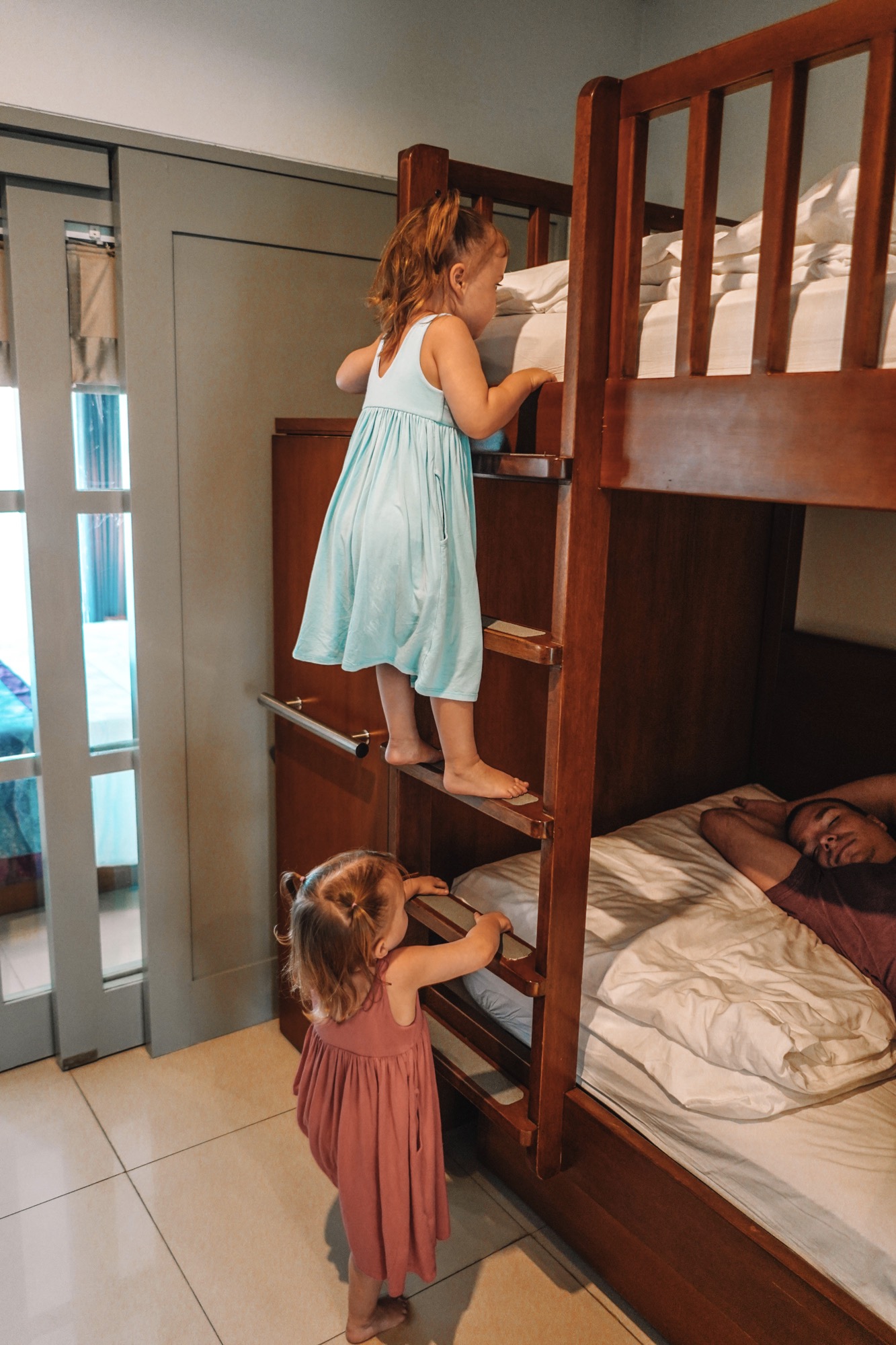 Each of the girls had their own bed, so they felt like little princesses during our stay. Daddy and mommy loved the sliding divider complete with black-out curtains between the two areas, so we didn't have to go to bed early with the kids. There is also a flat screen tv in both areas, so the kids were able to watch cartoons while we were watching something else. The bathroom was also big enough for five with two sinks and a walk-in shower.
Pool Fun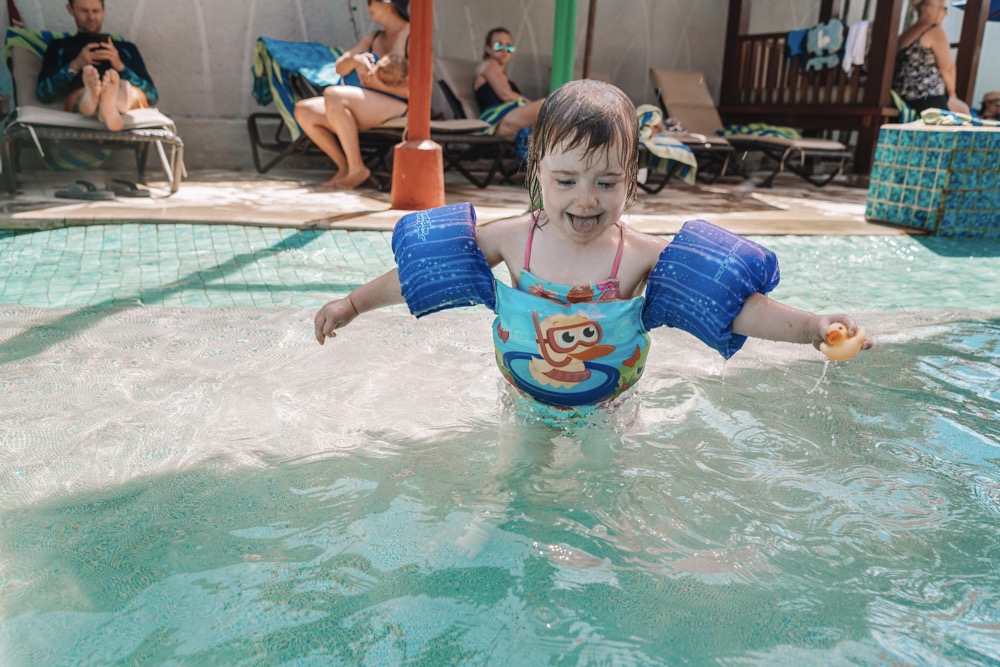 When it comes to facilities the Bali Dynasty Resort truly has everything a kid would want. There are three pools that all offer a different type of ambiance.  The main pool, which also has a swim up bar is perfect for older kids who love to swim. A lot of daytime activities are held here for kids. My eldest daughter, Ava, took part in the jumping contest and we had fun watching the chicken game where kids pushed one another in the water from a top a metal pole.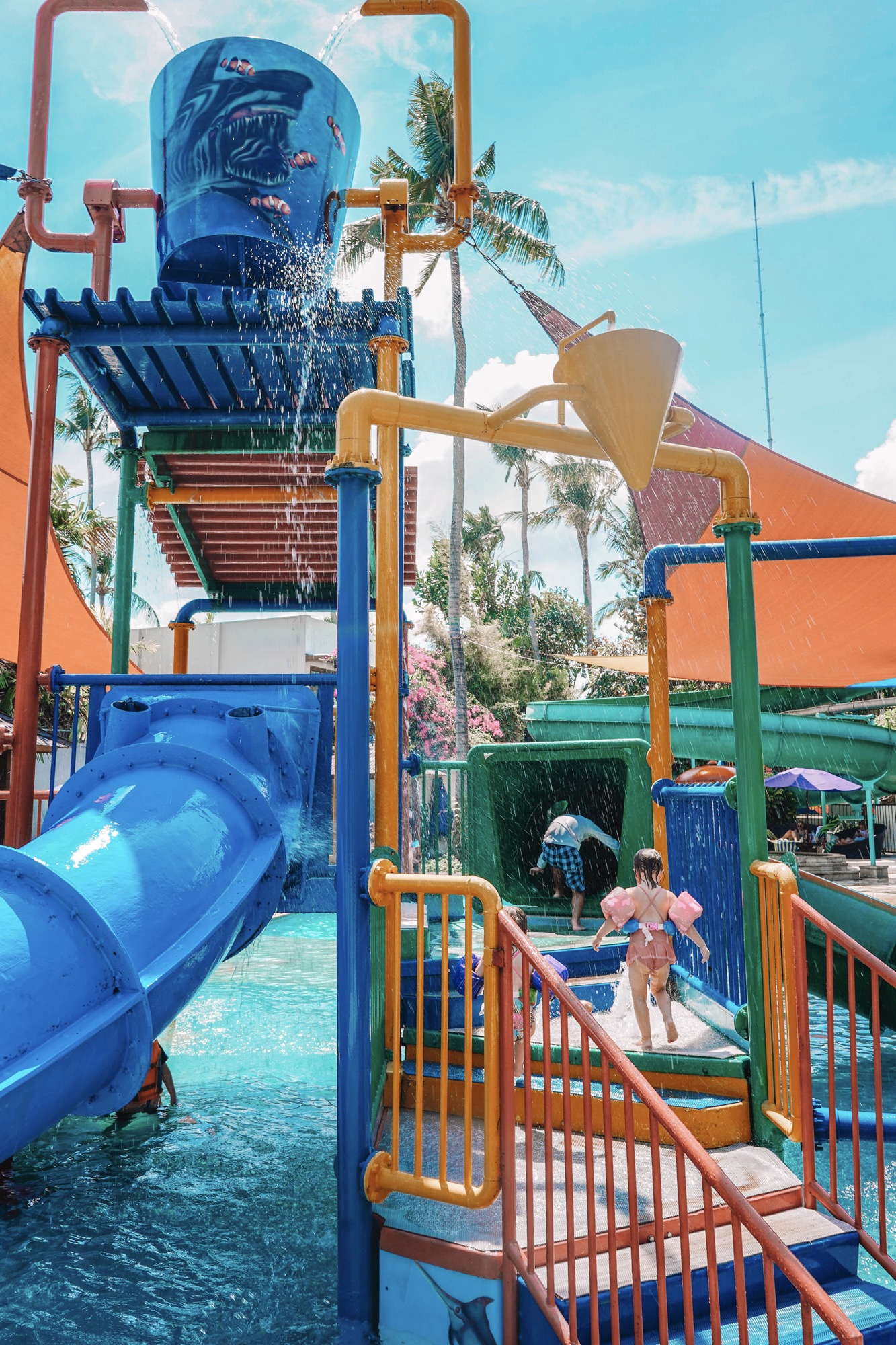 More than anything our three girls loved the dedicated kids pool that has a water play zone with a bucket that drops water. The '56-metre' Caterpillar Splash' waterslide was also a big hit with our younger ones. We went down with them for obvious safety reason, but older kids will have no trouble sliding down themselves over and over again.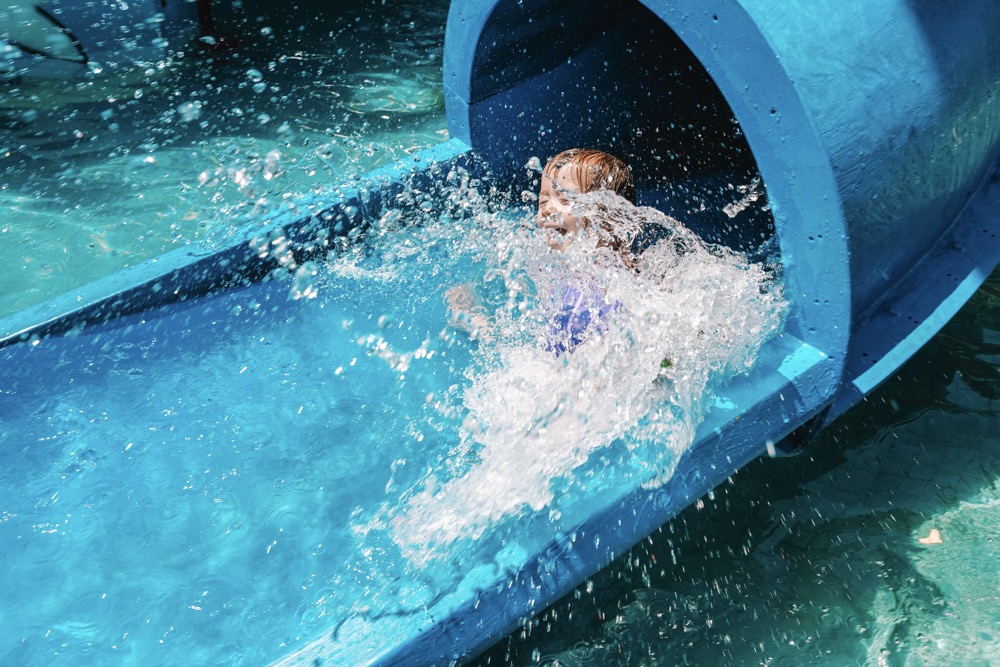 Kids Club
After all the water fun, be sure to let the kids check out the Kupu-Kupu Kiddies' Club, which is actually renowned as one of Bali's best Kids' Club facilities.  The Kids' Club area is divided into two sections with the ground floor consisting of the 'Enchanted Garden' theme air-conditioned kids' club catering for ages 4-12 years, whilst the first floor is The Den Teens Club for those aged between 10 and 16. The Den features Internet, Wii, Play station, X-Box, Movies, Pool, Table Tennis, Table Soccer.
The kids Club also offer special scheduled activities during the week for a small fee. Our girls took part in movie night, while we enjoyed dinner. They all had a great time and came home with a lot of popcorn.
Just to note, if your kids are under four, they must be accompanied by a babysitter. We hired two through the resort and we found them very professional. They even brought the kids back and put them to bed.
Restaurants
The Bali Dynasty Resort also offers a choice of 6 restaurants to enjoy. Each has its own individual theme and caters for different budgets.
Grace Kelly's (Irish Pub)
We actually ate here twice during our stay because we enjoyed the restaurant so much. Not only was the experience fun, but the food was absolutely delicious. The first night we went with the kids and they enjoyed the pizza and fish chips. My lamb shank was so tender, and Daniel had the bangers and mash, one of his favorite Irish dishes. They have entertainers that set a fun atmosphere and live music.  The second time, we went while the kids were at movie night and it was just as fun. I had the jumbo shrimp, which was a delicious healthier option.
Golden Lotus (Chinese Cuisine)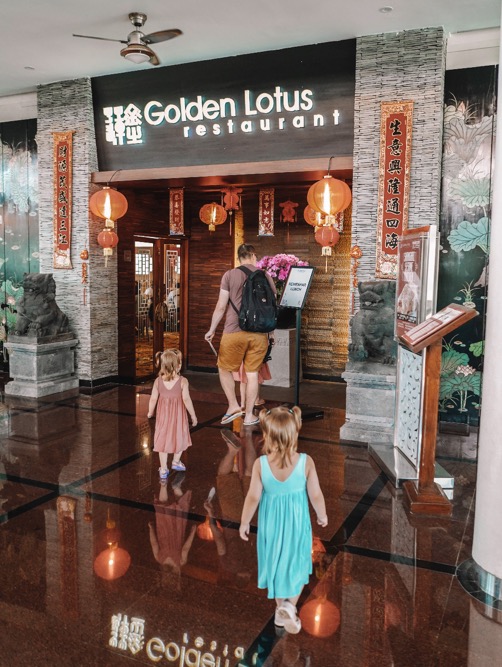 The restaurant offers Szechuan and Cantonese Cuisines and is open for lunch and dinner. We ate here for lunch on the day of our arrival and we all enjoyed our meal. We ordered mostly items off of their Dim Sum menu.
H2O
H2O restaurant overlooking the main pool is open for breakfast, lunch and dinner. It's a great place to have lunch after some fun atthe pool and during the evening it adopts a different theme buffet from around the world. We enjoyed a meal during the BBQ themed night, which had ribs, corn, salads, and Mexican dishes. The kids loved the Magic show that took place right outside of the restaurant and the singers that serenaded each table.
Other Restaurants & Bars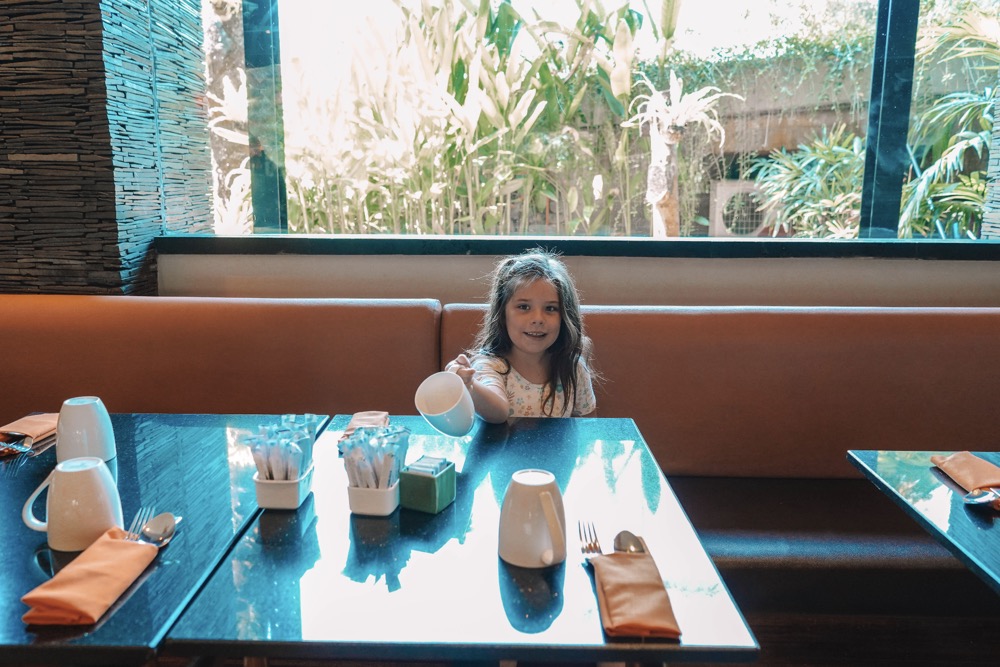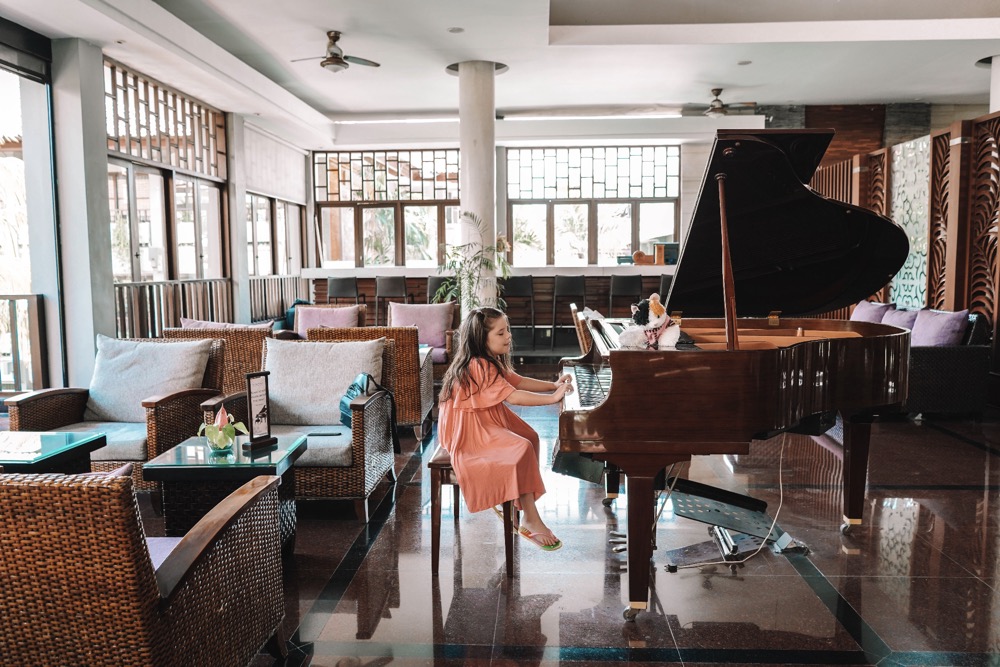 SEN5ES: is open daily from 6am – 10.30am serving an extensive Buffet Breakfast.
The Upper Deck @H2O: The Upper Deck at H2O is the perfect way to relax and enjoy the sunset whilst enjoying a sundowner cocktail
Café Piazza: he newly renovated Café Piazza is located in the lower lobby area of the hotel, overlooking the beautiful duck pond and surrounding gardens. Opens daily from 8am to 10pm serving speciality coffees, afternoon tea, pastries, cakes, sandwiches and light meals.
Queen's of India: Queen's of India serves authentic Indian cuisine of which room service is also available.
Sunset Bar: Enjoy refreshing beverages after a dip in the peaceful adults only Lazy Pool.
Sunken Bar: Cool off with a refreshing dip and visit our swim up Pool Bar.
D Lounge:  Lobby bar.
Other Resort Facilities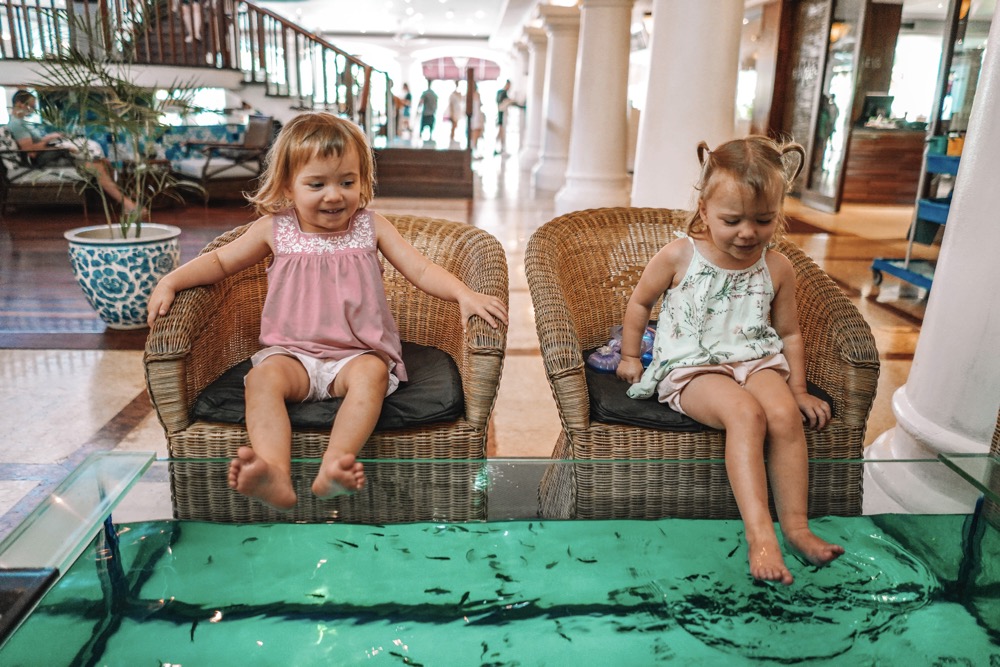 Ashoka Spa
Fish Spa
Gift Shop
Gym
Tour Information Office
Premier Departure Lounge
Beach Area
Resort Grounds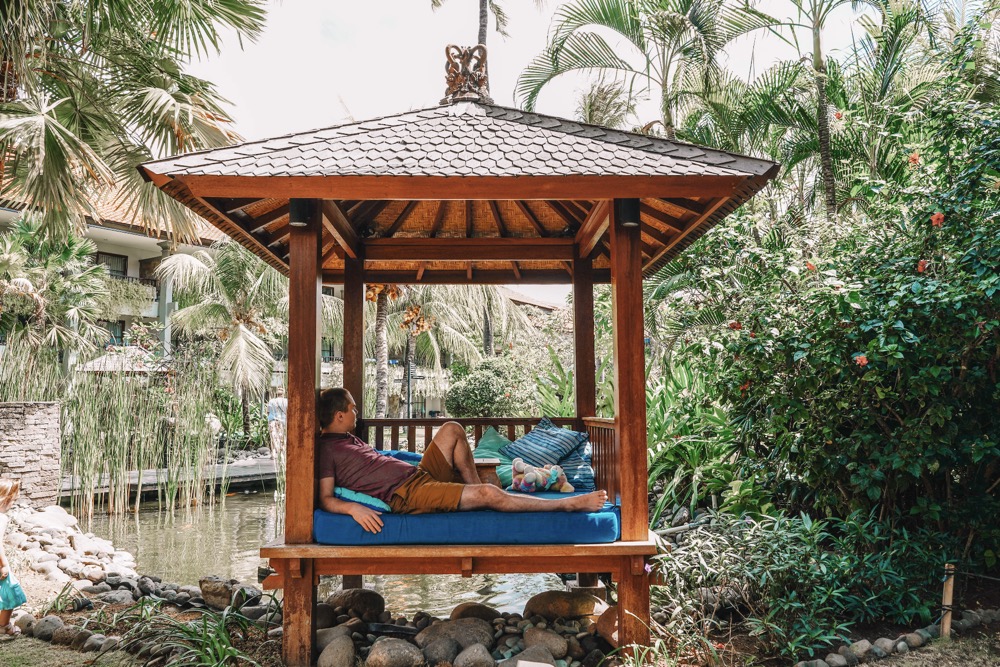 Besides enjoying the pool and restaurants, we also had fun walking around the resort. It's incredibly lush and beautiful manicured. One of our favorite areas was the duck and koi pond.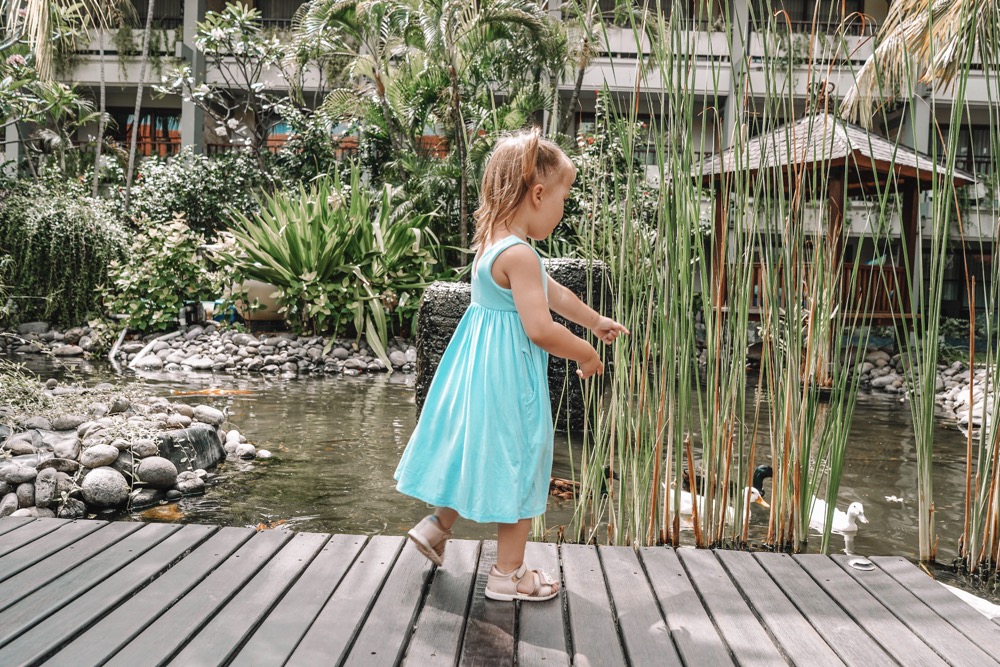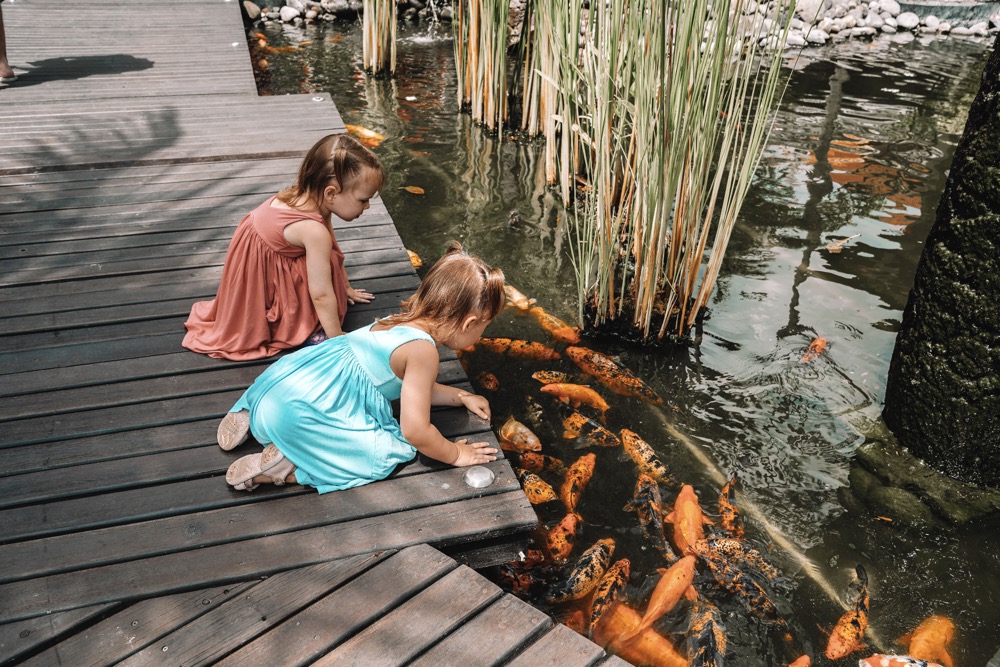 The kids loved feeding the fish who were always ready for their next meal. The ducks liked lounging in the garden and taking a dive in the pond when our kids came around! The resort has also sit up little huts with cushions where you can just relax and read a book in peace.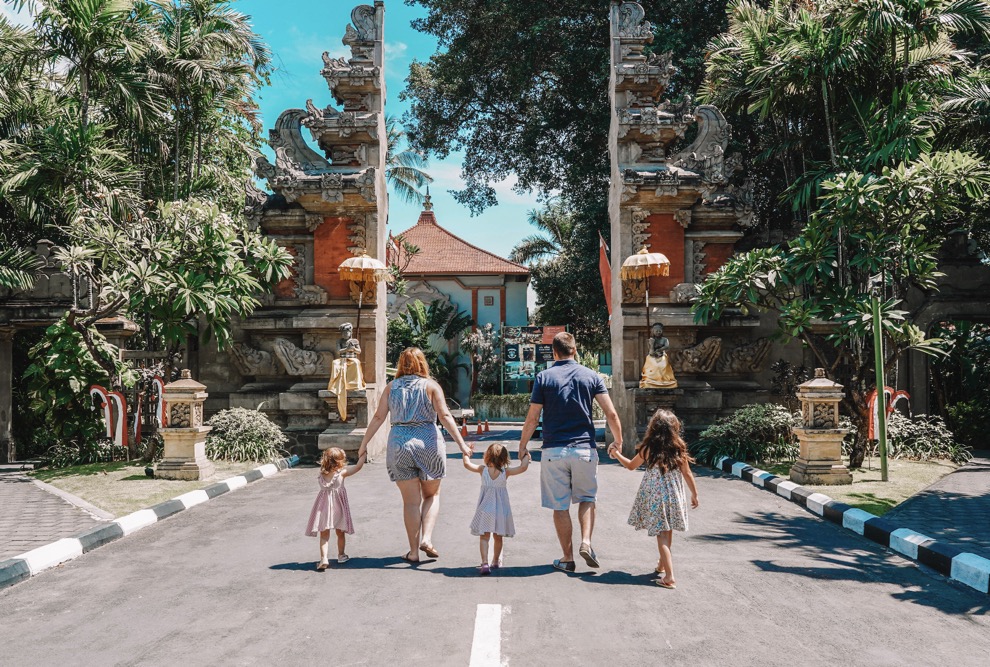 If you're visiting Bali in coming months and looking for a resort for your family, we definitely recommend the Bali Dynasty Resort. From the pool area to the kids club, our children never grew bored. We as a couple also got some alone time to just reconnect.
To learn more about the Bali Dynasty Resort visit their websiteor Instagram feed.
Connect with The Go To Family on  Instagram, Youtube, Twitter, and Pinterest!
Disclaimer:  Bali Dynasty Resort graciously hosted our stay in order to facilitate this review. Although, the opinions within this post are my own.