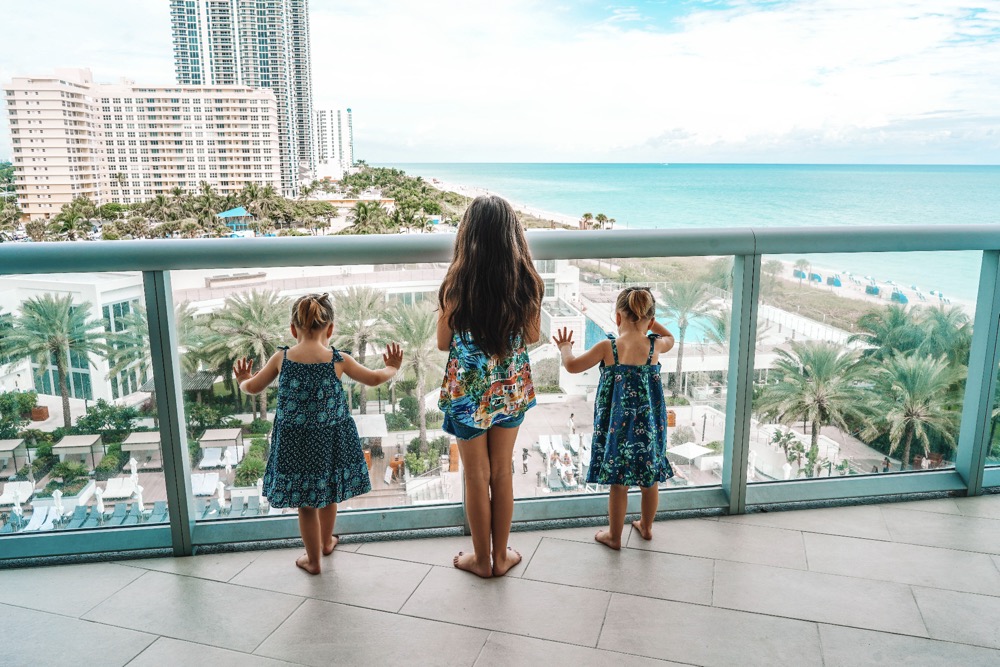 It's no secret that millennials are choosing to travel with their kids more than any other generation. Traveling and having kids are not being seen as two distinct things for these parents and destinations that were not once considered traditionally family-friendly spots are becoming just that. One such destination is Miami Beach. Hotels and resorts are catering to families looking to enjoy a beach getaway together.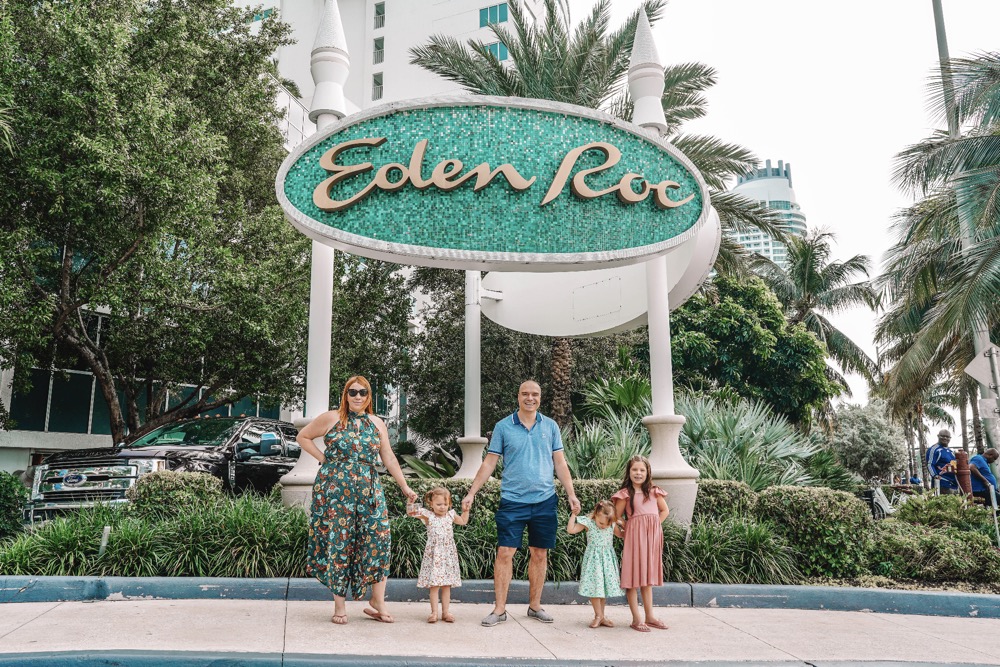 One of the leading resorts when it comes to catering to families is the Eden Roc Miami Beach. With three pools and a beautiful stretch of beach the resort instantly sounds like paradise for kids! Add Beco Kids, one of the most extensive kid's clubs in all of Miami Beach, kids menus at all restaurants and weekly pizza making classes and the kids will never want to leave!
The Eden Roc Miami Beach graciously hosted our family for five nights and we couldn't have had a better family getaway. If you're looking to enjoy a beach holiday with your kids in Miami Beach no longer further!
Accommodations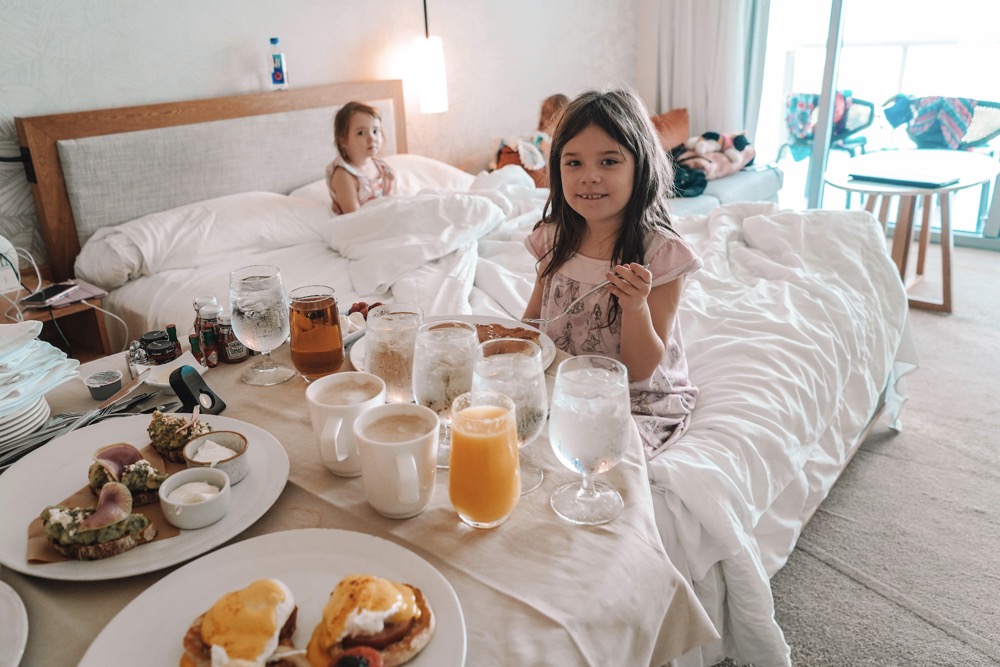 We're a family of five, so sometimes it is hard to find rooms big enough for a family, so we were glad to hear that the Eden Roc provides some of the biggest rooms in all of Miami Beach. We stayed in an Oceanview Junior Suite. Around 601ft, the room came with two large queen beds and a huge balcony with a perfect view of the ocean.  Room-wise everything was modern and clean. Our girls enjoyed playing in the sitting area, which had a large couch, two chairs, and a table. When they were not playing there they were in the huge jetted tub or under the rain shower.
Facilities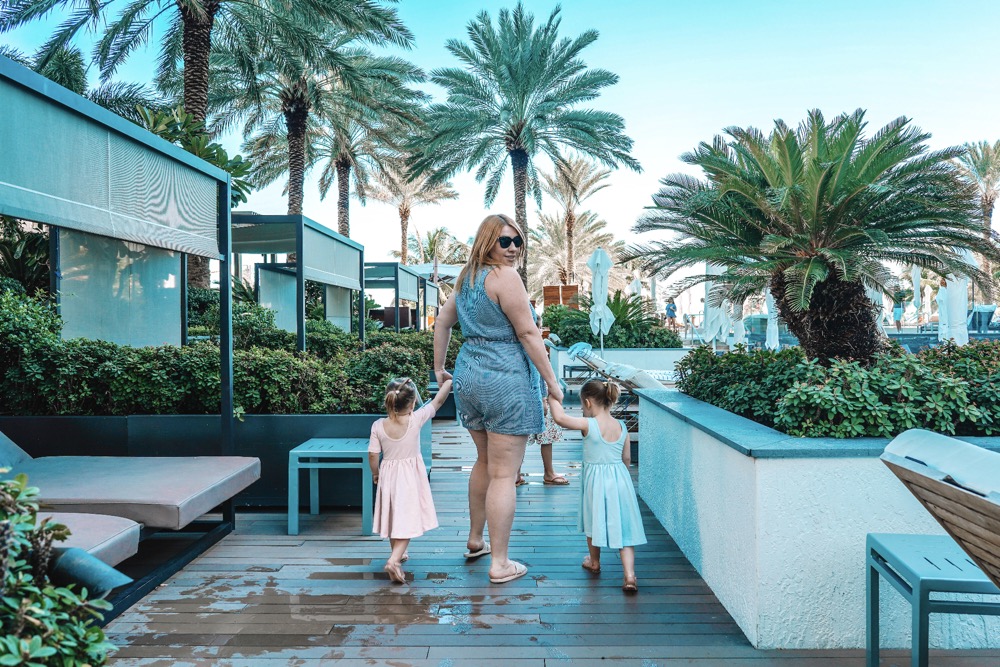 Eden Roc Miami not only has one but three pools to enjoy. All three pools are heated so they can be enjoyed all year round! The first is a big traditional size hotel pool, which looked great to swim laps in or to rent a cabana for the day while relaxing poolside.
Directly, next to it and slightly higher up is a mid-size pool and many of the kids seemed to gravitate towards this one. It was our favorite because it overlooked the little pool and the beach. It also has two heated jacuzzi's next to it.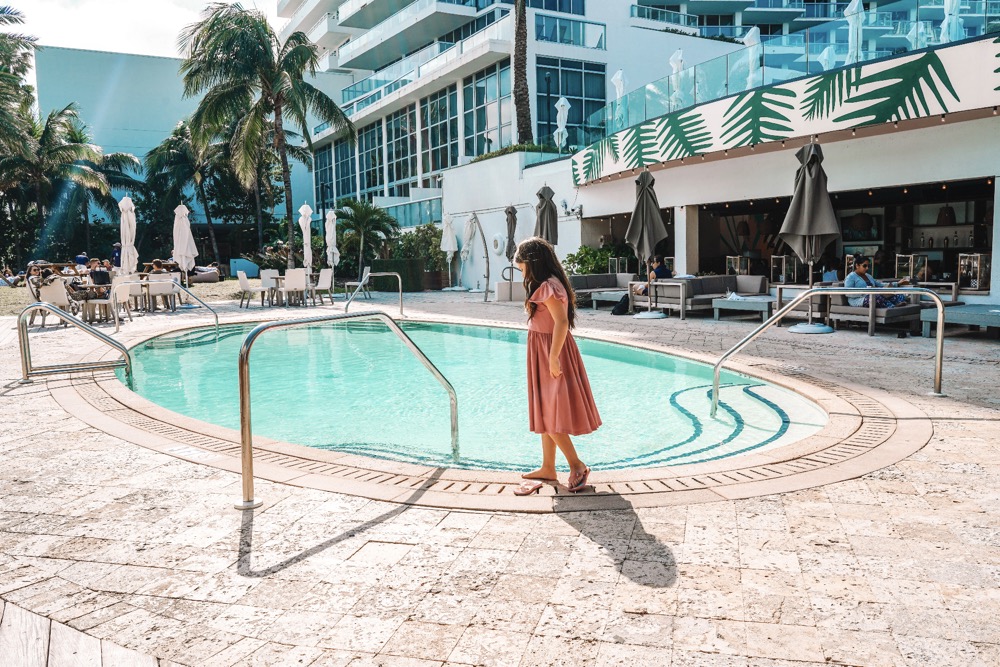 The last pool is on the ground level and is located next to the pool bar. It's a great area to relax because there are lots of lounge chairs shaded under the resorts palm tree.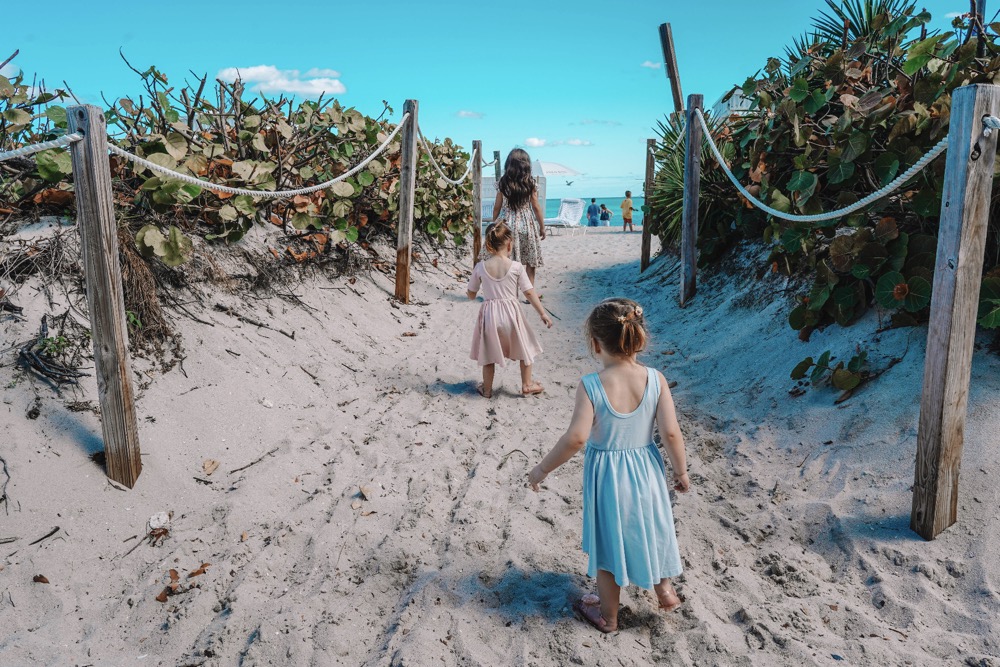 The beach at Eden Roc is one of my favorites in all Miami. I have stayed in South Beach previously but found the walk to the ocean was too long, especially with kids.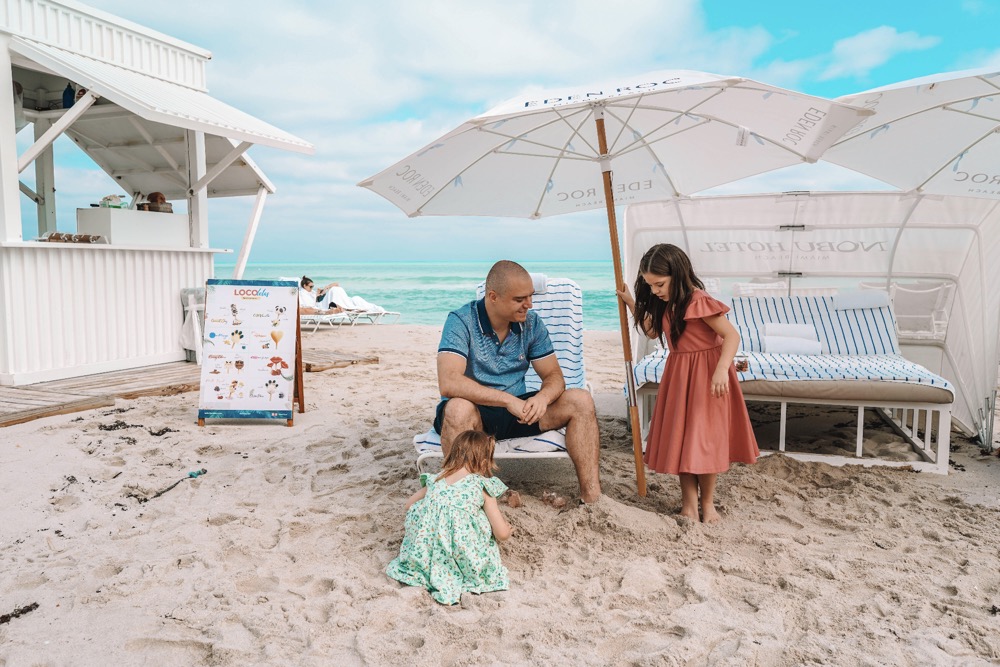 My girls had a blast running in the ocean and playing in the sand like most kids!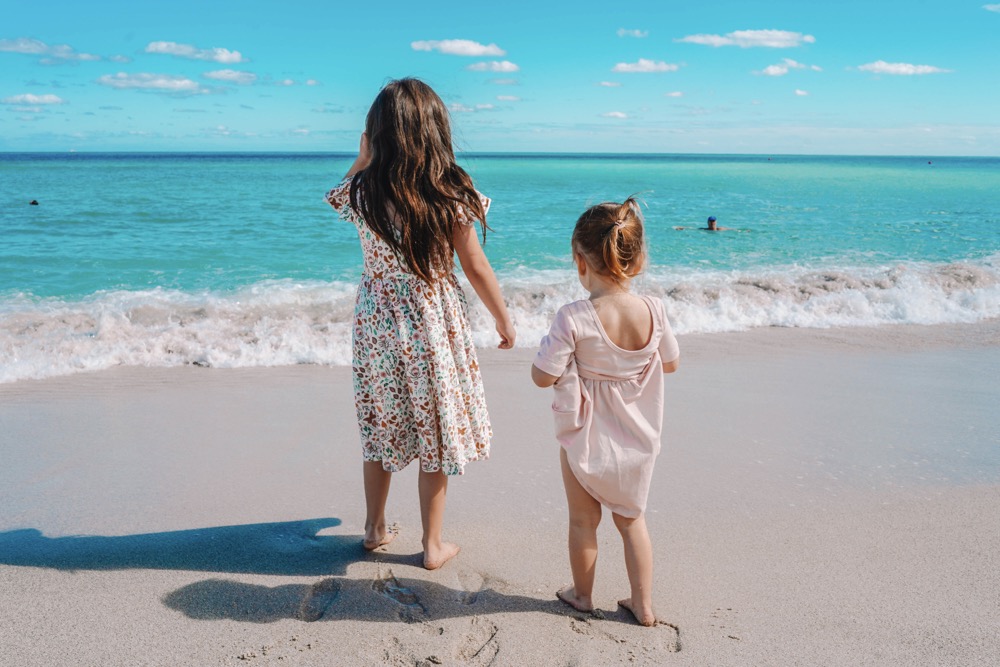 The beach was easy to reach and had lots of private seats for guests. It is also possible to rent a shaded area.
Beco Kids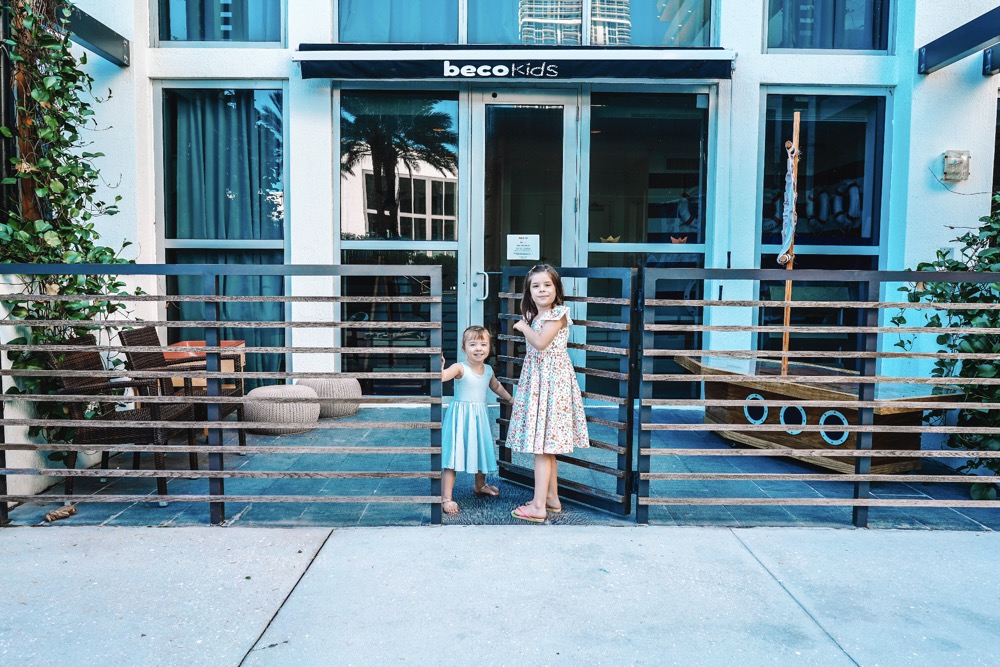 Beco Kids is an interactive program and clubhouse for kids between aged 4-12. They offer half or full-day programs with fun activities that include art Adventures, Fitness Fun, Team Training, Sports of Sorts, Aqua Adventures, Performance Play and more!
Pizza Making Class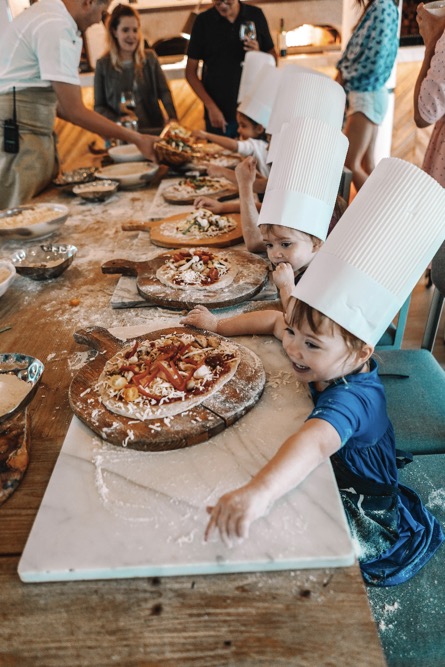 Of all the activities our three girls took part in the pizza-making class was there favorite. Hosted at Malibu Farm every Saturday children learn how to create their own organic pizza while using fresh and local ingredients. I love how it sparked the creativity of my girls! My eldest turned her pizza into a heart!
Family Concierge
Eden Roc has a concierge that just focuses on helping families staying at the resort. The concierge can book a private babysitter at night or during the day while parents enjoy some alone time.
Little Esencia
One thing my eldest loves about hotel stays is visiting the spa, so she was excited to find a spa program tailored to little princesses upon our arrival to Eden Roc. The spa offers various mommy & me spa treatments, which include mani-pedi and mini-blowouts.
Food & Drinks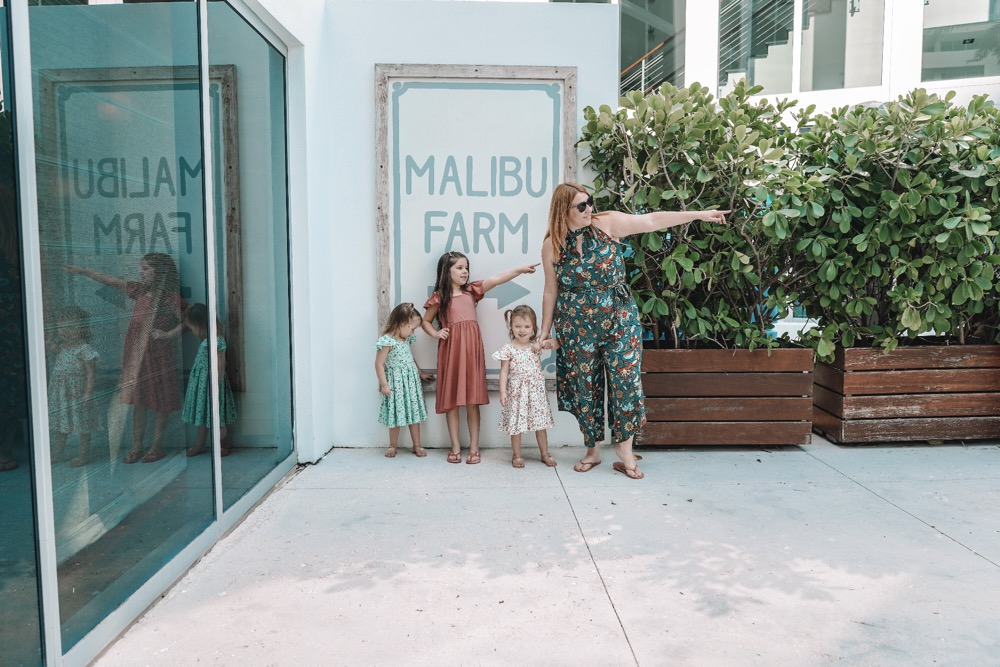 The Eden Roc Miami Beach offers guests a variety of dining options.
Malibu Farm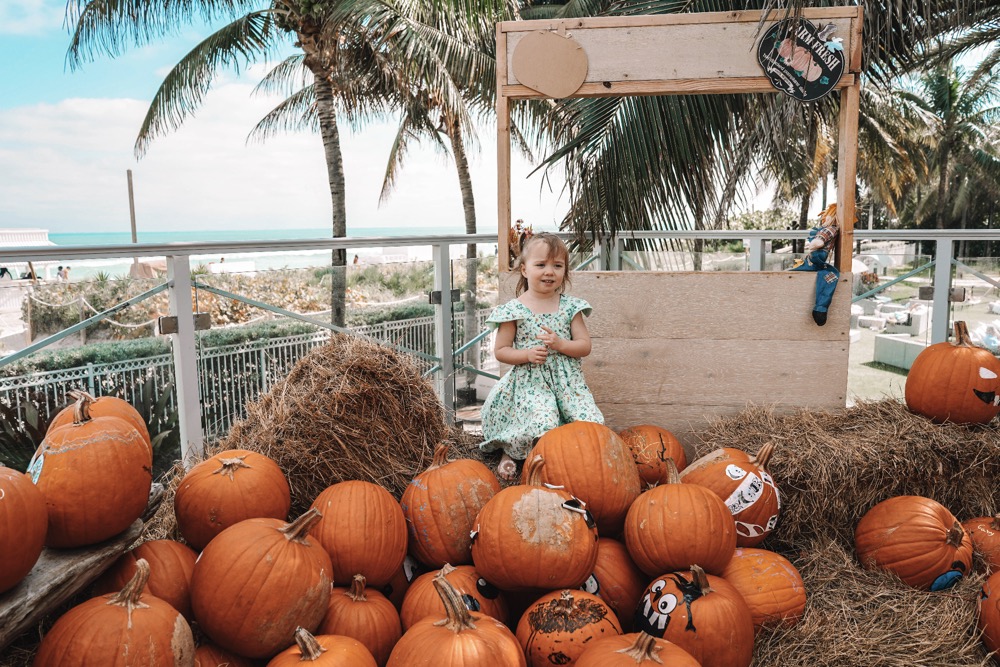 The South Florida outpost of Helene Henderson's Californian restaurant boasts simple farm-to-table dining that is fresh, organic and locally sourced whenever possible. Overlooking the ocean, the restaurant is trendy yet casual enough for the whole family to enjoy. We enjoyed our lunch and supper at the restaurant during our stay. They also have a menu for kids that offer healthy choices. My kids love the quinoa crusted chicken fingers with mashed potatoes.
We also attended the pizza-making class, which was one of the highlights of our stay. Held each Saturday kids get to make their own organic pizza and watch it cook in the fire oven.
Nobu Miami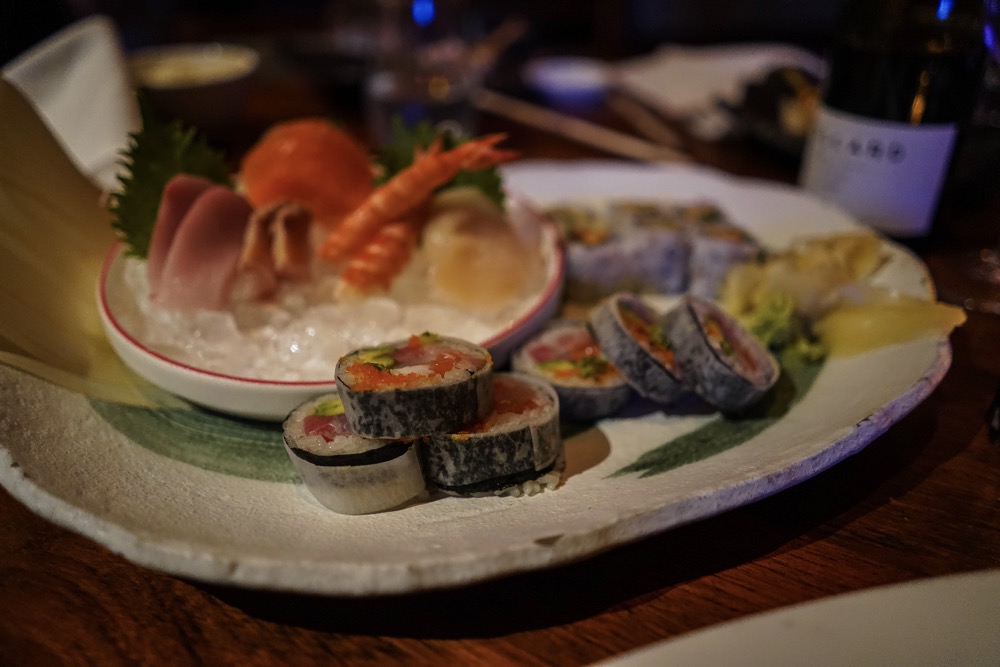 I'm a huge fan of sushi, so we decided to splurge on Nobu Miami. I loved that despite being an upscale restaurant the restaurant was accommodating to our family. I even saw one or two other families enjoying dinner.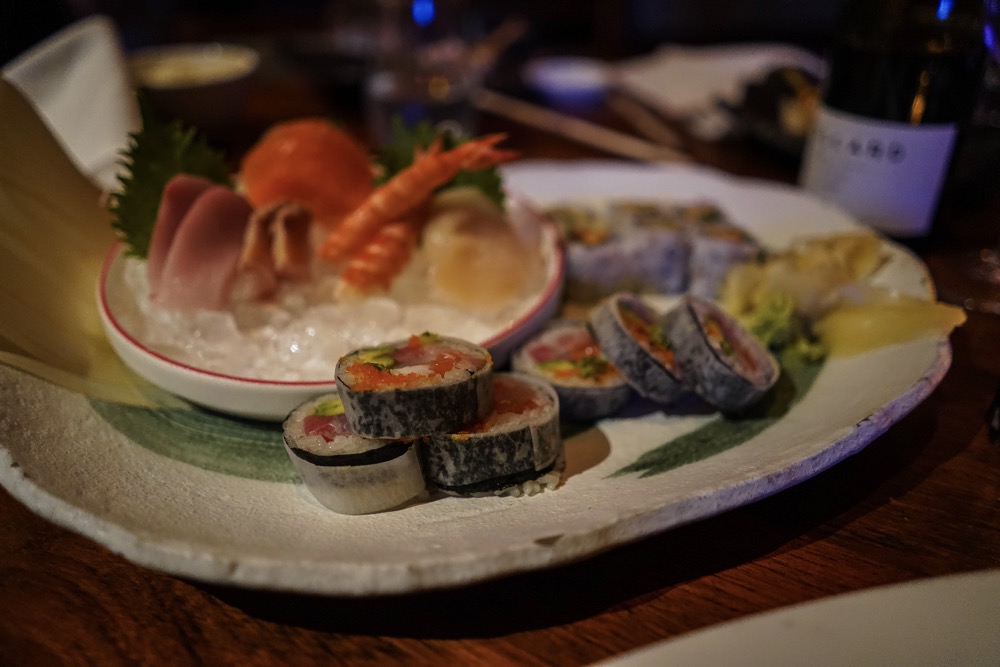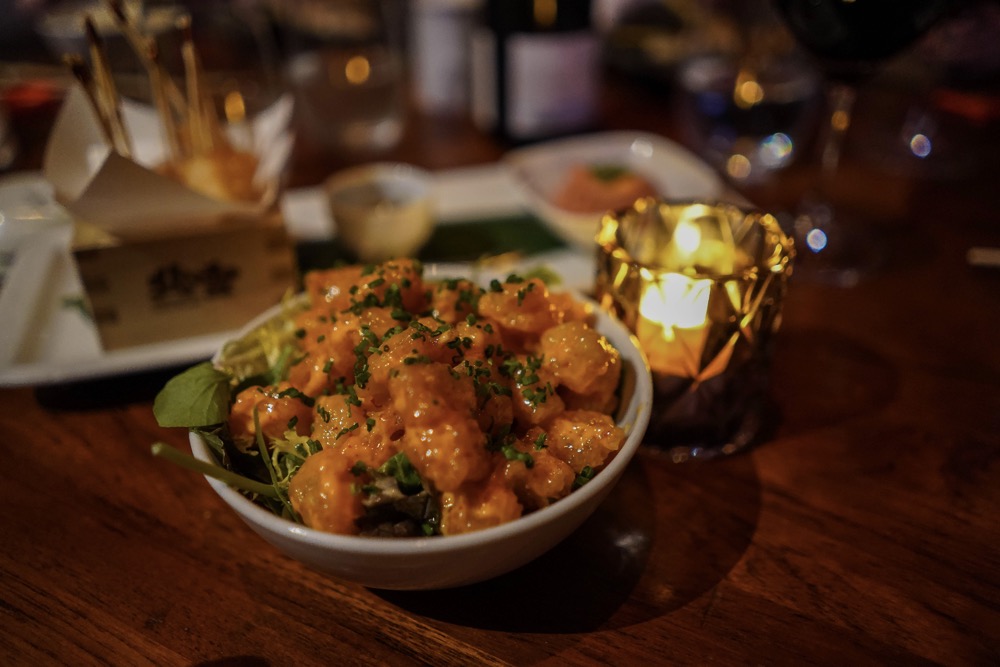 We dinned on roc shrimp, Asian seasoned sea bass and lots of sushi! We have visited Japan and the sashimi pieces were of the same quality. If you're not into sushi don't despair because much of the menu is cooked and the cooked dishes we had were just as delicious.
Lobby Bar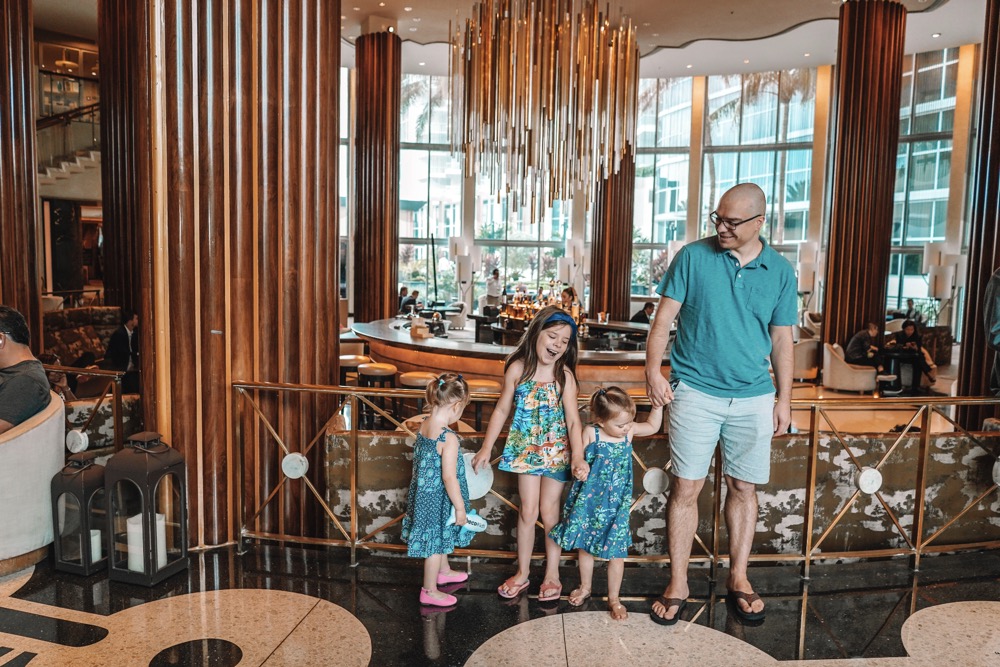 We didn't enjoy a drink here, but it looked like a great place to have a drink at night. There are lots of oversized chairs and even work desks for business travelers.
In-Room Dining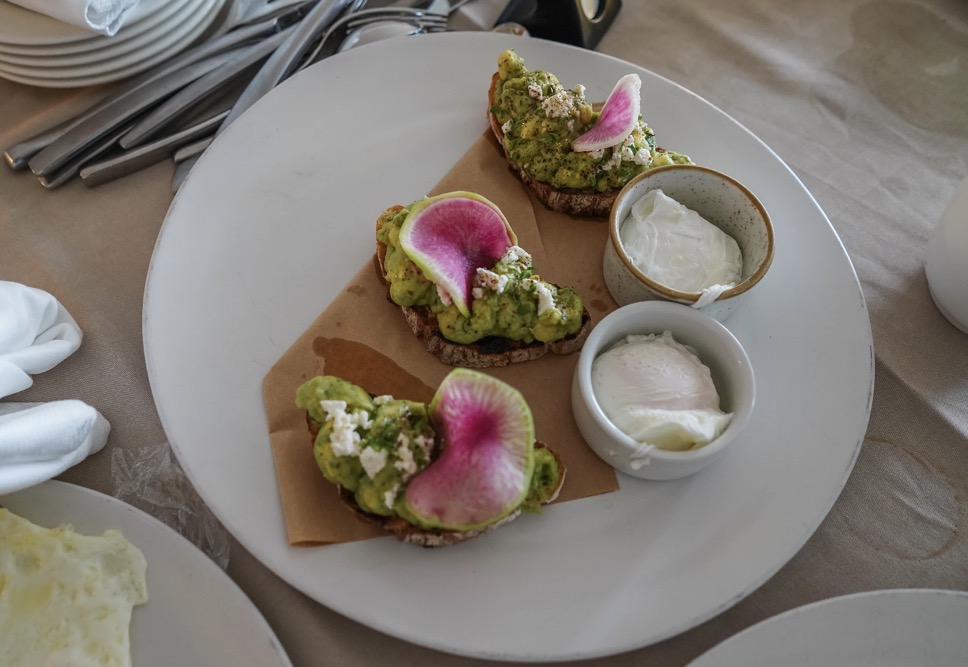 Eden Roc offers 24-hour room service and has an in-room kids menu for families. We ordered breakfast twice and dinner once in our room.  The breakfast was our favorite.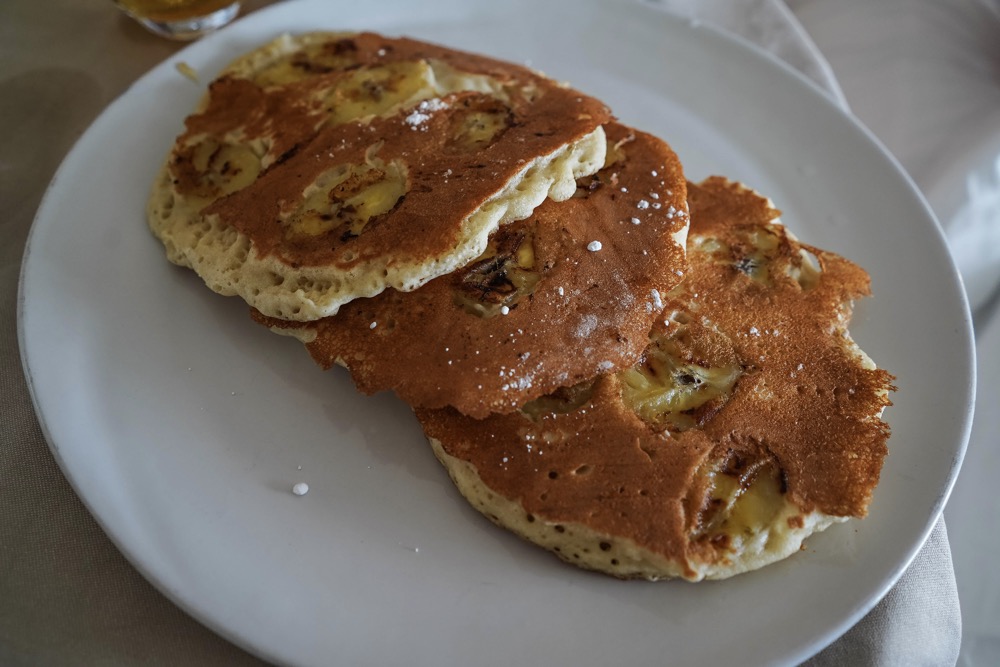 The kids absolutely loved the pancakes and were some of the fluffiest we have had. My favorite was the avocado toast that you can order with healthy poached eggs.
INEZ Cafe
Looking for great coffee to wake you up in the morning? Then be sure to visit INEZ Cafe located on the lobby level. The cafe can also serve as a fast breakfast option for families. They had an array of pastries, fresh juices, fruit and more.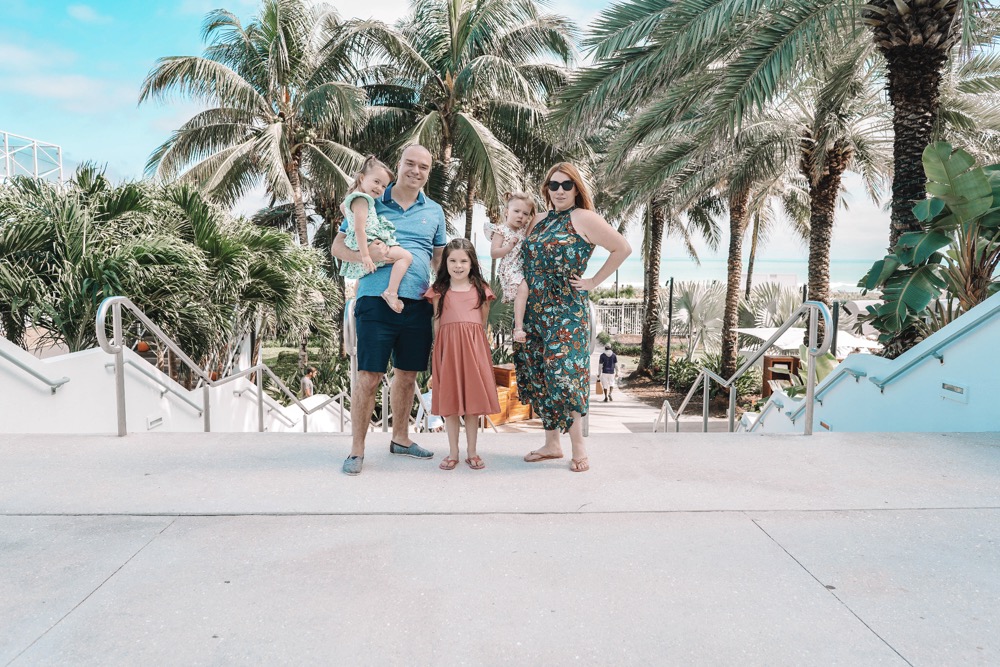 I can't think of a better resort for families in Miami Beach that Eden Roc Miami Beach. From the pools to the pizza-making class at Malibu Farm, my kids enjoyed everything about our stay. It truly caters to parents looking to have the perfect beach getaway with their children. I know our family will definitely return when we visit Miami in the future.
To learn more about Eden Roc Miami be sure to visit their website and follow them on Instagram.
Connect with The Go To Family on  Instagram, Youtube, Twitter, and Pinterest!
Disclaimer:  Eden Roc Miami Beach graciously hosted our stay in order to facilitate this review. Although, the opinions within this post are my own.