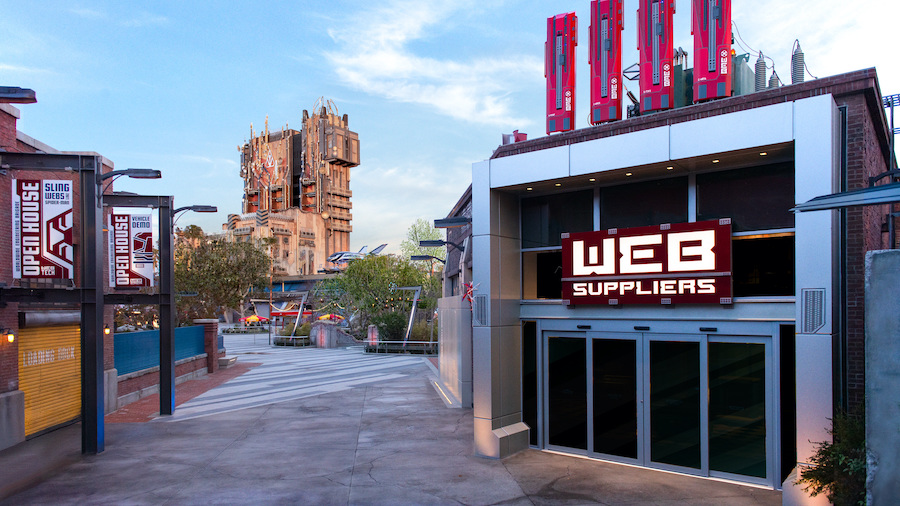 Avengers Campus ad Disney California Adventure opens on June 4th at Disneyland Resort and now Disney Parks is revealing everything you need to know before going.
Here is everything you need to know as you plan your visit to Avengers Campus:
Theme Park Reservations and Tickets
All recruits planning to visit Avengers Campus will need both a park reservation and valid ticket for Disney California Adventure park on the same date. Theme park reservations are limited due to capacity limitations and will be subject to availability, so be sure to plan out your mission before heading over.
Avengers Campus Access
When Avengers Campus opens, you will be able to enter at the main entrance located right next to the Worldwide Engineering Brigade (also known as WEB), just past Carthay Circle Restaurant and across from Golden Vine Winery.
There are two ways to gain access into Avengers Campus: you can either use the standby queue, or the virtual queue* option for WEB SLINGERS: A Spider-Man Adventure. Here's how each option works:
Standby queue: When Avengers Campus reaches capacity, a standby queue to enter Avengers Campus will be available to the right of its main entrance by the Worldwide Engineering Brigade (WEB) for those looking to take in the sights and sounds of Avengers Campus.
Virtual queue for WEB SLINGERS: A Spider-Man Adventure: In order to experience WEB SLINGERS: A Spider-Man Adventure, guests are required to join the virtual queue, which is accessible via the Disneyland mobile app.** There is no standby line for this attraction. Similar to Star Wars: Rise of the Resistance, virtual queue enrollment times will be twice daily, at 7 a.m. (which you can do from the comfort of your home or hotel room) and 12 p.m. To learn the details of how the system will work, visit this page for more information. Once a guest's boarding group is called, they should head to the left of the land's main entrance along the parade corridor. You may enjoy Avengers Campus after your boarding group has been called and you have entered the land.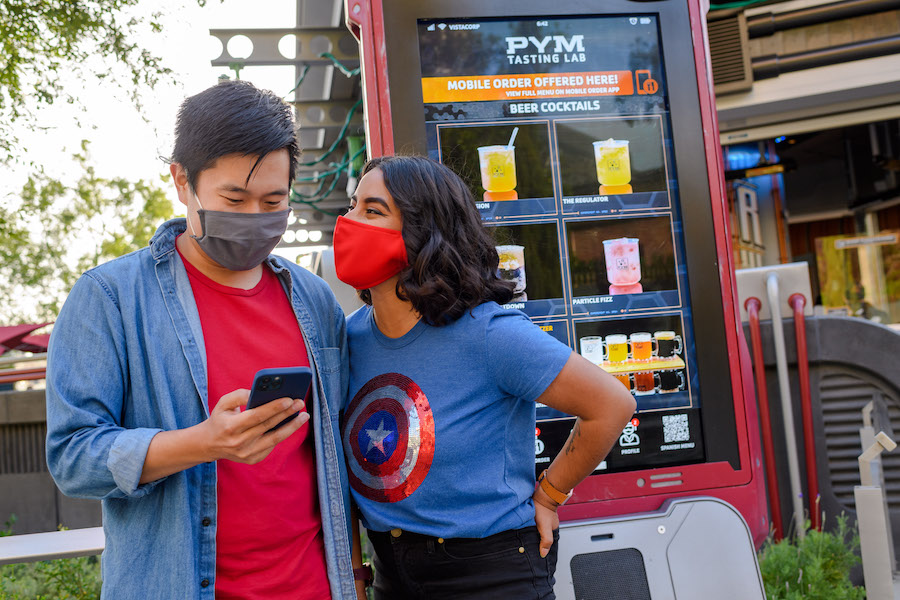 Disneyland and Play Disney Parks Apps
As always, Disney Parks highly recommend downloading the latest version of the Disneyland app on your mobile device prior to your visit.
You'll be able to use the app to join the virtual queue for WEB SLINGERS: A Spider-Man Adventure, place a mobile order for food and beverages, view park maps and more. Be sure to have location services and Bluetooth enabled and turn on notifications to receive your virtual queue call back details and other important information.
Also, the new PhotoPass+ One Day** is a limited-time offer available through the Disneyland app. You can capture and share your unforgettable moments at Avengers Campus with unlimited downloads from the day of your visit!
If you are a fan of the Play Disney Parks app***, you can also enhance your experience with interactive moments throughout Avengers Campus. Discover new in-app experiences, like Avengers Campus trivia, plus land-based and attraction digital achievements!
Heroic Encounters
Spider-Man takes to the skies high above Avengers Campus, where you may also have heroic encounters with the likes of Iron Man, Black Panther, the Dora Milaje, Black Widow, Ant-Man and The Wasp – some of whom are making their first appearances at the park.
At a nearby Ancient Sanctum, Doctor Strange will train recruits in the mystic arts by bringing this ancient sanctum to life with powerful spells. You may even witness Spider-Man swinging into action high above Avengers Campus with gravity-defying, acrobatic feats never seen before in a Disney theme park.
Speaking of Spider-Man, put your web-slinging skills to the test and experience what it's like to have powers on the new WEB SLINGERS: A Spider-Man Adventure, the first Disney ride-through attraction to feature the iconic friendly neighborhood Spider-Man! Also while in Avengers Campus, help Rocket bust his fellow Guardians of the Galaxy out of the Collector's Fortress on the fan-favorite Guardians of the Galaxy – Mission: BREAKOUT!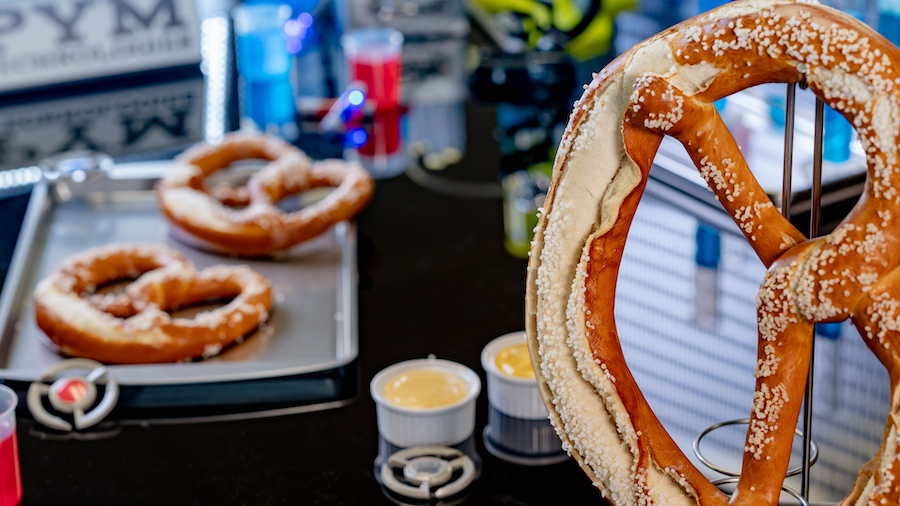 Super Hero Sustenance
From a shawarma wrap, to the Choco-Smash CANDY Bar, Pingo Doce and more, there are several super rad dining options throughout the campus. I'm excited to try everything, but especially one of the Avengers' favorite food joints, Shawarma Palace.
Use the mobile order service and pay with the Disneyland app for a contactless ordering experience at locations, including Pym Test Kitchen featuring IMPOSSIBLETM, Pym Tasting Lab and Shawarma Palace. Currently, guests may only pick up a food and beverage mobile order if they are already inside Avengers Campus. It's important to know that simply placing a mobile order at a food and beverage location in Avengers Campus does not grant you access to the land or the park.
Mission-critical gear
Don't forget to gear up for your epic adventure! There are three industrial mercantile shops set to outfit aspiring WEB members with all the latest gadgets, accessories and fashions.
Inside the land, beginning June 4, you will find WEB Suppliers and the Avengers Campus Supply Pod. Just outside of Avengers Campus, visit Disneyland Resort Backlot Premiere Shop featuring Avengers Campus (which is now open). One must-have gadget available at all locations is the WEB Tech! As we've shared, all guests visiting WEB SLINGERS: A Spider-Man Adventure will be able to sling webs with Spider-Man in the most epic adventure yet. Those wishing to customize their experience on board the attraction can do so with wearable WEB Tech accessories, which gives you additional web slinging powers. Pretty awesome!
And remember, tucked into the ground floor of the Guardians of the Galaxy – Mission: BREAKOUT! are hundreds of items curated in The Collector's Warehouse that you might be tempted to add to your own collection.
Will you be visiting Avengers Campus? Let us know in the comment section below.
Be sure to check out our vlog The Go To Family. Connect with us on Instagram, Twitter, and Pinterest !