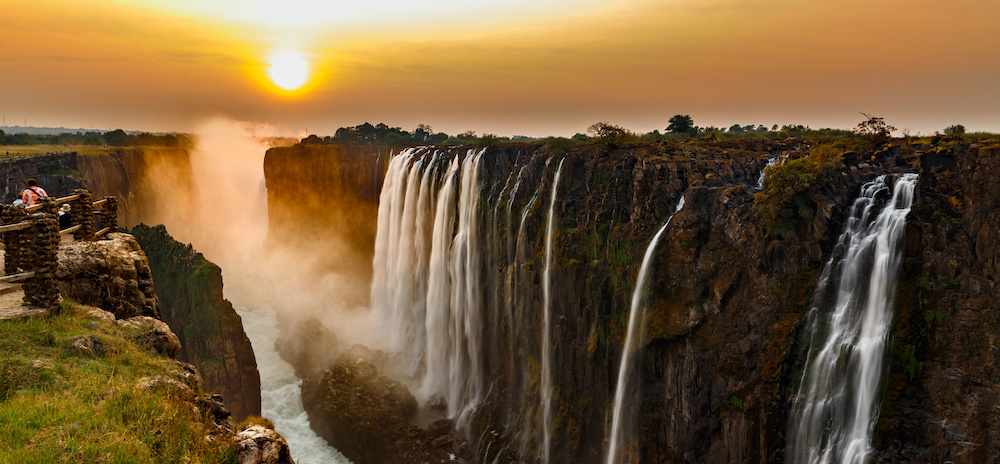 ***BEFORE TRAVELING PLEASE CHECK LOCAL COVID RESTRICTIONS AND REGULATIONS***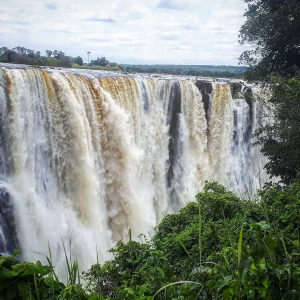 Victoria Falls is a town on the Zimbabwe/Zambia border and a gateway to the majestic waterfall of the same name. First viewed with British eyes by  explorer, David Livingstone, he named his "discovery" in honor of Queen Victoria. However, the indigenous Lozi language name, Mosi-oa-Tunya -which translates to "The Smoke That Thunders"– seems far more apt. Twice the height of Niagara Falls, the thunderous roar can be heard for miles while a fine mist drenches everything and everyone in not-so-close proximity.
Weather: Victoria Falls weather switches from hot to blazing hot. Winter (May to August) sees average temperatures of 24-28oC while the rest of the year might as well be just called summer, with average temperatures of 28-35oC. But it's not the temperatures that usually determine when a visitor wants to travel to Victoria Falls, it is the rain. The rainy season starts in late November, petering out in April, with the peak in December and January. This will dramatically affect your vacation, mainly because almost every activity available at Victoria Falls relies on water levels.
Getting there: Victoria Falls Airport (VFA) services Victoria Falls. VFA is an international airport, however, you will have a stopover somewhere on the continent of Africa.  Airport to hotel transfers can be arranged by many accommodations (for a fee).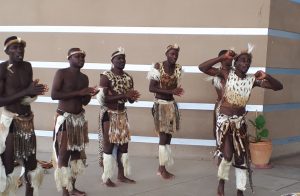 Be greeted by Zulu dancers at VFA airport
 Visas: Zimbabwe has 3 visa categories:
Category A: Countries whose nationals do not require a Visa. You will be granted easy entry at any border post.
Category B: Countries whose nationals are granted a Zimbabwe visa at the port of entry on payment of requisite visa fees. These visas are easiest obtained on your arrival at the Airport or border post, or online using the Zimbabwe evisa website. Getting them done via an agency in your home country will often cost you more and be quite the hassle.
Category C: Countries whose nationals are required to obtain a visa prior to traveling. You can apply through a Zimbabwe High Commission in your home or neighboring country or online using the Zimbabwe evisa website
All visitors in all categories need:-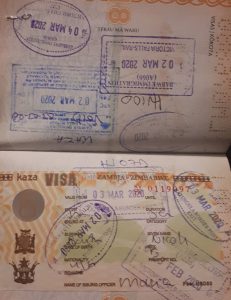 Passport valid for a least 6 months from your date of entry.
Return ticket to your country (or enough money to buy one)
Sufficient funds to cover your stay in Zimbabwe
Enough blank pages in your passport to fit the required entry visa.
Currently- A negative Covid-19 tests, taken no later than 48 hours earlier
There are several visa types for Zimbabwe
Single Entry visas allow for entry into Zimbabwe one time. Once you exit Zimbabwe, the visa cannot be used again. Double Entry visas allow for up to two entries into Zimbabwe. Valid up to 90 days from the date of issue. Once you have used it for the two entries and two exits, the visa cannot be used again.
The most useful visa for most trips will be the Kaza Univisa. This allows multiple entries into Zimbabwe and Zambia and even includes a day visit into Botswana. With Zambia within walking distance and the Chobe National Park only an hour and a half away, it is very possible to see all three countries in three days.
Fees vary for each visa and even depend on your passport. If purchasing your visa at a port of entry it is recommended to have the fee in USD cash as credit card machines are very unreliable in Zimbabwe.
Check for up to date information on passport categories and fees here
Currency: Zimbabwe has fallen on hard times and with that came the demise of their own currency. Now the accepted currency in Zimbabwe is USD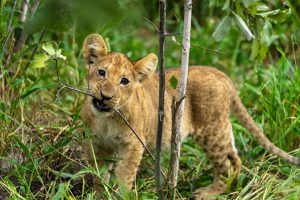 When To Go: This depends on what activities you are most interested in, but August is an ideal month for most visitors. The Falls aren't as full but the majesty is still there, and with less water volume you will have less spray/better viewing. The water height in the Zambezi is great for rafting in August and the Devil Pools are usually open. It's also best for game viewing in nearby Chobe as with the dry season comes fewer places for the Big 5 to hide.
However, if you can't make it in August, don't let that deter you from going to Victoria Falls. This small town will charm any time of year.
Where to stay: Due to the use of the US dollar, Zimbabwe is not the cheapest of African countries to visit. However, with the abundance of hotels condensed into the small area, there is something for every budget: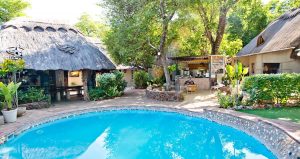 Backpacker's Budget: Victoria Falls Backpackers isn't your average-looking backpacking lodge. Scattered across the large property are rondovals for two with private bathroom facilities for $60 USD per night, thatched roofed dorms of 3, 6 or 12 beds with shared bathroom facilities for $18 USD per night and even camping space if you have your own tent or RV for $10 USD per night. Include the pool and firepit for bomas, the Victoria Fall Backpackers provide a special African experience. Activities for Victoria Falls and surrounding areas can also be booked on-site.
Medium Budget: The winner for those who don't fancy sleeping with 12 strangers in one room, but still want to keep their dollars for activities is the Shearwater Explorers Village. With convenient pick-up and drop-off service at the Victoria Falls Airport (an extra charge), a pool, restaurant, bars, and a super helpful tour booking desk, this resort has it all covered. Private thatched roofed rooms for two with bathroom private bathroom facilities, air con and mosquito nets over the beds for those Instagram worthy photos will set you back $135 USD per night.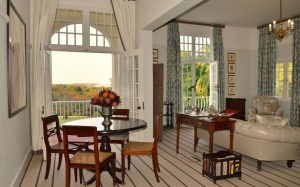 Luxury Budget: If you want to feel like explorer, David Livingstone himself, check in to the majestic Victoria Falls Hotel. A staple in the town since 1904, this five-star Edwardian-style hotel overlooks the Falls. A stay in this luxury icon of Africa. starting at $525 USD for a standard room and upward of $2751 USD for the Presidential Suite. Yes, that is per night.
What To Do: When we say Victoria Falls is full of activities, we mean, FULL of activities, from high adrenalin bungee jumping or white water rafting, to slower tempo sunset cruises and Falls viewing. The best part is that everything can be booked with tour desks at your accommodations.
You'll never be able to pack everything on offer in three days, so for a whirlwind trip to Victoria Falls, we recommend something uniquely Victoria Falls like this: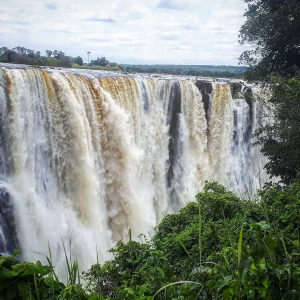 Day 1. Arrive early morning in Victoria Falls and take your pre-booked transfer to your accommodation.
Late morning/early afternoon walk through The Victoria Falls National Park, stopping at each viewing spot to photograph and watch the mighty power of the falls in awe. A guided tour isn't necessary but is available.
Evening sunset cruise on the Zambezi River. Most cruises offer complimentary beer or wine as you cruise along the river, looking out for hippos, crocodiles, and elephants on the banks of the river.

Head to The Three Monkeys, home of the famous I Love Vic Falls sign for dinner with your new friends you met on your cruise!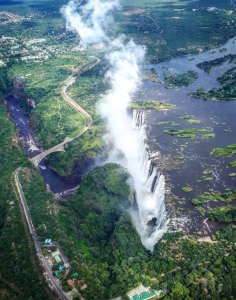 Day 2. Take an early morning Flight of Angels– a 13-minute helicopter ride over the breathtaking Victoria Falls and National Park where eagle-eyed passengers might spot a herd of zebras or elephants from above.
Walk across the Victoria Falls Bridge (known as the ZimZam Bridge) into Zambia. Don't forget your passport!
Have lunch with the zebras, antelope, and vervet monkeys who hang around at Zambia's Royal Livingstone Hotel-a luxury resort in the middle of the Victoria Falls National Park that welcomes non-guests into their sprawling grounds with views of the Zambezi river and falls spray.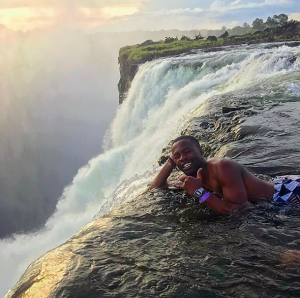 Take the latest possible spot on an afternoon visit to the Devil's Pool, a swimming hole right in the Zambezi, against the edge of the falls! With the breathtaking view of the sheer drop off the side of the falls the Devils Pool is the ultimate infinity pool!
Walk back to Zimbabwe and delight in a hotel dinner after a long, exhausting day! 
Day 3. Full-day safari in Chobe National Park.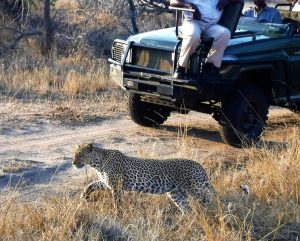 Be picked up from your accommodations and drive into Botswana. Take a morning cruise on the Chobe River seeing crocs and hippos up close, elephants playing on the river banks, and all sorts of exotic African animals. Buffet lunch is included at a luxurious Botswana hotel before your afternoon game drive, hoping to see the rest of the Big 5 and other Chobe National Park residents.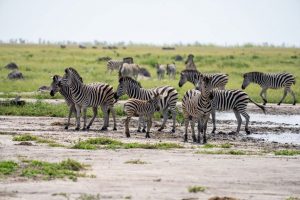 Head to The Palm Restaurant at Ilala Lodge and indulge in some local flavors like Kudu, Springbok, Ostrich, or Warthog on your last evening in Victoria Falls and make yourself the promise to return again…soon!
Be sure to check out our vlog The Go To Family. Connect with us on Instagram, Twitter, and Pinterest !