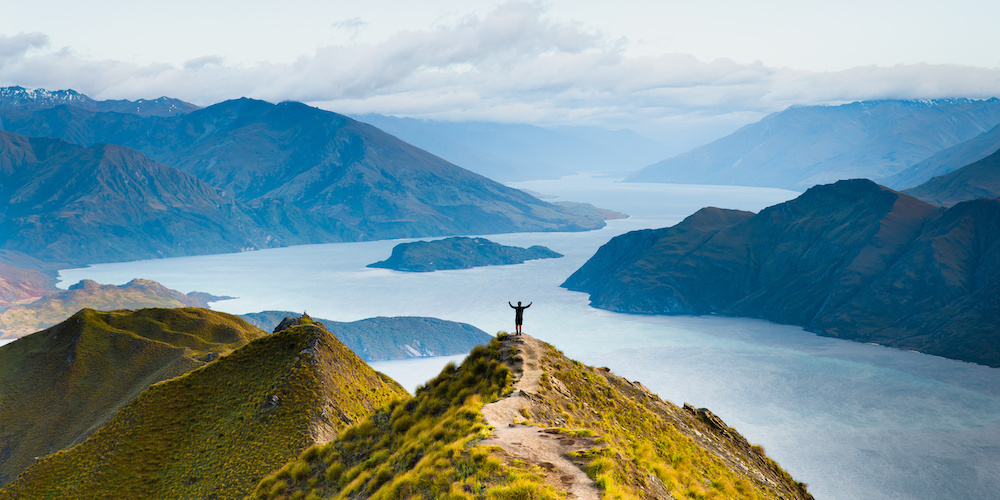 It will be a while before we are able to freely travel the world again. New Zealand's government has proposed reopening its vacuum sealed borders as soon as all 5 million residents have been vaccinated. With the vaccination roll out underway, it is possible the welcome mat could be laid out again just in time for New Zealand's 2021 Spring or Summer season!
With that in mind, this is the perfect time to start planning an out-of-this-world trip to the Land of the Long White Cloud.
For its small size, New Zealand is an action-packed country seemingly built for the adventurer. Would you really expect anything less from the country that invented bungy jumping? (Yes, if you ever wondered who the first crazy person to jump off a bridge with a rubber band tied around his ankles was, it was a Kiwi!)
While you could stay in New Zealand for a year and not get to experience everything the Pacific nation has to offer across its four seasons, these top ten New Zealand adventures will surely help you with your preparations.
Of course, there are the regular activities that most countries offer, that you absolutely should do! New Zealand offers world class skiing, hiking, surfing, (relatively) big cities and small, but the following are uniquely New Zealand.
Take a thrill seeking jetboat ride on the Shotover Jet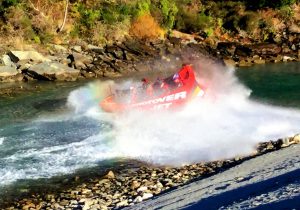 Invented in the 1950's by a Kiwi farmer, the jetboat is propelled by shooting water out the back. Not needing propellers like a traditional boat, jetboats are able to navigate the shallows and go where other boats could only dream.
Oh, and they are fast. Like, really, really fast.
The Shotover Jet, operating on the Shotover River, in the Shotover Canyon (we see what they did there) is an iconic New Zealand adventure.  On the outskirts of Queenstown, the 25 minute thrilling experience has you skimming across the Shotover River at speeds of up to 90km/h while coming terrifying close to the gorge walls and spinning out, doing 360's in the canyon.
Swim with the Dusky Dolphins in their natural habitat.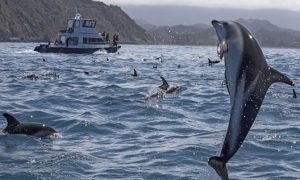 Dusky Dolphins only grow to 2 meters long and are extremely playful and acrobatic. Two and a half hours north of Christchurch is the coastal town of Kaikoura where you can swim with these dusky dolphins in their natural habitat.
No pools or trainers with a whistle, you will swim in the ocean (with full wetsuit and snorkel gear) and the dolphins come to you. Ethical and awe-inspiring, this is a must-do experience. However, if you are not a swimmer, Kaikoura also offers whale watching tours and is the home to a large seal colony, too!
Bungy jump with the originals!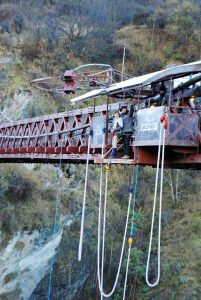 AJ Hackett was that crazy Kiwi we mentioned earlier. He survived his jump and promptly stared a now world famous bungy jumping business. Yes, you could jump off any bridge in the world (if you are so inclined), but if you want to follow in the crazy-bananas shoes of the original daredevil, head to the Kawarau Bridge, not quite a half hour from the ski capital of New Zealand, Queenstown.
If bungy jumping is on your bucket list, make sure you book the in advance in peak season. This is an ultra-popular activity…for some unknown reason!
Wine Tasting in Marlborough.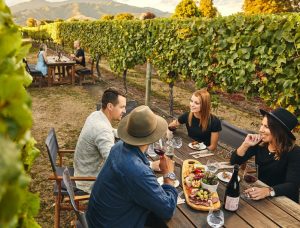 If high adrenaline isn't your thing, or you just really need a drink after all your high adrenalin experiences, visit the vineyards of Marlborough. This sun-drenched region in the Northern part of the South Island boasts 37 winery cellars and picturesque vineyards that seemingly drop into Cloudy Bay (sound familiar?).
Grab a glass of world famous sauvignon blanc  (or the less hyped but equally delicious pinot noir)from any of these picturesque vineyards or, if you have the time, dine among the vines at the Saint Clair Family estate.
Experience the Milford Sound
There are several ways to experience the famous Milford Sound in Fjordland. Tours range from diving experiences into the sound to light plane or helicopter flights over the sound, multi-day tramping (hiking) trips along the sound on the Milford track, to kayaking experiences or, most popular, scenic cruising on the sound.
There are a handful of local operators, barely varying in their product or price. All of these smaller boats take you where the big cruise ships can't, past breathtaking scenery, waterfalls, mountains, rainforest and wildlife.
There are a handful of hot springs scattered over both the North and South Island that are 100% naturally-occurring and free. But to get the full New Zealand experience, you wan to visit the boiling muds of Rotorua.
You'll smell Rotorua in the Northern half of the North Island before you see it, but you'll soon grow used to the distinct "rotten egg" sulfur stench.
The town is renowned for its geothermal activity, which plays a big role in Maori culture. Visit the steamy lakes, the regularly erupting geysers, and the colorful hot springs like the Champagne pool at Wai-O-Tapu Thermal Wonderland.
Outside of the tourist attraction is the free hot waterfalls of Kerosene Creek, Hot Water Beach (Te Rata Bay) and other geothermal wonders dotted between Rotorua and nearby Taupo.
For that super unique experience, head to Hells Gate, New Zealand's only geothermal mud spa and cover yourself in bubbling (stinky) Rotorua mud…seriously, people pay top dollar for these mineral rich mud masks!

While in the Rotorua region you can partake in an abundace of activities like ziplining or water based activities like sledging and white water rafting.
Visit the glow worm caves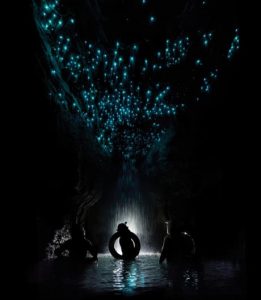 Technically not "worms", these gnat larvae live in caves or humid, sheltered forests, and there are a few ways to see these magical sights
The Waitomo(North Island) and Te Anau(South Island) Caves are the most popular glowworm caves in the country where guests head deep into the caves before boarding small boats in the pitch dark and watch the cave light up
UnderWorld Tubing Glowworm Tour is a highly recommend cave rafting tour that provides viewing of the glowworms in a natural, less-touristy experience!
Free trails on the West Coast: Along the South Island's West Coast, are some trails that boast glowworms at night. The display certainly isn't as impressive as those you'll find in the caves but they are a lot cheaper, i.e. free!
Visit Hobbiton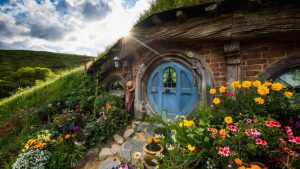 Fans of "Lord of the Rings" have been flocking to New Zealand ever since the fantasy films showcased the beauty of the country. And the firt stop is usually Hobbiton, 2 hours south of Auckland.
You must book a tour to see Hobbiton and other sets and locations from the movie franchise. Tours are generally two hours.
Go Zorbing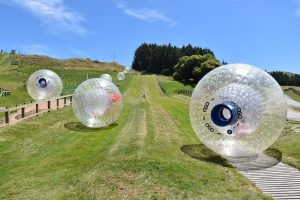 Go what? Zorbing. Another New Zealand invention (but of course), Zorbing is when you roll down a hill in a giant inflatable ball!
While you can find Zorbing around the country (and the world!), the original site is located in Rotorua (home of the stinky mud) The Rotorua operator, called Zorb (that must have taken years!) have 3 tracks to choose from: the Fast Track, the Zig Zag, and the Drop, which is touted as the "world's steepest drop and world's fastest ride".
When in Rotorua…
See the glaciers up close
Though New Zealand boasts over 3,000 glaciers, the Franz Josef, Fox and Hooker Glaciers are three of the most accessible. The best part is you that you can take the short hikes through well-kept pathways and view them completely free.
Of course, there are hiking tours, and helicopter tours, so check out which each glacier has to offer to see which impressive ice sheet(s) you' d like to visit and how.
Bonus. Get acquainted with the Māori culture. There's no one right way or place to learn about the indigenous New Zealanders, the Māoris. The rich culture is displayed all through the country but visitor usually will want to see at least one traditional Haka (ceremonial Māori dance) and try one Hāngi (Māori method of cooking food using heated rocks buried in a pit oven, called an umu)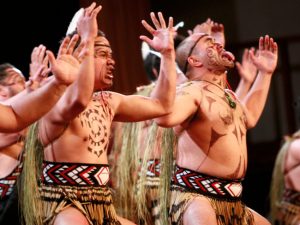 To really immerse yourself amongst the culture and participate in Māori traditions close-up, visit a marae.
My favorite Maori legend from growing up was about Pania of the Reef. Read her story here and visit her statue in Napier in the North Island.
Be sure to check out our vlog The Go To Family. Connect with us on Instagram, Twitter, and Pinterest !