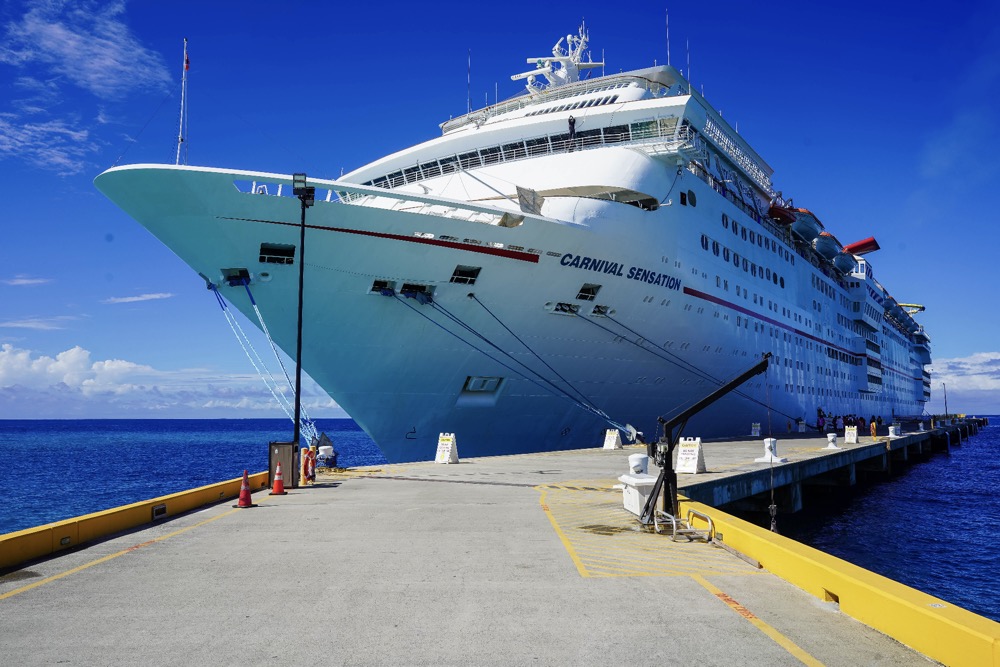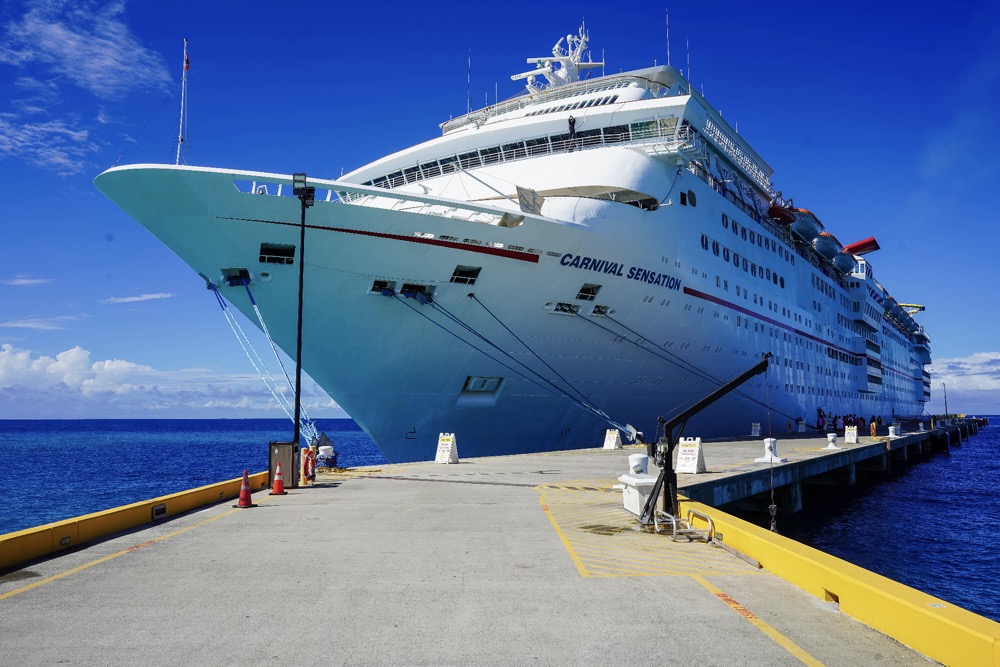 Cruising is one of our favorite getaways to take as a family. There is no other holiday where you can visit so many different countries in such a short time all while having so many activities and fun things to do at your fingertips. For us, the winter months are the best time to take a cruise down. It breaks up the cold months and allows us to spend quality time together, which is hard to come by in the middle of the school year.
In late November, Carnival invited us to set sail aboard the Carnival Sensation for five nights to experience what a family cruise holiday is like aboard one of their ships. The line has been named best cruise line two year's in a row, so we were pretty excited to #ChooseFun with Carnival!
If you're considering taking a family cruise with Carnival than look no further. Here is a breakdown of everything you need to know about sailing Carnival Cruise Line as a family.
Embarkation
I have sailed from Miami Port on one other occasion with and I remembered it being quite chaotic, so I was surprised to see how simple and organized Carnival's port setup was upon arrival. We had priority boarding, but in all honesty, it wasn't needed when we arrived at 11 am. A Carnival representative greeted us before the security check where they looked at our documents and checked us in within a couple of minutes. We then passed through security and proceeded to board the ship right away.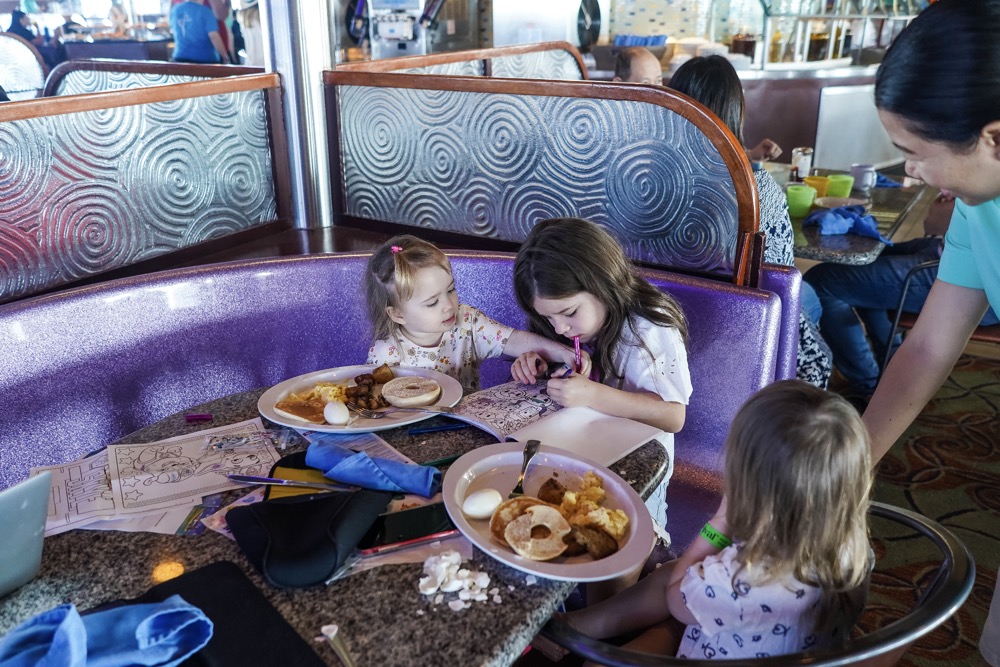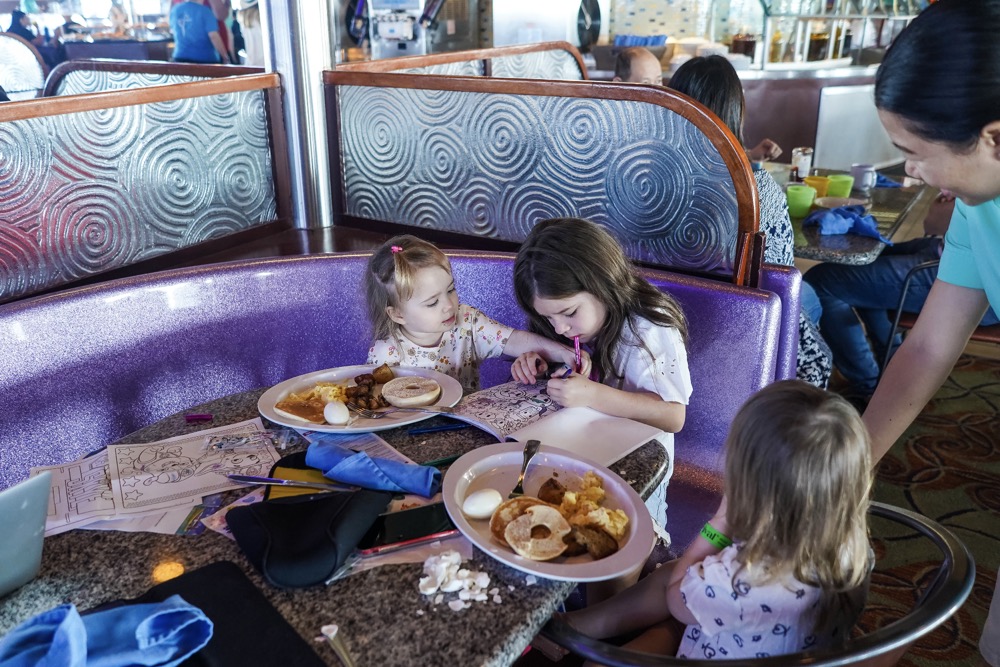 Once on the ship, we headed to get lunch at the Seaview Grill & Bar on the Lido deck. It was packed, but people were constantly coming and going, so we were able to find a family table pretty fast. The food was fresh and my husband particularly liked the roasted chicken.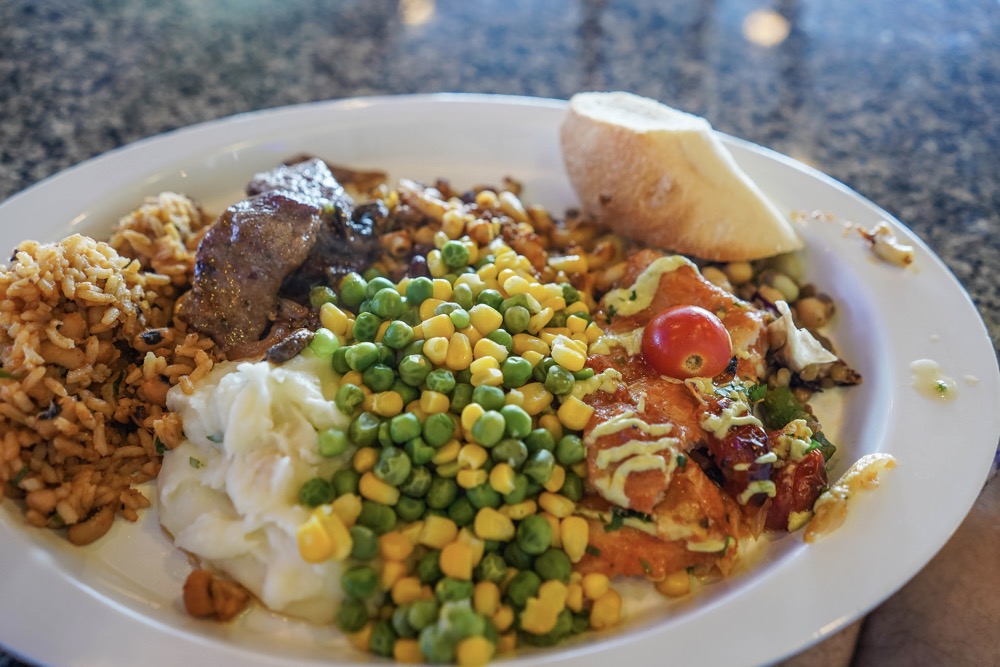 It's also possible to eat at Guy's Burger Joint on the first day also, but we didn't felt for something.  
Tip: Just to note, juice and water are included, but soft drinks and alcoholic beverages need to be purchased.
The Room
We had two rooms for our family of five, an Inside and Oceanview Room. We, however, spent 98% of our time in the Oceanview room, which we found perfectly fine for our family in terms of beds. The room had one double bed and two pull-down beds from the ceiling. It's also possible to request a trundle bed, but it was not needed because our children are so small.
The setup of the room was simple with a small TV attached to the wall, a small desk area with drawers, a closet and a small bathroom. We had a big window that overlooked the ocean, which I appreciated because I easily get claustrophobic. If that is something that doesn't matter to you or your family the inside stateroom was just as big and had a curtain to make the appearance of a window behind.
The Food & Service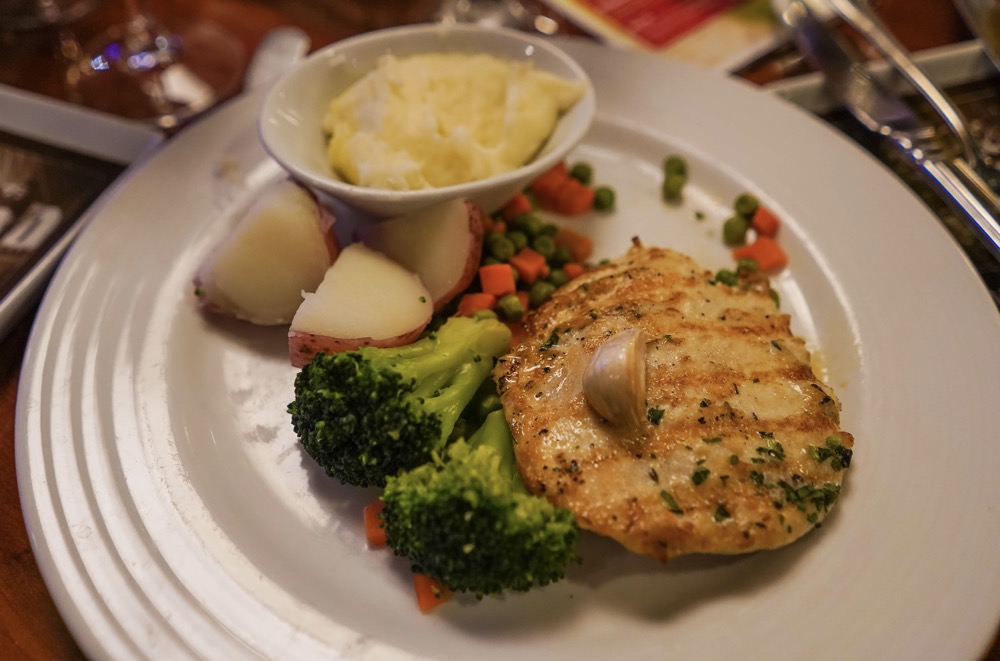 To us, this was the highlight of our time aboard the Carnival Sensation. For the price of the cruise, the food was outstanding in the dining rooms and was comparable to other cruise lines I have taken or better. Everything was of good quality and for $20 you could even order from the Steakhouse selection, which was a Filet Mignon, Lobster Tail or Surf & Turf. Not only was the filet Mignon HUGE it was also cooked to perfection. It was definitely worth the price. My hubby loves pairing it with the Lava Cake, which he indulged in on more than one night!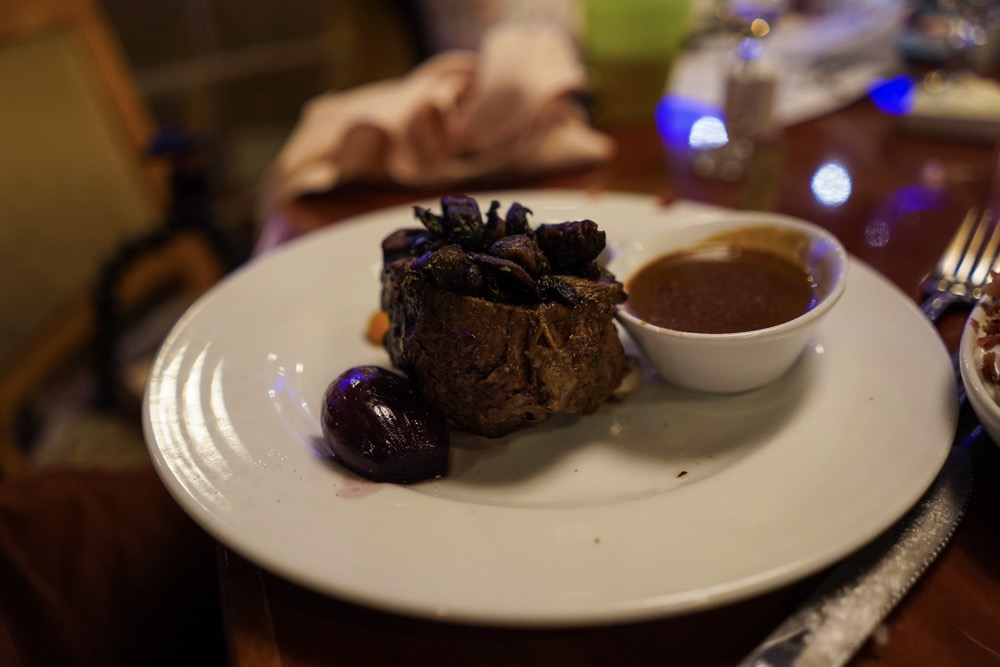 The service we had in the dining room was outstanding. We loved talking to our waiter who was from Bali. We had just visited the island two months before sailing, so it was fun to talk about some of the things we did. After the first night, he knew right away what my kids wanted and would have juice waiting for them when they arrived.
Activities For Kids
Do we have any Dr. Seuss fans in the house? Carnival is the official home of Cat and The Hat on the open seas. You will find lots of different types of Dr. Seuss themed activities for kids to take part in on each Carnival ship.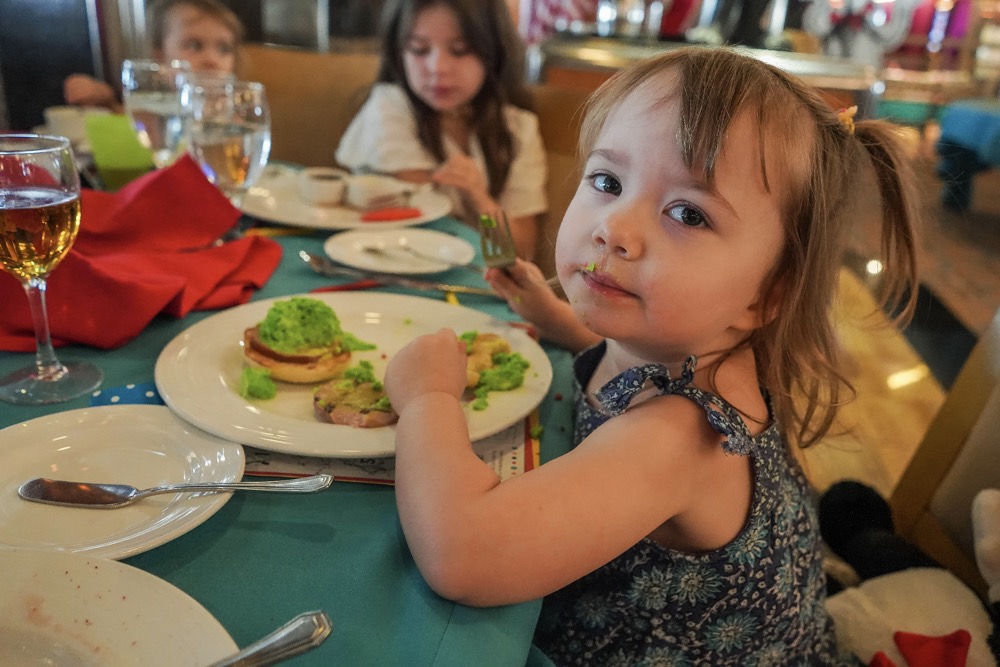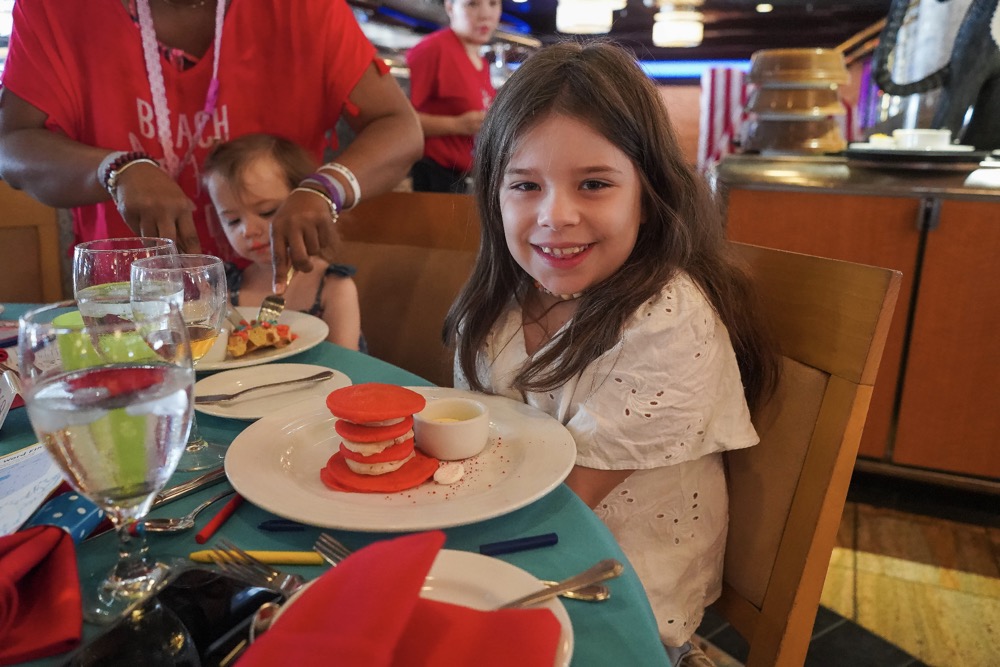 On the Carnival Sensation, our kids took part in the Green Eggs & Ham Breakfast, Seuss-Palooza Parade, Seuss-Palooza Story Time. Besides Dr. Seuss at Sea, kids can take part in Build-a-Bear on select ships.
Tip: Read – Why Carnival Cruise Line is Perfect for the Dr. Seuss Fan in Your Family
Facilities-wise our three girls visited Camp Ocean daily. Our eldest went into the section for older kids and our three-year-old twins went in the area for kids under five. Each of them loved interacting with the other kids and taking part in organized activities. Each time our kids visited they came back with some type of artwork or bracelet they had made in the club. Also, late at night the different groups join together and watch movies, which my kids loved. We almost took them each night during dinner to do this.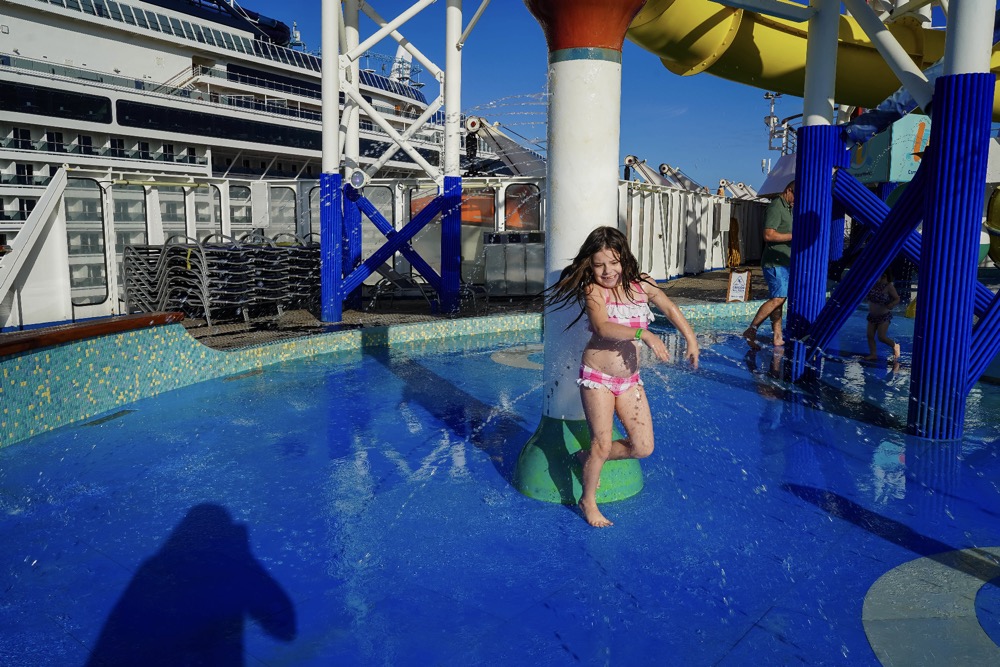 For hot days kids will enjoy the Waterworks splash area. It had one big water slide and two smaller ones.
It also had water spraying for younger kids to enjoy. The ship also has a small pool and two jacuzzies.
Ports of Call
While aboard the Carnival Sensation we visited Grand Turk, Princess Cays, and Nassau.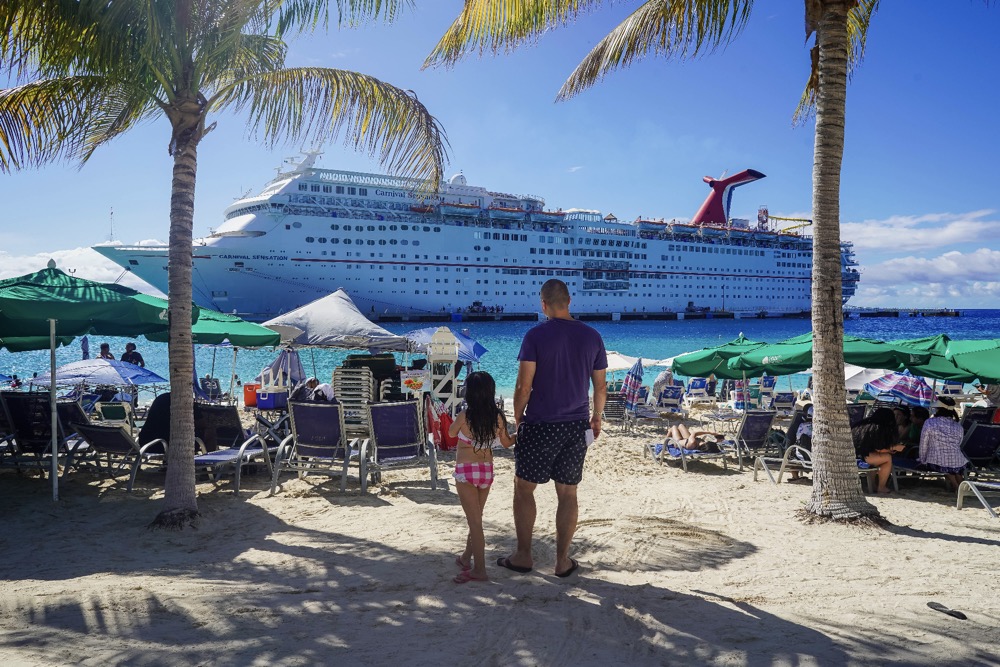 Grand Turk: This is one of my favorite port of calls I have visited in all the cruises I have taken in the Caribbean. I loved that you could walk from the ship to the beach in as little as 8 minutes!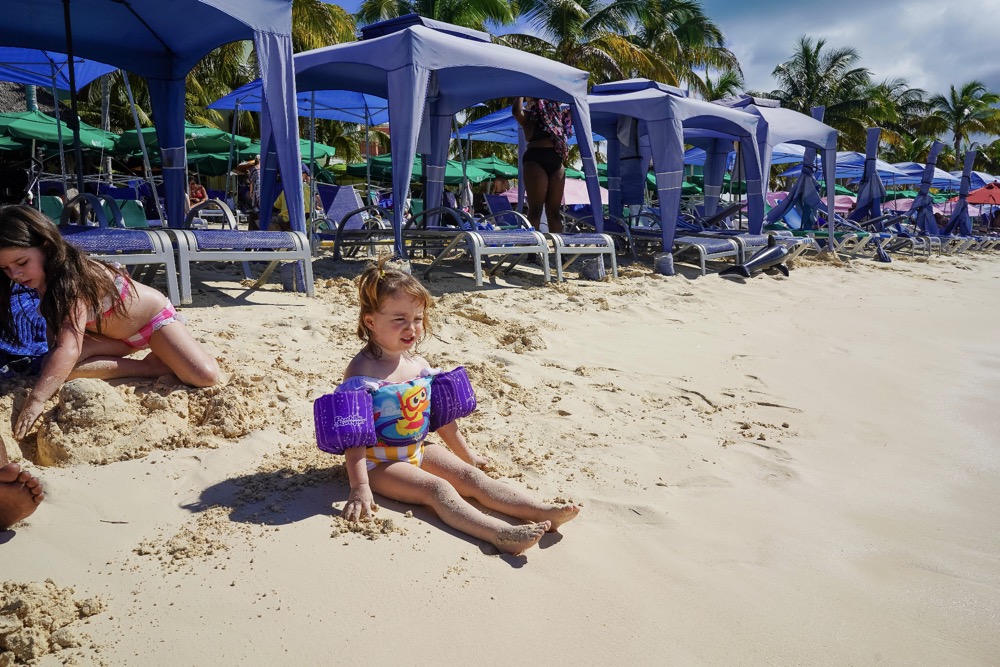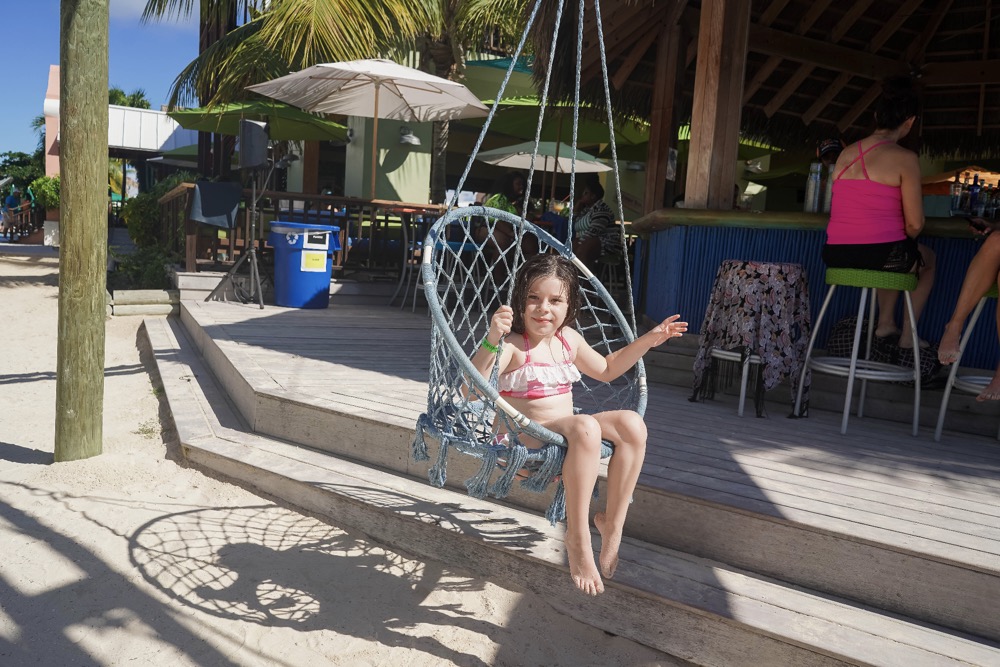 The convenience is truly perfect for families with young children. We also liked the setup of the beach and it was a hassle-free experience to rent a shaded cabana for the day.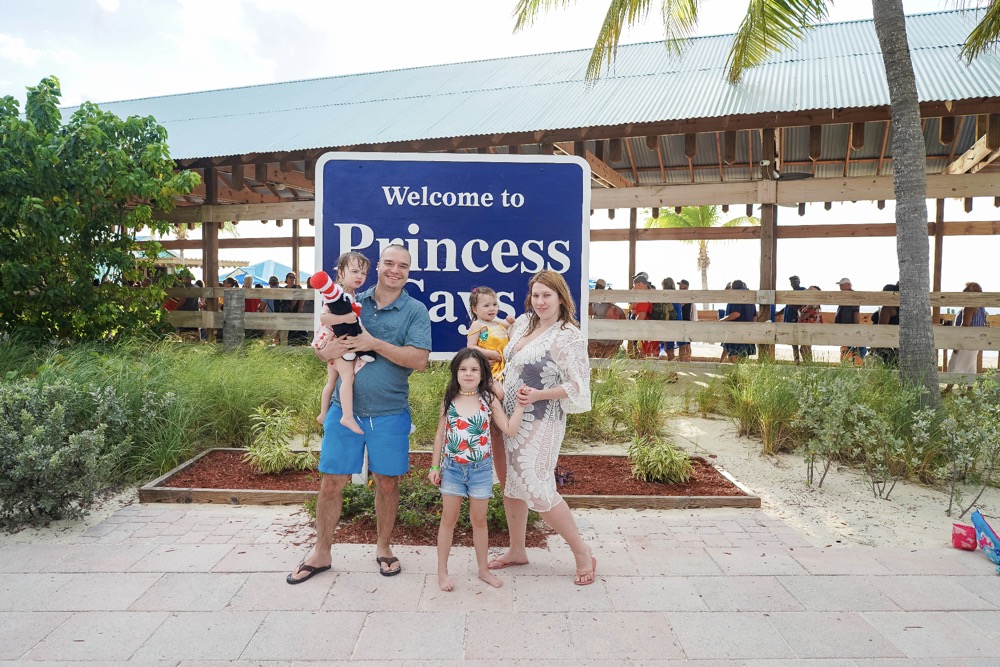 Princess Cays: This was a tender port of dall and is a private island that is owned by Princess Cruises, a parent company of Carnival. The best thing about this port is its calm water.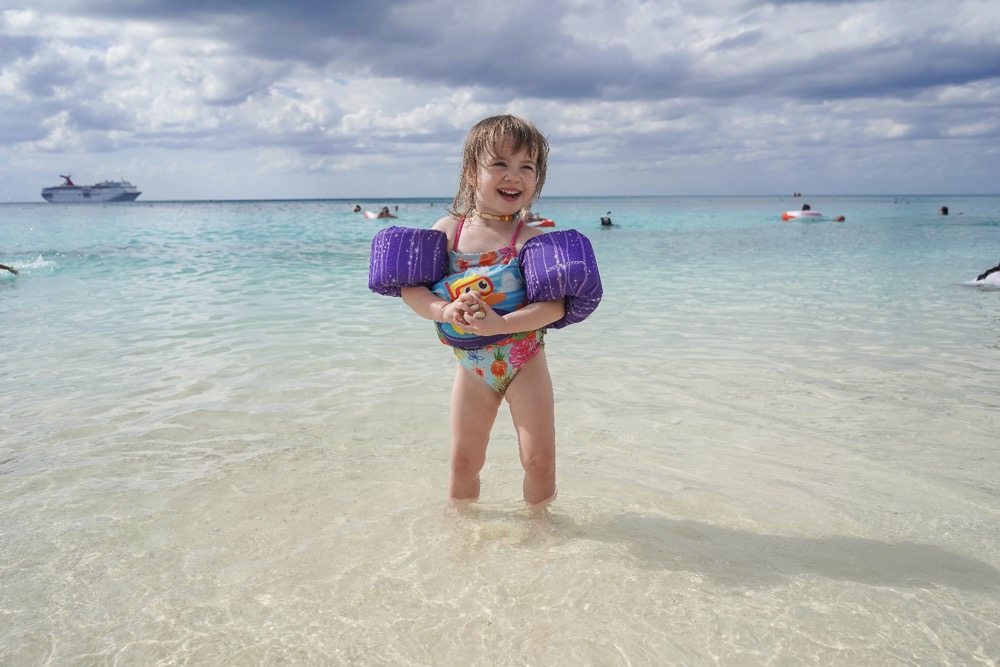 Waves are almost non-existent, making it a perfect beach for families with small children. Lunch was all included, but beware that they stop serving early, so don't laze around the beach too long!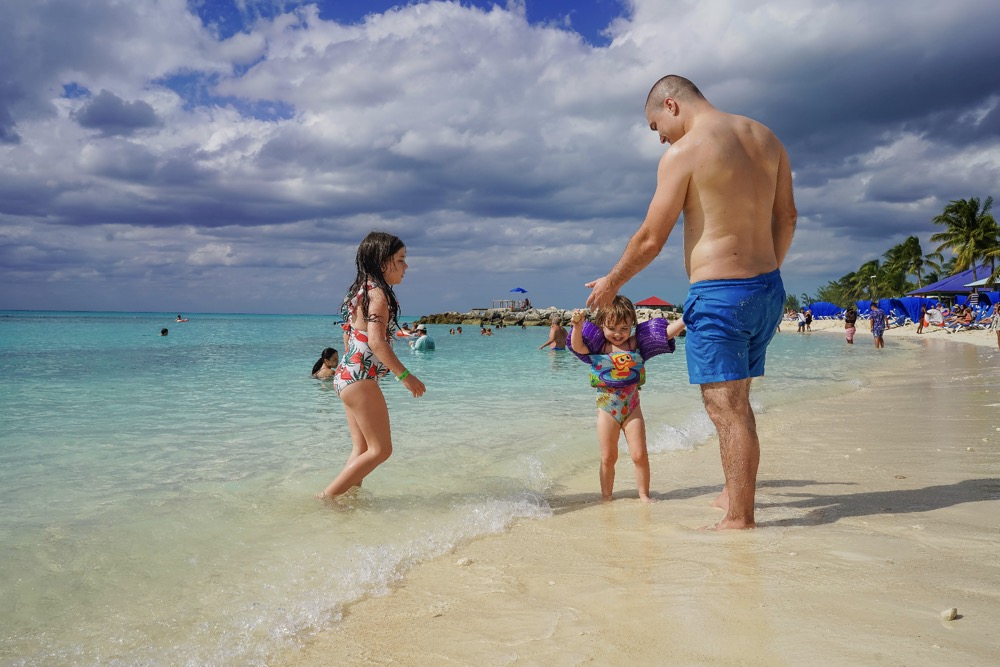 Nassau: This was my first time sailing to Nassau and all the stories I have read are true – it is a hectic port of call! We had three other ships dock while visiting the city, so the port was extremely packed. We chose not to do an excursion and instead walk around the town to get a taste of the local culture. We felt safe and the local craft market was a great place to buy souvenirs.
Disembarkation
The day before you disembark you can pick up a numbered luggage tag at a specified location on the ship. The smaller the number the sooner you disembark. It's also possible to carry your own bag, which allows you to get off the ship earlier. We were not in a rush to get off the ship so we chose one of the last luggage tags numbers. I must say getting off the ship was simple and the line was not huge. The whole process took us about 15-20 minutes.
If you're looking to visit multiple ports in a short period while enjoying a relaxing, but fun holiday aboard a cruise ship than Carnival Cruise Line is the perfect line for your family. There are endless activities to take part in for all members of the family and you're sure to leave with some unforgettable memories!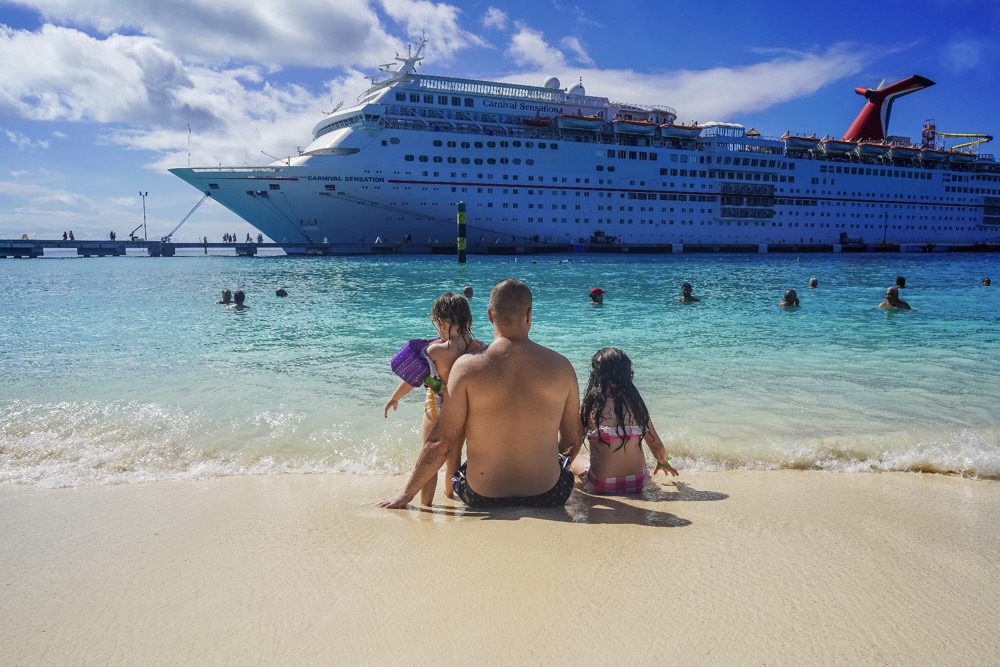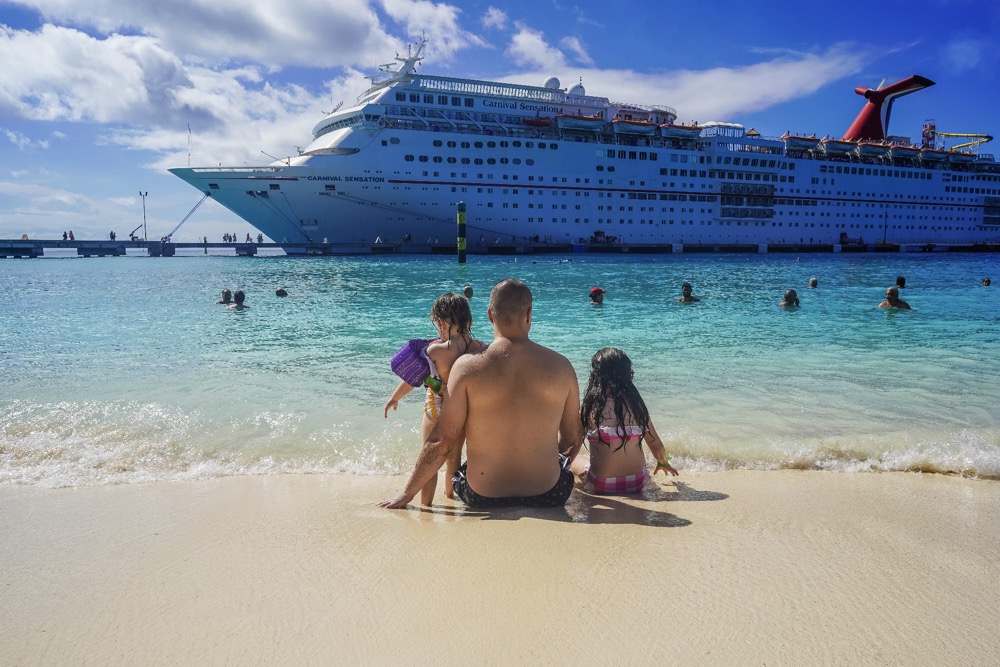 To learn more or to book your next cruise holiday visit the official Carnival Cruise Line website.
Connect with The Go To Family on  Instagram, Youtube, Twitter, and Pinterest!
Disclaimer:  Carnival Cruise Line graciously hosted our stay in order to facilitate this review. Although, the opinions within this post are my own.