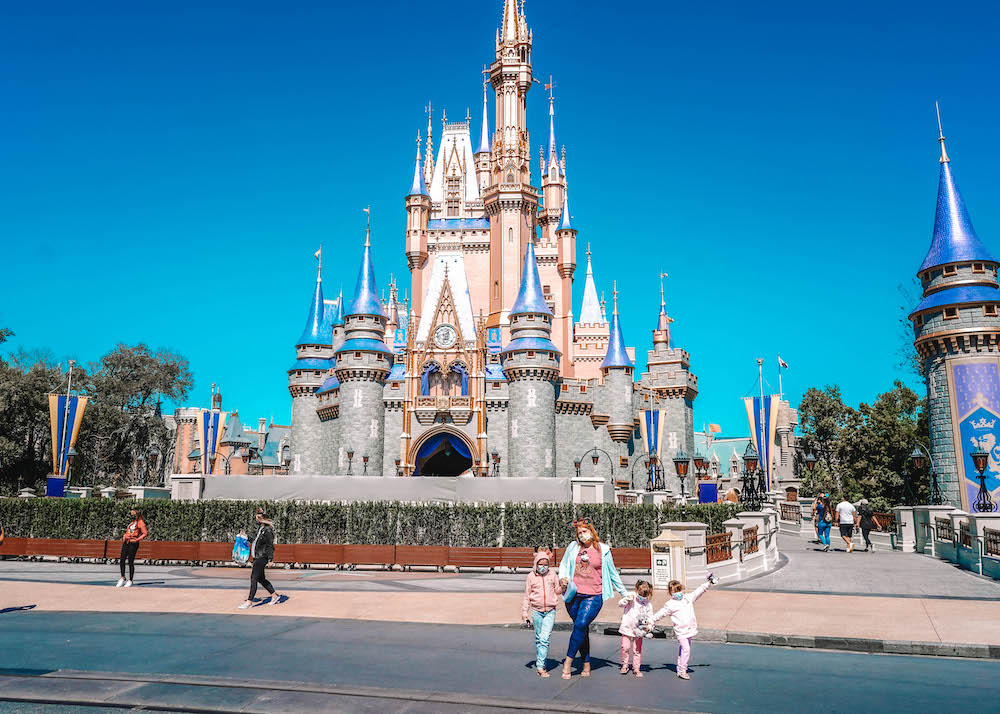 If you plan on visiting Walt Disney World in the coming weeks and months and want to breathe a little easier while taking a picture-perfect moment with your family, you may do so. In fact, new reports say that Disney will allow guests to remove their masks for photos. Here's what you need to know.
Covid-19 Travel: Disney Is Easing Its Restrictions On Removing Masks For Photos
Beginning this week, Disney guests will be able to remove their face covering while taking outdoor photos at any of their Florida parks, which include the Magic Kingdom, Epcot, Animal Kingdom and Hollywood Studio. Disney updated their mask policy on its website.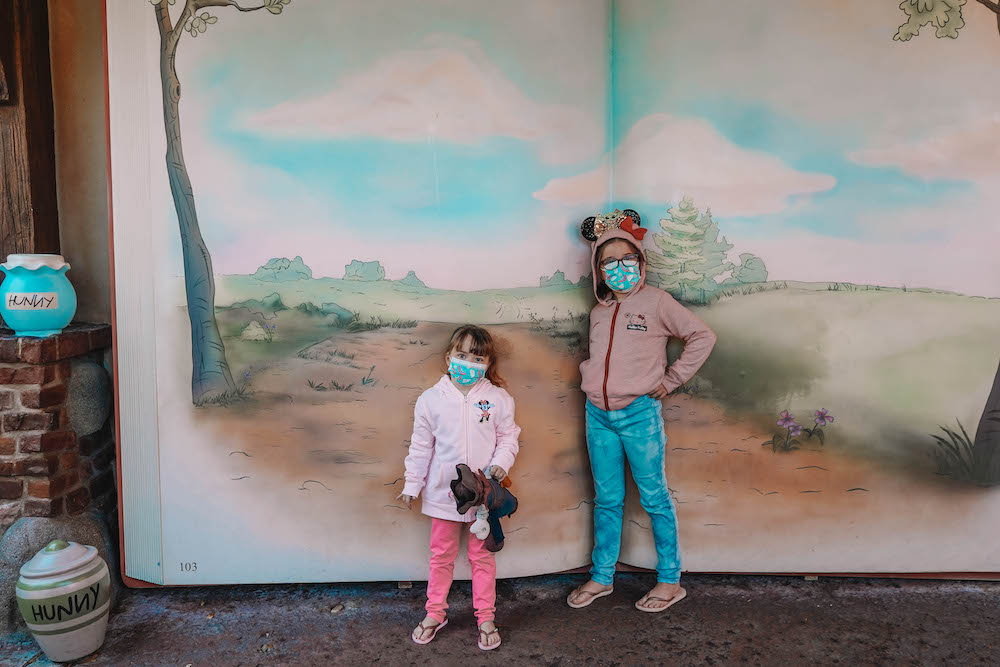 "Face coverings are required for all Guests (ages 2 and up) and Cast Members, including those who have received a COVID-19 vaccine. Please bring your own face coverings and wear them at all times, except when dining or swimming. You may temporarily remove your face covering while actively eating, drinking or taking an outdoor photo, but you must be stationary and maintain appropriate physical distancing during this time," the face-covering policy says.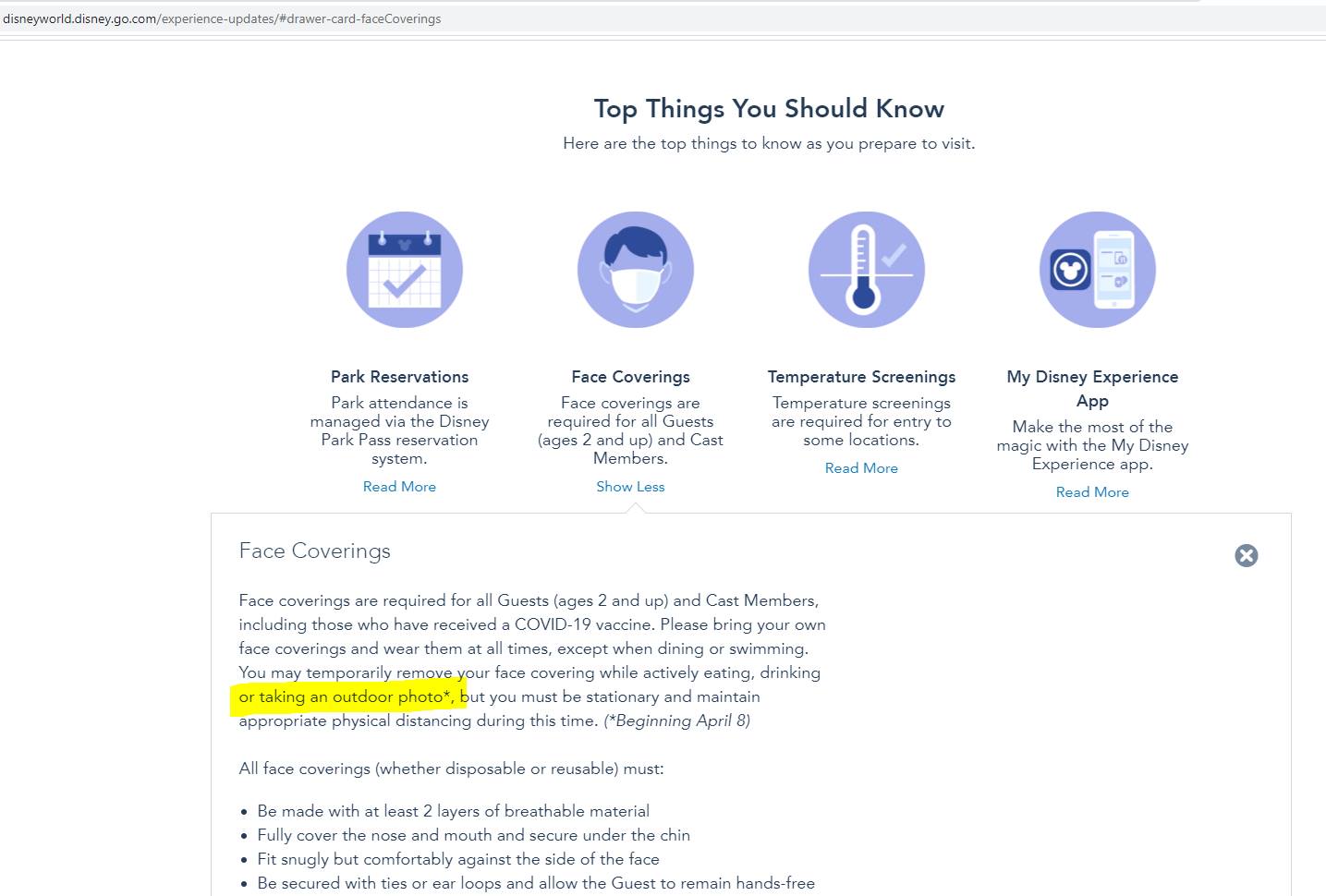 With that said, Disney stressed that all face covering – whether disposable or reusable – must be made with at least two layers of breathable material and fully cover the nose and mouth and stay secured under the chin. The masks must also remain hands-free at all times.
Exceptions to Disney's mask rule have been if guests are swimming at one of its resorts or dining. And while the park is allowing guests to temporarily remove their masks to take an outdoor photo, they must be stationary and maintain appropriate physical distance.
It's been noted that the new policy goes into effect Thursday, April 8.
Other Walt Disney World Covid-19 News
Meanwhile, one Louisiana man has been arrested for refusing a temperature check at Disney World this past week. Amid heightened precautions taken by Disney, Baton Rouge resident Kelly Sills, 47, skipped the temperature screening required of guests.  He was confronted by security about it at a Disney Springs restaurant, the Boathouse, when he yelled and refused to leave, according to an Orange County Sheriff's Office arrest report from Feb. 13. 
"I paid $15,000," Sills says in a now viral clip of the incident. "You can't trespass if you're paying $15,000. If I take $15,000 from you, I can't kick you out."
Sills clarified that the $15,000 figure was how much he paid for a five-day trip to Disney World and Universal Studios for himself and seven to eight family members.
"COVID is a very serious thing," he said, "but so is my vacation with my family."
Be sure to check out our vlog The Go To Family. Connect with us on Instagram, Twitter, and Pinterest !