More details have been revealed about the fairytale theming aboard Disney Cruise Line's Wish. Disney Parks Blog revealed the Beauty and the Beast theming that will be a part of the ship's storytelling and enchantment.
Adult Dining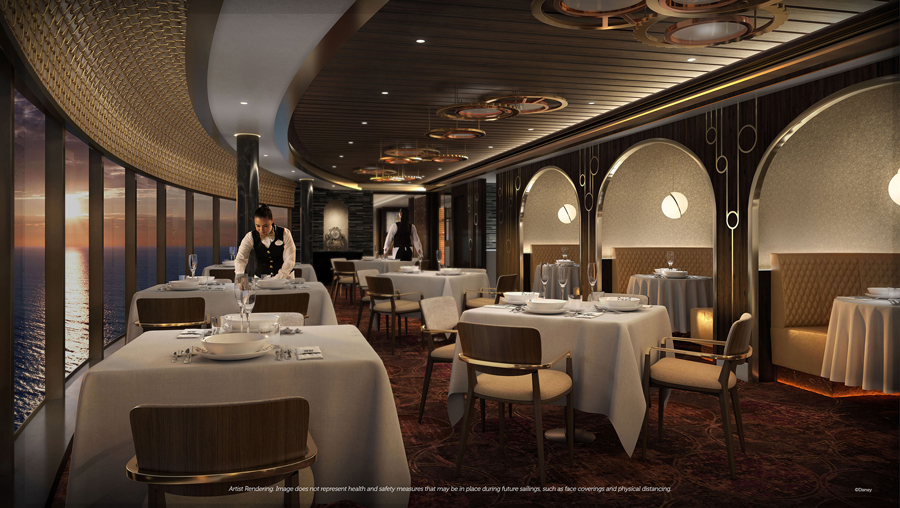 Aboard the Disney Wish, the adult dining venues will have a uniquely Disney twist inspired by this classic story. At Palo Steakhouse, they are evolving the Disney Cruise Line favorite and combining authentic Italian cuisine with modern steakhouse fare. As you dine in this sophisticated setting, you'll notice subtle theming centered around everyone's favorite punctual and precise clock, Cogsworth! The design of this space features dark wood detailing that is adorned with clockwork-inspired wall art. The layout will offer oversized banquette seating or the option for a more intimate table that will be adjacent to expansive windows offering stunning ocean views.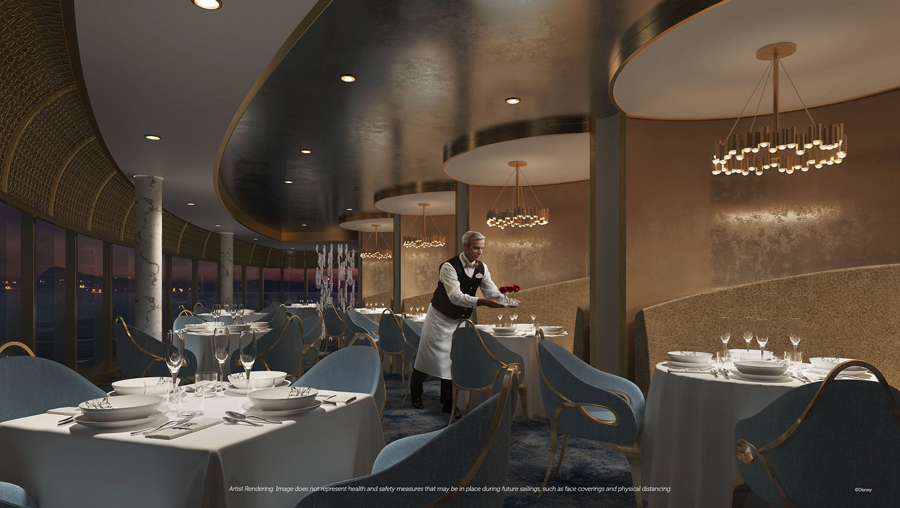 While Palo Steakhouse is deep and rich in ambience, Enchanté by Chef Arnaud Lallement celebrates the light and frivolity of Cogsworth's quick-witted colleague, Lumiere, boasting a palette of blues and white brought to life through shimmering light fixtures made up of gold and glassy baubles. You'll discover these elegant design details celebrating the debonair candelabra all while enjoying a gourmet menu created by the three-star-Michelin Chef Lallement.
Both restaurants will feature private dining rooms and will be joined by an outdoor terrace overlooking the ocean.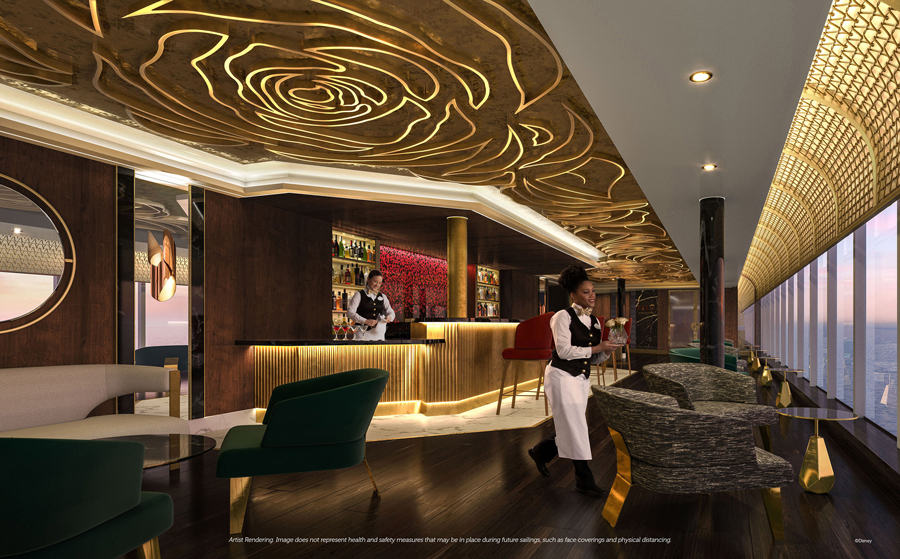 Found at the entrance to Palo Steakhouse and Enchanté, the lounge, appropriately named The Rose, will serve as the perfect setting for a pre-dinner aperitif or after-dinner cocktail.
Venture through Belle's Library
At Disney's Oceaneer Club, young princes and princesses will be invited to explore Belle's library as part of the royal trio of activity rooms in Fairytale Hall. There, kids will act out some of their favorite stories with Disney friends. And who knows? They might just meet the courageous princess – an avid book reader herself!
What do you think of the Beauty and Beast theming on the Disney Wish? Are you planning to take a cruise aboard the new ship? Let us know in the comment section below.
Be sure to check out our vlog The Go To Family. Connect with us on Instagram, Twitter, and Pinterest !