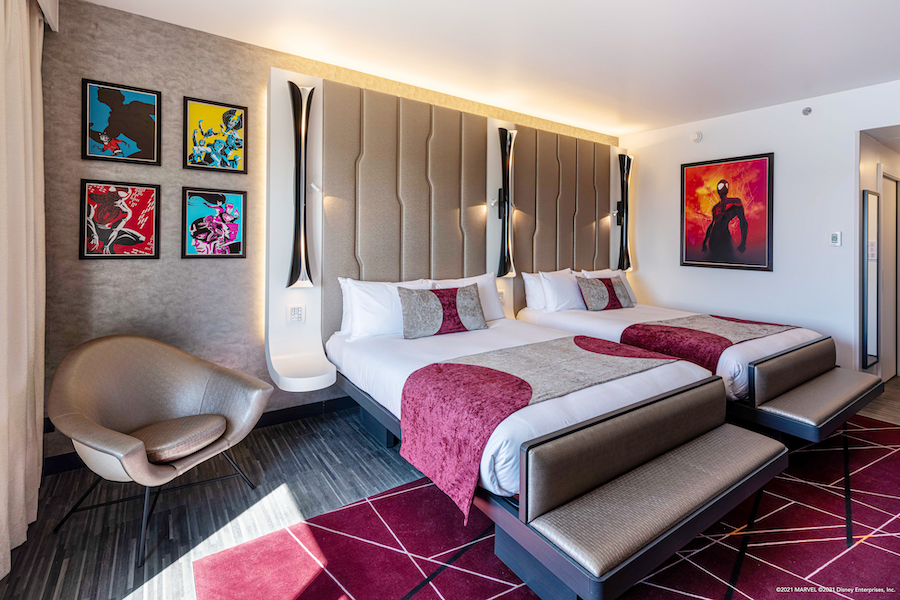 Disney's Hotel New York – The Art of Marvel expected to welcome Disneyland Paris guests back in mid-2020. More than a year later than scheduled, the reimagined hotel– originally opened in 1992 at the opening of the Disneyland Paris resort– will be rollout the bienvenue mat again!
On June 21, 2001, the refurbished and renamed hotel, which also acts as an art gallery and immersive experience for Marvel fans, will welcome guests into its 471 Superior Rooms, 65 Empire State Club rooms and 25 Suites, its 4 restaurant/lounges and exciting new Marvel features, all with a New York City vibe.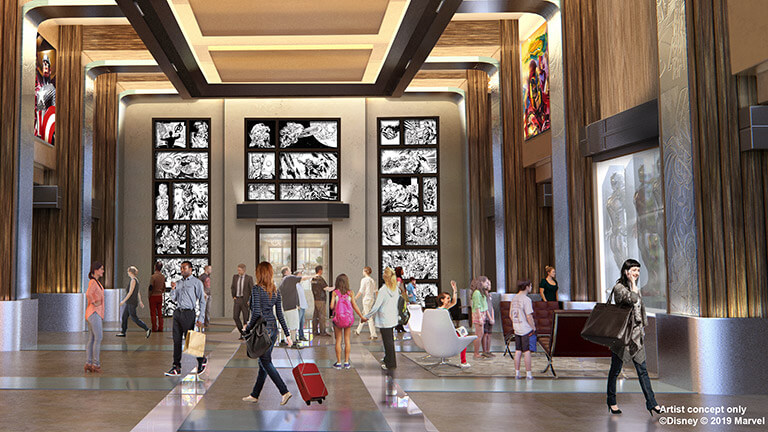 Entering the lobby, guests will be greeted by large, backlit comic panels, life-size Iron Man suits and Captain America's shields.
The renovated contemporary rooms are reminiscent of Tony Stark's sophisticated style, with Marvel artwork hung on the walls and cool features like an ultra-HD TV camouflaged as a wall mirror.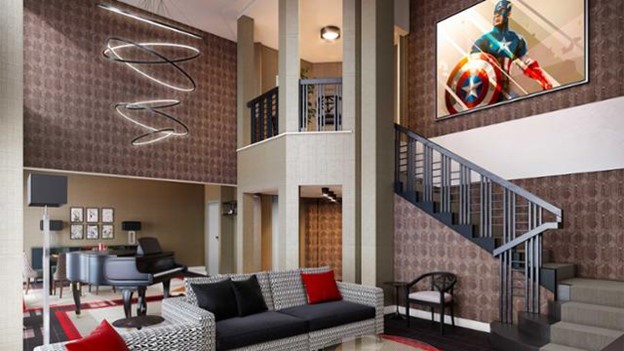 The restaurants and bar/lounges also emanate a New York vibe with Marvel touches in the menu, furnishings and of course, art works. In the Manhattan Bar, guests will feel as though they are frequenting a midtown Manhattan bar with panoramic windows offering views of the famous New York skyline…with a few Marvel twists.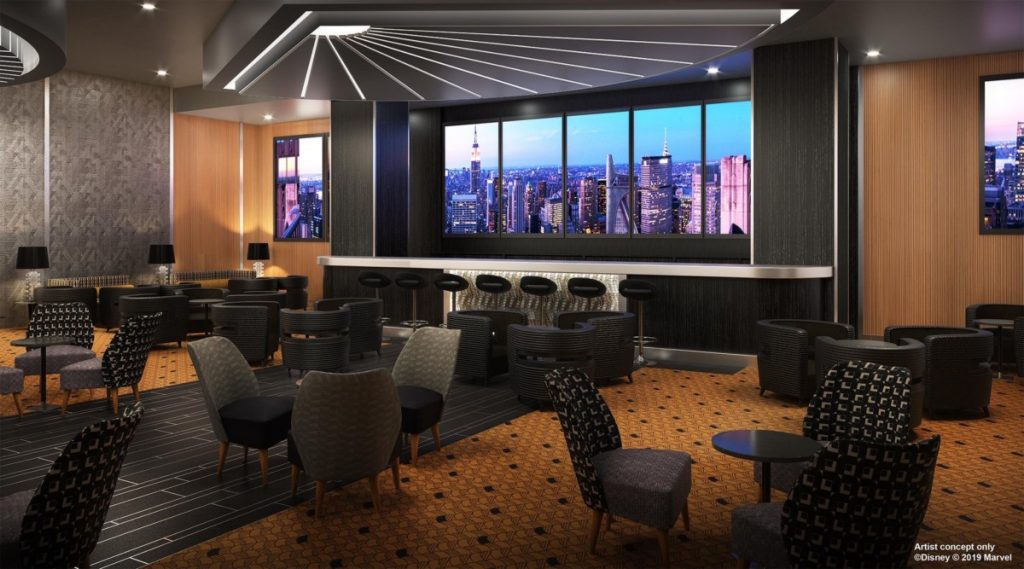 The hotel's Hero Training Zone features pools, a fitness center, plus an outdoor multisport field offering dedicated areas for activities such as basketball, fitness, yoga and more.
The big draw of Disney's Hotel New York – The Art of Marvel is the art gallery, housing over 350 pieces of Marvel artwork including 50 exclusive pieces and some created just for the hotel. In fact, when including The Jack Kirby Legacy Gallery which will house rotating, temporary art exhibitions, Disney's Hotel New York – The Art of Marvel will be one of the largest publicly viewable collections of Marvel artwork in the world.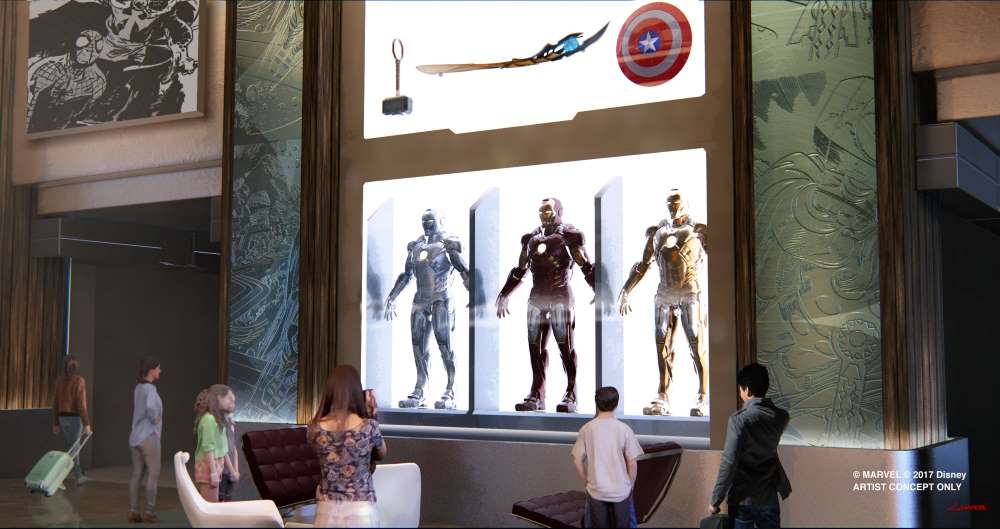 There are also interactive displays and exclusive experiences. Want to feel just like Spiderman? You can Instagram yourself crouched on the 'ceiling' of an upside-down room. This and several other photo spots, all immersing guests into the world of Guardians of the Galaxy, The Avengers, Ant-Man etc will be interspersed with characters from the movies available for meet and greets.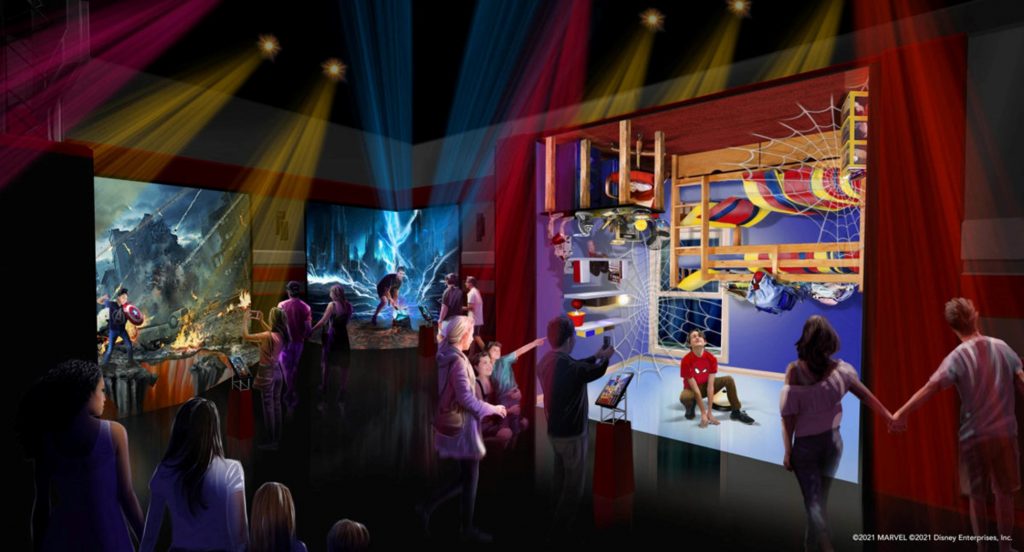 Packages go on sale as of May 18, with exclusive launch offers, so get in now and be one of the first to stay at Disney's Hotel New York – The Art of Marvel …and to visit Disneyland Paris when it reopens on June 17!
Be sure to check out our vlog The Go To Family. Connect with us on Instagram, Twitter, and Pinterest !