A pearl is a jewel of exquisite beauty. They are formed in mollusks when an irritant of some type enters the organism. For protection, the animal secretes proteins and minerals which encase the irritant in layers, forming a pearl. They are prized because they are rare, valuable and born out of adversity. Interestingly, several places in Asia have earned the title, "Pear of the Orient" because of their natural beauty. Perhaps the location most deserving of the title is Penang, an island in north Malaysia. Read more to find out how Penang's rise as a tourist hot spot connects to its journey through adversity. Learn about what sights are must-see, great places to stay, how to get around and what food to enjoy. This comprehensive travel guide about Penang, Malaysia will help you enjoy everything the island has to offer.
Table of Contents
Malaysia Travel Restrictions
COVID has changed the travel landscape and it is important to verify the current regulations prior to making your travel plans to visit Penang. The requirements in Malaysia have changed often and at times quite quickly, so please take care and visit the government sites with regularity. As of May 2022, all vaccinated travelers or those who have documentation of having recovered from COVID within six to sixty days of travel are not required to test for COVID before departing to Malaysia. Travelers who are not vaccinated must have a RT-PCR test two days before departure and a professionally administered RTK-Ag test within 24 hours of arrival and must complete a five-day quarantine. Face masks are not required outside but are to be worn in all public places. Travelers should be sure to download the MySejahtera App before travel to Malaysia and should make sure their personal information is uploaded before traveling to Malaysia.
Malaysia Visa
For many passport holders, securing a tourist visa before arrival to Malaysia is not necessary. Your passport must have more than 6 months validity remaining, and you must be able to give evidence of your flight to leave the country before the tourist visa expiration date. Some passport holders are eligible for a 90-day tourist pass and others just 30 days. Malaysia does require an online tourist visa application to be filed for passport holders from a few nations. Be certain to check and see what guidelines apply to you before traveling.
Penang, Malaysia at a Glance
Penang is one of the 13 states of the nation of Malaysia. This northwest state has two portions—the island of Penang and a strip of land on the peninsula known as Seberang Perai. Together they make up the geopolitical boundaries of the state of Penang. It is the fourth largest island in the country with a size of 114 square miles and has a population of over 700,000 people. As an integral part of the former British colony, Penang has a rich cultural heritage centered around the city of Georgetown. The state is also ethnically diverse with 60% of the population being Chinese, 32% Malay and 7% Indian.
Best Time to Visit Penang, Malaysia
Penang is always hot and quite humid. Temperatures are usually around 31C or 88F and the humidity is usually around 80%. There is not a defined rainy and dry season. However, there typically tends to be more rain in April, May, October and November. That can mean higher humidity but also a slightly lower temperature. Typhoon season seems to hit in November, which would be a good month to avoid, while December is typically a little less humid and more pleasant. It is a good idea to take a small umbrella along when sight-seeing in case there is a surprise shower. If the humidity causes you to sweat, it is also advisable to travel with a hand towel in order to dry off.
Traveling to Penang, Malaysia
Flights: Since COVID, the international flights arriving directly at Penang have been few. Routes directly from Singapore have resumed, but most travelers transit through Kuala Lumpur at this time. More routes will hopefully open that are direct from other international cities. As with many other places in the world, flights schedules have yet to reach stability and there are frequent delays and cancellations. Be careful to check your itinerary and confirm your flights to be certain that there are no changes.
Train: Penang can also be reached by train from KL Sentral. There is an express train from KL International Airport to KL Sentral, the main city transportation hub. This trip takes about 35 minutes and costs about $15USD for a one-way fare. From KL Sentral travelers can secure a trip to Penang. The journey takes a little over four hours and there are four daily trips between 11am and 10pm. Check travel schedules and book tickets  here. Usually, the fare runs about $10USD one way. The destination station is Butterworth, which is on the mainland. Once disembarking the train, there is an option to take the ferry to mainland or use the Grab App to secure a ride.
Bus: Another option for travel to Penang is by bus. After arriving at KLIA, take the KLIA Express from KLIA to KL Sentral and then take the light rail train from KL Sentral to the main bus terminal (Terminal Bersepadu Selatan). That journey takes just 10 minutes and costs about .50cents US. Purchase bus tickets in advance online or from the operators in the terminal. Tickets cost $10USD one way and the trip will take approximately 5-6 hours. Buses are comfortable, sanitary, have often have free Wi-Fi. They usually make two to three stops along the way for rest room breaks at rest stops/gas stations. The bus destinations to choose from include Butterworth (Penang Sentral) or Penang Sungai Nibong station. From Penang Sentral it is easy to secure a ride over on the passenger ferry to Georgetown. From Sungai Nibong it can be a 45-60 minute car ride to town.
Car: It is possible to rent a car and drive or reserve a ride to Penang from KL. The trip can take as little as 4.5 hours but has more commonly taken 5-7 hours. Arranging for a car and driver from KL to Penang (with the Grab App or a taxi service) may run approximately $250USD.
Where to Exchange Currency in Penang, Malaysia
There are several money changers who are established within malls around the island. For example, on the north side of Penang money changers can be found at Lotus (ground level) Tanjung Tokong, Island Plaza (basement next to Mercato grocery store) and on the ground floor of Gurney Plaza and Paragon malls. It is best to look for licensed money changers. Another thing to look for is to make sure the rates of exchange are clearly published and make sure that the correct amount of money is received. Count the bills before the exchange and after prior to leaving the counter. If there are no posted signs regarding the current rate of exchange, it is best to avoid those money changers. It is also possible to take a cash advance (in Ringgit) from your international bank by using Visa or Mastercard in a local ATM machine. Make sure that the symbol for your card is visible. There will often be a fee for withdrawal from a different bank's machine. The rate of exchange is variable but should show on the screen before you agree to the transaction.
Best Areas to Stay in Penang, Malaysia: Georgetown, Batu Ferringhi and More
The best places to stay depend on the goals of your trip. If you are interested in the beaches, water sports and the natural beauty of Penang, you may want to choose a hotel or Airbnb in the Batu Ferringhi area. Some of the hotel options include Shangri-La Golden Sands, Bayview Beach Hotel, Lone Pine Hotel, the Hard Rock Hotel, and the Park Royal. The Batu Ferringhi area is more removed from Georgetown so if you are interested in being between the beach area and the town, consider a hotel or Airbnb in the Tanjung Bungah or Tanjung Tokong area. Hotel options in this area include the Mecure, Flamingo by the Beach, Hompton Beach Hotel, and Hotel Sentral Seaview. If you prefer to be in the town of Georgetown where the action is, there are many small boutique and backpacker hotels and Airbnb's. It is busier and not as quiet, so it is important to bear that in mind when looking for accommodations. Hotel options include the Eastern & Oriental Hotel, JEN by Shangri-La, Vouk Hotel Suites, the Northam Hotel and many more. For a few days away at a truly different experience in the jungle on the eastern side of the island, consider Malihom. Personal recommendations include the Lone Pine Hotel in Batu Ferringhi and the Eastern and Oriental Hotel in Georgetown.
Top Things to do in Penang, Malaysia
There are so many exciting and interesting things to do in Penang. Nature calls with its lush tropical jungle and its sandy beaches. Historical sites, funky street art, and delicious food beckon from the city center. As a melting pot of different cultures, Penang is a place where you can experience the religious and cultural traditions of many people groups. Here are some top picks to consider.
Natural sites:
The Habitat on Penang Hill
The Habitat is a rainforest discovery center which aims to educate and preserve the rainforest. It is a place to learn more about the diverse living creatures of the forest and gain appreciation for our role in preservation. They offer interesting programs and promotions, so it is a great idea to check their site as you plan your trip. They are open from 9am-7pm. Entrance ticket are about $13USD a person but they also offer higher price tour tickets.
Penang National Park, Teluk Bahang
The National Park of Penang is the world's smallest nature reserve spanning about 3000 acres. It has the only meromictic lake in Malaysia. A meromictic lake is one in which there is no mixing of the water and the salt water and the fresh water within the lake are stratified. There is no charge for hiking at the National Park, but often hikers choose to order a boat pick up at one of the beaches after hiking in.  Arrange that with the boat companies at the entrance before you begin hiking. There are three main trails and beaches to choose from. The trail to Monkey Beach is about 3.8km from the entrance. The trail has been impacted by rain and it is important to be cautious where there is damage to the steps and the trail. This hike may not be advisable for families with small children or to do alone. Monkey Beach tends to be busier and noisier with vendors offering food and water sports. If you want to continue past Monkey Beach and keep hiking, you can reach the Mukahead Lighthouse after hiking for another 45 minutes. Pantai Kerachut, or Turtle Beach, is 3.7km from the entrance. The path to this beach is less rocky but also has some damage in areas. Turtle Beach is a nature preserve because sea turtles still lay their eggs on the beach. There is a center where baby turtles are raised before returning them to the ocean. There are bathrooms and some picnic areas, but there are no other vendors or tourist sports because it is a protected area. The most secluded beach which is most difficult to reach is Pantai Kampi. It is 5km from the entrance and like Pantai Kerachut, has very basic facilities. Be careful to bring out all the trash that you bring into the park.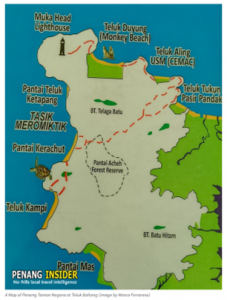 Historical Sites In Penang Malaysia:
This incredible heritage house on Church Street is one of the best collections of antiques and period pieces. The large collection of over 1000 pieces is quite valuable and stunning. Open daily between 9:30-5 with an admission fee of about $5USD. They do provide complimentary tours for groups over 5 persons if they are arranged in advance. This experience is highly recommended.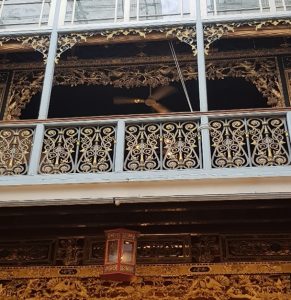 On the southeast part of the island, beyond the airport, stands a chilling monument to the horrors of WW2. The British built a fort on this location in the 1930s, but it was overtaken by the Japanese in 1942. They used it as a prison camp and many atrocities occurred at this site. While it is a difficult place to visit, it is also an important one. The museum is open from 9am-6pm daily and the admission fee is about $10USD for foreign adult visitors. Be sure to wear comfortable light weight clothing and use mosquito repellant.
Penang, Malaysia All in a Day
Trip One in Penang, Malaysia
Visit Craft Batik in Teluk Bahang. This was Penang's first batik factory, established in 1973. Batik is a textile famous throughout Malaysia and Indonesia that is created by applying wax and dye to fabric. Make an appointment in advance by contacting them at 04-8851284. They can arrange a guided tour of the factory and can also prepare an experience where you can dye your own piece of fabric. They have different sizes of fabric available to paint depending on how much time you want to spend on the project and how much you wish to spend.
Visit Entopia in Teluk Bahang. Just past Craft Batik to the west is what used to be called the Penang Butterfly Farm. This farm was started in 1986 as the world's first live butterfly and insect sanctuary. It was renovated and relaunched in 2016 as an education center and is highly recommended. It is open from 9am-5pm and tickets are about $20USD/adult. There are promotions at times if you check online.
Return to Batu Ferringhi have amazing sizzling chicken at Tan Sam Guan Seafood on the beach road between Lone Pine and Golden Sands.  Everything on the menu is delicious and the spiciness level can be adjusted to suit. After lunch, enjoy a stroll on the beach or try out some water sports.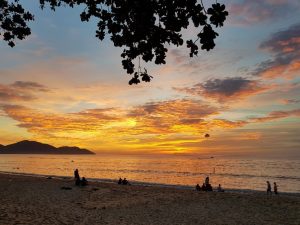 Trip Two in Penang, Malaysia
Take a visit to the Tropical Fruit Farm on the northwest side of the island. There are guided tours available, and they are highly recommended. The guides are very knowledgeable, and the tour is interesting. The cost for the tour alone is about $7.50USD and the cost for the tour and a fruit plate and juice is $12.50USD. The tour takes about one hour. Reservations are not required but it best to reserve a tour in advance if you plan to visit on the weekend.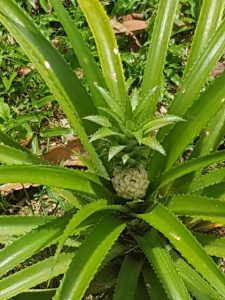 Continue in the same vein and visit the Tropical Spice Gardens. This botanical garden has a wide range of interesting species. An informative self-guided audio tour is available. They offer mosquito repellant at the entrance, and it is advisable to use it in this jungle! The cooking class offered at the gardens is highly recommended but will require an advance reservation.
Trip Three in Penang, Malaysia
Experience the diversity of Penang's religious scene by visiting the various places of worship.
This large sprawling Buddhist temple started being build in 1891. It is a center of Chinese culture and Buddhist teaching, presided over by the 33.6m tall statue of Kuan Yin. If you have the opportunity to visit in the time of Chinese New Year, the entire complex it lit up with thousands of lights for a month and is an incredible sight.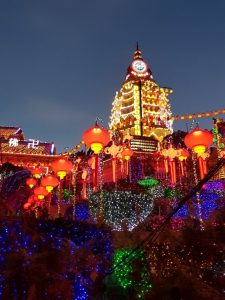 Kapitan Keling Mosque
This 19th century mosque was established by Penang's first Muslim settlers to the island. It is open for visitors outside of prayer times and guides are available. It is important to be dressed appropriately for entrance into the mosque. They do have sarongs and head coverings (women) available to use.
St. George's Church
St. George's Church, located on Lebuh Farquhar and founded in 1818, is the oldest Anglican church in Southeast Asia. Severely damaged and looted in WW2, it was restored in 1948. Guided tours to learn more about the colonial period are available.
Arulmigu Sri Mahamarimman Temple
This Hindu temple was founded in 1883 and is the oldest Hindu temple. Visitors may enter but must take off their shoes and wash their feet.
*Note: Kek Lok Si is far from the center of Georgetown but is a very impressive religious site. However, Kapitan Keling Mosque, St. George's Church, and the Arulmigu Sri Mahamarimman Temple are all within walking distance of one another. If you wish to add a Chinese temple to this walking tour, consider the Goddess of Mercy temple on Pitt Street.
If the weather is scorching hot, it would be advisable to carry an umbrella. Consider bicycle rental or hire a trishaw for a tour. Trishaw drivers were negatively impacted by the lack of tourism brought about by the pandemic, so giving them support would be a great choice.
Trip Four in Penang, Malaysia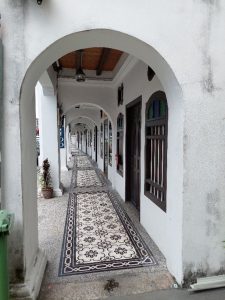 In 2012, Lithuanian born artist Ernest Zacharevic created a work of street art for the Georgetown Festival. Zacharevic was commissioned to complete six works, but then other artists joined the experience. To date there are around 50 pieces in the city. Explore the colonial streets of Penang and get your camera ready!  Here is map of some of the most interesting works.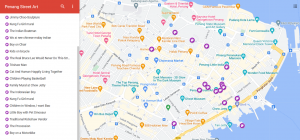 For a delicious lunch with many options, consider the Jetty Food Court. In this food court there are a variety of local dishes available. Find a table and make note of the table number. As you browse and order, inform the vendor of your table number. Payment is made when the food arrives at the table. A drink vendor will also come to your table to take your order.
To finish, cross the street and visit the Chew Jetty. The jetties were built by Chinese clans in the 19th century. The Chinese who arrived in Penang often worked on the docks and boat operators, so they built these homes on the water to be close to their work. Each jetty belongs to one family clan and there were initially 10 of these jetties. The Chew jetty is open to the public and is fascinating to get a glimpse into the past.
Penang, Malaysia Food Guide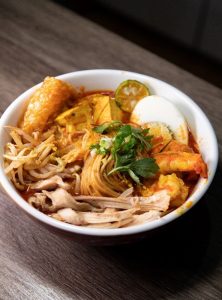 Laksa is a spicy noodle dish usually made with wide noodles and different toppings such as fish, prawns or chicken. It can have a coconut or tamarind-based broth.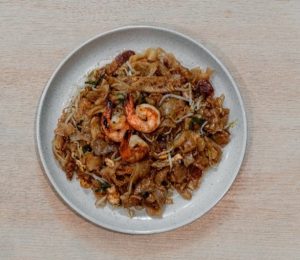 Char Koay Teow is a stir-fried noodle dish made with soy sauce, shrimp paste, and prawns. It often contains eggs, tofu, and bean sprouts.
Roti Canai or roti prata is an Indian flatbread dish usually served with dal or curry.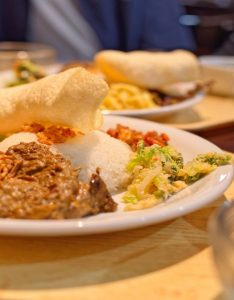 Nasi Kandar is a rice-based dish that originated in Penang. Steamed rice is served with curries and a variety of side dishes.
Nyonya food is a type of cuisine which is a fusion of Chinese and Malay food. The food is spicy, tangy and aromatic. There are wide variety of savory dishes that are worth a try.
Desserts of Penang, Malaysia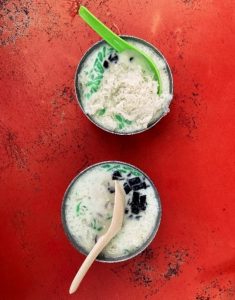 Cendol is a famous icy sweet dessert found throughout Southeast Asia. It contains green rice flour jelly, coconut milk and palm sugar syrup. One the of the most famous places to get cendol in Penang is at Penang Road's Teochew Cendol. While the lines can be long, service is quick.
Apom manis is a fluffy delicious dessert or snack that originates from Tamil Nadu. It is made of sugar, egg, coconut milk and flour and most resembles crepes.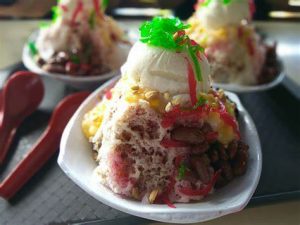 Ais Kacang is a dessert of shaved ice and cooked sweetened red beans. It is flavored with a variety of syrups and toppings.
Where to Eat in Penang Malaysia: Hawker Stalls, Malaysian Street Food, Restaurants & More!
There are so many street vendors, hawker stalls, and little cafes in Penang that it is difficult to suggest where to eat. Unlike other places in Southeast Asia and even Malaysia, Penang has clean water. That means that eating on the street is safer than in other places. While there are so many options for restaurants, here is a list of a few highly rated locations.
Kebaya Dining Room, 14A, Stewart Lane
Price: between $5-10USD per entree
Kebaya Dining Room is one of the top 10 Nyonya restaurants in Penang. The menu features classic Indo and Straits Chinese Nyonya dishes with a unique flair. They are open for lunch on Friday, Saturday and Sunday between 12-2:30pm and for dinner every day of the week between 6-10:30pm. Reservations are necessary.
Laksalicious, 123 Hutton Lane
Price: around $1-2USD per entrée
Laksalicious is a great place to try the local delicacy, laksa. They also have kuih, blue rice and homemade pies. Prices are affordable and the restaurant is clean and inviting. It is open from 11:30am-6pm every day of the week.
Lagenda Café, 2 Carnavon Street
Price: around $5USD per entrée
Open every day except Wednesday from 11am-11pm, Lagenda Café offers a wide variety of local dishes like Beef Rendang and Ayam Penyet. They also have some fusion dishes like Creamy Massaman Chicken Curry (over spaghetti) and Kalaman Chicken. Make sure to save room for a refreshing dessert like the Panacota Serimuka or the Sago "Do Re Mi".
Indigo Restaurant at Blue Mansion, 14 Leith Street
Price: between $10-100USD per entrée
Lunch is served at the legendary Blue Mansion daily between 12pm-3pm and dinner between 6:30pm-10pm. Reservations are required.  Six-course sets are available for dinner which range between $50-100USD per person. Individual entrees can be ordered, and the menu features delicious mouth-watering steaks, salmon, lamb and a wide variety of other dishes.
China House, 153-155 Lebuh Pantai
Price: between $5-10USD per entrée
The China House is the longest café in the world, spanning 400meters from back to front. There are different parts of the café. One part of the café called Kopi C. Espresso, offers breakfast from 9am-6pm, lunch from 12-6pm, and dinner from 6pm-11pm. There is a burger bar area and a canteen and bar. There is often live music, and they have local visiting artists share their work. However, China House might be most well-known for the bakery on the Beach Street side. Amazingly delicious cakes are sold by the slice.
Points of Interest (Map) in Penang, Malaysia
To help gain an understanding of the layout of Penang and the sights to see, the locations mentioned in this article are pinned on this map.
How to Get Around Penang, Malaysia
Penang has a reliable public bus system that covers the island. It is called Rapid Bus and the routes and fares are posted here. While it is dependable, taking the bus can be slow because of wait times and stops along the way. Prior to the pandemic there was a "Hop On/Hop Off" double decker bus for tourists that visited all the major sites, but that service has not resumed yet. Hopefully it is something that will return, for it was a different way to see the island.
One of the most common ways that locals "catch a ride" is to use an e-hailing service. The most common e-hailing service is Grab. Taxis are available from the airport, but they are not as common now around the island since Grab became popular. Fares on Grab vary based on distance and the type of car that you need. It can be challenging at peak hours to reserve a ride, so be sure to give yourself some time to arrange a pick-up.
Another option is to hire a guide/driver to help you get the full experience of Penang during your visit. Mr. Sam is a knowledgeable guide who has helped cruise guests when they are on the island. He agreed to share his contact information and if you want to check his availability try to reach him at +60195509551  Finding a local guide is a good way to support people who suffered during the loss of the tourist industry during the pandemic. Your hotel staff could help you find a guide/driver.
How Many Days to Stay in Penang, Malaysia
The length of time you spend in Penang depends on your priorities and focus. If you want to do and see it all, it could take up to five days. Consider the All in a Day options listed above or build your own itinerary based on what is more interesting to you. Are you an outdoors person who loves nature? Are you a person who wants to soak up the history? Or do you prefer to learn about cultures, traditions, and religion?  All of those are options on Penang and you can set your plan based on what is most interesting to you.
Budget/Summary of Expenses in Penang, Malaysia
It is possible to visit Penang on a tight budget, but it is also possible to indulge.
Accommodations: On the low end, a private bed in a shared accommodation through Airbnb can run as low as $10USD a night while the Eastern & Oriental Hotel or Lone Pine can run up to $150USD per night.
Food: If street food and hawker stalls are the fares for the day, then it is easy to make it on $10USD per day for food. Having a meal at a nicer restaurant could run $10USD for the single meal.
Transportation: Bus fares are low, ranging from .10-.50cents US. Grab rides will cost more, usually ranging between $5-10USD depending on destination and whether or not it is peak time.
Entrance Fees: Prepare for entrance fees into the main tourist sites. Also be aware that there is a local price (MYKAD) and a price for foreign visitors. As you plan your itinerary, you can establish this cost through the websites.
Penang, Malaysia Travel Tips (Being Smart and Safe)
Penang is fairly safe. It has a low crime index and a high safety index. Theft and petty crime are rare and are opportunistic. Deterring such an event just involves normal procedures to protect and secure your valuables.
Bribery and corruption are a big issue in Malaysia, so it advisable to not fall foul of the police or government institutions. Make sure that you have the proper permission to be in Malaysia (tourist visa stamp) and do not overstay your allowable time in the country. When you are traveling through the country, make sure to keep your passport with you.
Care for your body. Take the mozzies seriously. Dengue fever is common, and it is important to wear insect repellent. As a nation close to the equator, the sun can be brutal. As your seeing sites, considering carrying an umbrella for the rain or the sun. Use sunscreen and be sure to stay hydrated.
You may want to get a SIM card when you arrive at the airport so that you have internet on your phone. You can check out the options at the kiosk upon arrival. Also be sure to have a travel adapter for Malaysia (G type plug) and know that the voltage is 240V/frequency 50 Hz.
English is the common language of people in Penang, so communication is easy. Be kind, respectful and curious and you will have a great time!