The next time you board a Celebrity Cruise Ship you may find there is a scent of something different in the air. It could well be Gwyneth Paltrow's v*gina…candle.
Gwyneth and her company Goop is partnering with Celebrity Cruises with the famous actress and business owner coming 'on board' as a Well-Being Advisor.
So…what is a Well-Being Advisor? Well, no one really knows.
Gwyneth made the announcement on her Instagram, however, it seems the partnership is shrouded in mystery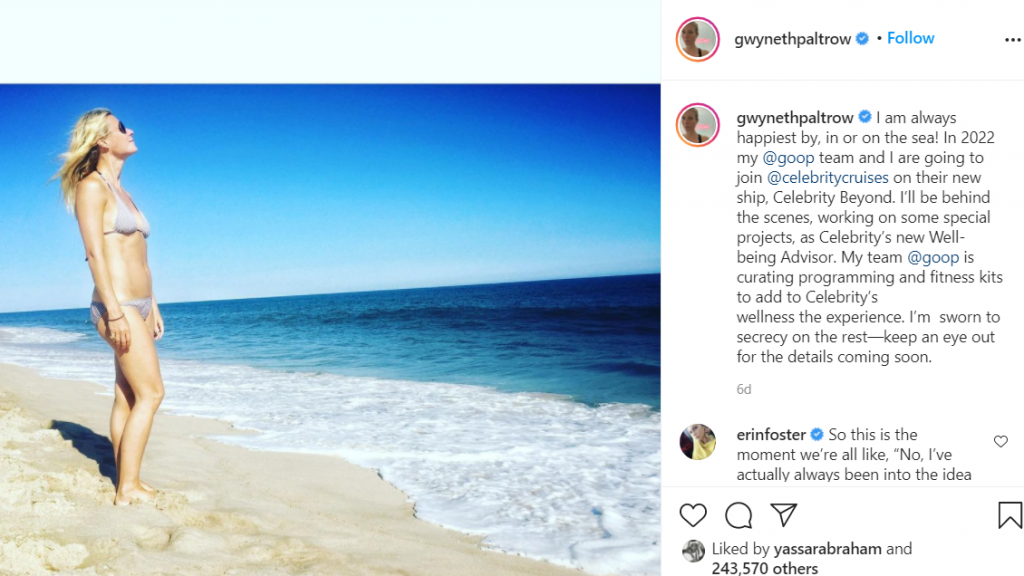 "I am always happiest by, in or on the sea! In 2022 my @goop team and I are going to join @celebritycruises on their new ship, Celebrity Beyond. I'll be behind the scenes, working on some special projects, as Celebrity's new Well-being Advisor," Paltrow wrote beside a bikini shot of the Oscar winner gazing out pensively at the ocean. "My team @goop is curating programming and fitness kits to add to Celebrity's wellness experience."
The 48 year old mom of two teens has been "sworn to secrecy on the rest," but said to keep an eye out for more details.
We do know this partnership will begin on Celebrity's new Beyond due to launch in Europe in April 2022, sailing the Med for the summer before making the Atlantic crossing to the U.S. for Caribbean itineraries come late October next year.
It is interesting to note that Gwyneth's partnership is said to be directly with the cruise line when wellness, beauty and exercise is usually the job of a concessionary. Celebrity ship spas were run by Canyon Ranch Spas-At-Sea. Just before the pandemic shutdown it was announced that entire Celebrity fleet's spas will be taken over OneSpaWorld (formerly Steiner).
It looks as if Gwyneth and Goop's wellness initiative could be parallel, or in direct opposition with the spas. The Beyond has announced that it will have the same Eden venue as other Edge class ships,
"a multi-level, architectural masterpiece with more outward-facing glass than any other venue at sea. Surrounded by greenery, guests feel more connected to the sea—and the stunning destinations beyond."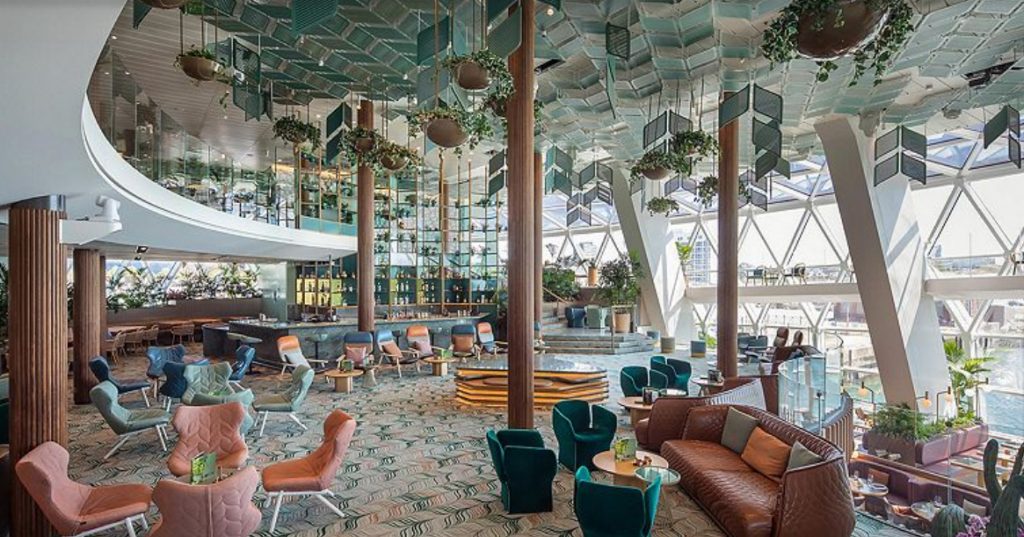 It could be that Goop will play into the chillaxed atmosphere of Eden on board the Beyond, but all this is speculation.
We do know that Celebrity Beyond's guests will be gifted with Goop swag bags when they board the ship, but again, it's unclear which products will be given out. I for one will be lining up for the 24K gold face massager. The vagina scented candle and vampire repellent? Here, take mine as I head to the Port side. You enjoy your cruise…over on the Starboard!
What do you think of the news? Do you think Gwyneth Paltrow is qualified to be a well-being adviser to Celebrity Cruises?
Be sure to check out our vlog The Go To Family. Connect with us on Instagram, Twitter, and Pinterest !