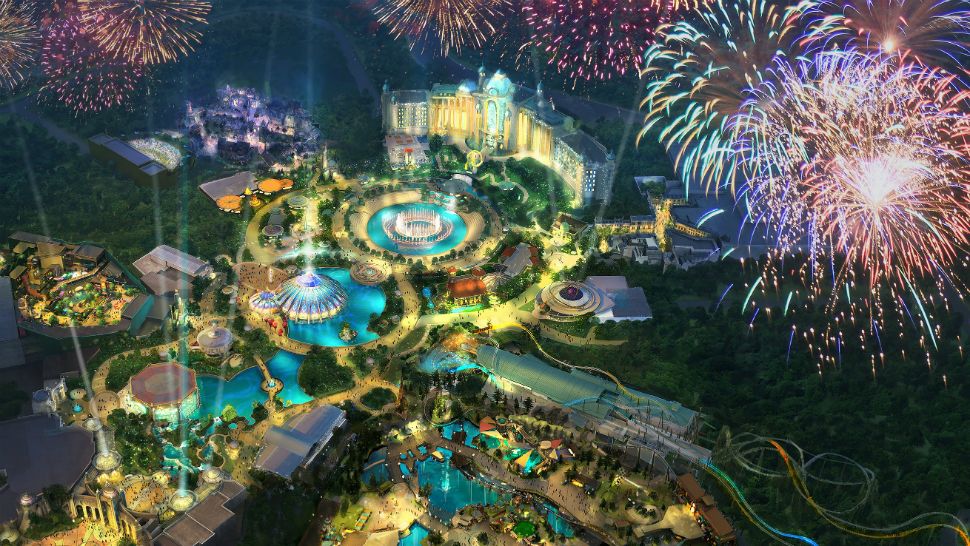 When it comes to all of the thrills and chills that Universal Studios Orlando has to offer, it looks like there's still so much more to come. In fact, the NBC Universal CEO has recently shared new details about Universal's Epic Universe theme park. And from what we can tell so far, it's going to be more than just epic. It will also be the first new theme park in Orlando in more than 20 years. Here's what you need to know.
Here's What You Need To Know About Universal Studios Orlando's 'Epic Universe'
Universal's Epic Universe is an upcoming theme park being constructed as part of the Universal Orlando Resort in Orlando, Florida. Its construction was announced in August 2019 but was delayed in April 2020 due to the COVID-19 pandemic. Thankfully, work has resumed on Universal Orlando Resort's fourth theme park, Epic Universe. The park, which was announced in 2019, had previously halted construction in July due to the coronavirus pandemic. … The new park will be on a 750-acre plot of land just a few miles from the existing resort.
Shell had this to say during a recent Q&A session: "We're really excited about it — size-wise it's going to be our largest domestic park and globally it will be just a little bit smaller than Beijing. It's actually really interesting because number one, it'll be anchored by a lot of our strong IP including some of the Illumination and Dreamworks content but especially Nintendo… …The park is 10-15 minutes from our main parks in Orlando, a little bit south, but adjacent to the convention center."
Some of the potential rides will include:
Super Nintendo World
Fantastic Beasts/Harry Potter
Enterprise Space Flight (Star Trek )
Dragon Flight (How to Train You Dragon)
Dracula Roller Coaster
Of course, this is all just speculation as none of these possible rides are confirmed.
Now, according to NBCUniversal CEO Jeff Shell, he says that this will be the biggest Universal theme park in the country and it will double Universal's total acreage. With that said, Epic Universe will be located about 10-15 minutes away from Universal Studios Orlando and will offer a different set up that guests are used to. The theme park will also feature an entertainment center, hotels, shops, restaurants, and more.
Tell us, how you do feel about this? Are you planning any trips this summer? If so, will you be staying close to home, going on a cruise, or traveling internationally for the first time in a year? Drop us a line with your thoughts in our comments section below. Also, don't forget to come back to The Go Family for all the latest updates on Covid-19 related travel news right here.
Be sure to check out our vlog The Go To Family. Connect with us on Instagram, Twitter, and Pinterest !