Disclaimer: Posts may contain affiliate links that help support The Go To Family website.
Day by day and experience by experience, 'normalcy' is returning to Walt Disney World. Tuesday morning, guests were delighted to see that the classic 'rope drop' experience has returned to EPCOT.
Pre-Covid Rope Drop Returns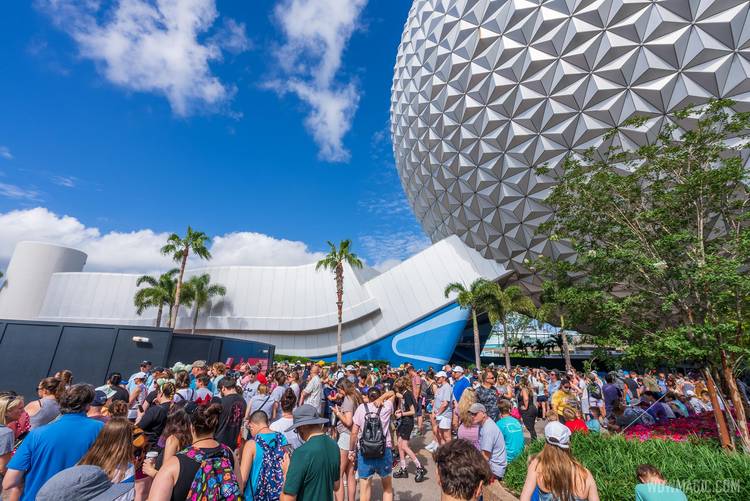 Rather than being held outside of EPCOT while awaiting the park to open, guests were ushered into the entrance area starting at 10:00am. The holding area, on both sides of Spaceship Earth began to fill up until 10:20am. At that time, excited guests witnessed the rope drop for the first time since the park shut down at the beginning of the Coronavirus pandemic.
Guests then hurried toward their favorite attraction to line up as they awaited the official opening time of 11am. It was said many of the early birds bee-lined for Soarin'. The immersive attraction in The Land– right on the edge of Future World– is notorious for it's lengthy queues throughout the day.
Yes, line ups will always be a mainstay at Disney World, even with lowered capacity (it is guessed Disney World is currently sitting at approximately 45-50% capacity) but guests have happily noted that as vaccinate rates rise and contagion rates lower, Covid rules have begun to ease up in the parks.
In recent weeks temperature checks have been abolished and masks are no longer mandated when guests are outdoors. Physical distancing markers are disappearing from spaces like Main Street USA in the Magic Kingdom with sights set on rules and markers being removed from restaurants and stores.
Photos taken on Tuesday show that as the guests were corralled into the holding pens on either side of Spaceship Earth, no physical distancing was being enforced by cast members.
Another new step forward is the opening of the Dumbo free-play area, prior to boarding Dumbo the Flying Elephant. This opened over the weekend and looks to be the start of a trend, with guests hoping the Bone Yard Dig Area at Animal Kingdom is the next free-play area to welcome guests back in.
Be sure to check out our vlog The Go To Family. Connect with us on Instagram, Twitter, and Pinterest !