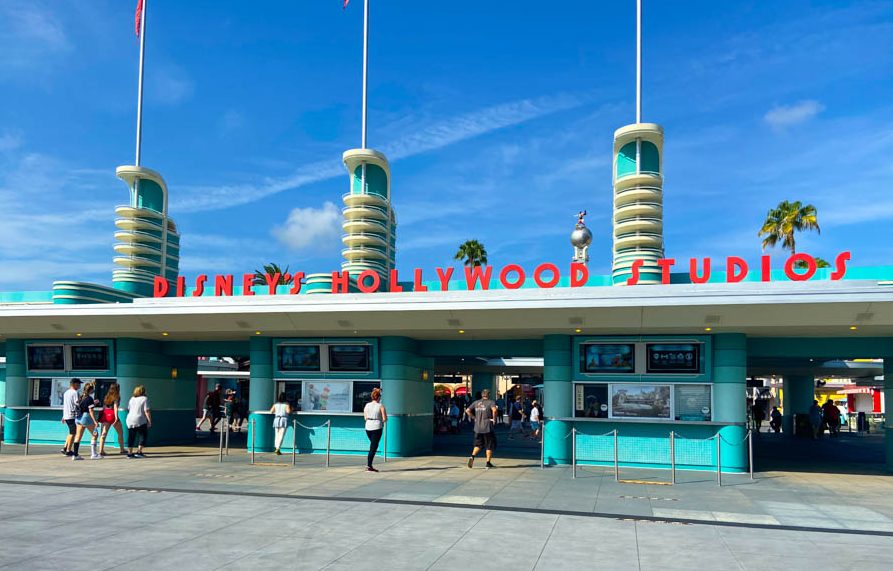 Walt Disney World's Hollywood Studios is enticing guests to bring out their inner 'foodie; with many new mouth-watering dishes, snacks, and drinks to try!
Starting in a galaxy far, far away, has just received a new shipment of delicious treats for visitors to Star Wars: Galaxy's Edge to try.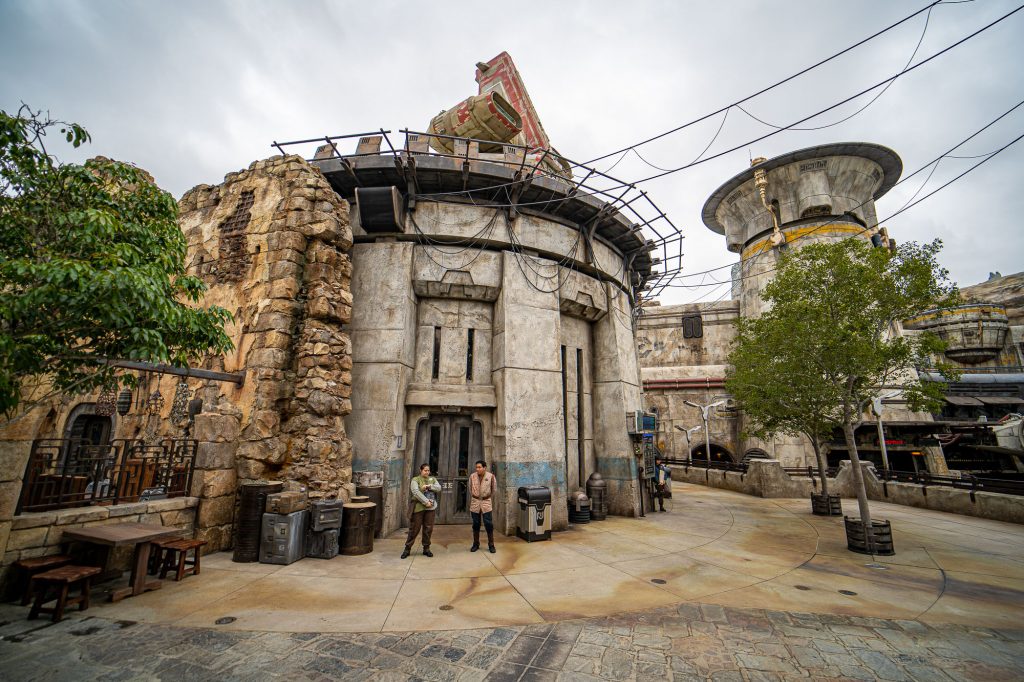 Chef Strono "Cookie" Tuggs' explains that his new dishes were inspired by his time on Takodana. By the looks of these new dishes, Takodana is scrumptious!
Batuuan Beef & Crispy Topato Stir Fry comprises of a smoky braised beef glazed in tamarind sauce served with stir-fried vegetables, crispy herb yucca, pickled onions, and cilantro.
Roasted Endorian Chicken Salad delights with marinated chicken, mixed greens, grapes, tomato, cucumber, shaved onion, and radish in a lemon-pomegranate vinaigrette with spiced yogurt drizzle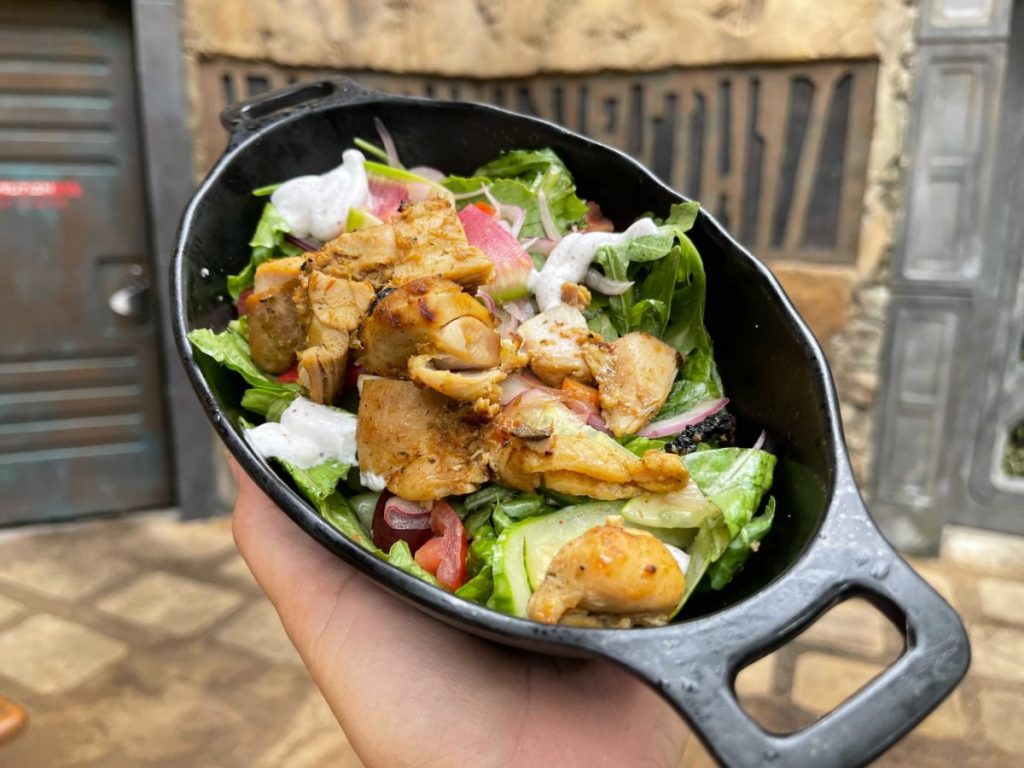 Pirjanad Hot Chicken Tip Yip is more than just fun to say. Crispy chicken is glazed in a spicy chipotle sauce served with white rice, relish of sweet corn, shishito peppers, jicama, plantains, and cilantro
Peka Tuna Poke offers raw tuna tossed in a spicy Sriracha dressing served with green papaya salad, pickled mushrooms, fresh herbs, and crispy garlic
Docking Bay 7 Food and Cargo has also unpacked some sweet treats to entice rebels from all corners of the galaxy. From Alderaan to Tatooine even those from the ice banks of Hoth are jumping on their tauntauns to try the Outpost Puffs. These chocolate pastries are filled with guajillo chocolate mousse and green milk sauce, finished with Thai tea panna cotta, spiced pineapple, and confectionary debris.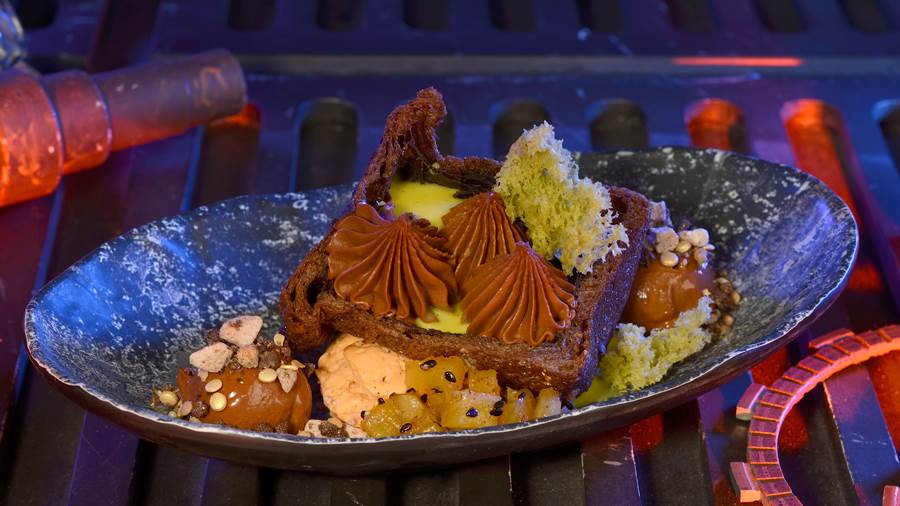 Ronto Roasters is now boasting some new plant-based offerings at their exotic meat market.
Zuchii Wraps are grilled zucchini, smokey chickpea-onion slaw, creamy garlic-tahini sauce, and fresh cilantro pita bread wraps.
Triple Suns Breakfast Wrap has a plant-based egg, smoky chickpea-onion slaw, and roasted tomato sauce, all wrapped in pita bread.
Andoan Fruit with Muja Sauce is a delightful plant-based snack. Enjoy sticks of jicama, cucumber, pineapple, melon, and dragon fruit doused in a tamarind sauce and dusted with peppercorn ash.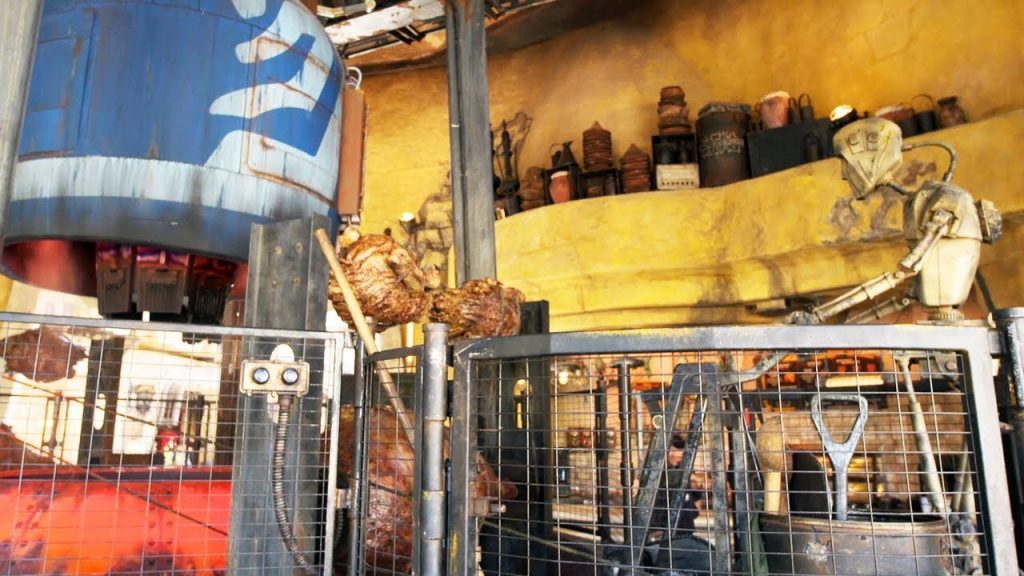 Pitmaster droid, 8D-JB, however, doesn't get a full break from roasting over the pod-racer engine spit as the new Kyryll Pork Rinds, seasoned in a savory blend of ancho chili, cheddar, smoke, and cinnamon will keep 8D-JB and guests going and going and going!
Moving out to Sunset Boulevard Fairfax Fare has also caught the 'plant-based craze' with a must-try, "hot dog" salad. But meat lovers needn't worry, there's plenty of all-beef hotdogs, loaded with deliciousness to get excited about.
Truffle Bacon Macaroni & Cheese Hot Dogs are all-beef quarter-pound hot dogs topped with savory truffle macaroni & cheese and crispy applewood bacon drizzled with mustard aïoli on a brioche butter bun served with pickled vegetables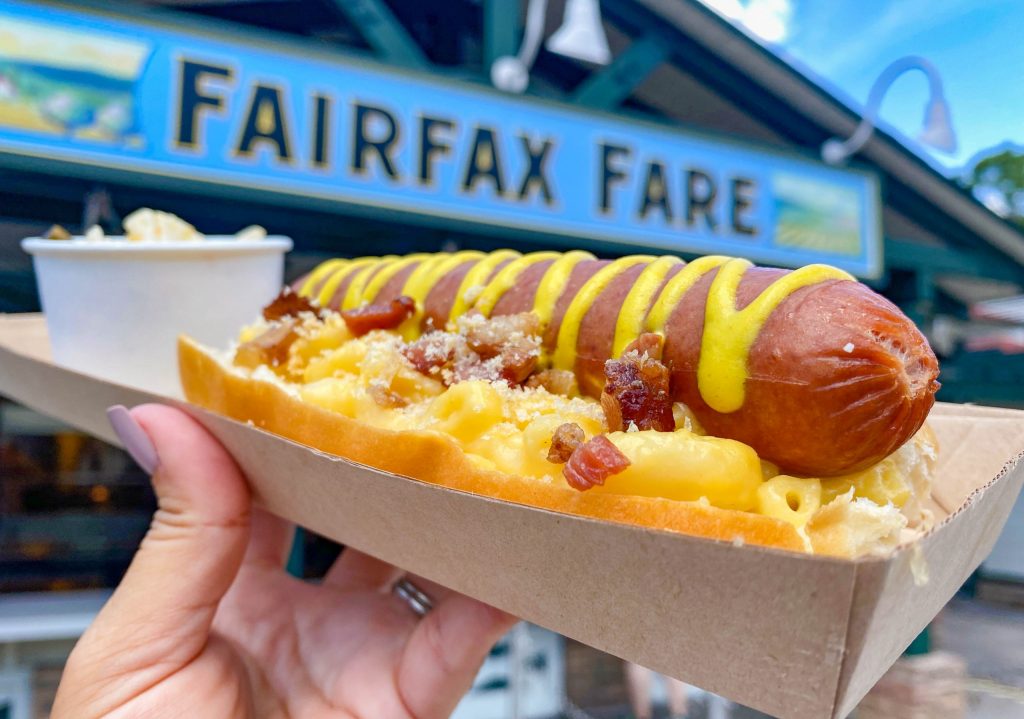 Pretzel Dogs are also all-beef quarter-pound dogs, topped with apple-braised sauerkraut and onions, and drizzled with mustard aïoli on pretzel bread served with pickled vegetables
California BLTA Dog is still your all-beef quarter-pound hot dog, this time topped with lettuce, tomato, avocado, applewood bacon, crushed ranch tortilla chips, and house-made black pepper mayonnaise on a brioche butter bun served with pickled vegetables
This one is for the vegetarians- Chicago-style "Hot Dog" Salad – Romaine blend, plant-based bratwurst, sliced sport peppers, tomatoes, onions, house-made dill pickle, sweet relish, mustard, and poppy-celery seed brioche croutons tossed in neon green relish vinaigrette!
Nearby Hollywood Scoops just might take the cake when it comes to new offerings…Or should we say, take the shake?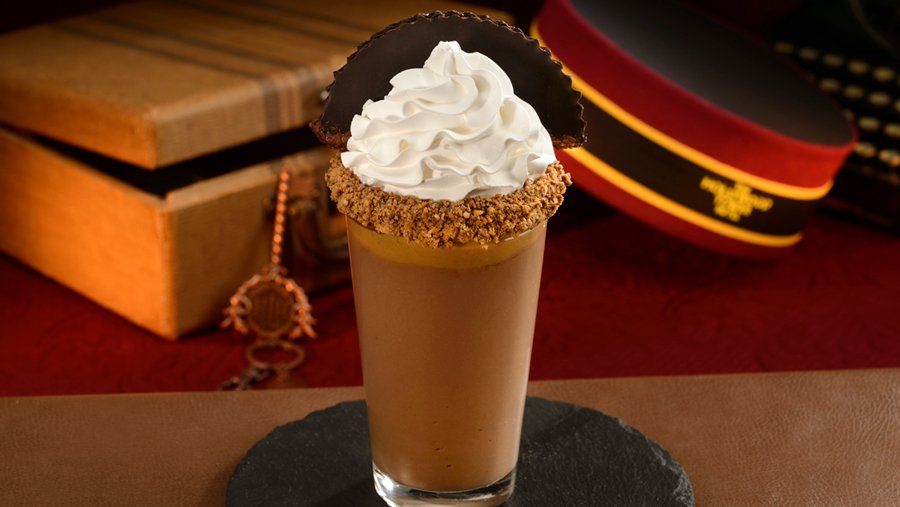 Chocolate Peanut Butter Explosion Shake. It pretty much says it all…and it is saying "DRINK ME! Chocolate ice cream layered with peanut butter sauce, topped with whipped cream, garnished with chocolate-peanut butter crumbles, and a chocolate-dipped peanut butter cake…okay- perhaps EAT ME!
Be sure to check out our vlog The Go To Family. Connect with us on Instagram, Twitter, and Pintere