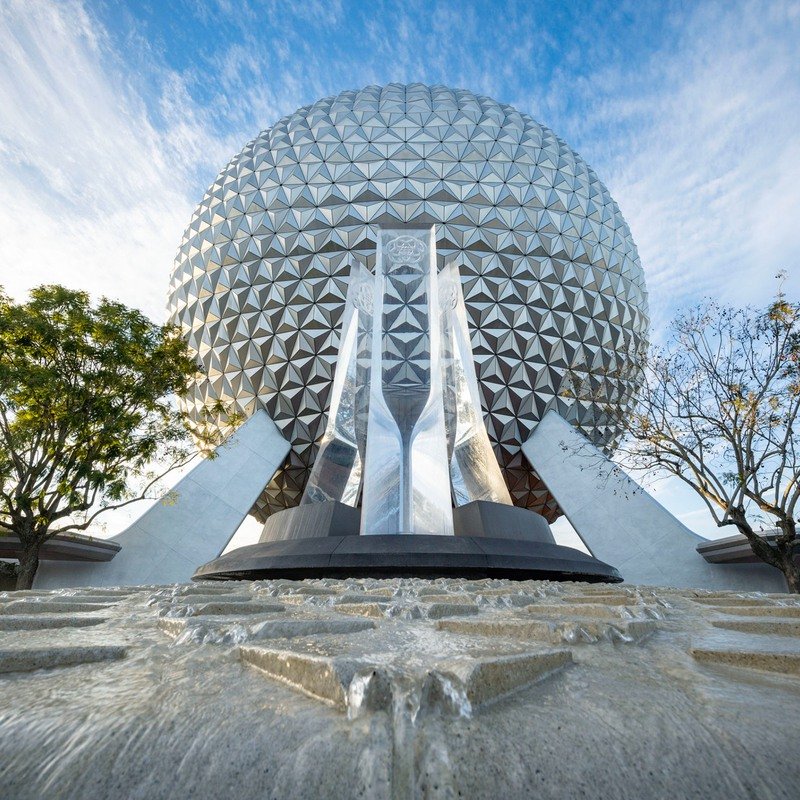 Six continents of flavors await you at the EPCOT International Food & Wine Festival presented by CORKCICLE. Beginning next week, on July 15, EPCOT guests will be able to taste their way through the world at over 20 festival-exclusive global marketplaces opening this week. Even more, marketplaces will join the festival in the fall and, in addition to fan favorites who have provided tasty treats for years, seven new stalls will have Foodies clamoring to EPCOT over the 129 days of the festival.
New this year will be The Noodle Exchange, Tangierine Café: Flavors of the Medina, The Rotunda Bistro, The Swanky Saucy Swine, and Brew-Wing – all opening when the festival begins next week. On October 1 Lobster Landing and Mac & Eats will join the stalls.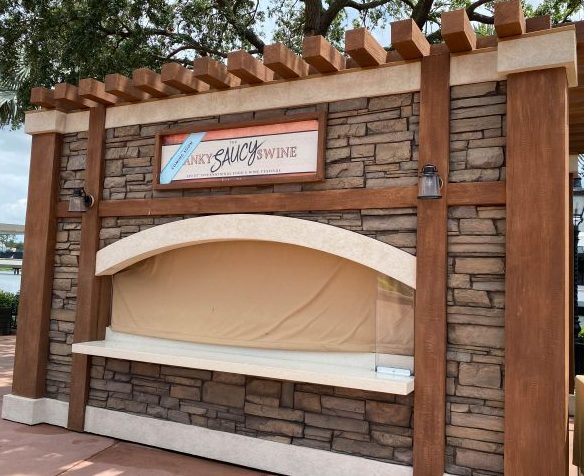 No matter what you have a hankering for, the EPCOT International Food and Wine festival will satisfy you.
Looking for some Asian flavor?
You'll enjoy Vietnamese Spicy Beef or Tofu Pho, Char Siu Pork Udon  and Shrimp and Coconut Curry Rice at the new Noodle Exchange, Sweet and Spicy pan-fried Chicken Dumplings, ZiRan Beef Bao Buns and Crispy-fried Pepper Shrimp with Spicy Sichuan Noodles in China or head to Japan for Teriyaki Chicken Bun, Tempura Shrimp Sando or Spicy Hako Sushi
Cocktails, beers, wines and bubble milk teas, and more compliment these dishes.
Perhaps you want to say G'day to Australia and try Grilled Sweet and Spicy Bush Berry Shrimp, Roasted Lamb Chops or tuck into a Deconstructed Pavlova for dessert. Aussie beers and wines are also available here.
Eat your way through Europe, stopping at Ireland for Fisherman's Seafood Pie, Roasted Irish Sausage, and Warm Chocolate Pudding Cake. Of course, every Irish meal needs to be completed with a Guinness Baileys Shake!
Hop across 'the pond' to Belgium to try Beer-braised Beef and, of course, Belgian Waffles topped  with Warm Chocolate Ganache or Berry Compote and Whipped Cream
Greece will offer Spanakopita, Griddled Cheese and Lamb Moussaka while Spain boasts Charcuterie with a selection of imported Spanish Meats, Cheeses, and Olives, Paella with Rice, Chorizo, and Shrimp and Seafood Salad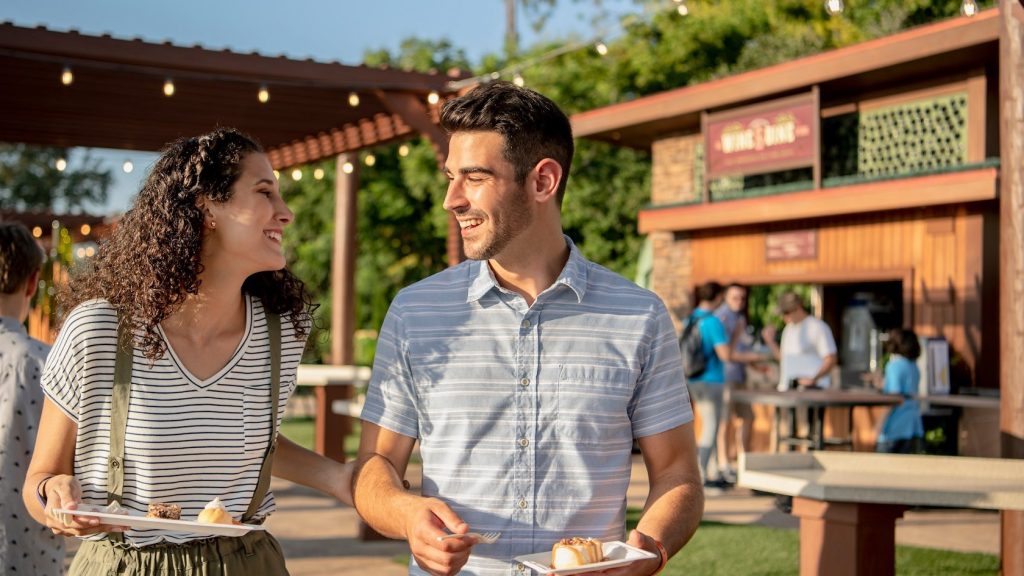 Germany will show off its traditional Schinkennudeln: Pasta Gratin with Ham, Onions, and Cheese, Bratwurst in a Pretzel Roll and beloved Apple Strudel with Vanilla Sauce
The Alps want you to taste their Warm Raclette Swiss Cheese with Alpine Ham, Baby Potatoes, Cornichons, and Baguette and a Blueberry and Almond Frangipane Tart with Crème Fraîche
France has Beignet aux Trois Fromages, Croissant aux Escargots, Coq au Vin and Crème Brûlée au Grand Mariner, along with all the tasty French wine and cocktails to finish on the right note while Italy also boasts a myriad of wine s to pair with your Mezzelune Croccanti, Grilled Chicken Ravioli with Alfredo Sauce and Bomboloni.
Perhaps you just want to 'pop over the border' to Canada for some Canadian Cheddar and Bacon Soup or wildly popular "Le Cellier" Wild Mushroom Beef Filet Mignon with Truffle-Butter Sauce (gluten/wheat friendly)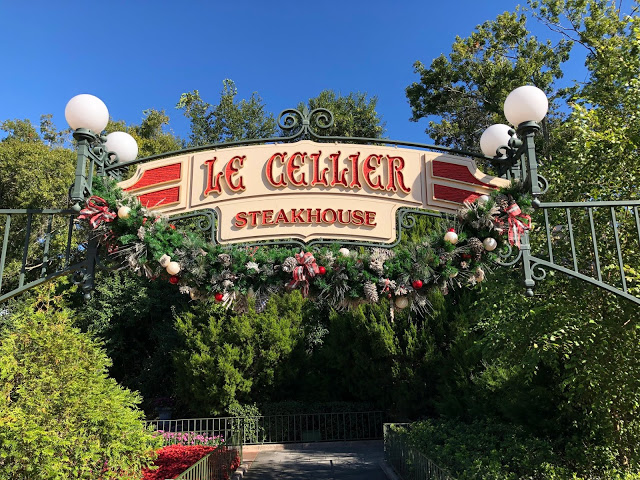 The Refreshment Port hosted by Boursin offers more Canadian fare like Braised Beef Poutine and Maple Boursin Cheesecake.
South of the border, Mexico will have you wanting seconds of their Chilaquiles con Chorizo, Taco de Ribeye, and Capirotada de Chocolate.
Maybe further south is your style and you want to try Brazil's Moqueca Seafood Stew, Crispy Pork Belly, and Pão de Queijo.
Africa will have you satisfied with the new Tangierine Café: Flavors of the Medina offering Fried Falafel Pita, Grilled, Lemon-Garlic Chicken, Moroccan Spiced Lamb, Harissa-marinated Beef Tenderloin Tips, Stone-baked Moroccan Bread with Dips and Pistachio Cake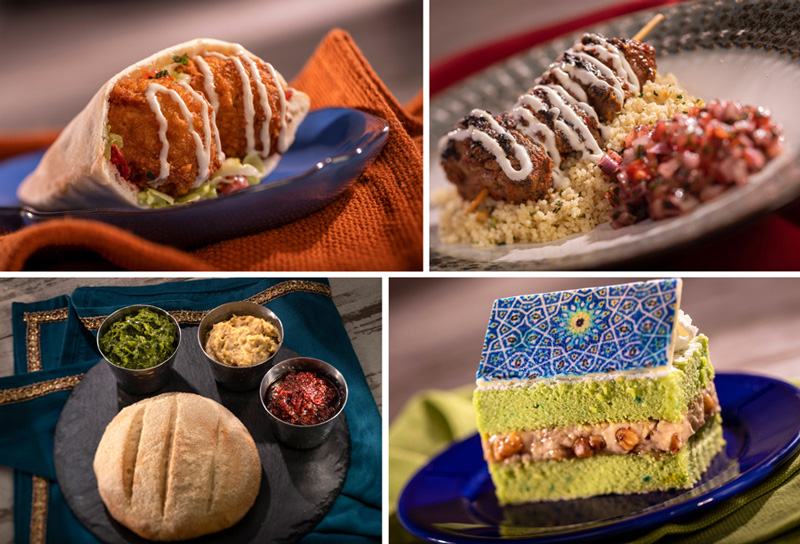 Kenya (Outpost) will have Coffee Barbecue Beef Tenderloin and Piri Piri Skewered Shrimp with Citrus-scented Couscous while Refreshment Outpost offers Spicy Githeri
India, always a favorite will entice with Warm Indian Bread with Pickled Garlic, Mango Salsa, and Coriander Pesto Dips, Korma Chicken, and Madras Red Curry.
For those who want to stay close to home, you will have seemingly endless options Hops & Barley will offer New England Lobster Rolls Lobster, Hot Beef Sandwiches and Freshly Baked Carrot Cake with Cream Cheese Icing
The New Rotunda Bistro boasts Chilled Smoked Shrimp Salad, Wild Mushroom, and Truffle Tarts and Chilled Crab and Avocado Parfait with Caviar and (also new this year) The Swanky Saucy Swine will have line ups for their Crispy Barbecue Pork Rinds with Pimento Cheese, Roasted Porchetta, Soy-glazed Sticky Ribs, and  Crispy Pig Ear Salad.
A third freshman marketplace, Brew-Wing serves, yup…wings! Garlic-Parmesan, Barbecue, Teriyaki-Sesame, Buffalo, and Mango-Habanero Wings are offered along with Cheese Flatbread and Pepperoni Flatbread.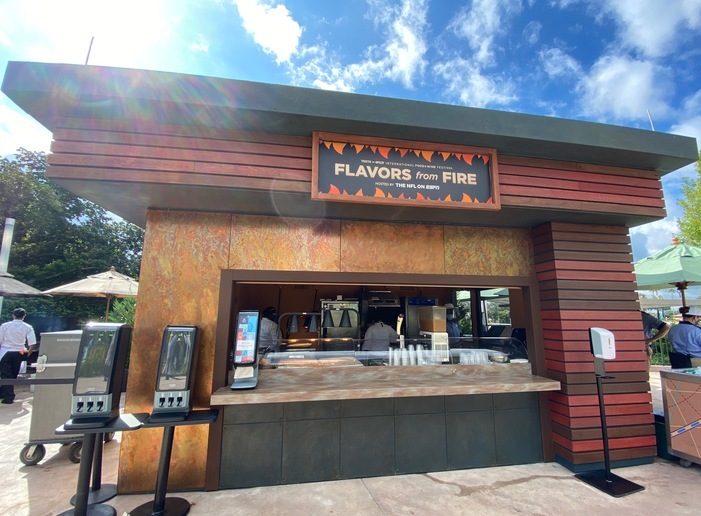 Flavors from Fire hosted by The NFL on ESPN has The Corned Beef Corner Route, The Chimichurri-up Offense, and The S'mores Whoopie Pie-lon, and yet two more newbies-
Lobster Landing which entices New England Lobster Tail with Lobster Bisque Sauce, Lobster Chowder and Baked Lobster Dip and Mac & Eats offering Traditional, Truffle, Cowboy and Macaroni and Cheese with House-made Italian Sausage and Peppers will become quick favorites.
IPAs, Blondes, Wines, Hard Ciders, Radlers, Bourbon Whiskey, and cocktails pair at these marketplaces.
Hawaii  completes the American fare line-up with Kālua Pork Slider with Sweet-and-Sour DOLE Pineapple Chutney and Spicy Mayonnaise, Teriyaki-glazed SPAM, Tuna Poke with Eel Sauce and Passion Fruit Cheesecake with Toasted Macadamia Nuts
Vegetarians have their own stall -Earth Eats hosted by Impossible™ has both The Impossible Burger Slider with Wasabi Cream and Spicy Slaw on a Sesame Seed Bun and Impossible Three-Bean Chili
Dessert lovers will find sweet treats all over the festival, but have several more stalls offering up sugar loads!
The Donut Box will delight with Chef's Donut of the Day, Sriracha-glazed, Crispy Chicken on a Sriracha-glazed and Candy Jar Donuts (made with M&M'S, SNICKERS, and TWIX)
Shimmering Sips hosted by CORKCICLE offers up Shimmering Strawberry Soft-serve in a Waffle Cone and Banana Bread with Mixed Berry Compote and the Appleseed Orchard has Apple Crumble Tarts and Apple Chips along with a host of apple beverages like Frozen Apple Pie, Various Apple Ciders (some hard) Apple beers and Apple Blossom Sky mocktail- Fanta Apple, Ginger Beer, Floodwall Apple Brandy, Maple Syrup, and Mini Marshmallows
Funnel Cake will sell out of their Mini Candied Bacon S'mores Funnel Cake with Vanilla Ice Cream and Joffrey's has a variety of Chai, Iced Teas, and Cold Brews
Salivating yet? Us too- head to EPCOT International Food & Wine Festival presented by CORKCICLE ,  available with valid theme park admission and an EPCOT reservation for the same date. We'll meet you at The Donut Box…no, The Noodle Exchange…no, The Swanky Saucy Swine…no….
Be sure to check out our vlog The Go To Family. Connect with us on Instagram, Twitter, and Pinterest !