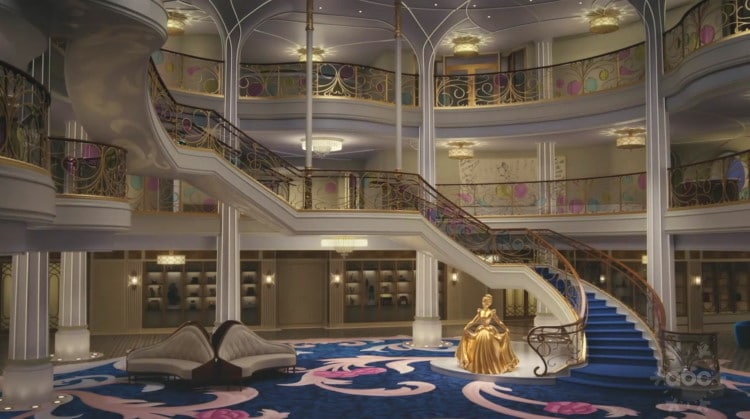 The Disney Wish is so enchanting, that before she even received her name, the ship-building and imagineering project was entitled 'Enchantment'. On April 29, Disney is inviting guests into see how parts of the newest member of the Disney Cruise Line fleet will look. But there's no need to wait as we can give you a glimpse of The Grand Hall right now!
All the Details You Need to Know About Disney Cruise Line's Wish
When guests first come aboard a Disney ship, they are welcomed into an impressive atrium. Guests coming aboard The Wish will be walking onto a "castle on the seas".
The fairytale castle-inspired atrium is a wide open space surrounded by sweeping staircases, imposing columns and all the carvings and trimmings a budding Cinderella would dream of. Speaking of probably the most famous of all Disney Princess, Cinderella's statue takes pride of place in the The Grand Hall, in tradition with the bronze statues adorning the atriums of the Wish's big sisters.
After gaping in delight at all The Great Hall has to offer look up, and up. And up. Keeping watch over the hall is the wishing star. Impressive on its own, guests returning in the evening will be privy to a little faith, trust and a LOT of pixie dust as Tinkerbell leaves behind glittering trails climbing up the three-story hall columns and spilling across the ceiling to light the chandelier, her wishing star throwing prisms of light across the Grand Hall.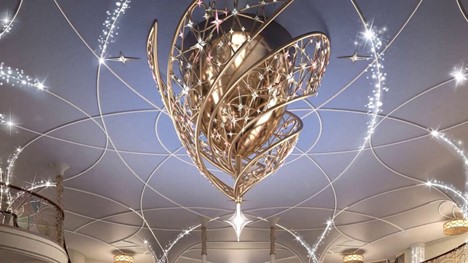 The Grand Hall is, of course, only the gateway to the adventures that await guests on board the Disney Wish and the beauty that the Imagineers have created drawing inspiration from classic Fairytale castles, woodland creatures and vistas, and the spirit of the wide open sea.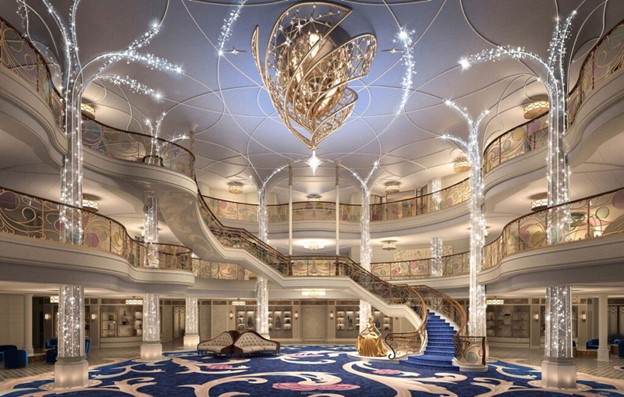 Virtual Reveal
Make sure to join the virtual reveal on April 29th to see how 'enchanting' the rest of The Wish will truly be.
Be sure to check out our vlog The Go To Family. Connect with us on Instagram, Twitter, and Pinterest !