Disclaimer: Posts may contain affiliate links that help support The Go To Family website.
July 3 will herald the first Carnival Cruise Line sailing from Galveston in a long time. Those booked on the July sailings aboard the Carnival Vista have received communication from the cruise line, outlining the Covid-19 mandates.
The letter to guests clarified that all crew they come across (and the invisible crew who toil back of house) will be 100% vaccinated. Carnival CEO Christine Duffy has thanked both Florida Gov. DeSantis and Texas Gov. Abbott for their assistance in expediting the vaccines for the Carnival crew.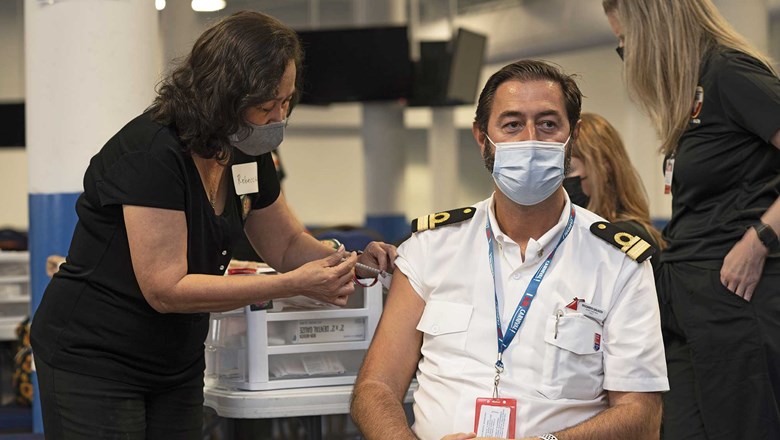 The letter further clarified that only 95% of guests must show proof of vaccination. The company explained it is able to accommodate a "small number" of unvaccinated guests with the majority of these unvaccinated guests being children under the age of 12 (who are not eligible for the vaccine as yet).
The note also reiterated that 'fully vaccinated' means the guests has received their final shot at least 2 weeks prior to embarkation. Proof of vaccination will need to be presented at check-in.
"We plan to accommodate a small number of exemptions," Carnival has said in regards to the 5% of unvaccinated guests allowed on board the Galveston ported ships. "Such guests are being asked to put their names on our list (online submissions only) for follow-up communication. There will be testing, mask requirements and other restrictions for unvaccinated guests who are granted an exemption."
Vaccinated guests will not be required to physically distance and will not be mandated to wear a mask on board. Carnival has not explained how they plan to identify the "5%" who are not vaccinated who will be required to mask-up at all times. They did urge all guests to bring their face masks as each location visited will have their own protocols and face coverings could be required when on shore.
Carnival has also reiterated that all guests will undergo enhanced pre-embarkation health screenings. Anyone with signs and symptoms of COVID-19, or who are identified at-risk, will be required to undergo more in port medical screening before being allowed to board.
Secondary screenings and health checks throughout the cruise may be performed and contact tracing is planned for every cruise.
"We remain optimistic that requirements for cruising from the U.S. will continue to evolve and our approach to future sailings will become more flexible," the company said in their sign off to their future cruisers.

https://www.youtube.com/watch?v=TIzCr6nQ_ZI
Be sure to check out our vlog The Go To Family. Connect with us on Instagram, Twitter, and Pinterest !