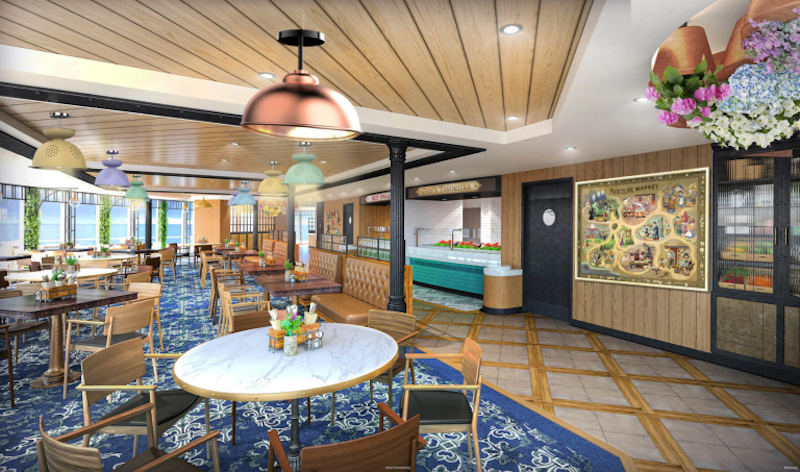 Not only is Disney Cruise Line set to sail again, but it looks like guests can look forward to some exciting changes. There's a new report that says not one, but two new quick-service dining options are coming to Disney Cruise Line next summer. We've got all of the details that you need to know right here!
Disney Cruise Line Update: Quick Service Dining In The Works
According to reports, two new dining locations are coming to Disney Cruise Line next summer on board the new Disney Wish. Two new quick-and-casual dining options will be features on the upper decks of the ship.
The first one will be called the Marceline Market and as many Disney fans would know, it's named after Walt Disney's early childhood hometown of Marceline, Missouri. It will be a free-flowing food hall inspired by some of the most popular marketplaces in the world. The menu will be changed out and will include everything that you'd expect on board a Disney cruise including American classics, international specialties, comfort soups, seafood, soups and salads, vegetarian options, plant-based fare, desserts, and so much more. Each station will also be themed from a popular Disney film including "Tangled," Ratatouille." "Alice in Wonderland," "Zootopia," and more.
The second food hall will be called the Mickey and Friends Festival of Foods. It will be located right in the middle of the upper desks and will be a great place to grab a quick bite to eat between lunch and dinner or any time after. There will also be some fan-favorite treats available as well as Disney Cruise Line's signature soft-serve ice cream. If that weren't enough, this stall will also feature barbeque and Mexican-inspired food.
In the meantime, tell us, where are your travels taking you this season? Drop us a line with your thoughts in our comments section below. How concerned are you about all of the new travel rules and regulations this year? Also, come back here for all of the latest news, details, and updates you need to know before your next adventure!
Be sure to check out our vlog The Go To Family. Connect with us on Instagram, Twitter, and Pinterest !