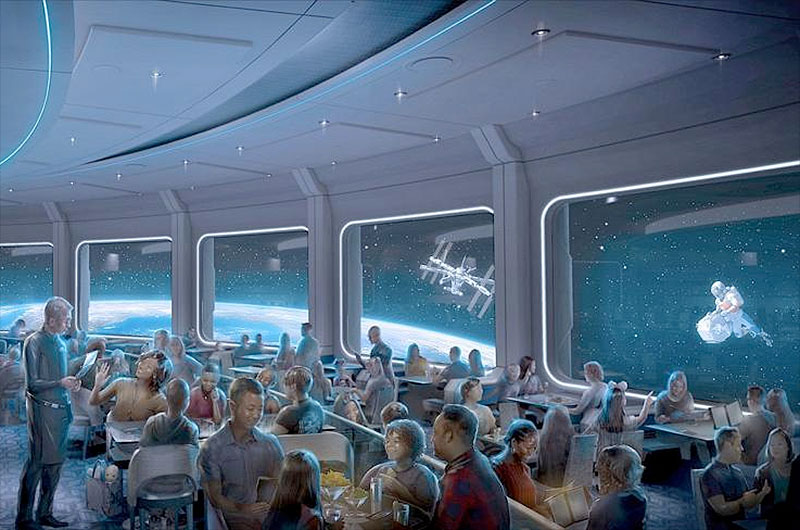 Few Disney World restaurants have been as hotly (and long) anticipated as Space 220 Restaurant in EPCOT. Taking diners on an immersive, out-of-this-world experience that begins with a simulated 220-mile elevator ride to reach the Centauri Space Station where they will dine among the stars, the menu is a prix-fixe with both lunch and dinner options.
With so many people wanting to know more about the restaurant, which will be walk-up only for the first week, starting September 20, Disney has decided to give them something to really talk about, releasing their menus and pricing.
Lunch consists of a two-course meal starting with "lift-offs" (appetizers) before moving on to the "star course" (mains) of the diner's choice for $55 per person.
Options are:
Lift-Offs
Big Bang Burrata
Starry Calamari
Blue Moon Cauliflower
Neptuna Tartare
Space Greens
Bluehouse Salmon
Centauri Burger
Flat Iron Steak
Seared Tuna
Baked Maccheroni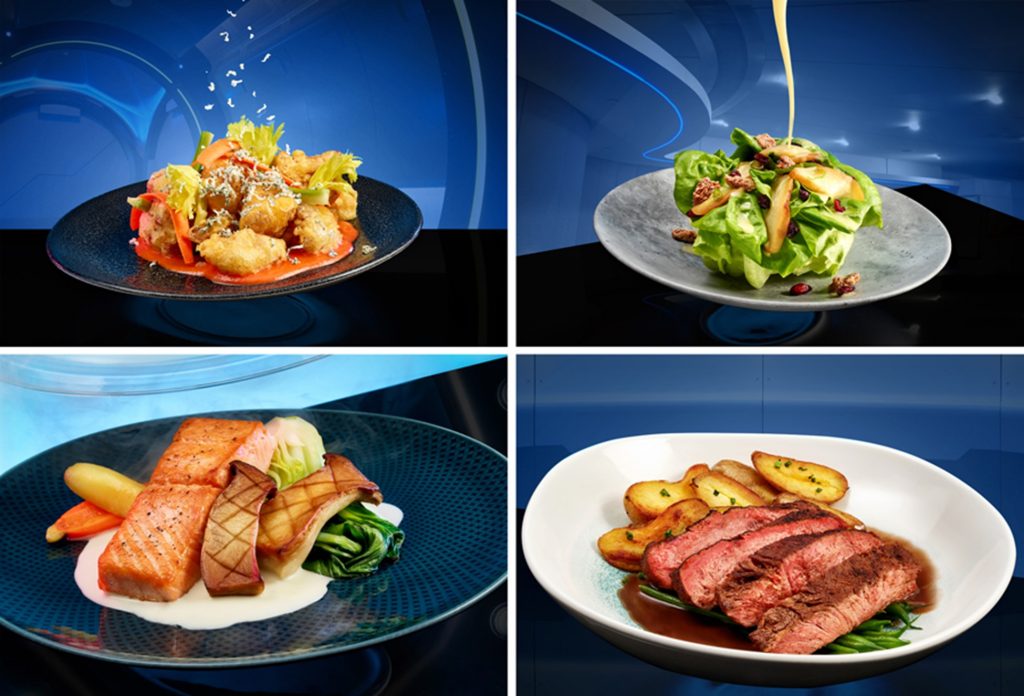 Dinner will cost $79 per person for a three-course meal, again beginning with "lift-offs", then offering the "star course" before ending with a choice of "supernova sweets" for dessert.
Options are:
Big Bang Burrata
Starry Calamari
Blue Moon Cauliflower
Neptuna Tartare
Space Greens
Star Course
8 oz. Filet Mignon
Slow Rotation Short Rib
Florida Red Snapper
X2 Duck
Terra-Bolognese
Roasted Free-Range Chicken
Supernova Sweets 
Lemon Mousse
Sticky Toffee Pudding Cake
Chocolate Cheesecake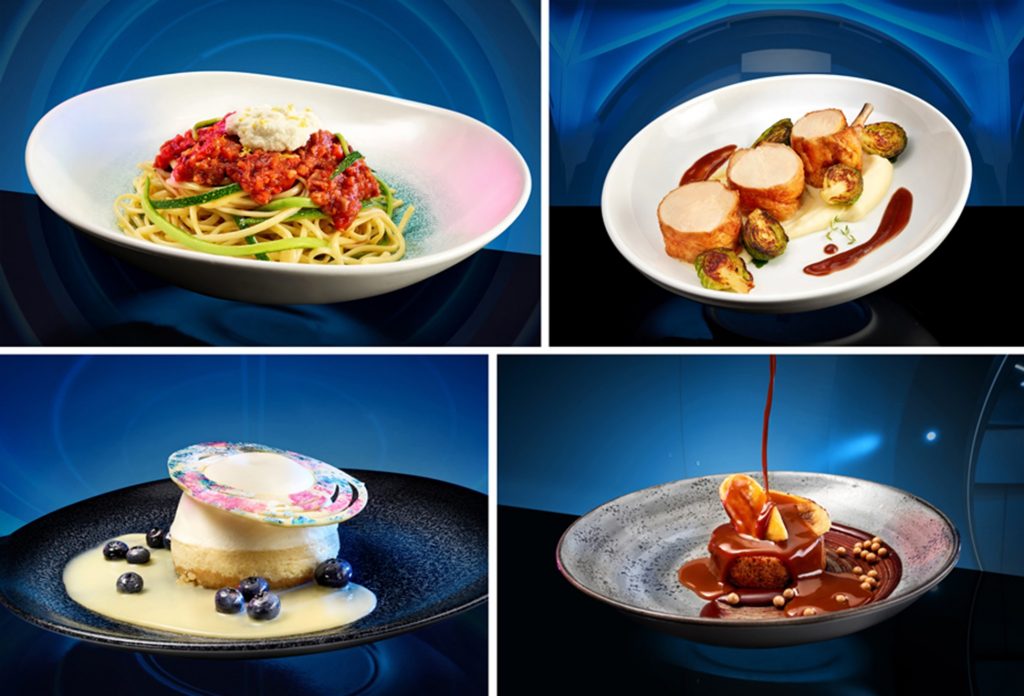 Kids lunch and dinner is $29 for children 9 and under, with both consisting of a main and dessert.
Options are:
Star Course
Space-ghetti with chicken meatballs
Galactic salmon
Cosmic chicken
Smashed burger
Mission Macaroni
Cosmic cupcake
Gelato Scoop
Sorbet
"Satellite sides", "Space station supplementals" and non-alcoholic and alcoholic beverages will also be available à la carte and as an extra cost.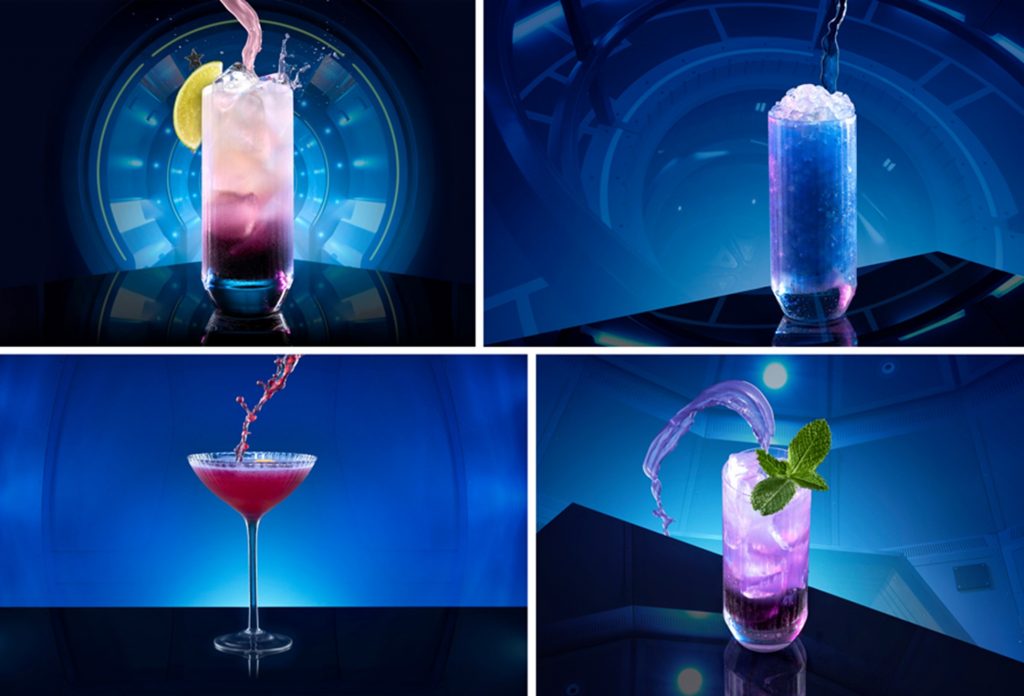 Along with many brews and wines to choose from, Space 220 will be serving up some 'Atmospheric Spirits'  like the Atmospritz – Served with a cotton candy cloud, The Big Tang – Served with "Astronaut Ice Cream" and Planetary Punch – Served over dry ice.
Zero Proof Cocktails are served in a Space 220 collectible cup and include The Milky Way – Served with a fun-size "Milky Way" garnish and Moon Rocks – Served with a pack of popping candy garnish
With the purchase of any mocktail or children's meal, guests will receive a pack of Space 220 Collectible Trading Cards.
Designed exclusively for and distributed only at Space 220 Restaurant, the limited-edition cards feature original artwork and trivia facts about space exploration, food in space, and the Imagineering innovations at Space 220 Restaurant.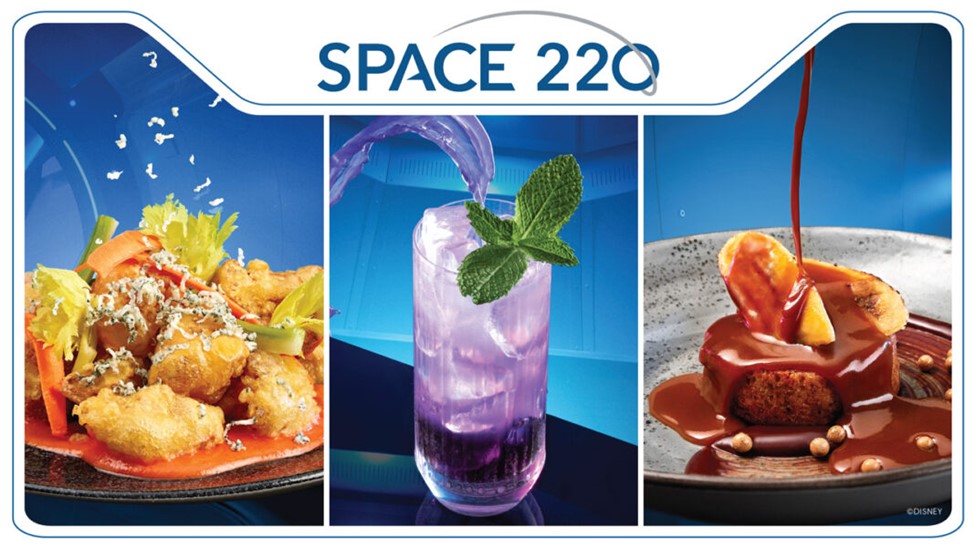 As of September 20, the same day as the grand opening, online reservations will be made available for lunch and dinner seatings from September 27 and onwards.
Check out more of the exciting new menus (with drinks and sides pricings) here: https://www.space220fla.com/menu#Lunch
Be sure to check out our vlog The Go To Family. Connect with us on Instagram, Twitter, and Pinterest !