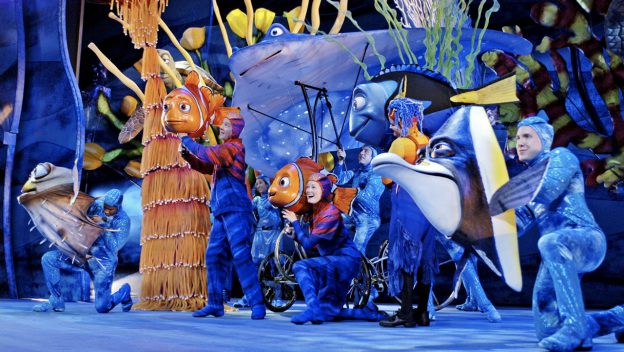 If there's anything we've learned about Disney these last several months, it's that things will never be the same way it was before the pandemic that has been COVID-19 hit. With so many fan-favorite features like FastPass scrapped for good, it shouldn't come as a surprise to anyone that a few other favorite shows have been left into Disney history, too. Here's what you need to know.
Here's What You Need To Know About The Finding Nemo Show At Disney's Animal Kingdom
While there have been some reports suggesting a new Finding Nemo musical will be brought back to life to Disney's Animal Kingdom in 2022, that's not going to happen. Instead, it will be "reimagined" but as of press time, very few details have been released.
Shawn Slater, Senior Communications Manager, Disney Live Entertainment, had this to say on the Disney Parks Blog:
When my twin boys were little, "Nemo" was one of their first words. They loved the movie, and seeing it come to life at Disney's Animal Kingdom would always put grins on their faces and a tear in my eye. "Finding Nemo — The Musical" has been delighting our guests since 2007, and I'm excited to tell you a reimagined show, based on the same beloved characters, will debut in 2022. 

Although our Disney Live Entertainment team is still in the early stages of development for the show, the musical retelling of this underwater tale of family, friendship and kindness will feature new story material, as well as fan-favorite songs such as "In the Big Blue World" and "Go with the Flow."
Finding Nemo: The Musical originally opened in 2006 as an original stage performance featuring puppet versions of Nemo, Marlin, Dory, and other key characters from the 2003 Pixar movie. 
In the meantime tell us, do you have any plans for fall travel? And if so, where is your next destination? Let us know in our comments section below. Also, don't forget to come back to The Go To Family for all the latest news and updates that you need to know from the travel world right here!
Be sure to check out our vlog The Go To Family. Connect with us on Instagram, Twitter, and Pinterest !