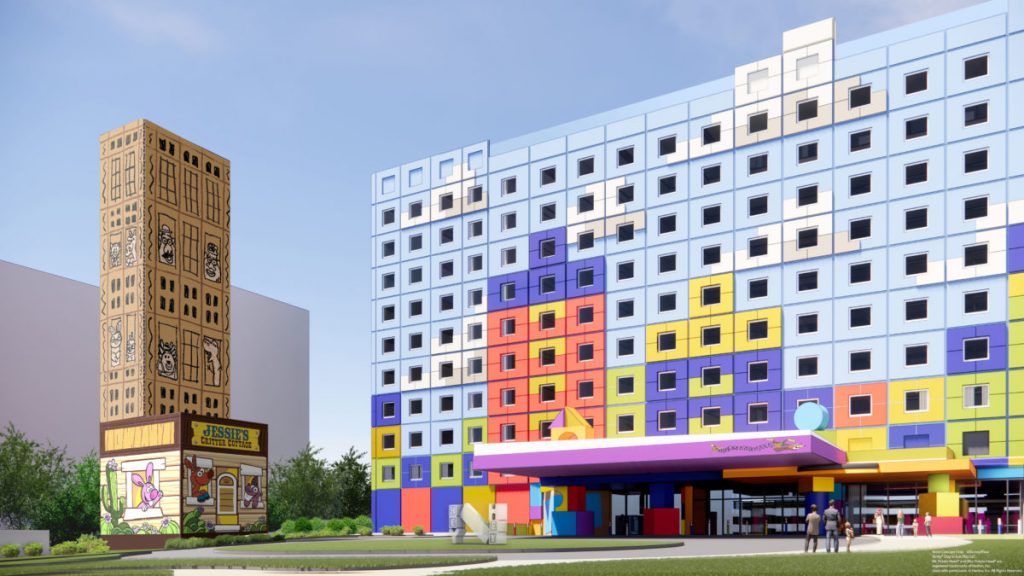 Tokyo Disney Resort's highly anticipated Toy Story Hotel will officially open (a little behind schedule) on April 5, 2022!
This new Disney hotel will quickly become a favorite for lovers of Kawaii (all things cute) and of course, fans of the award-winning four movie (plus spin-offs) Toy Story franchise.
As guests first set eyes on the outside of the colorful hotel, they will begin to feel a part of the hit franchise. Oversized figures of Buzz Lightyear and Jessie, 4 meters tall, are part of Slinky Dog Park in front of the hotel entrance while equally as behemoth Woody and Bo Peep  can be found in Toy Friends Square, a courtyard off the lobby.
The lobby of the hotel is themed with a jigsaw puzzle floor, a board game ceiling, and other nostalgia-inducing toy touches.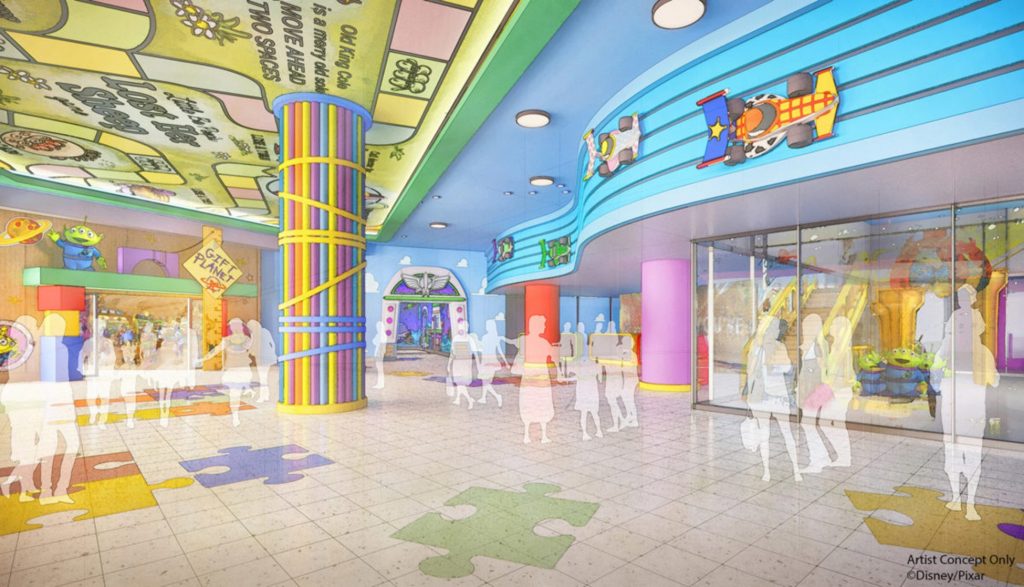 Meanwhile the just-as-colorful rooms are modelled after Andy's room from the original Toy Story movie. Fans will delight in the cloud and sky wallpaper, Pixar lamp, Woody's Roundup inspired headboard, the television framed in an etch-and-sketch, and the oversized Mickey Mouse wristwatch clock.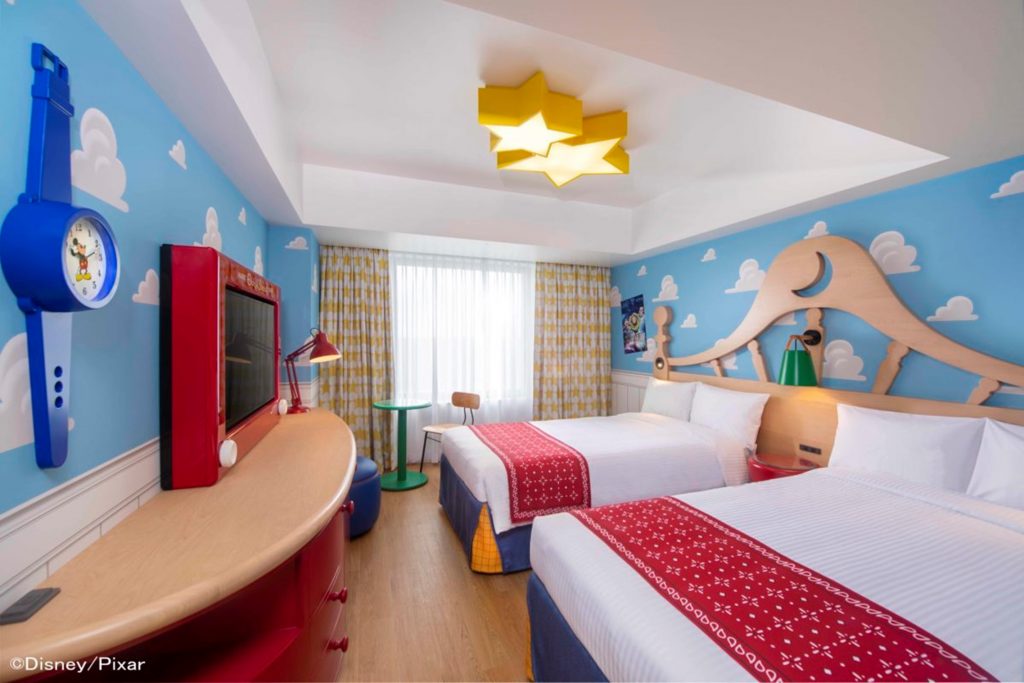 The hotel offers 575 standard rooms that can accommodate up to three or up to four guests (depending on configuration) and 20 superior rooms.
Themed restaurants will also be a part of the Toy Story Hotel, like the Lotso Garden Café, named for the antagonist of the third film, offering a breakfast and dinner buffet.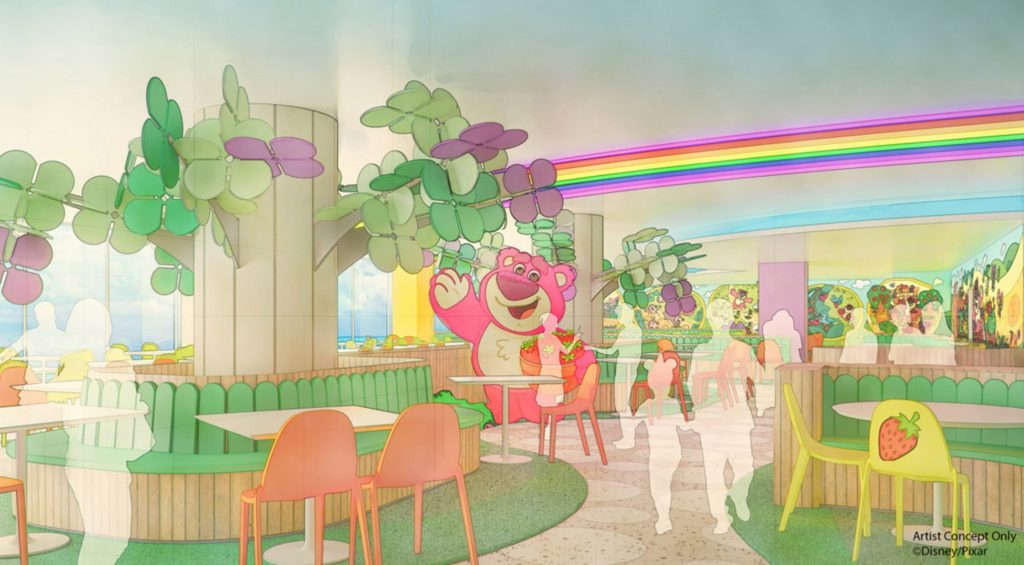 Two stores are also located within the hotel—Gift Planet, selling exclusive merchandise, and Shop Together, offering sundries and convenience store items.
The opening of the Toy Story Hotel will come just before the release of  Lightyear, another expansion in the Toy Story universe featuring Chris Evans as a "real life" Buzz Lightyear as the origins of Star Command are explored.
The Toy Story movies have remained popular with the Disney parks around the world paying homage to the Pixar flicks. Toy Story Mania is featured at Tokyo DisneySea.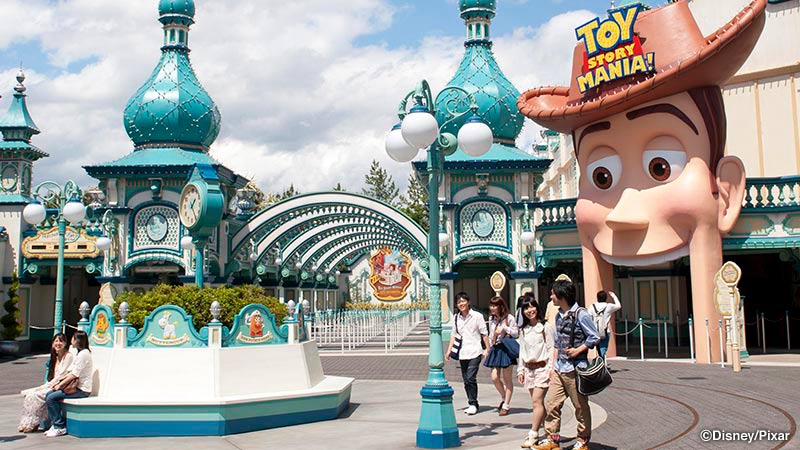 Even the upcoming Disney Wish will feature the Toy Story Splash Zone, themed after a giant bathtub from the short film, Partysaurus Rex. Larger-than-life rubber bath toy versions of Woody, Buzz, and friends will move and spray water at kids while they play in the themed areas like  Woody's Roundup or Buzz Lightyear's galaxy.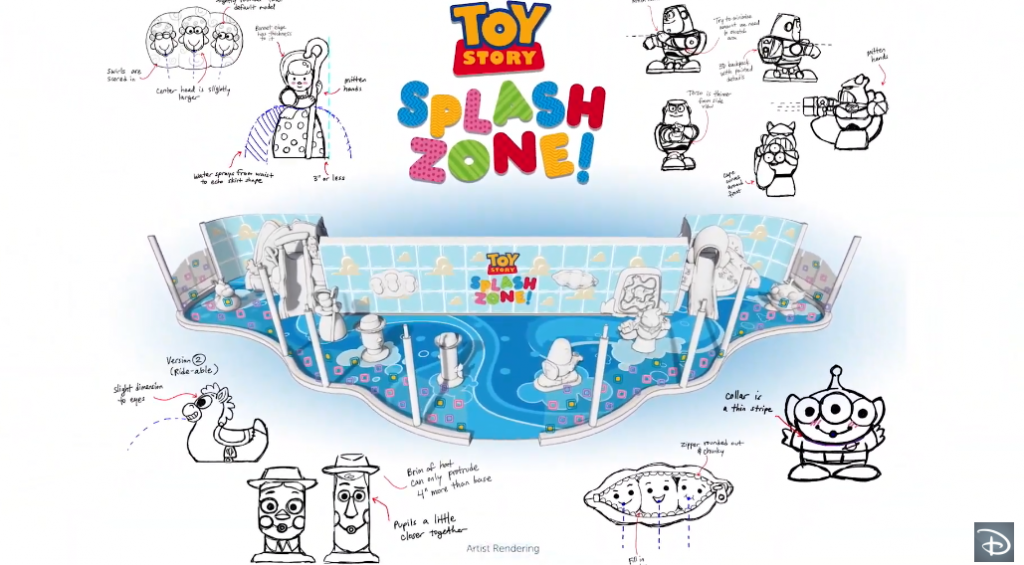 The whole family will enjoy Slide-a-Saurus Rex, a double-looping waterslide that mimics water swirling down the drain at the end of a bath while cruising on the Wish.
Reservations for the Toy Story Hotel at Tokyo Disney Resort are not yet open.
Be sure to check out our vlog The Go To Family. Connect with us on Instagram, Twitter, and Pinterest !