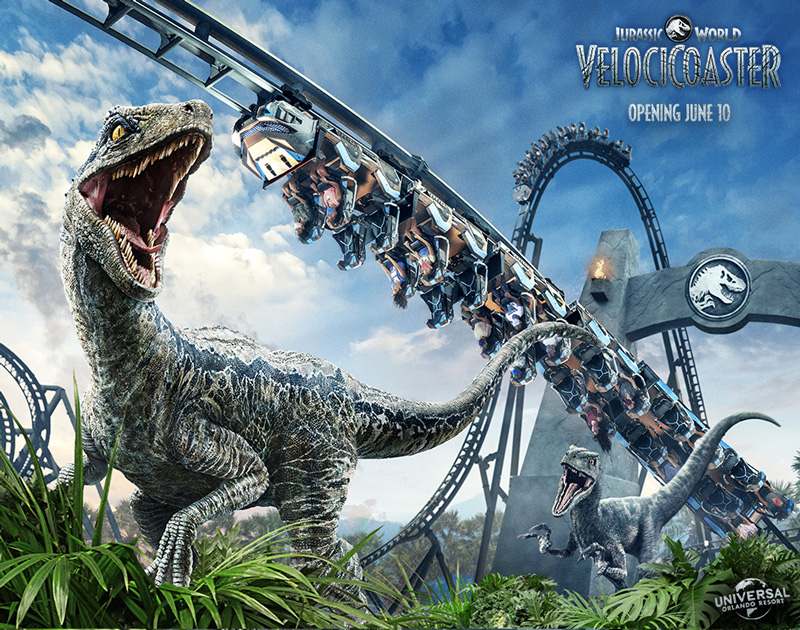 There's great news for Jurassic World fans this summer at Universal Studios in Orlando, Florida. Universal Studios announced that it is set to open Jurassic World VelociCoaster at Islands of Adventure on Thursday, June 10. To get fans even more excited for the opening day, Universal Studios also released a POV video of Florida's fastest and tallest launch coaster.  Someone get the dino nuggets out because these human-being eating dinosaurs are hungry.
Here's Your First Look At The Jurassic World VelociCoaster At Universal Studios
Universal Studios Orlando posted a YouTube video teaser of the ride this week, which showed both POV ride footage and dramatic unveilings of the rollercoaster's cars, which appear to be way more high-tech and clean than the beat-up vehicles shown in the film series.
The preview clip describes it as, "Step into Jurassic Park and stand in awe and wonder at a land transformed by science after 65 million years. But don't be deceived by the island's beauty because danger lurks behind every corner. Only here can you live the adventure of coming face to face with giant creatures of the Earth's past, encounter raptors roaming every day, or take a daring raft expedition through jungles teeming with dinosaurs. For those brave enough to visit the raptor paddock, you may be able to carefully approach one of these deadly predators. Then feel the rush of the hunt as you race through the jungle alongside raptors on the Jurassic World VelociCoaster, a new species of roller coaster coming Summer 2022."
When passengers get on the ride, they can expect a high-speed adventure through a velociraptor paddock, which features the film's four raptors: Blue, Charlie, Delta and Echo. The ride will have two different launches and reach speeds of up to 70 m.p.h. in 2.4 seconds. It will also include a 360-degree barrel roll and a first-of-its kind zero-gravity inverted stall. That sounds pretty intense, doesn't it?
If that weren't enough, this dino-coaster will have a top hat which will send guests 155 feet into the air before they make an 80-degree plunge.
Yikes. 
What's more, the Jurassic World: Dominion is set to also be released in 2022 and will be the third and final installment in the Jurassic World reboot franchise. 
Universal Orlando's new rollercoaster was created in partnership with "acclaimed filmmakers" from Universal Pictures and Steven Spielberg's production company Amblin Entertainment.
Be sure to check out our vlog The Go To Family.