The good news for travelers is that they will have an opportunity to sail the high seas this summer as the cruise industry will begin sailing once again. And while a lot of travelers are excited to book their upcoming cruises with Disney, Royal Caribbean, Carnival and more, there are still some rules and regulations that they must follow, even while on board the ship and yes, outside. Here's what you need to know.
Passengers Might Have To Wear Masks While Sunbathing During Cruises This Summer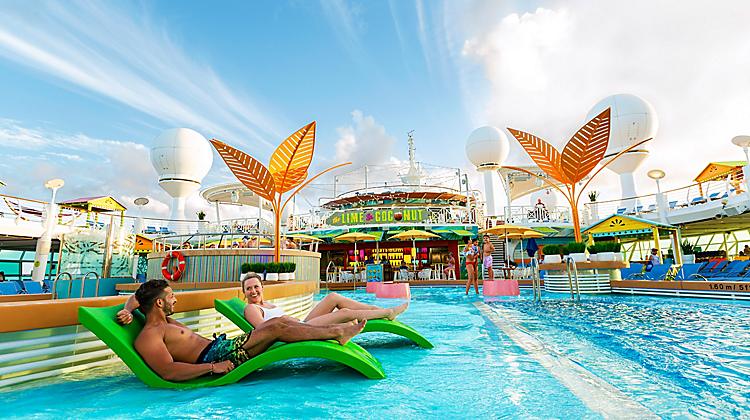 The CDC recently said that vaccinated adults do not have to wear their masks outside, as long as they keep their social distance from other people. Well, that change might not apply to cruisers as there's a new report that says the CDC might require them to wear their masks, even when they are sunbathing by the pool.
While the cruising industry is hoping to vaccinate 98 percent of crew members by this summer, they are also hoping to have 95 percent of passengers vaccinated, too. Despite all of these vaccinations and cruise operators doing everything they can to keep their cruises in pristine and Covid-free condition, passengers will still be asked to keep their masks on at all times, unless of course they are eating or drinking. In other words, you can expect to get a mask tan this summer, whether you want one or not.
In fact, an operations manual that lists rules and requirements for initial cruises out of U.S. ports updated Wednesday on the U.S. Centers for Disease Control and Prevention's (CDC) website suggests passengers will be required to wear masks at almost all times when on cruise ships, including while on the pool deck.
It also states that all ports will be required to
"ensure bathers wear masks while congregating outside of recreational water facilities (RWFs) and while seated on the pool deck area."
Needless to say, masks will not be required while swimming in a shipboard pool. But the moment that you get out of the pool, you will be asked to put your mask back on. Cruise passengers will also be asked to keep at least six feet away from anyone who is not traveling with them.
We will update you with all of the latest Covid-19 travel news right here.
Be sure to check out our vlog The Go To Family. Connect with us on Instagram, Twitter, and Pinterest !