Few hotel experiences have been as hotly anticipated as that of Disney World's Star Wars: Galactic Starcruiser. Now Disney has revealed a sample three-day/two-night itinerary to show future cruisers what kind of inter-galactic hi-jinx they could be getting up to onboard the Halcyon Starcruiser.
Touted to be like nothing that has been experienced before, Disney describes three days onboard the Halcyon as part live immersive theater, part themed environment, part culinary extravaganza, part real-life role-playing game—and "yet so much more".
Like a cruise at sea, the itinerary in place will guide participants through the fun, but each experience will differ from guest to guest, depending on decisions made and level of involvement. As their story unfolds, guests will have the power to choose their own path like following the First Order or joining the Resistance, wine and dine with a gang of smugglers or sit back and keep an eye on it all from a safe distance.
Passengers will all be on board the adventure together so 'embarkation day' will only happen a few times a week. The sample itinerary that Disney has revealed shows that arrival at the Walt Disney World Resort terminal will begin for cruisers at 1 pm. From the terminal cruisers will "blast off" in a launch pod which then docks with their ship, the Halcyon.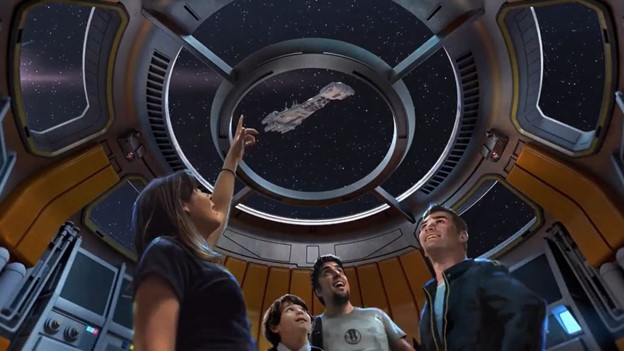 Embarkation appears to only take around 45 minutes for all guests as the ship orientation occurs at 1:45 pm. After orienting themselves onboard and settling into their cabins, passengers are offered light refreshments (at 3:00 pm) and the option to learn how to play sabacc.
For the uninitiated, Sabacc is a gambling card game, compared to blackjack and poker. Playing sabacc is a common pastime of rascals, Han Solo and Lando Calrissian. It has been described as "the most popular card game in the Star Wars galaxy" and learning how to play just may serve passengers well later in their cruise.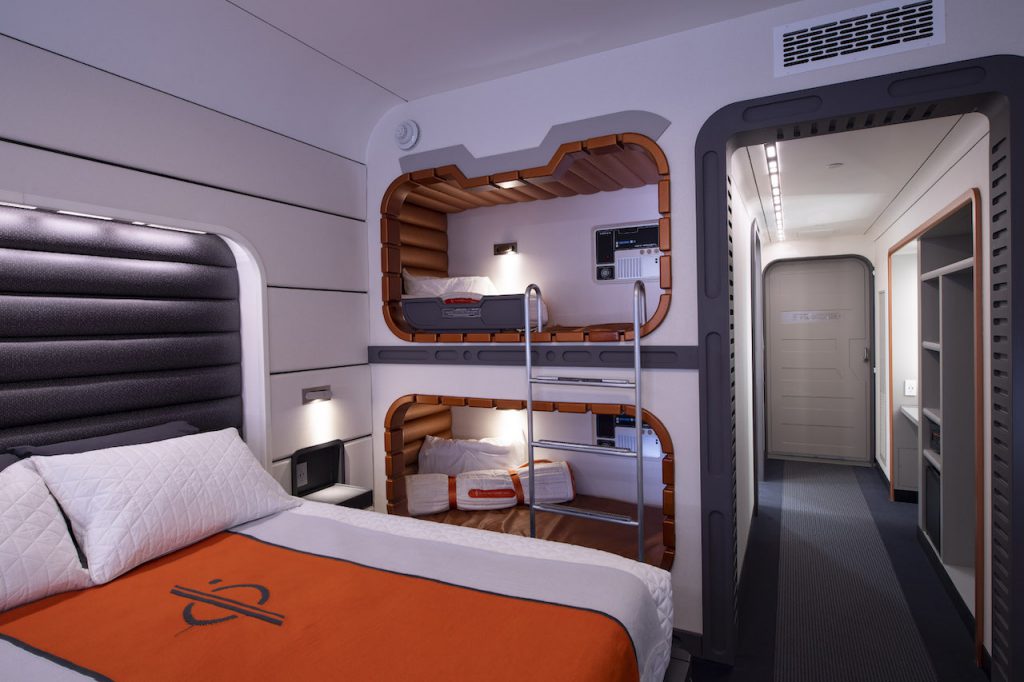 Like a regular cruise, a safety drill will ensure guests know exactly how to evade any villains who attempt to board their starcruiser, and shortly after  – at 4:30 pm, the Captain's reception begins.
Phew, that seems like a ton of activities all in three hours!
A dinner accompanied by live music, featuring a Twi'lek singer you may have caught before at the Cantina or Jabba's Palace (depending on how well-traveled you are) is followed by "outer rim regalia" (your guess is as good as mine) at 7:30 pm. What happens next is the first "choose your own adventure" (or story moments as Disney describes them) of the cruise.
Details in Disney's itinerary are sparse but between 7:30 pm and 8 pm passengers are encouraged to enjoy their unexpected story moment with the examples offered: Prove your mettle to join an elite smuggling ring? Or hide a stowaway to help the Resistance?
Bridge training then begins at 8 pm and the day's activities wrap up with special atrium entertainment at 8:30 pm.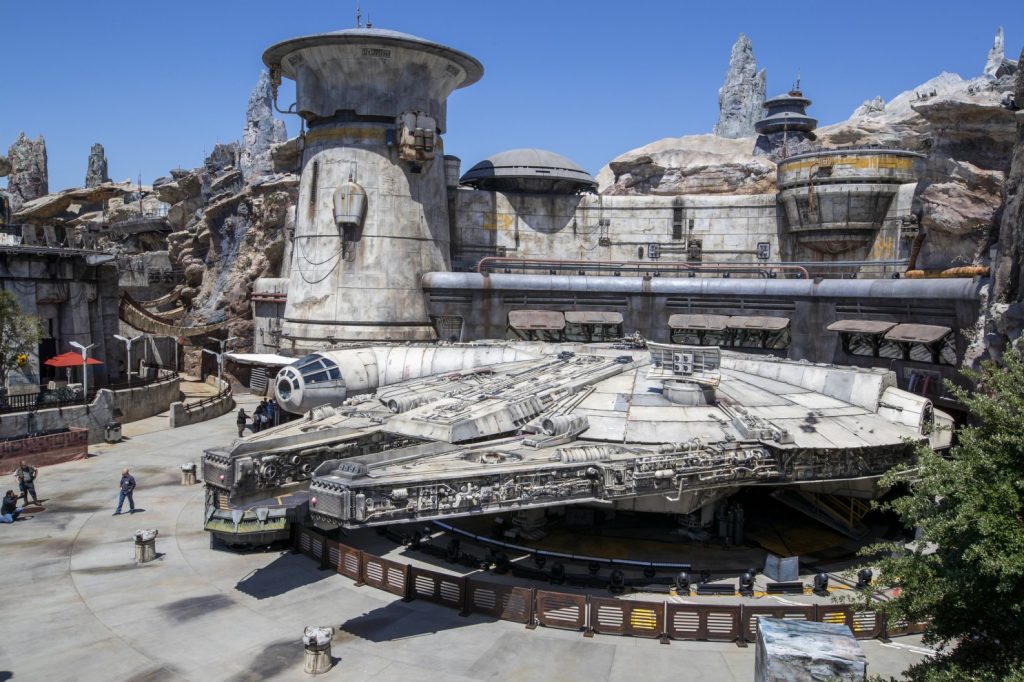 A bright and early start on Day 2 will have cruisers sitting down to a 7am breakfast to be ready for their shuttle to Batuu (in Disney's Hollywood Studio's Star Wars: Galaxy's Edge) taking off between 8:15 AM and 8:25 am. Guests are then guaranteed entry to Star Wars: Rise of the Resistance after which another story moment, on Batuu, occurs. This time Disney suggests guests might want to broker a deal for a heist? Or arrange to steal a ship from the First Order?
At 10:00 am, guests are scheduled to ride Millennium Falcon: Smuggler's Run, followed by lunch at Docking Bay 7 Food and Cargo.
Transportation back to the Halcyon is available at 12:40 pm and guests will enjoy an afternoon of lightsaber training, droid racing contest, model shipbuilding, and a sabacc tournament before cocktails in the Sublight Lounge are scheduled at 5 pm.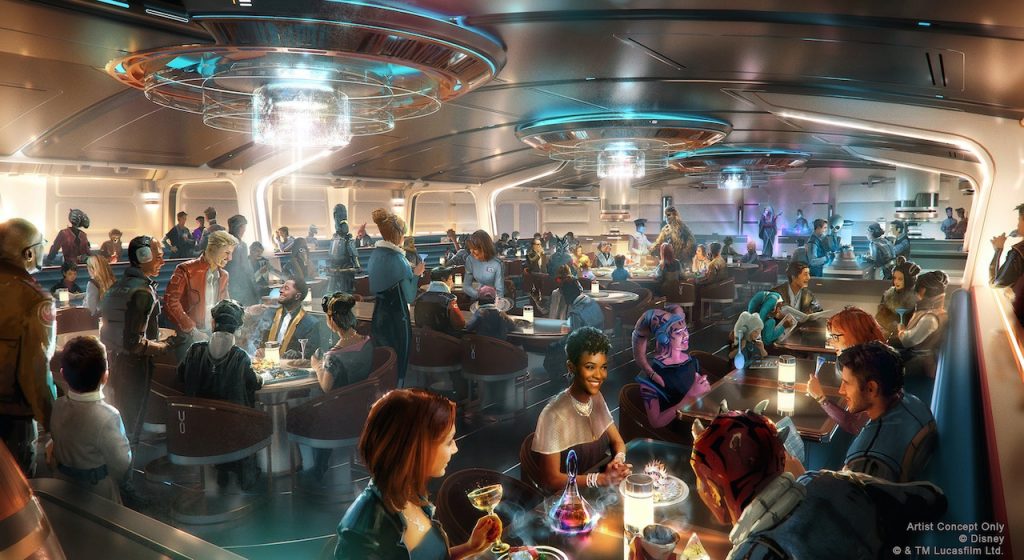 A 'taste around the galaxy' dinner follows, then a third story moment. As Disney asks, will the passengers put their heist plan into action? Maybe they will bring the stolen ship aboard and watch out for the First Order?
The experience's "spectacular finale" takes place at 10:00 PM on the evening of day 2.
Breakfast at 8:30 am on Day 3 will see the cruisers say goodbye to their fellow passengers and they will disembark, taking the launch pod back to Earth between 9:30 and 10:00 am.
The fully immersive hotel experience will of course include interacting with characters- good and bad, from the Star Wars canon, and adventurers are encouraged to dress the part- keeping their very best outfits for the spectacular finale.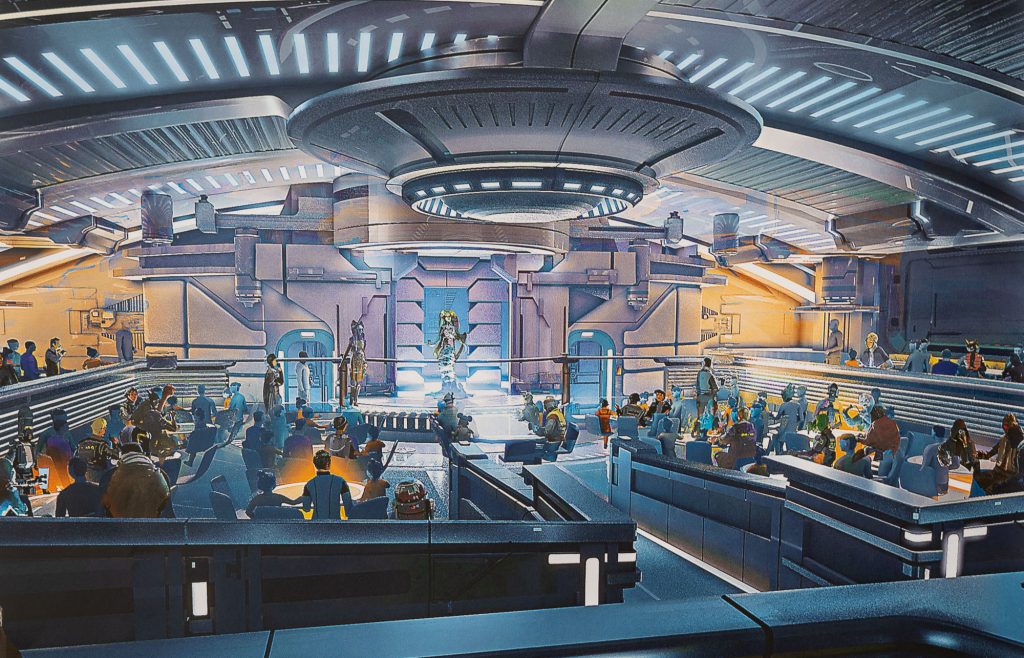 So…think you're ready to spend a few nights aboard the Halcyon in a galaxy far, far away? You will be able to do so as of spring 2022, however, you may want to start saving now.
For a cabin shared by two people, guests will spend $1209 USD each per night, making their 2-night voyage total $4809 USD.
The cost per person whittles down as your party grows. A cabin shared by three cruisers (two adults and one child) will start at $5,299 USD for the voyage which comes out to $885 per guest per night.
A cabin of four (three adults and one child) will start at $5999, or $750 per guest per night.
All pricing above is for a standard cabin, on weeknights, during the spring and summer of 2022, and includes 2 breakfasts, lunches, and dinners per person, with gratuity, included for the dinners.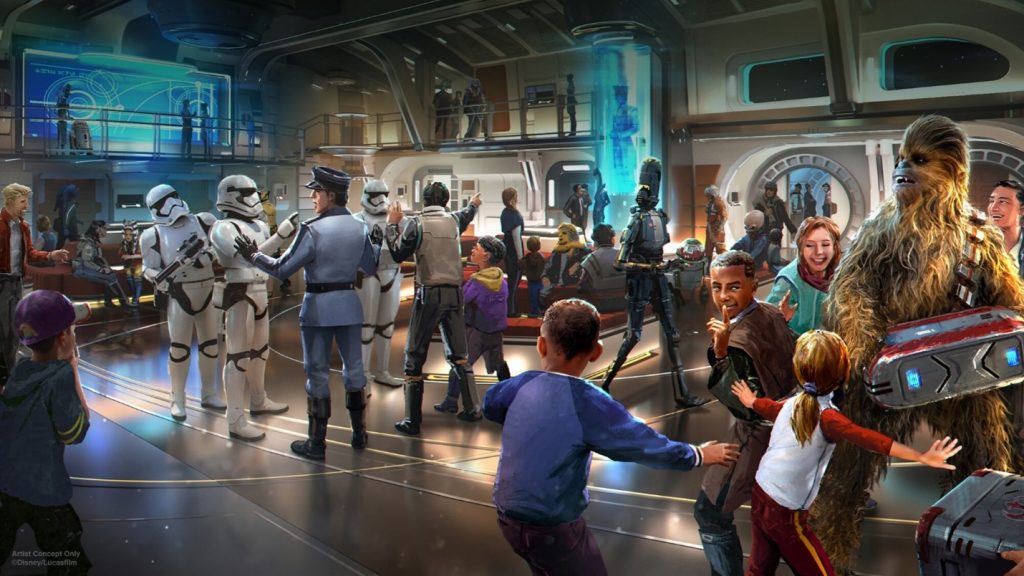 One quick-service meal consisting of an entrée and beverage (alcoholic included for guests 21 or over is also included, as is the entry to Star Wars Galaxy's Edge for the Batuu shore excursion. Oh, you also get valet parking!
The cruise itinerary is subject to change with Disney promising to send passengers' personal itineraries to their Star Wars: Datapad in the Play Disney Parks app 30 days before their voyage departure date.
Are you planning to stay at the Star Wars: Galactic Starcruiser? Let us know what you think of the itinerary and the pricing in the comments section below!
https://www.youtube.com/watch?v=n-R6wYQ58eo
Be sure to check out our vlog The Go To Family. Connect with us on Instagram, Twitter, and Pinterest !