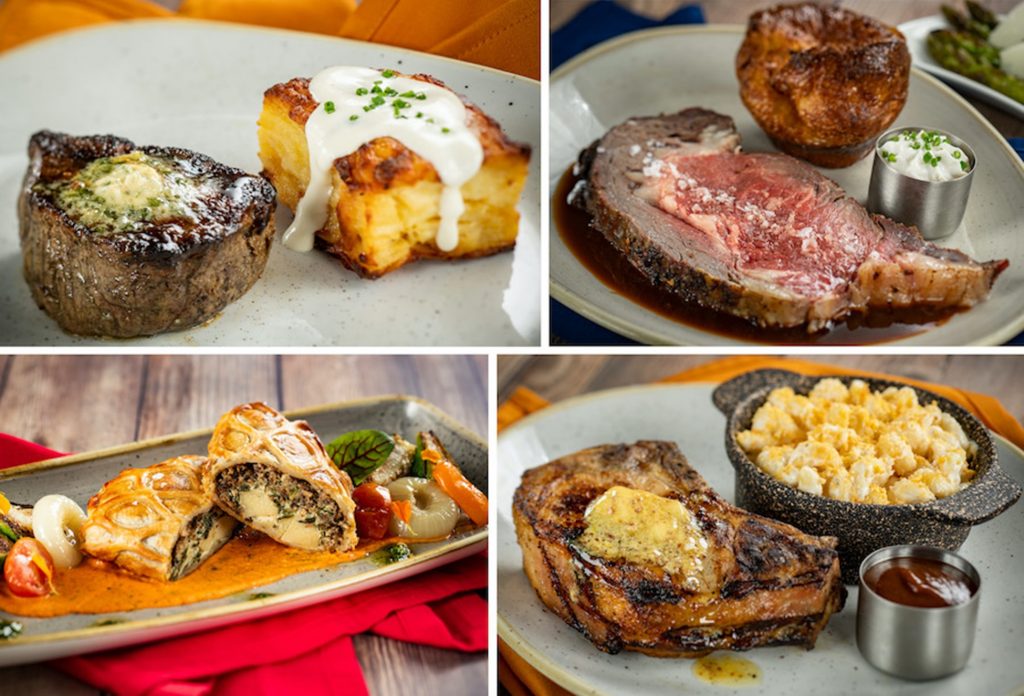 Reservations for Steakhouse 71 at Disney's newly renovated Contemporary Resort are now open with breakfast, lunch and dinner bookable for the  October 1st grand opening and onwards!
Located on the first floor of Disney's Contemporary Resort, Steakhouse 71 is already teasing to-be diners by releasing their family-friendly menus. Named for the year the Disney World Resort opened, the offerings include subtle nods to Walt Disney himself- with updated spins on some of his favorite foods.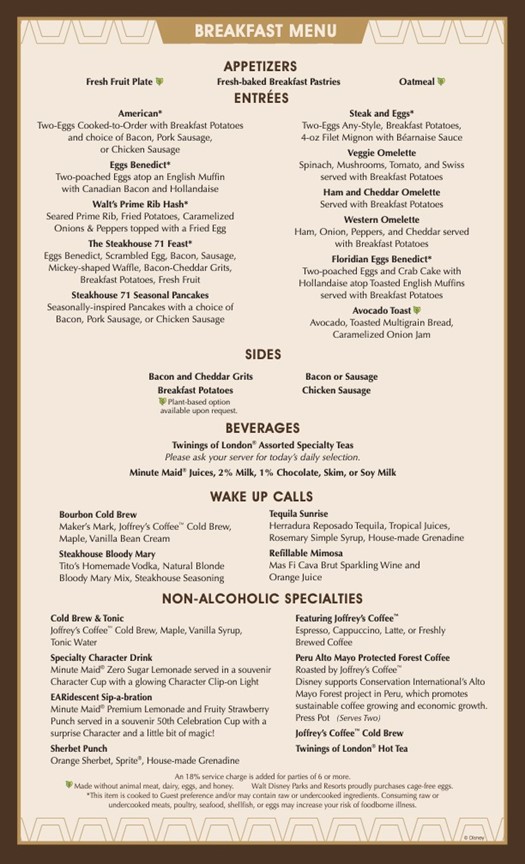 A scrumptious and hearty breakfast at Steakhouse 71 is the perfect way to start a Disney day. An entire page of choices includes everything from freshly baked pastries to avocado toast to Walt's Prime Rib Hash and Eggs Benedict!
Breakfast isn't complete without a variety of wake-up beverages which run the gamut from the Bourbon Cold Brew (Joffrey's Coffee Cold Brew, bourbon, maple, vanilla bean cream), to the Steakhouse Bloody Mary and everything (espresso, cappuccino, latte, freshly brewed coffee, assorted teas, and juices) in between.
The kids breakfast menu includes oatmeal with dried cranberries and Mickey-shaped waffles…how old is too old for the kids' menu again?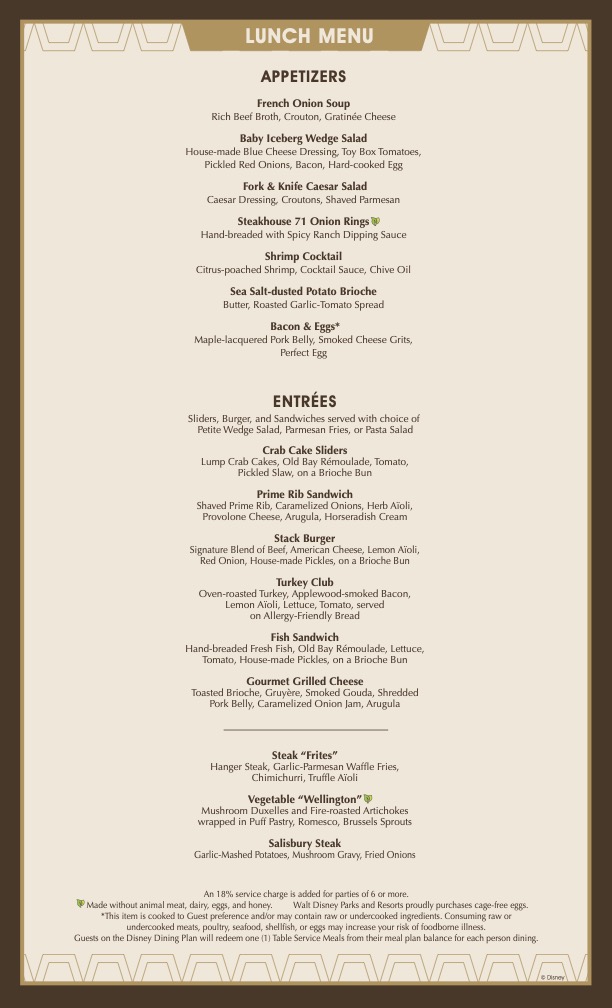 A lunchbreak away from the hustle and bustle of the parks sounds like a fabulous, and tasty idea. With a variety of salads, sandwiches, burgers and sides like soup, onion rings and shrimp cocktails, the menu at Steakhouse 71 caters for everyone, making the venue an easy choice that will make the whole family happy.
Being a steakhouse, the dinner menu is the restaurant's crown jewel. The appetizers stay the same as the lunch menu, but the mains menu offers six different cuts of steak which guests can customize with their favorite accompanying sauce.
For the non-beef folk out there, Steakhouse 71 offers chicken or fish dishes and for the non-meat eaters, the Vegetable Wellington sounds pretty darn lip smacking.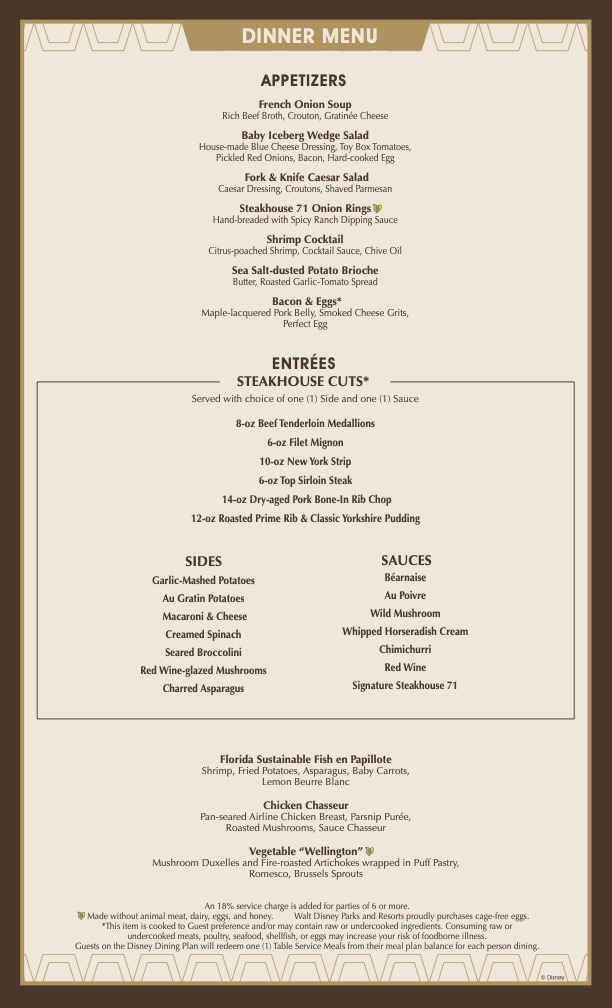 Speaking of getting the juices going- desserts. The four on offer all sound simply delectable, but the Steakhouse 71 Chocolate Cake– 15 layers of Jack Daniels-infused chocolate cake, chocolate mousse, and raspberries is a work of art!
Did they mean to match the layers of the cake to the 15 floors of Disney's Contemporary Resort? Probably!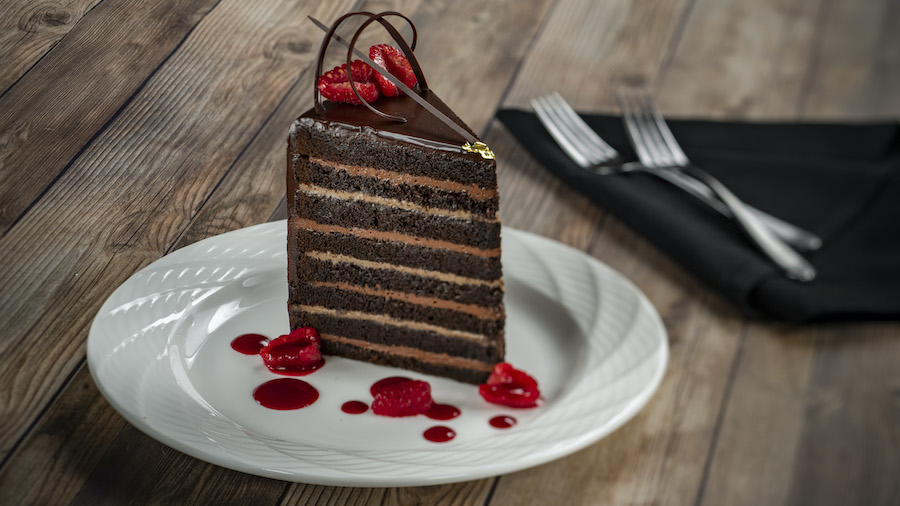 No menu is complete without a little libation on the side. Steakhouse 71 offers a selection of "Disney Family of Wines," a diverse collection of wines with a personal connection to the Disney name along with a cocktail, and mocktail list you might see in an upscale New York establishment.
Perhaps a drink at the bar is all that is desired. Then sit back and relax among Steakhouse 71's sleek décor, including touches of 70's design with an undertone that is an ode to Florida and its citrus groves. It's these surrounding groves that have inspired more than one refreshing cocktail on the list.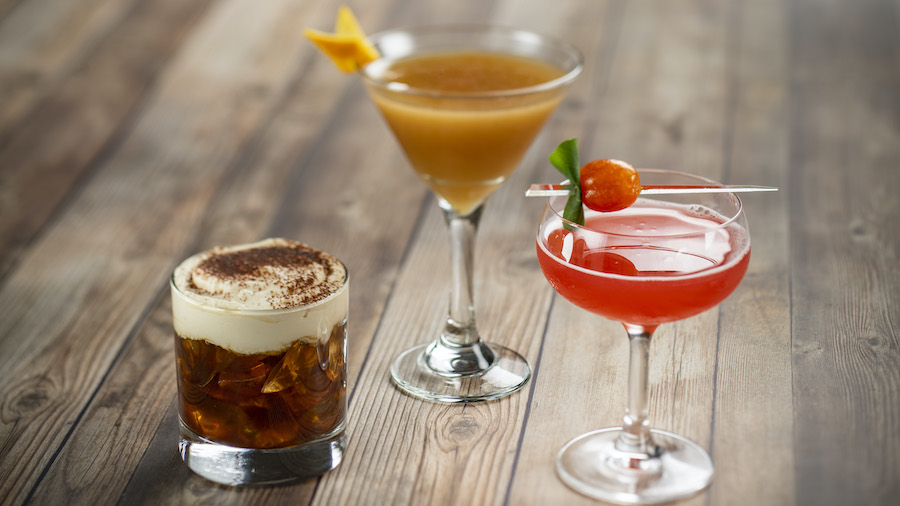 Perhaps you'd prefer a 70's style classic like the Tequila Sunrise! Steakhouse 71's mixologists have given their Tequila Sunrise a modern twist with tequila, tropical juices, rosemary simple syrup, and house-made grenadine. A "sharable" Tequila Sunrise is available for lunch and dinner, serving 2-4 guests!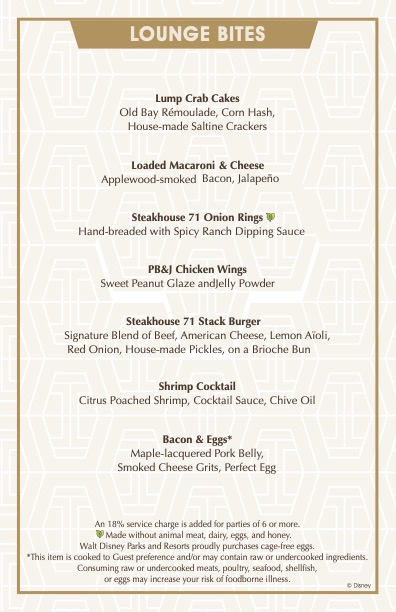 Even if you only stop by for a drink, the delicious scents from the dining room are sure to get anyone's taste buds tingling for a teaser. The lounge bites menu's offerings- from peanut butter and jelly wings to loaded mac and cheese or even bacon and eggs could be the perfect sized snack to satiate!
Prices for breakfast start at $7-$10 for appetizers or $12-21 for entrees. Lunch appetizers look to set you back anywhere from $9 to $16 with mains from $15 to $26 and dinner's steaks are in the $29-$38 price range.
Reservations are currently open- make sure you book to become one of the first to try Disney's Contemporary Resort's new Steakhouse 71!
Be sure to check out our vlog The Go To Family. Connect with us on Instagram, Twitter, and Pinterest !