Known as the "Venice of the East", Bangkok, Thailand hails as one of the world's top tourist destinations. Thailand, also called the "Land of Smiles", has a warm culture, a fascinating historical heritage and mouth-watering cuisine. If you are considering a Southeast Asia trip, make sure Bangkok is on your itinerary.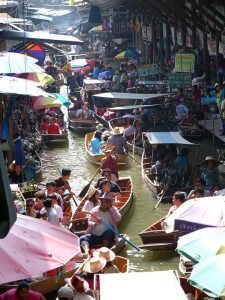 Table of Contents
Thailand Travel Restrictions
Thai Visas
Bangkok at a Glance
Best Time to Visit
Traveling to Bangkok
Language
Where to Exchange Currency
Communication
Best Areas to Stay
Things to Do
All in a Day
Food Guide
Desserts
Where to Eat
Points of Interest (Map)
How to Get Around
How Many Days to Stay
Budget/Summary of Expenses
Bangkok Travel Tips (Being Smart and Safe)
Thailand Travel Restrictions
As of August 2022, visitors to Bangkok, Thailand must show either proof of vaccination or a negative COVID test result to enter the country.
Vaccinated visitors are not required to have COVID tests before traveling or quarantine upon arrival. Additionally, children who are traveling with vaccinated adults are not required to test before travel.
Unvaccinated adults and children must bring documentation of a negative COVID test result. The approved tests are a RT PCR test or a professional ATK test taken within 72 hours of traveling to Thailand. 
Thailand strongly encourages all visitors to have health insurance that will provide coverage when they are visiting. AXA is highly recommended. To keep up to date on the COVID-19 travel requirements, it is a good idea to check the Thai Embassy website.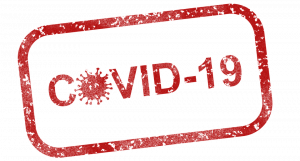 Thai Visas
If you have a passport from one of the sixty-four countries on this list, then you are not required to apply in advance for a Thai visa to visit Bangkok, Thailand. You can get a tourist visa on arrival for thirty days. You will need to show the immigration officer proof of a return ticket out of Thailand that leaves before the thirty-day deadline.
If you are from another country, apply for a tourist visa in advance. Check with your local Thai embassy or consulate about the latest fees and the required documents.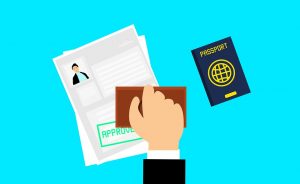 Bangkok at a Glance
The sprawling metropolis of Bangkok, known as Krung Thep Maha Nakhon or Krung Thep in Thai, is the capital city of Thailand. It is the most populous city in the country. Lying on the shore of the Gulf of Thailand and the banks of the Chao Praya River, the town was initially a trading post. King Rama I moved the capital to Bangkok from Ayutthaya in 1782. Today the city is home to over 10 million people. Ancient temples and historical landmarks are nestled among the modern urban landscape of looming high rises. While aspects of the city can be challenging to appreciate, there are markets full of exciting wares, a vibrant nightlife and friendly welcoming people. 

Best Time to Visit
The best time of the year to visit Bangkok, Thailand is between the months of November and February. While peak season and school holidays fall within this time, it is good to aim to visit during these months to get a break from the heat. Bangkok is always going to be hot, but there are times when it is rainy, dry and then a bit cooler. The hottest months are from March to June, the rainiest months are from July to October.
Traveling to Bangkok
Most guests arrive in Bangkok, Thailand by air at Suvarnabhumi Airport. Opened in 2006, Suvarnabhumi lies 30km to the east of the city center. It serves as a hub for Thai Airways and is the 19th busiest airport in the world. Don Muang Airport is Bangkok's older airport. It first opened in 1914 and is about 20km from the city center. Currently it mostly serves as a hub for domestic carriers and international budget airlines arriving from cities in Southeast Asia. 
Language
The language of Thailand is Thai. It is a difficult language to speak because it is tonal. The Thai language also has its own script. Many hospitality workers in the tourist industry can speak English, but it can be challenging to find menus, signs and instructions in English. For simple basic questions, consider relaying on an app like Google Translate. In order to enjoy the Bangkok scene with an expert, consider hiring the services of an English-speaking tour guide.
Where to Exchange Currency
Some of the best rates for currency exchange in Bangkok, Thailand, are available upon arrival at Suvarnabhumi Airport. At Level B (underground) you will find the Exchange Zone next to the Airport Rail Link. There are several currency exchange booths, and no fees or commission are charged. Rates may be similar, but you can "shop around" for the best rate. If you need to exchange money in the city, consider a reputable exchange location like Siambestrate Currency Exchange at 919 Shibuya Building (Main Entrance) CLPT 1-13 Ratchatewi, Bangkok, rather than a bank. The rates at a bank will often not be as high. Make sure to be careful when exchanging money. Exchange rates should be clearly posted. Be sure to calculate what you should receive on your own and then count the money before you leave the counter.
Communication
Free Wi-Fi is difficult to find in Bangkok, Thailand, so it is best to pick up a 4G Thai SIM card on arrival. You can purchase one for a discount online in advance and pick it up on arrival at the airport. They are also on sale at kiosks in the airport. This is essential for service to be able to use Google Maps and Grab (for transportation needs).
Best Areas to Stay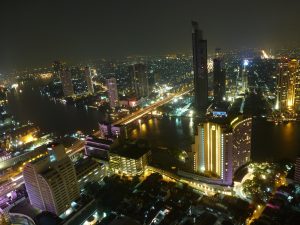 Bangkok, Thailand is such a big city and there are a wide variety of accommodations from the cheapest backpacker hostel to the luxurious five-star hotel and everything in between. With so many options, it can be difficult to determine where to stay. For that reason, it is important to consider the focus of the trip so you can choose the best area.

Sukhumvhit Area
First-time visitors to Bangkok, Thailand can benefit from staying in the Sukhumvhit area. Sukhumvhit is a large main road running east to west through the city. It is very convenient because of the BTS Sky Train line. It boasts great shopping, excellent dining options and trendy bars and clubs.
Hotels in the Sukhumvit Area
In you are interested in accommodations which are extremely affordable and conveniently located near the BTS line, consider Sawasdee Hotel Soi 8. While the rooms of this 3-star hotel are clean, they are on the small side. The rooms run about $25 a night.
Another hotel in a central location along Sukhumvit is the Dream Hotel. The rooms are spacious and comfortable. The staff are helpful as well, which makes this hotel highly recommended. Rooms are approximately $50 a night.
The Sofitel Bangkok could not be more convenient. The hotel has its own skywalk bridge connecting it to BTS Asok, MRT Sukhumvit and the mall Terminal 21. The food, spa, rooms and the service all have excellent reviews but the nightly rate is a bit higher at around $150 a night. 
The five-star Landmark is centrally located to the Nana BTS station. Room costs range from $100 to over $200, depending on the type of room. Additionally, the staff are helpful and accommodating, working to be sure that you have the best possible experience during your stay.
Finally, the Hyatt Regency on Soi 13 near the Nana BTS station is a spot of luxury within the bustling city. Regular rooms run for $165 a night while the presidential suite runs $1800 a night. This stunning hotel won't disappoint!
Old Town (Rattanakosin Island)
If your focus is catching the historical and religious sites, you may want to consider staying in the old city. It is accessible by taxi which makes it a little more challenging to navigate, but if it is the focus of your trip, it may make it worthwhile. On the banks of the Chao Praya River, this area also has incredible views not available in the other areas.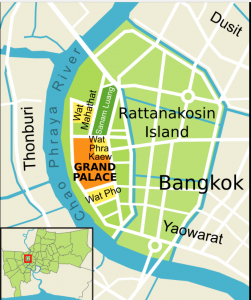 Hotels in the Old Town (Rattanakosin Island) Area
For basic accommodations, consider Feung Nakorn Balcony. This boutique hotel is on Fuang Nakorn Road which was one of the first roads built in Bangkok in 1864. This hotel used to be an elementary school but was converted to a hotel with various sizes of rooms. A garden and a koi pond provide escape from the city. Rooms are about $40 a night.
The Royal Princess Larn Luang is just 2.5 km aways from the Grand Palace. Rooms run from $50-100 and are spacious and clean. The hotel has a courteous staff who are anxious to make sure that you have a comfortable stay.
Aurum the River Palace is a quaint boutique hotel on the banks of the Chao Praya River. It is within walking distance of the main attractions of the Old City. The rooms are comfortable and relaxing after a day of sightseeing. Guests most love watching the activity on the river from the coffee shop.
For exquisite luxury that connects with a rich heritage, consider the Chakrabongse Villas and Residences. The villa was first built by Prince Chakrabongse as a retreat in 1908 but is now run by his granddaughter.  The three rooms are $170 per night while the four unique suites range from $300-400 a night. Guests enjoy savory Thai dishes served in a restaurant with an incredible view of Wat Arun. Chakrabongse also offers guests the opportunity to reserve luxury boat trips along the river.

Siam
If you are a shopaholic, the best place to land is near Siam Square. This lies to the west of Sukhumvit Road on Rama I Road. North of Lumphini Park and Chulalongkorn University, the area is a shopper's paradise. Siam Paragon, Central World, Siam Discovery, Platinum Fashion Mall, and Pantip Plaza are all shopping complexes in the area. The Pratunam Market is a local market full of great deals on clothes, souvenirs and yummy food.
Hotels in the Siam Area
For just $50 a night, the Reno Hotel is three-star hotel that offers guest spacious comfort in the midst of the busy city. They have 58 rooms and deluxe rooms have a poolside view. Additionally, family rooms are available. The Reno Hotel is just five minutes away from the Bangkok Art and Cultural Center and is close to all of the shopping centers.
Courtyard by Marriott is close to the shopping action. The four-star hotel has recently been renovated and is a great place from which to journey and explore. It is close to two BTS stations and offers complimentary tuk-tuk service to get to nearby destinations. Rooms are available for around $100 per night.
Siam@Siam is another great hotel in the Siam district. Located on Rama I road itself, Siam@Siam is close to the action in Bangkok, Thailand. The rooms are quirky yet comfortable. There are different options for rooms with the prices ranging from $75 a night to over $300.
The Amari Watergate Hotel is near Pratunam Market and the Platinum Fashion Mall. The staff is attentive to the needs of the guest and are helpful. They request feedback and follow up on it. The rooms are about $100 a night and are clean and spacious. The biggest selling point for this hotel is its location to all of the shopping facilities in the area.
The Pathumwan Princess Hotel is a five-star hotel with an excellent location. It is connected to the MBK Shopping Mall and is a short walk away from Siam, the biggest shopping complex in all of Bangkok. It is also close to the Skytrain, which provides access to the city. This family friendly hotel has rooms and suites available that run between $100-200 a night.
Silom
Silom is the "Wall Street" of Bangkok, or the financial district of the city. It is to the south of the Siam Square area. It has a little bit of everything but is not well known for one particular thing. Some recommend the Silom area for families with children because of parks and some activities, but it is also the site of the most notorious red-light district.
Hotels in the Silom Area
The Siri Sathorn Bangkok is a very accessible and convenient location. The affordable rooms are large, and the service is impeccable. Rooms run about $30 per night.
The Quarter Silom by UHG is in the heart of the vibrant Silom district.  The rooms are nice and clean, but some can be small. The staff is very helpful. Rooms cost approximately $40 per night.
The Montien Hotel Surawong is also located in a central location. The staff is very friendly and helpful. The rooms are clean and cost about $100 per night.
The So/Bangkok has unique themed rooms and is located across the road from Lumphini Park. It has amazing views. The hotel has excellent service and costs $150 per night.
The Shangri-La is to the west of the main Silom area and is near the Chao Praya River.  While it is older, is has stunning river views. It is clean and has excellent service. Rooms cost about $120 per night.
Things to Do 

Watch a Thai Boxing Match
Check out a famous Thai boxing match at the Rajadamnern Boxing Stadium near the Old City in Bangkok, Thailand. Tickets can be purchased online and run between $30-50 depending on the seat.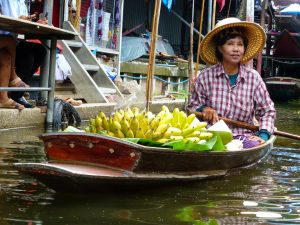 Soak up the Sights at the Floating Market
Experience shopping the ancient Thai way at Damnoen Floating Market. This early morning market on the river is the place to buy fresh fruit, vegetables, and tasty sweets. Tourists have been scammed, so be prepared before visiting. One of the very best tips is to visit the market with a local person.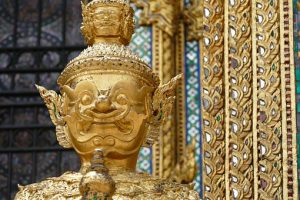 Be Astounded by the Grand Palace and the Temple of the Emerald Buddha
Visit one of the iconic destinations in Bangkok, Thailand, the Grand Palace complex. Built in 1782 by Rama I, this 218,000 square meter complex is the site of royal halls, a throne room, several government offices, and the Temple of the Emerald Buddha. Tickets are about $15 for foreign visitors and can be purchased online. Admission for children under 120cm is free of charge. There is a modest dress code. Therefore, check the website first for guidelines.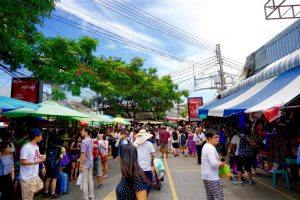 Shop 'til You Drop at the Chatuchak Weekend Market
The Chatuchak Weekend Market is the largest market in Bangkok, Thailand. The market has 27 different sections with 15,000 stalls and over 10,000 vendors as of 2019. The pandemic has made an impact and some stalls remain closed. Although it is cooler in the morning, most stalls don't open very early. The market is lively in the evening, from 6pm onward. Venders sell all types of good including incredible food and drinks, clothing furniture, books, pets, plants, antiques, and home accessories.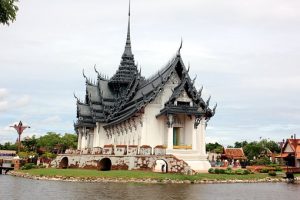 Step Into the Past at Muang Boran (Ancient City) Museum
Wear comfortable clothes and walking shoes for a journey through the world's largest outdoor private museum. The site is a mini representation of the country of Thailand and gives guests a glimpse into the rich tradition, culture, and experiences of past. Tickets can be purchased online. Adult foreign visitor tickets cost $20 and tickets for children between 6-14 cost $10 each.
All in a Day

Day 1: Temple Tours
There are over 40,000 Buddhist temples in Thailand with 400-500 of them located in Bangkok. While some may say, "If you have seen one temple, you have seen them all", this is not quite accurate. Bangkok, Thailand has some of the most stunning and incredible temples, or "wat". In one day, you can visit some of the most spectacular locations. English speaking guided tours run about $100 per day. If you are adventurous, you can haggle for a tuk-tuk ride (three wheeled motorcycle) on your own or hire a Grab. Be sure to dress modestly and be respectful when visiting the temples.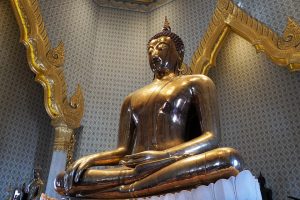 Wat Traimit
Wait Traimit, or the Temple of the Golden Buddha, is one of the most visited temples in Bangkok, Thailand. Located near the entrance to Chinatown and the Hua Lamphong Train Station, it is home to the 5-meter tall, 5.5 ton solid gold statue. This statue was once covered in plaster and stucco to protect it from the invading Burmese. It was only found to be gold in 1955 when the facade cracked in transport, revealing the gold inside. The entrance fee is approximately $3-5 and it is open from 8am-5pm.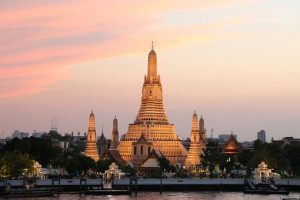 Wat Arun
Wat Arun, or the Temple of the Dawn, is the iconic temple of Bangkok, Thailand, located on the Thonburi side of the Chao Praya River. The temple has Hindu architectural influence. The central tower, or prang, often catches the light at sunrise and sunset. To reach Wat Arun from Wat Traimit, you can take a 10-minute walk to the Marine Department and catch a ferry which comes by every 15 minutes. The fare to the Wat Arun Pier runs about $2 and will take about 10 minutes.
Wat Pho
Wat Pho, or the Temple of the Reclining Buddha, is a five-minute taxi ride from Wat Arun.  It is one of the oldest and largest Buddhist temples in the country. The temple grounds cover 80,000 square meters. There are over 1000 statues of Buddha on the site but the most famous is the massive reclining Buddha which is 50 feet high and 151 feet long. In 1955 the temple became the location for a school for massage and traditional medicine.
Day 2: Play Time
Want to plan for some fun with the kids while in Bangkok, Thailand? Consider these options while in the city.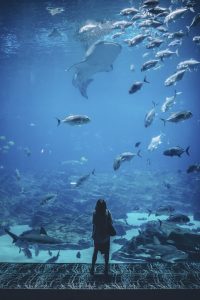 SEA LIFE Aquarium
The SEA LIFE Aquarium is located in the Siam area, near the Siam BTS station and Central World in the Royal Paragon Hall. The aquarium is open from 10am-8pm (last entrance at 7pm) and tickets cost approximately $20 a person. Shows and feeding sessions are included with admission but check the website to see what time and day your favorite marine animals are being feed so that you can plan your visit accordingly.
KidZania
KidZania is also located in the Royal Paragon Hall. It is open from 11am-6pm.  KidZania is a kid-sized city complete with an airport, hospital, theater, bank, shops, etc. where kids explore and learn through role-play. Kid's tickets cost $35, toddlers $25, and adults $20.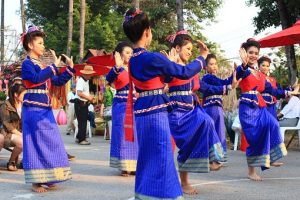 Amazing Adventure Bangkok
Looking for a fun way to experience Thai culture? Consider a competitive adventure with your family where you can try very different Thai food, participate in Thai dancing, Thai boxing, or Thai massage. The program offers unique competitive challenges that can be tailored to a specific group. Groups of 4-6 cost $50 a person while discounts are offered for bigger groups.
Day 3: Kanchanaburi
Kanchanaburi is a city 160km to the west of Bangkok, Thailand. It is called the greenest province in Thailand and has a lot of history and a lot of beauty. Kanchanaburi can be reached by mini-van, taxi, bus or train. The journey takes 2.5-3 hours. Bus and mini-vans will cost about $7-10 per person while cars (depending on the model) cost between $60-120.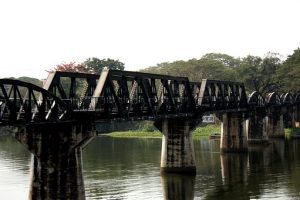 For the history buffs, explore the Bridge over the River Kwai and the Death Railway, the site of Japan's famous work camp. Over 16,000 POWs from World War II died while constructing this railway. Other locations to visit in connection with this are Hellfire Pass, Krasae Cave, the Kanchanaburi War Cemetery and the JEATH (Japan, England, America/Australia, Thailand, Netherlands) War Museum.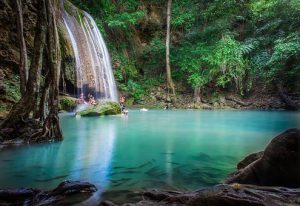 A place of stunning natural beauty, Erawan National Park is the home of the seven-tiered Erawan Waterfall. There are many areas to swim and to enjoy a natural fish spa. Make sure to bring a towel and swimwear. Admission is $8 for adults, $5 for children.
Day 4: Ayutthaya
Ayutthaya lies 85km to the north of Bangkok, Thailand. It was the center of the Ayutthaya kingdom which lasted for over 400 years from 1351 to 1767. Upon the defeat of the kingdom by the Burmese, the seat of power moved to Thonburi and then to Bangkok. The best way to get to Ayutthaya is by minivan. While train might seem more idyllic, there can be substantial delays. Round-trip a minivan will cost about $5 per person. Official day tours can be reserved, which range from $30-$150 a person.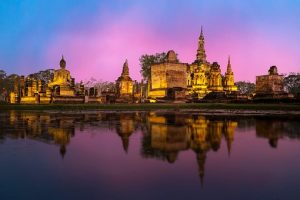 Ayutthaya Historical Park
Ayutthaya Historical Park is a UNESCO World Heritage site with over a dozen ancient temple ruins. The area is expansive so if one is going solo and not with a tour, it may be best to bargain with a tuktuk driver to spend the day providing rides from one temple to another. An equitable fare is about $20 for four hours. Many of the temples have an admission fee of $1.50.  Be sure to look for the head of Buddha nestled in the trunk of a tree and the reclining Buddha.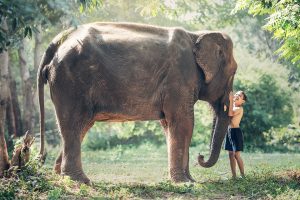 Elephantstay
Elephantstay is a foundation that helps care for old and nonworking elephants. They offer guests the opportunity to experience living with, caring for, and learning about elephants. During the day guests ride, feed, water and bathe their elephants. They offer a single day experience or multi-day packages. A single day will run between $130-200.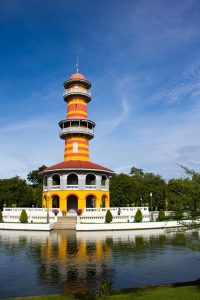 Bang Pa In Palace
Bang Pa In Palace was formerly the summer residence for the royal family. Today the palace is the site of occasional state functions. The royal family still uses the main residence at times, so it is not open to the public. However, some buildings are open to visitors like the Chinese style residence gifted to King Chulalongkorn by the Chinese in 1889. Bang Pa In has unusual European architecture and the buildings are set around a large rectangular lake. Admission costs $2.60 a person. The palace grounds open from 8:30am-5:00pm with the last tickets sold at 3:30pm.
Food Guide
Thai food is internationally known for its fresh ingredients and its spicy kick. There are so many excellent dishes and delectable choices, that it is difficult to narrow down the list. Here are some of the most well-known dishes that everyone should try.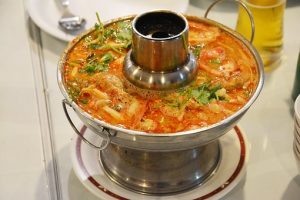 Tom Yam
Tom Yam Soup is a spicy, sour and aromatic soup usually served with rice as an appetizer. There is a seafood and chicken versions. Its ingredients include fish sauce, shallots, lemon grass, mushrooms, fresh ginger, kaffir lime leaves, lime juice and Thai chili peppers.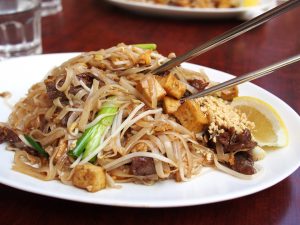 Pad Thai
Pad Thai is Thailand's national dish. This stir-fried noodle dish contains rice noodles, dried shrimp, tofu, eggs, and bean sprouts. Chefs add either chicken or pork. It is garnished with red chili, crushed peanuts, lemon and fish sauce so the hungry customer can eat it the way they like it best.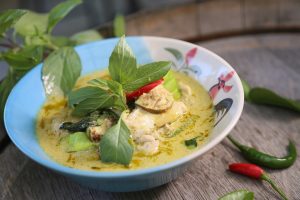 Green Curry
Thailand has many savory and spicy curries but one of the favorites is Gaeng Kiew Wan, or Green Curry. The curry paste contains crushed green chilis, lemongrass, kaffir lime leaves, coriander, ginger, cumin, coconut milk, onions, white pepper, basil, garlic, and palm sugar.  Chicken, beef or fish and eggplant and coconut milk are added to the spicy green curry paste.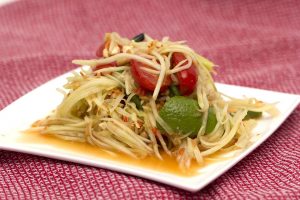 Som Tam
This spicy green papaya salad may have originated in the north of Thailand and Laos. It is a fresh salad that has a variety of ingredients. Often it is a bit tangy and a whole lot spicy.  The salad usually contains thin strips of green papaya, green beans, tomatoes, roasted peanuts, with a tangy sauce. The sauce contains garlic, fish sauce, dried shrimp, palm sugar, chili peppers, and lime or tamarind juice.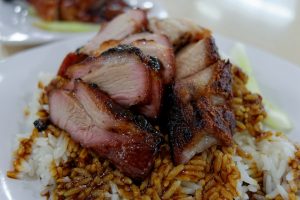 Khao Mu Daeng or Khao Mu Krop
Khao Mu Daeng and Khao Mu Krop are rice and pork dishes. They are Chinese in origin. Kaho Mu Daeng is a red pork and Khao Mu Krop is a crispy pork. They are both served on rice with a sweet bean gravy, boiled duck eggs, green shallots and spicy dipping sauces.
Desserts
Thai desserts center around seasonal fruit. They use plant-based ingredients such as coconut milk, tapioca, and rice flour so they are suitable for vegans and for those with digestive issues.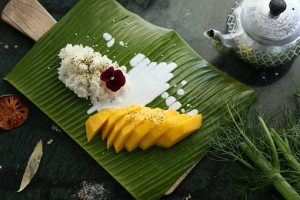 Mango Sticky Rice (Khao Niao Mamuang)
Mango sticky rice is a very famous Southeast Asian desert. To prepare the dish, glutinous sticky rice is steamed and mixed with a coconut milk flavored with salt and sugar, that has been heated without boiling. The heated coconut milk is mixed in with the rice and left to sit for a time. Fresh ripe yellow mango is cut into thin strips and served with the sticky rice, which is drizzled with the remaining coconut milk.
Ruam Mit
Ruam Mit is a popular dessert that has varied ingredients depending on who is making it. It is a concoction made of coconut milk and starchy flavorful colored noodles. It can include jackfruit, lotus root, corn, tapioca pearls, sweet potatoes, and beans. Often vendors will also include some shaved ice on top, which makes this a treat in the warm weather.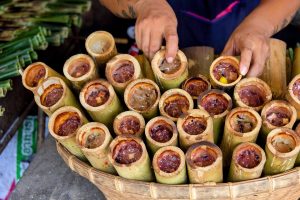 Khao Lam or Kranlan
Khao Lam is made from brown or white sticky rice. It is steamed over hot coals. The basic version was filled with some water and rice flavored with a little salt. More elaborate versions now contain coconut milk, grated coconut, sugar and red beans.  After being cooked over the coals the Khao Lam has a custard or rice pudding texture.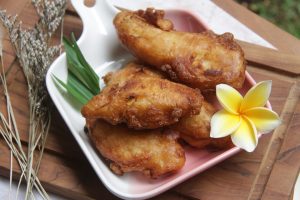 Fried Banana (Kluai thot)
Peeled sliced burro bananas (or kluai nam wa) are immersed in a thin rice flour batter and then are deep fried to perfection. The batter is a mixture of rice flour, all-purpose flour, salt, baking soda, baking powder, salt, sugar and sesame seeds. This hot fresh sweet crunchy treat is available from street vendors.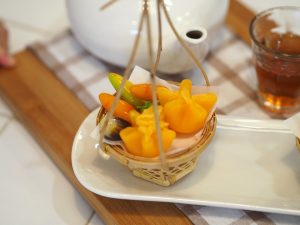 Flower Egg Yolk Tart (Thong Yip)
This traditional dessert is made for special occasions like weddings and housewarmings. These are considered to be lucky and thought to bring wealth and success to those who receive them. They are made of chicken or duck egg yolks, sugar, and jasmine flavored water. Typically, they are shaped into a flower or star shape.
Where to Eat
Somtum Der
Somtum Der has a branch in Silom and ThongLor (Sukhumvit 55). The restaurant serves up Thai food from the northeast region near Laos, called Isaan. The food has an authentic Isan flair. Some of the most highly rated dishes include Deep Fried Spicy Minced Pork ($2.50), Spicy Papaya Salad with Deep Fried Minced Catfish ($2.50), and Grilled Coconut Milk Marinated Pork Skewers ($3.00).
Jeh O Chula
Jeh O Chula is a famous family-owned restaurant. The most famous dish is Mama Noodles Tom Yum, sold late at night. People queue in line for hours to get some of the spicy goodness. The menu is diverse with many types of dishes. Located in Pathumwan, near the National Stadium BTS station, Jeh O Chula is open from 4:30pm until the wee hours of the morning. Dishes cost between $1-5. Try some of the recommended dishes like the Shrimp with Tofu, the Crispy Fried Pork, and the Golden Brown Duck.
Aey Seafood
Do you love seafood? If you do, you might want to try the best seafood restaurant in the city, Aey Seafood. Munch on .5kg of Grilled Tiger Prawns for $12, Tom Yam with Prawns for $6. Stir-fried Crab in Curry Powder is highly recommended as are the Scallops Baked in Butter and Garlic.  Aey Seafood is on Banthat Thong Road, in the Pathumwan area and is only open in the evenings.
55 Pochana
55 Pochana is an excellent restaurant with local fare in the heart of Sukhumvit. In business for over 25 years, the owners know how to please their customers with scrumptious delights. The restaurant is open from 6:30pm-3am. Try the Fried Crispy Duck with Chilli Sauce, the Fried Oyster with Egg, and the Fried Clam with Brown Chili. Dishes cost between $4-10.
Thipsamai Restaurant
For the best Pad Thai in Bangkok, Thailand, visit Thipsamai Restaurant on Mahachai Road in Samranrat, Pranakorn. Thipsamai is open from 10am-12am but is closed on Tuesdays. Dishes cost around $3-5. Give the Superb Pad Thai a try! 
Points of Interest
To get an idea of the city and the tourist locations suggested in this article, have a look at this Points of Interest Map.
How to Get Around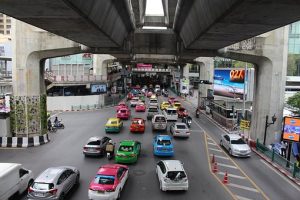 BTS Skytrain/MRT
There are many ways to get around the sprawling city of Bangkok. One of simplest ways is by using the BTS Skytrain. There are two lines with 34 stations. The lines meet at Siam Station. It is easy to navigate and purchase tickets. Tickets can run from $.40-$1.40 depending on the fare. A great option for tourists is to buy a day pass for $3.20 which allows you to hop on/hop off at stations around the city for the day.  Trains run from 5:30am until midnight and can be busy at peak hours. The MRT (underground rail) is also an option but does not have stops near tourist destinations.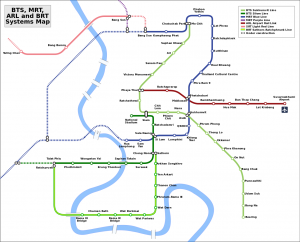 Taxis/Grab
Taxis are plentiful but the traffic in Bangkok can be atrocious. For that reason, the BTS Skytrain will typically be the fastest way to travel, even though it will require some walking from the station to your destination. If unable to walk, taxis are a good choice. Taxis are metered and the passenger also pays toll fees. There are also surcharges for high traffic times. Taking a taxi through the center of the city may run around $3.00. Grab (e-hailing app) is a common method of transportation in Southeast Asia. Base fare is $1.76 and then it will vary based on distance, tolls, and time of day.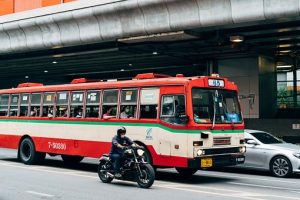 Bus
Buses are an option but are more difficult because of the lack of signage in English. If you choose a bus option, be sure to familiarize yourself with the routes in advance and know which bus number you want to hail and where you want to get off. Non-air-conditioned bus fares are around $.21 and air-conditioned bus fares can go up to $.63.  You pay the conductor on the bus when you let them know the name of your stop. While the bus may be the most affordable option, it may be best to use it with a native Thai speaker.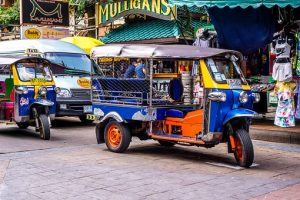 Tuk-tuk
Guests to Bangkok, Thailand often wish to hire a tuk-tuk once, just for the experience. It's not the best way to travel all of the time because of noise and air pollution. It is also wise not to take a tuk-tuk between the rush hour times of 7-9am and 4-7pm. Fares are based on bargaining. Be sure to ask the fare before agreeing. It will always be outrageously high to begin with, so be sure to negotiate. For a short trip in the city, it should cost about $.79.  If you wish to tip generously after the ride, that is a better than agreeing to an initial high fare. Like other sectors, the lack of income from tourism during the pandemic challenged tuk-tuk drivers.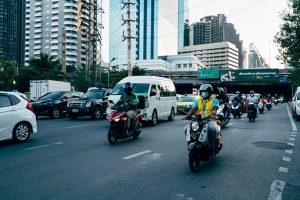 Motorcycle Taxis
Typically motorcycle taxis are readily available at the entrance to housing additions and workers on their way home from the bus and Skytrain hire them. They can make it through traffic congestion better but are more dangerous. It is important to have a helmet and hand on tight if you plan to catch a ride. Fares are usually around $.25 but be sure to negotiate in advance.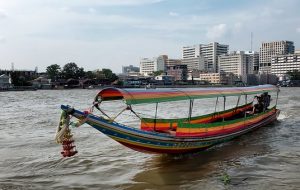 Long-tailed Boat
Another mode of transportation to take just for the experience is the long-tailed boat. The fares are very affordable at around $.50. Similar to the bus, it is important to know where you want to go. It is also important to be ready to jump on/off because they do not stop for long for embarking and disembarking. It is a mode of transportation that you may wish to use only when traveling with a native Thai speaker. Long-tailed boats are available for rent for an hour or two if you want just a private way to explore without the stress of the taxi service. The cost is around $20.
How Many Days to Stay
Bangkok has amazing things to see and excellent food to eat, but it is a massive city and it not a relaxing tourist destination. It is good to pair a trip to Bangkok with another destination like Phuket (southern beaches) or Chiang Mai (northern mountains). Spending three to five days in the sprawling metropolis should be sufficient.
Budget/Summary of Expenses
A trip for two people to Bangkok for one full week costs approximately $800. This figure is based on the average spent by other visitors to the city. Other travelers have spent an average of $15/day for food per person, $4/day for transportation per person, and $60/night for a hotel room. Additional costs include entrance fees and souvenirs.
Bangkok Travel Tips (Being Smart and Safe)
When traveling in Bangkok, always be sure to set prices with tuk-tuk drivers in advance of stepping into the vehicle. Also be sure in a taxi that the meter is running. Also keep track of your route on your own device to make sure that you are taking the shortest route. If it seems that you are not, show the driver your device to let them know you are aware.
Water is not clean. Never drink from the tap but drink bottled water. If you buy local fruits and vegetables to prepare yourself, make sure to clean them with filtered water before consuming them. For that reason, it is best to eat only cooked food at street vendors. Be prepared with stomach medication in case you have an issue from eating the local food.
Not everyone you meet is your new best friend. Be careful not to let strangers know too many personal facts about you. Maintain your distance with them. Respect the local culture and religion. Dress modestly and show reverence for monks and for the royal family. Women should avoid dark and desolate places and if being that area is necessary, it is best to not go alone.
Bangkok, Thailand is an amazing place. The main people to be aware of are scammers and pickpockets. It is important to be cautious and smart when traveling in Bangkok just like you would be in any other city. Enjoy the adventure!