Disclaimer: Posts may contain affiliate links that help support The Go To Family website.
Vacation goers have been flocking to Discovery Cove in Orlando since it opened in 2000. And it's no wonder why. Packed with adventures, or relaxation, for the whole family, the all-inclusive experience has been described as the ultimate vacation spot in Orlando.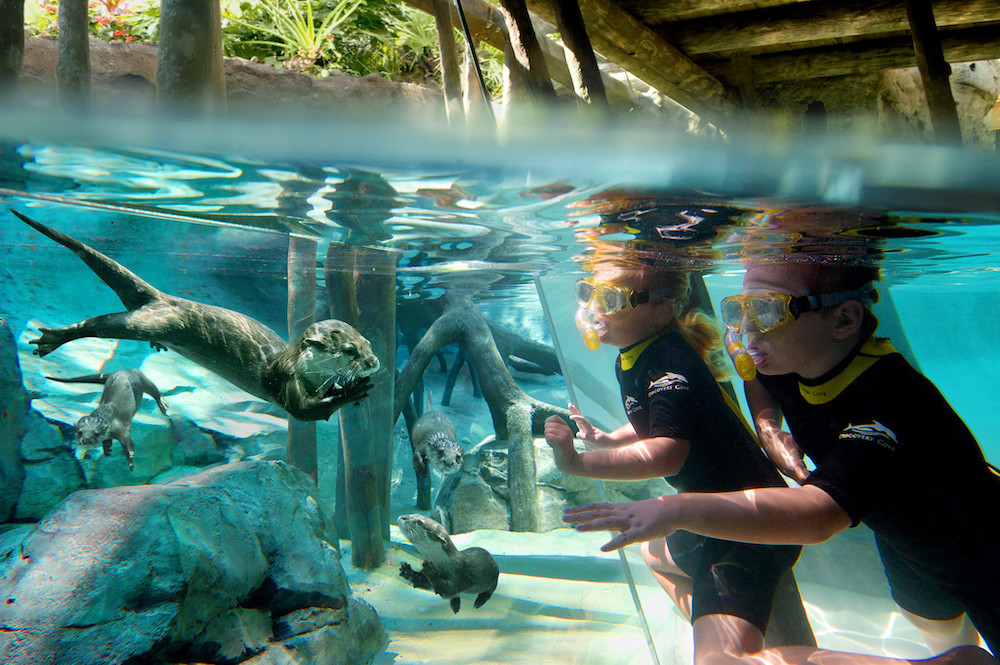 Just on the other side of Highway 4 from a certain other theme park you may have heard of in Orlando, Discovery Cove is a part of the Sea World group; also including Sea World and Aquatica, Sea World's waterpark.
Discovery Cove is like no other park you'll find, even in a saturated town like Orlando. A Day pass package gives guests unlimited access to the experiences of
–The Grand Reef- where guests swim and snorkel with thousands of tropical fish in a coral reef habitat.
                           –Explorer's Aviary-a hidden treasure where hundreds of colorful birds soar above and around you.

—Serenity Bay– Discovery Cove's tropical resort pool where guests enjoy the scenic palms and tropical atmosphere of this beach-front paradise.
–Wind-Away River- giving guests the opportunity to ride the soothing currents of a tropical river as it winds past sandy beaches, through a dense rain forest, beneath the rocky terrain of cascading waterfalls, and through an underwater cave.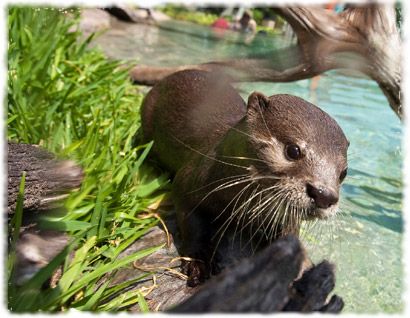 —Freshwater Oasis– with a rainforest canopy above and sparkling clear springs below this oasis features wading adventures and face-to-face encounters with playful otters and curious marmosets.
But wait, there's more.
Freshly prepared breakfast and lunch, plus snacks throughout the day are all complimentary, as are beverages, including sodas, water and (for those 21 years of age and older) beer and wine.
All swim gear (mask, snorkel, and swim vest or wetsuit), towels, locker, and sunscreen are provided by Discovery Cove and your party will receive a complimentary photo portrait upon entry.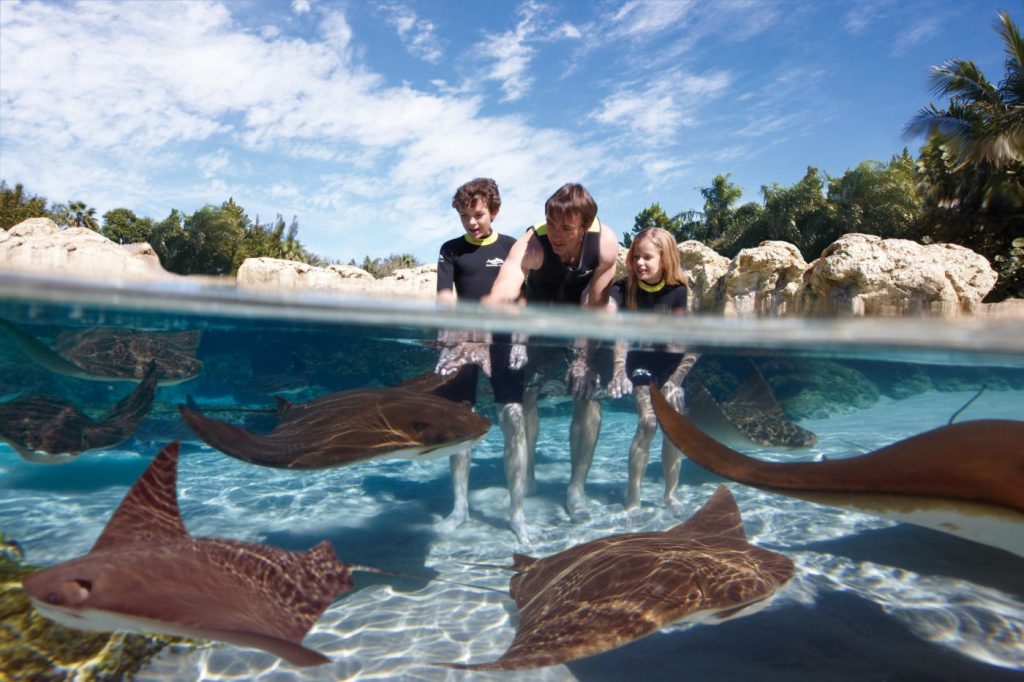 As imagined, all this paradise and fun comes with a price tag. The Discovery Cove touts entry into the park starting at $149 for a Day Pass Package. There are no kids' tickets, that price includes children as young as three. Kids two and under are free with a paying adult.
However, upon looking at the calendar, the $149 price tag is only for those looking to spend a day in Discovery Cove in the dead of winter. Summer prices start at $224 and can go up to $324- yes, per person, even your three year old. Florida residents get a 20% discount.
It's steep, but guests rave that the price tag is well worth it, especially with a few add-ons.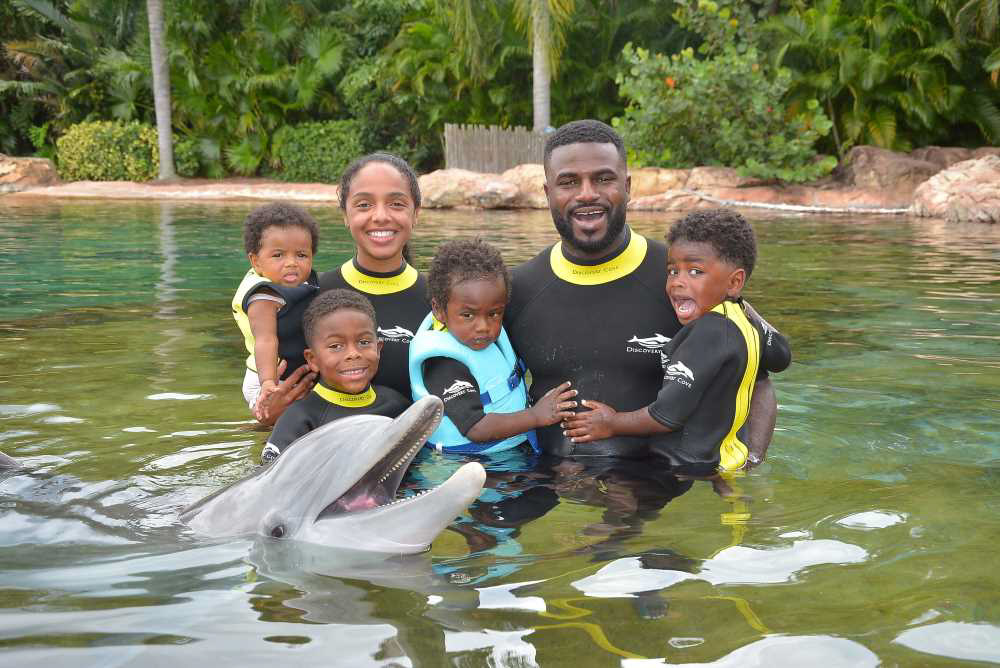 The package many look at first is the Dolphin Swim Day Resort Package. This will include all of the above and includes a reserved dolphin experience. Prices for this start at $224 (low season) and can rocket up to $499.
Other popular upgrades include:
–Premium drink package, which includes unlimited signature cocktails, drinks from a full bar, (along with the offered beer and wine) – $40 and up.
—SeaVenture, one of the most popular upgrades that has you donning a special underwater helmet so you can walk on the reef floor and be surrounded by all of the wonder of the sea – $49 and up.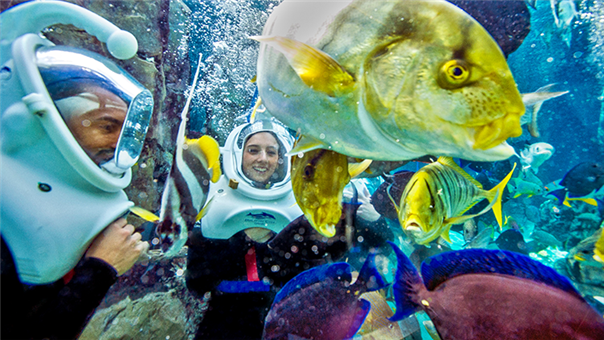 –Choose one of two animal-interaction upgrades: stingray feeding (starting at $69) or the flamingo mingle (starting at $59) These experiences are scheduled at the same time of day so you can't book both.
–Reserved daybed on or near the beach – $69
–Several other animal upgrades, including swimming with over 20 sharks (starting at $129) or heading off the public pathways for a 30-minute Animal Trek that has one-on-one interactions with some of the park's creatures (starting at $79).
—Trainer for a Day (only available to add to a reservation with a dolphin experience. Includes a second dolphin interaction with a smaller group, a private session at the otter area of Freshwater Oasis, a private guide for both the Explorer's Aviary and the Grand Reef, and "other special animal interactions." (starting at $199).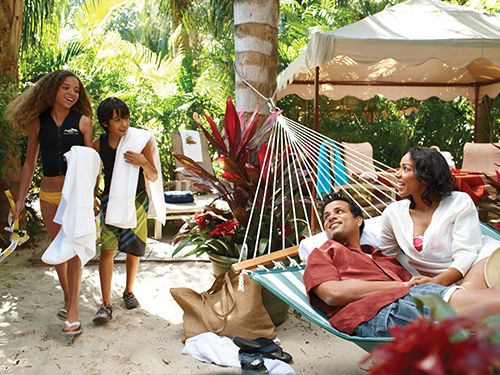 –Private cabanas that come with a mini-fridge stocked with water and soft drinks, towel service, snack basket, table and chairs, two additional lounge chairs, and lush landscaping views – $199 and up.
Or, if you have some serious change to drop…
Elite and VIP cabanas (which include all of the above, plus dolphin-experience enhancements, photo packages, and more) – $499-$799
For those who would rather carve out some relaxing time at Discover Cove, rather than pack a scedule so tight that you can't fully immerse yourself in all the activities, consider adding a pass to for 14 consecutive days of unlimited admission to both SeaWorld and Aquatica in Orlando for only $40 more dollars.
Now that is value, and you will find plenty more adventures to try in both parks that could make up for anything you miss at Discovery Cove.
There's obviously countless adventures available at Discovery Cove, and the tropical oasis is well worth the visit if you find yourself in Orlando, seeking something a little different from dizzying rides with lengthy line ups.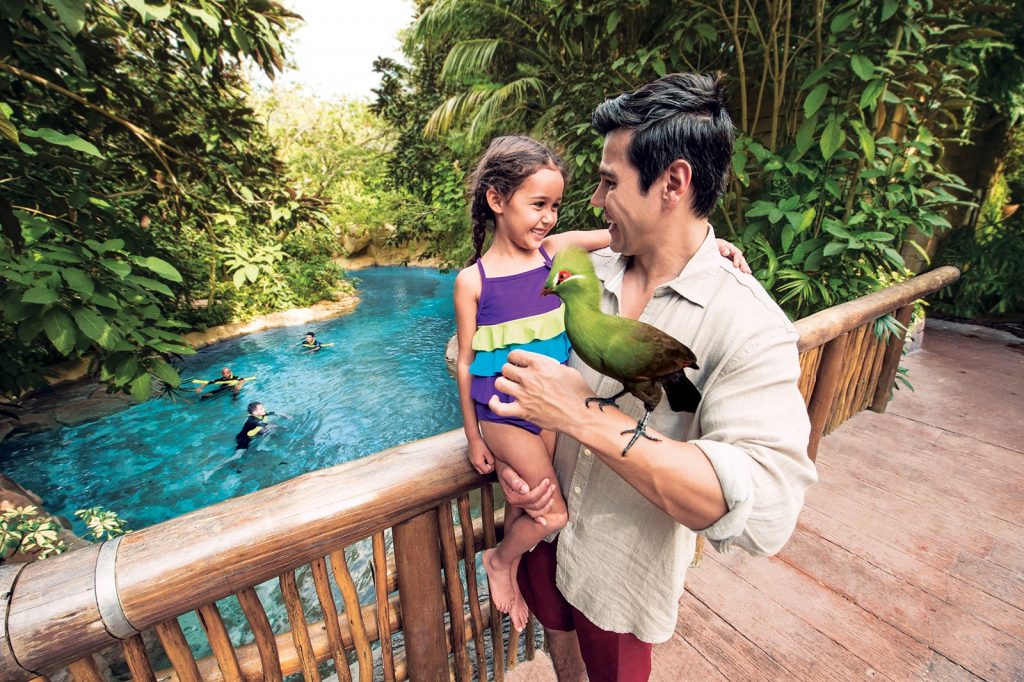 No, it won't fit everyone's budget, but if you were looking to visit both Sea World and Aquatica, the deep discount with the $40 add-on does really provide bang for your buck…and maybe gives you a little wriggle room to upgrade that drink package- er, we mean, spoil the kids that stingray feeding experience…no, we really mean the drink upgrade!
We love to hear from you and want to know if you've ever been to Discovery Cove? Let us know which experiences you recommend to future guests and tell us about your time in the park!
Be sure to check out our vlog The Go To Family. Connect with us on Instagram, Twitter, and Pinterest !