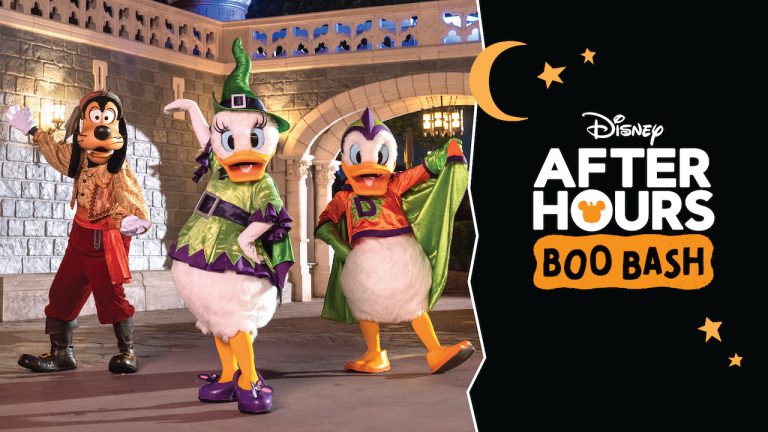 Walt Disney World's 'Disney After Hours Boo Bash' is proving to be very popular! Tickets immediately sold old during the early purchase period. The good news for people who could not snag a ticket is that Walt Disney World is adding five new dates for the Spooktacular!
Starting on June 15, tickets will go on sale for five more Sundays: September 5th, 12th, and 19th and October 10th and 17th. By the sounds of things, we wouldn't sleep on booking you tickets as soon as these spots become available!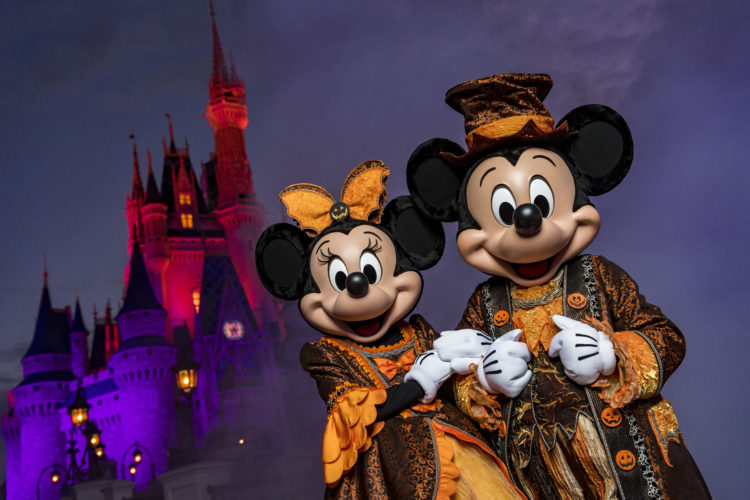 The tickets for the "hauntingly fun-filled three-hour event" will be available to purchase online or by calling Disney Reservations with prices starting at $129 plus tax for August and September nights, $159 plus tax for October nights, and $199 plus tax for Halloween night itself.
Though the event begins at 9pm and goes until midnight, the ticket grants guests entry into the Magic Kingdom park at 7pm so they can take advantage of the rides prior to the beginning of the ghostly night time events. A day ticket or park reservation is not required for the Bash.
Disney has shared some of what guest can expect at the Disney After Hours Boo Bash like Mickey's Happy Halloween Cavalcade where Mickey Mouse and friends, dressed up for the occasion, will pass by and greet guests.
The Disney Villains Halloween Cavalcade will also be on hand with Ursula, Captain Hook, Queen of Hearts, Bowler Hat Guy, the Evil Queen and more, providing delightful chills as they celebrate their favorite time of the year.
You won' be able to miss the magnificent Maleficent, taking form of a fire-breathing dragon!  Her appearance is sure to wow the whole family.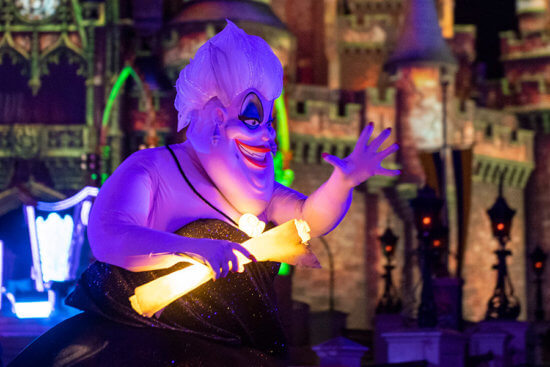 Of course the Nightmare before Christmas characters- Sally, Oogie Boogie and the Pumpkin King himself, Jack Skellington will take part in Jack's Nightmare Cavalcade, taking their spooky ride down the parade path.
As the park closes to day guests, Boo Bash goers will experience much shorter queue times at more than 20 attractions remaining open like  Seven Dwarfs Mine Train,  Jungle Cruise, Big Thunder Mountain Railroad, Dumbo the Flying Elephant, Peter Pan's Flight and Space Mountain to name but a few. Don't forget to be on the lookout for the lovely Miss Carlotta while at the Haunted Mansion attraction- a favorite for Halloween lovers.
Guests under 14 are encouraged to dress in costume (no costumes will be allowed for older teenagers or adults) and many of your favorites will be donning their Halloween best as they skulk about the Kingdom.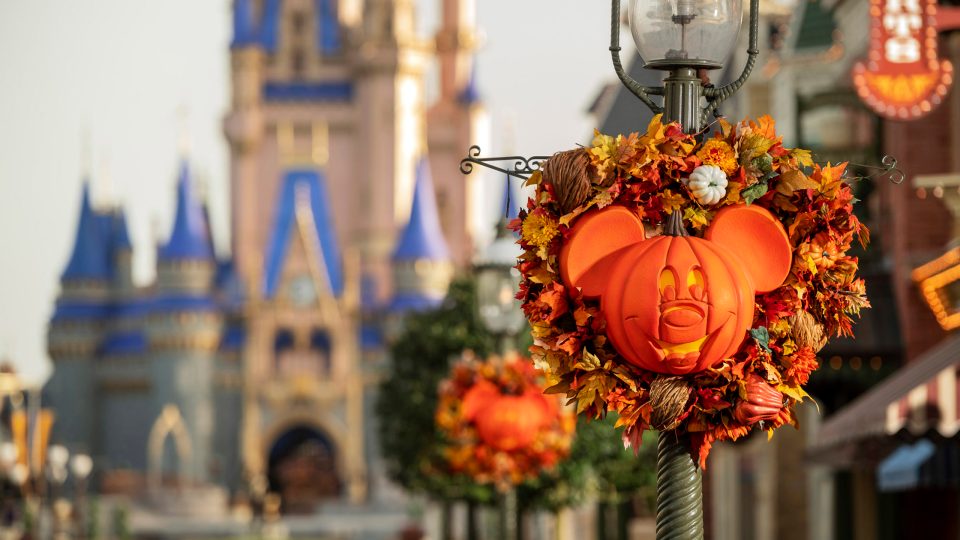 The Magic Kingdom itself will be dressed in its fall and Halloween best. At the beginning of fall, Main Street, U.S.A. will receive a magical transformation as she prepares for not just Halloween, but for the start of "The World's Most Magical Celebration"- Walt Disney World's golden jubilee.
Expect to see Cinderella and her friends take center stage as the Walt Disney Imagineers blend the beauty of fall with Cinderella's enchanting story-creating special pumpkin coach decorations that will add to the park's sparkling EARidescence.
Complimentary ice cream novelties, popcorn and select beverages are included in the price of the event with a variety of specialty food and drinks available for purchase.
Be sure to try an Apple Ginger Dale frozen drink (frozen apple cider mixed with ginger ale and topped with whipped cream) or a Foolish Mortal Funnel Cake… if you dare.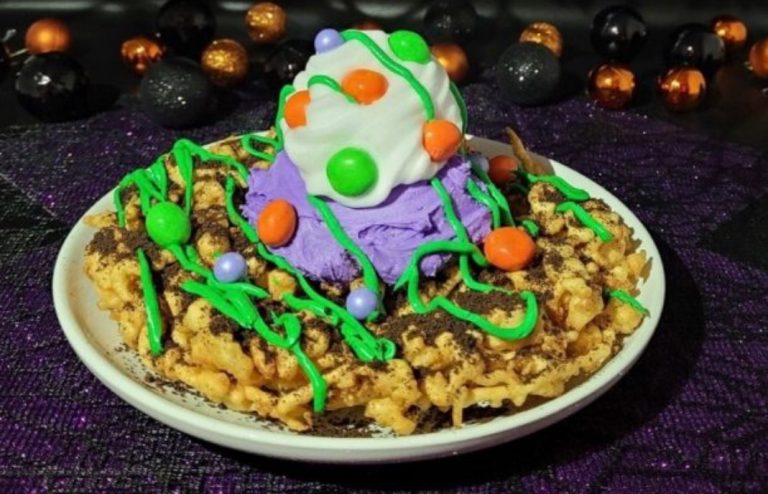 Trick-or-treating for the "foolish mortals" (yes, you!) will be a big part of the event, you are assured to get your fill of Halloween candy from all around the Magic Kingdom.
When it comes to entertainment, Disney has been rather tight lipped, other that the Cadaver Dans, back from the great beyond for (more than) one night only.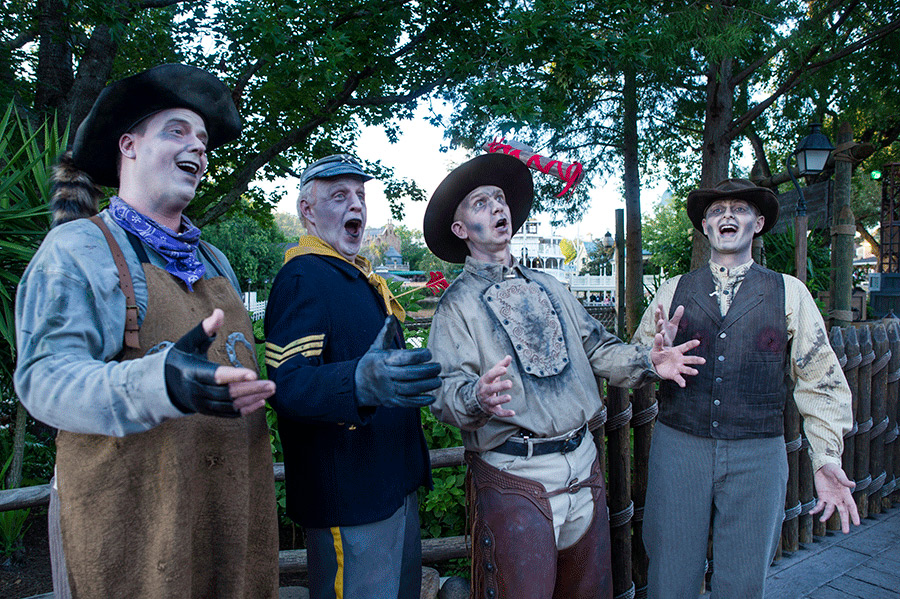 We know the Beacons of Light will be heralding in Disney World's 50th anniversary- this spectacular light show is promised to flow through all four parks with Magic Kingdom's illuminations lighting up the newly spruced Cinderella's castle and, according to whispers, projections will light up Main Street USA for the first time in Disney World history. 
The biggest question on every guest's lips, however, is "will there be fireworks at the Boo Bash?"
The EPCOT barges have been active lately and Disney's Hollywood Studios is getting work done on the Fantasmic lagoon. After hours firework trials have been reported to be coming from Magic Kingdom a couple of months back.
While no official announcement about the Happily Ever After or any other fireworks has been made, it seems a golden anniversary would require golden bursts of pyrotechnics!
For those getting excited about the "Disney After Hours Boo Bash", here are the dates available to book as of  June 15:
Tuesday, Aug. 10, 2021
Tuesday, Aug. 17, 2021
Friday, Aug. 20, 2021
Tuesday, Aug. 24, 2021
Friday, Aug. 27, 2021
Tuesday, Aug. 31, 2021
Friday, Sept. 3, 2021
Sunday, September 5, 2021 (NEW DTAE)
Tuesday, Sept. 7, 2021
Friday, Sept. 10, 2021
Sunday, September 12, 2021 (NEW DATE)
Tuesday, Sept. 14, 2021
Friday, Sept. 17, 2021
Sunday, September 19, 2021 (NEW DATE)
Tuesday, Sept. 21, 2021
Friday, Sept. 24, 2021
The gap in dates here will accommodate the kick-off to Disney' world's 50th anniversary celebrations.
Tuesday, Oct. 5, 2021
Friday, Oct. 8, 2021
Sunday, October 10, 2021 (NEW DATE)
Tuesday, Oct. 12, 2021
Friday, Oct. 15, 2021
Sunday, October 17, 2021 (NEW DATE)
Tuesday, Oct. 19, 2021
Friday, Oct. 22, 2021
Sunday, Oct. 24, 2021
Tuesday, Oct. 26, 2021
Friday, Oct. 29, 2021
Sunday, Oct. 31, 2021
Are you excited about the Boo Bash and will you be attending this year? Do you think the hefty price tag will be worth it or are you waiting to hear a little more about the entertainment and possible fireworks?
Tell us your thoughts- we'd love to hear from you in the comments section below!
Be sure to check out our vlog The Go To Family. Connect with us on Instagram, Twitter, and Pinterest !