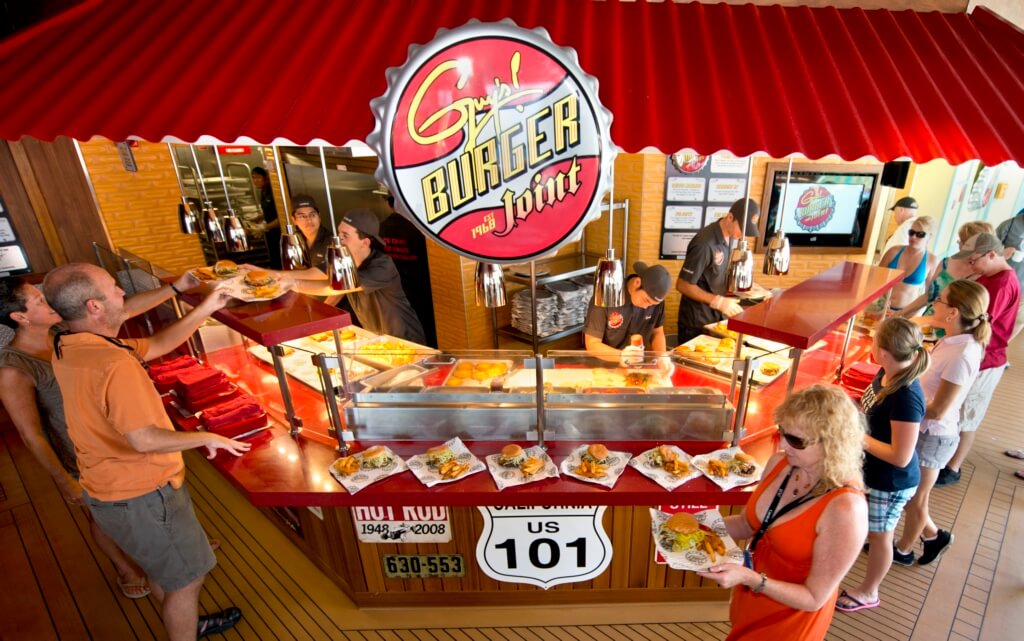 If you love Carnival Cruise Line and you love a good, juicy burger, this is for you. That's because Carnival has announced a new partnership with Guy Fieri to help deliver his famous 'Straight Up' burger to your home. That's right – you can enjoy the flavor of the high seas in the comfort of your own home for a limited time this summer. Here's what you need to know.
Guy Fieri Announces New Partnership With Carnival Cruise Line For Burger Home Delivery
If you are a big fan of Guy's Burger Joint the Carnival Cruise Line, you can now satisfy your craving at home with the delivery of the Straight Up burger. Thanks to a partnership with Guy's Flavortown Kitchen, the burger is now available to order via food delivery apps like Uber Eats, Postmates, DoorDash, Grubhub, Bite Squad, and Waitr. The cost is $11.99 with free delivery via select apps.
"During our pause our guests have been craving these delicious hand-crafted burgers and we're pleased to be able to satisfy their cravings and enjoy Guy's delicious hand-crafted burgers at home," said Carnival's Cyrus Marfatia, VP culinary and dining.
This is an idea that everyone can certainly get behind. If you've had a 'Straight Up' burger in the past, you'll know that it's a shipboard favorite, with thousands of passengers each year devouring the 'super melty cheese' burger with a choice of different fixings, including Guy's signature donkey sauce.
Guy also released a statement that said, "I'm stoked to bring the best burger on the seas, my Straight Up burger, straight to your doorstep via Guy's Flavortown Kitchen.  When it comes to righteous food offerings, my friends at Carnival are the real deal so it's great to be able to bring part of the Guy's Burger Joint experience to cruisers and land lovers alike."
Launched in 2011, the poolside Guy's Burger Joint is featured on all of Carnival Cruise Line's 24 ships. The largest Guy's Burger Joint at sea will be aboard Carnival's newest ship, Mardi Gras, set to debut from Port Canaveral, Fla., July 31, 2021.
Let us know what your travel plans are for this summer. Are you staying close to home or are you looking for an adventure abroad? Drop us a line with your thoughts in our comments section below. And as always, don't forget to come back to The Go To Family for all the latest news and updates on Covid-19 related travel.
Be sure to check out our vlog The Go To Family. Connect with us on Instagram, Twitter, and Pinterest !