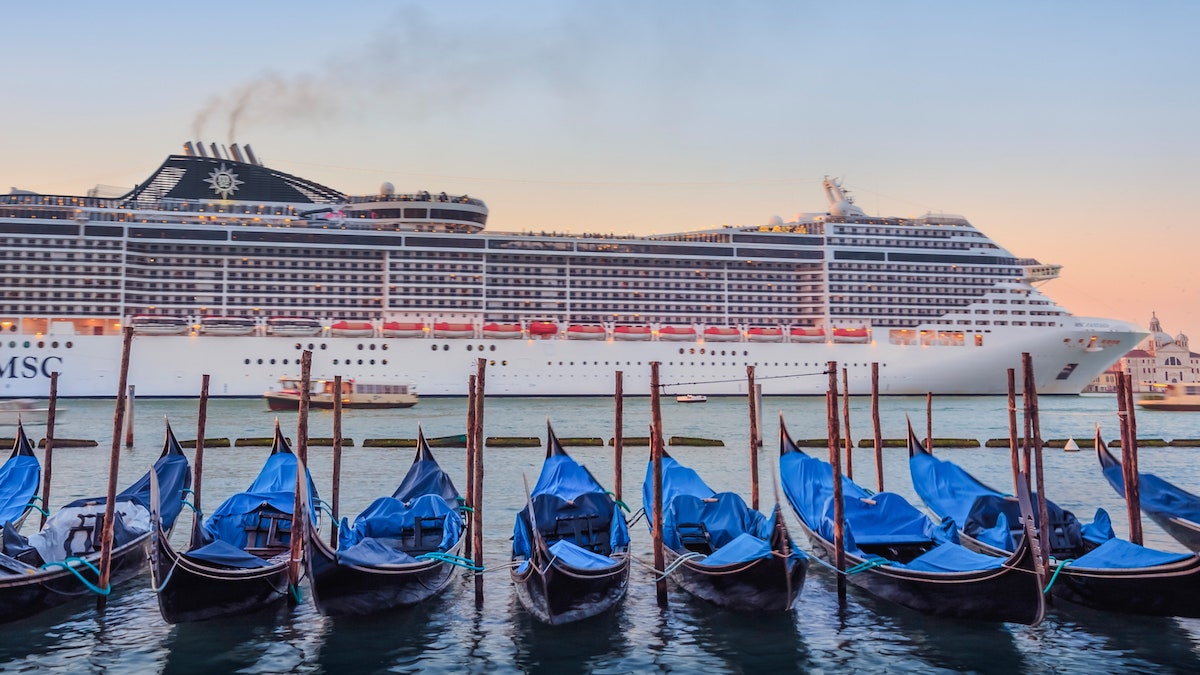 If your ideal vacation is eating a bowl of hearty pasta while cruising the Mediterranean Sea and perhaps even passing a few Italian ports by, we've got news for you. There's a new report that says Venice has banned large cruise ships from their famous canal. In other words, buon-gior-NO. Here's what you need to know.
Here's What You Need To Know Before Booking A Cruise Ship To Venice
The Italian government announced the ban this week, calling it "an important step for the safeguarding of the Venetian lagoon" in a statement. Culture Minister Dario Franceschini, who has regularly voiced his opposition to cruise ships, tweeted that he was "proud of having kept a promise." The law applies to ships weighing more than 25,000 tons, measuring more than 590 feet long, or more than 115 feet high.
"It is not going too far to define this day as historic," he said, adding that the decree would go into effect on August 1.

"Ships will no longer pass in front of St. Mark's or the Giudecca Canal," he added, referring to the route they traditionally take through the center of the city.
So, what does this mean? Cruise companies will have to scrap Venice from their itineraries until the industrial port of Marghera is repurposed for passenger use. The government has appointed a commissioner to fast-track the job, which would ordinarily take about six months.
UNESCO, which is based in Paris, recommended last month adding Venice to its list of World Heritage in Danger sites. The recommendation was expected to get consideration later this month during a UNESCO meeting in Fuzhou, China. For years, protesters hoisting signs proclaiming "No Big Ships" have demonstrated in Venice, sometimes taking to small boats to sail close to the cruise liner.
In the meantime, tell us, where are your travels taking you this season? Drop us a line with your thoughts in our comments section below. How concerned are you about all of the new travel rules and regulations this year? Also, come back here for all of the latest news, details, and updates you need to know before your next adventure!
Be sure to check out our vlog The Go To Family. Connect with us on Instagram, Twitter, and Pinterest !