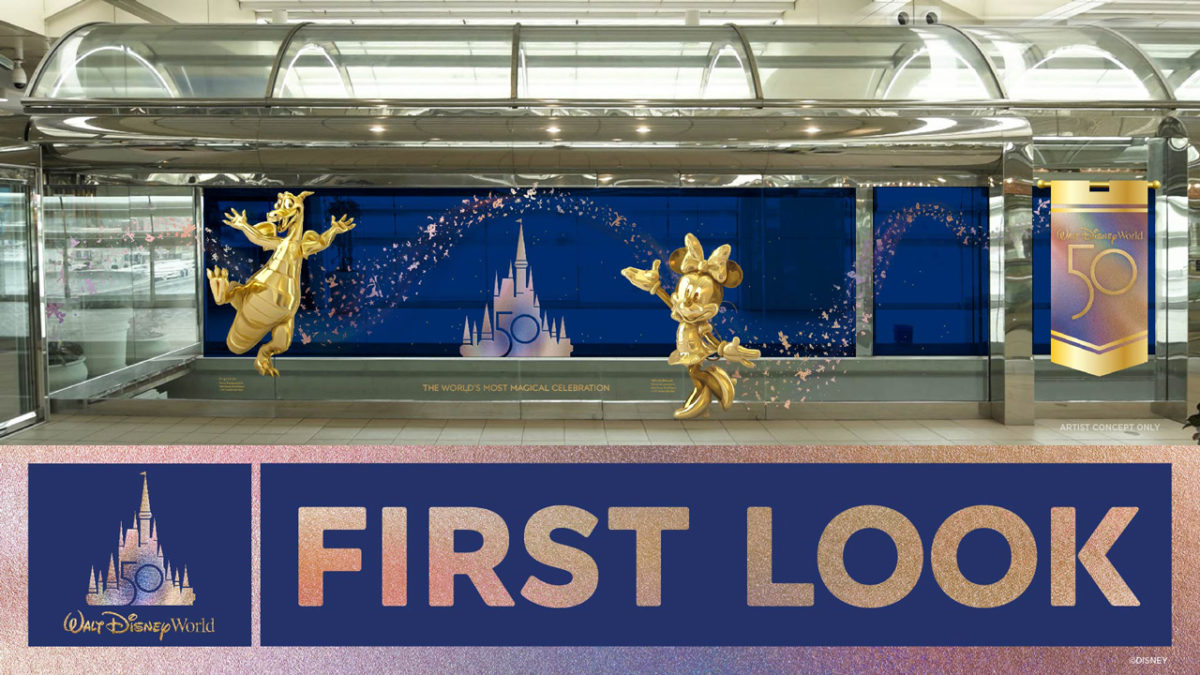 A lot of travelers would agree that smell, see, and hear Walt Disney World the moment that you step inside Orlando International Airport, so it's no wonder that MCO is pulling out all of the stops for Disney's 50th anniversary this year. In fact, there are new reports that say the airport is celebrating Walt Disney World's anniversary with a new art installation and photo-op opportunity. Here's what you need to know.
Orlando International Airport Celebrating Disney's 50th Anniversary With New Art Installation
Orlando International Airport added some Disney touches this week to allow travelers to be fully immersed into Disney's 50th anniversary the moment that they arrive in Central Florida. Reports say that cast members are working with the Greater Orlando Aviation Authority to create a one-of-a-kind art installation at the terminal train stations. It will include Disney characters, EARidescent light patterns, and a photo-op with a recreation of a Disney ride vehicle. How fun!
"Orlando International Airport and Walt Disney World share a commitment to the Central Florida community. We proudly recognize the outstanding accomplishment of our longtime partner as they celebrate this impressive 50th Anniversary milestone," said Phil Brown, Chief Executive Officer of the GOAA. "Collaborating on a commemorative presence at Florida's busiest airport means we get to be the first moment of celebration for guests flying into Orlando to be part of the spectacular fanfare."
There are also reports that say a new Disney store will open at the airport's highly-anticipated South Terminal Complex in 2022. The South Terminal will add 15 gates, accommodating up to 20 aircrafts and 10-12 million annual passengers when it opens next year.
In the meantime, let us know what you think by leaving us a line with your thoughts below. Tell us, where are your travels taking you this year? Also, don't forget to come back right here for all the latest news and updates in the travel industry along with what you need to know about Covid-19 travel.
https://www.youtube.com/watch?v=n-R6wYQ58eo
Be sure to check out our vlog The Go To Family. Connect with us on Instagram, Twitter, and Pinterest !