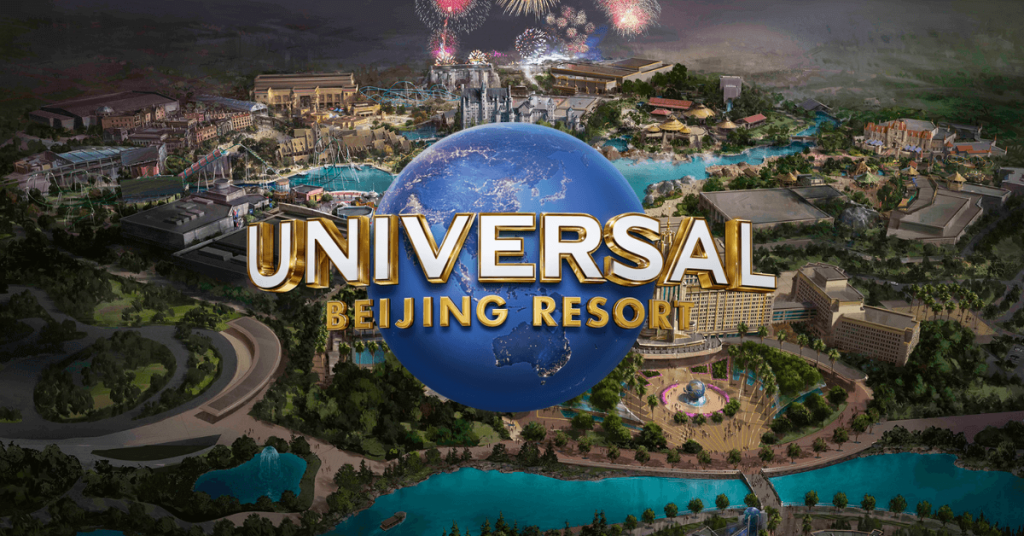 It has been a long wait for fans of the Universal theme parks and resorts, all wanting to explore Beijing's newest offering. Whispers now indicate the wait could be over with a soft opening, and grand opening date set for the coming weeks!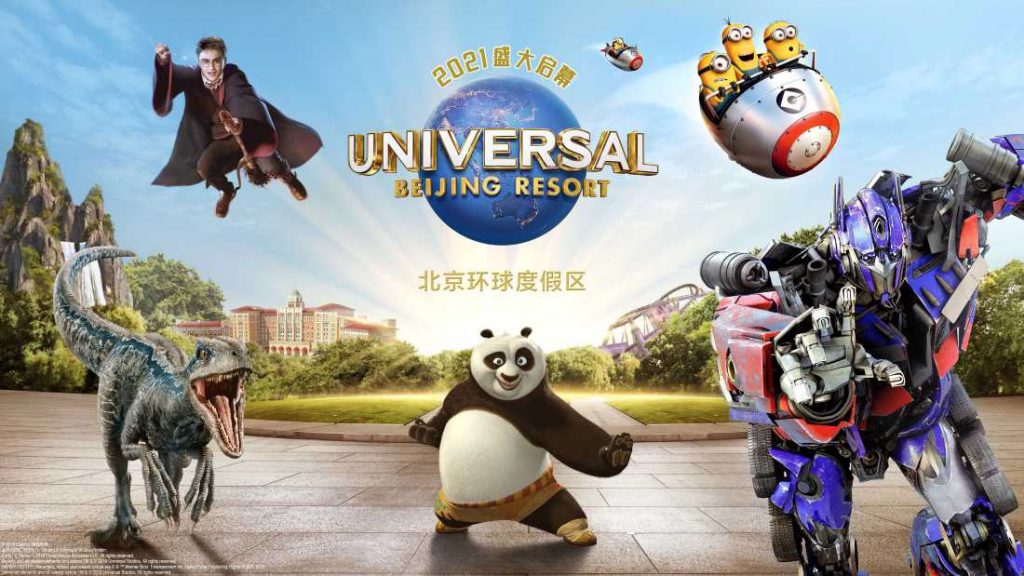 A tweet from an unofficial yet solidly reliable Universal twitter account has told of a soft opening for Universal employees happening this week, ahead of a June 1 grand opening to the public!
While official word has not come from Universal themselves, this opening date is in line with what was projected by Universal when they announced the end of major construction on the resort in January of this year.
Universal Studios Beijing marks the first new Universal Studios park since Universal Studios Singapore opened in 2010. It will become the seventh Universal-built park in the world and the third in Asia, with Universal Studios Japan, opened 20 years ago (!) in 2001, rounding out the Asian locations.
Once completed, Universal Beijing Resort will consist of two theme parks (Universal Studios Beijing and a second planned theme park), a water park, a shopping, dining and entertainment complex (Universal City Walk Beijing), and six hotels.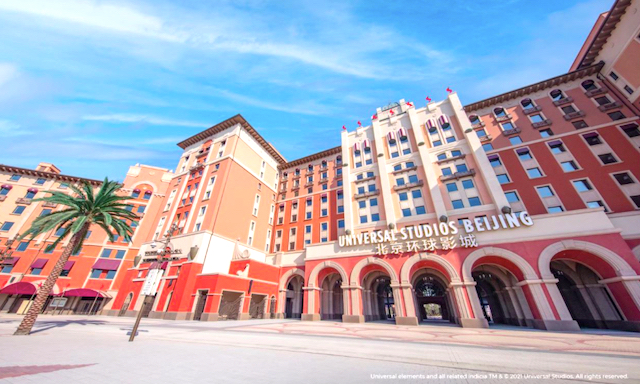 For the 2021 opening – hopefully June 1 as leaked- guests will be able to visit Universal studios, Universal City Walk and stay in one of two hotels.
The Universal Studios Grand Hotel, right at the entrance of the park promises to make guests feel like true movie stars as they step into the golden age of Hollywood. Exclusive early park admission is included with the stay that is touted to offer "a dazzling mix of classic Hollywood style and contemporary comfort". The Grand Hotel offers two different restaurants and a cafe to choose from.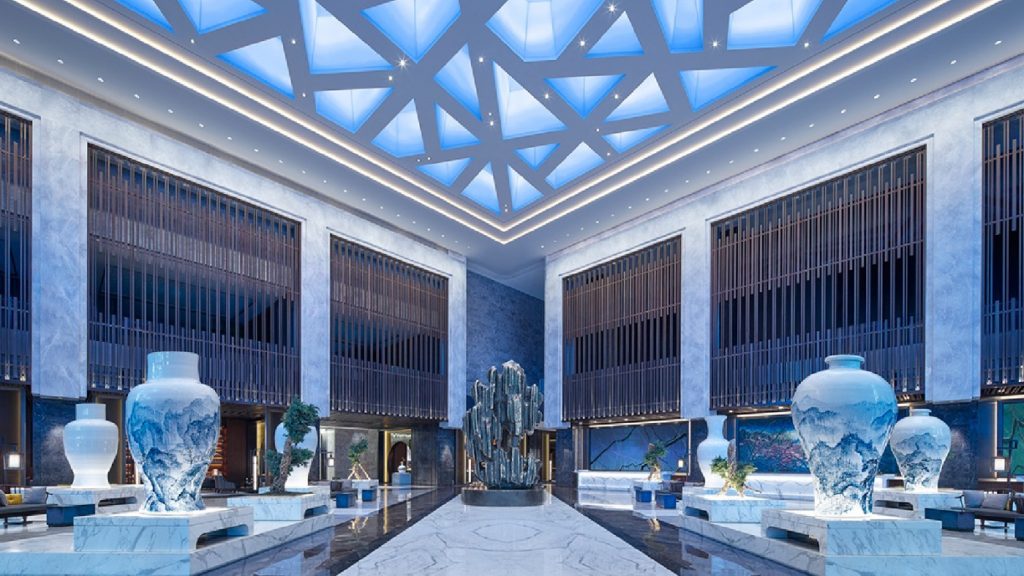 The NUO Resort Hotel is an "opulent escape" inspired by the Qing Dynasty's Old Summer House.
The captivating style "evokes the harmonious balance between man and nature". Guests will enjoy picturesque gardens where they can admire Chinese artwork and Qing-inspired design details.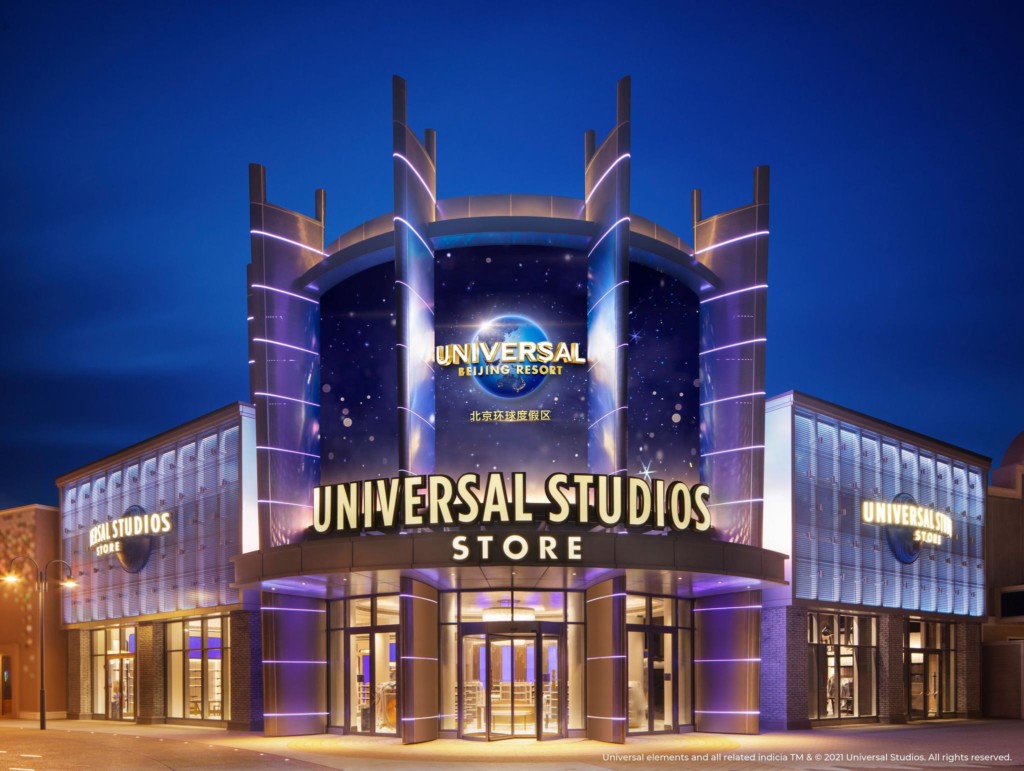 Universal City Walk Beijing will be offering fourteen different food and beverage options, seven retail outlets as well as boasting a cinema. It is said Universal City Walk Beijing has "just what you need to complete your memorable day at the park", promising fun in a "world of plentiful possibilities".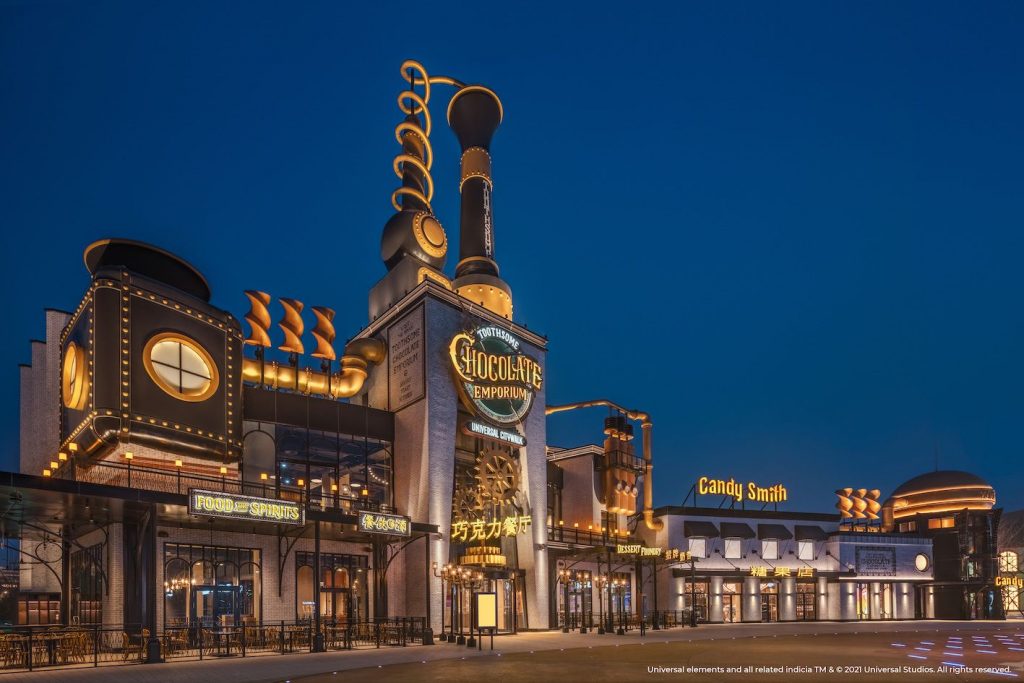 Universal Studios Beijing offers seven themed Lands, each part of an iconic Universal movie franchise, featuring all-new attractions along side favorite Universal rides, shows and attractions from around the world.
Hollywood Boulevard will replicate the original glitz and glam of California's Hollywood Boulevard from the 1970s. 'Lights, Camera, Action', a behind-the-scenes tour of special effects in Hollywood, is the feature attraction in this 'land'. There is also a large stage for theatre performances and movie screenings.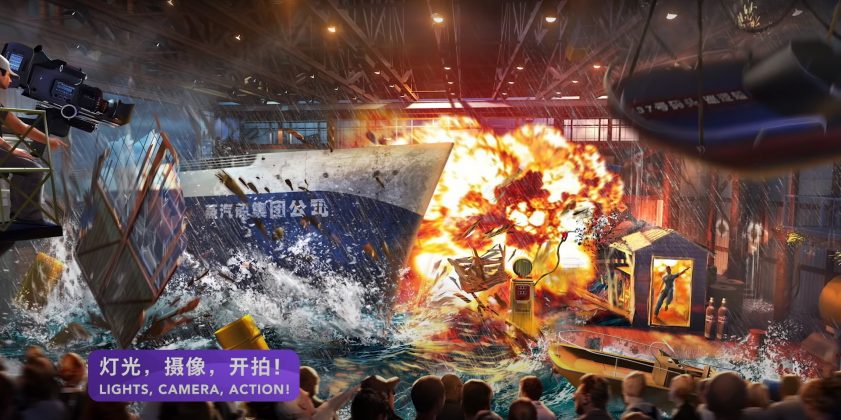 Jurassic World: Isla Nublar brings epic adventure. This fully immersive land offers encounters with Tyrannosaurus, Velociraptors and Idmonius Rex who roam freely in the park – after all , no park could ever really contain the dinos! Props and sets from the popular franchise will be seen throughout the zone and it boasts Jurassic Flyers: "Hop aboard a high-tech glider and soar far above Jurassic World Isla Nublar for a Pteranodon's-eye view of the spectacular prehistoric world below" and Raptor Encounter: "Jurassic World Isla Nublar is proud to offer our guests the exclusive opportunity to interact with one of our world-famous Velociraptors!"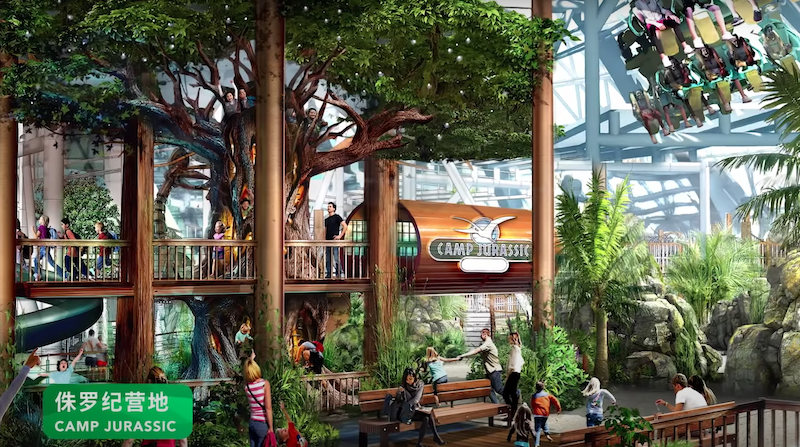 Kung Fu Panda Land of Awesomeness celebrates legendary China. A complete indoor theme park, where guests will be able to train to be among the next generation of Kung Fu warriors and meet Po and other characters from the animated franchise in life size replicas of Jade Palace, Panda Village and even the Peach Tree of Heavenly Wisdom which will change seasons continually through winter, spring, summer and fall before your very eyes.
The Wizarding World of Harry Potter is always a huge draw for fans of the globally-adored book and film series. Guests will journey into wintery Hogsmeade, complete with cobblestone streets, snow-capped roofs and diners and pubs serving (among other delicious offerings) the iconic Butterbeer.
This themed land will include Harry Potter and the Forbidden Journey, where guests will fly with the boy wizard through familiar scenes from the films and the Flight of the Hippogriff coaster.
Don't forget to let the wand select you at Ollivander's and catch the Night Time Lights at the Hogwarts Castle, as projections are cast against the majestic backdrop of the Hogwarts school.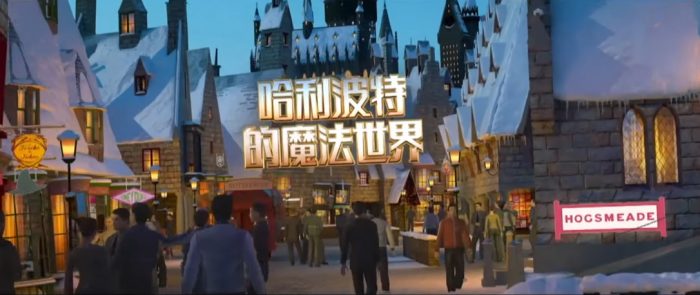 Transformers: Metrobase takes the Transformers universe to new heights. Top-secret Metrobase has been selected as a headquarters where an alliance between Autobots and humans who will protect Earth from Decepticons will be built.
The Decepticoaster is the big draw for thrill seekers along with the Transformers: Battle for the AllSpark 3D encounter.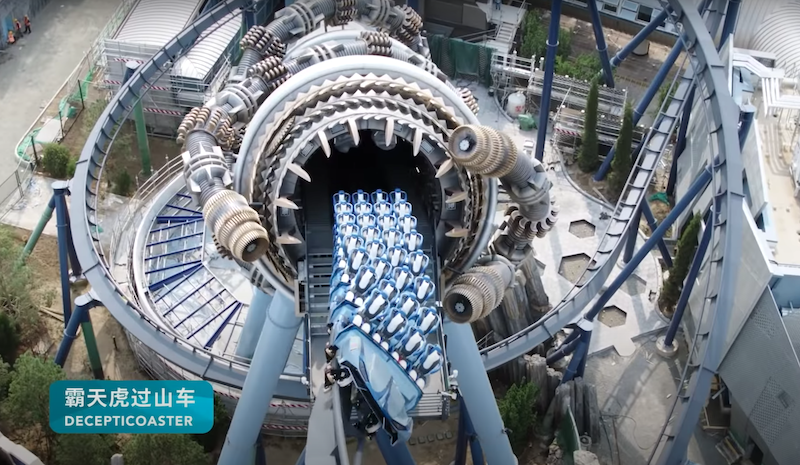 1995's science fiction flop Waterworld has become a hit for the Universal parks. Now Universal Beijing will be the first to dedicate an entire zone after the film which will feature a water-based stunt show.

The whole family will love to party with minions in Minion Land. Featuring family friendly shows, encounters and rides, along with meet and greets this theme park land will be fun for guests of all ages.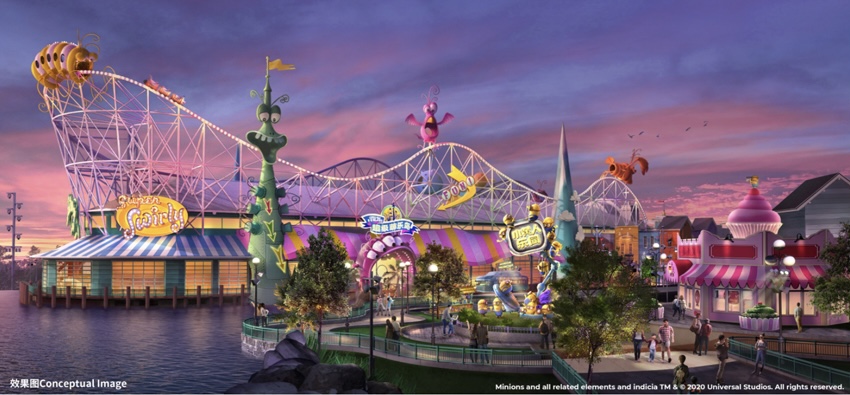 While we are all waiting for the official word from Universal as to whether the grand opening date is, in fact, June 1, it seems employees will have a whole lot of movie magic to enjoy during the soft opening that is supposedly happening this week.
What do you think of Universal Beijing– will this stop be going on your (long if it's anything like mine) list of locations to visit once the world has open backed up?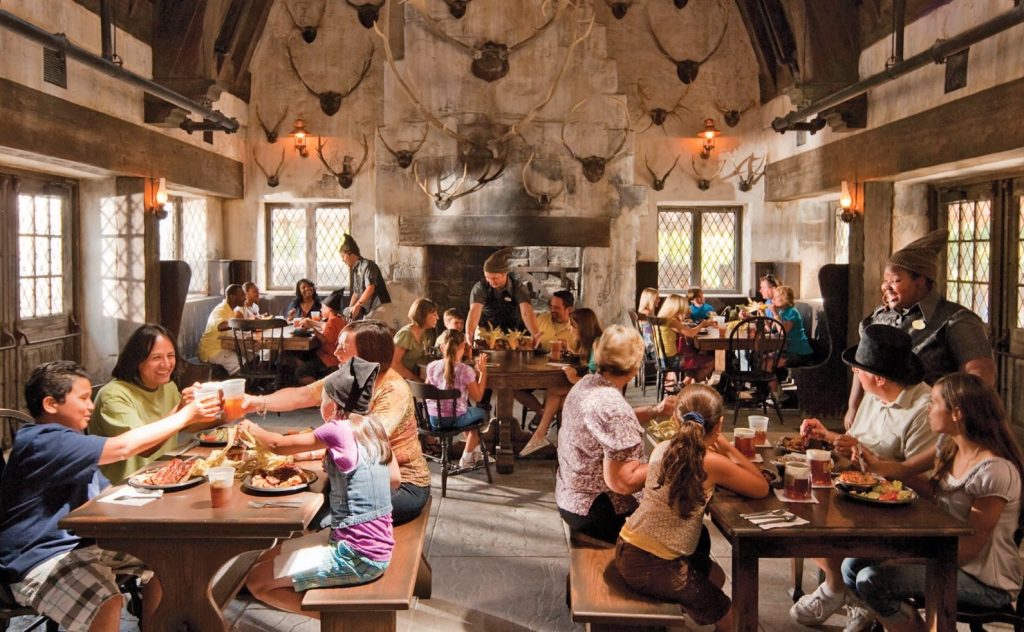 Yeah, me too- see you at the Three Broomsicks- I'll be the one with the butterbeer moustache!
Be sure to check out our vlog The Go To Family. Connect with us on Instagram, Twitter, and Pinterest !